(Last Updated On: July 25, 2023)
LELO INA 2 Review
The Lelo INA 2 rabbit vibrator is the latest vibe from the house of LELO. It is said to be an elegant and a more refined version of the earlier INA Luxury rabbit vibrator. But is it all true or could it just be a hype, let's find out. We're gonna compare the LELO INA 2 with the erstwhile LELO INA.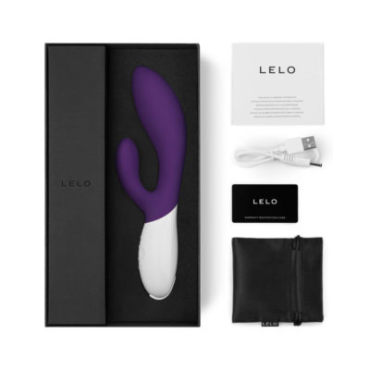 LELO INA 2 VS LELO INA
It's good to know that LELO pays close attention to, and incorporates, changes as per customer feedbacks. These are the changes they have brought in: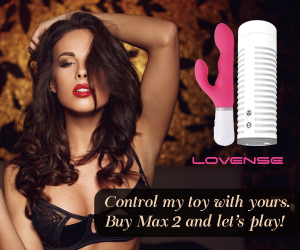 The shaft is now longer, meatier, and has more curves for an intense stimulation. It can go deeper to directly tingle your G-spot. This was achieved by reducing the length of the base handle by about 2cms and adding that 2cms as extra shaft to the vibrator.
The clitoral shaft is more flexible and curvier aiding in heightened external stimulation.
The two shafts are now a centimeter further apart; this way it is easier to glide the vibrator over every nook and corner of your sensual parts.
There are eight different settings and it claims to be twice as much powerful than its predecessor.
Totally waterproof; therefore, the pool or the bath is never a risk.
This one's a lot quieter making it more discreet.
Buy the INA 2 from the official LELO site.
INA 2 and its predecessor are both made with ABS plastic and soft silicone coating. And since they are free from phthalate and latex, they are very safe to use. Materials used also makes it easier to clean; just some warm water and soap will do the job.
LELO INA 2 Physical Attributes
Packaging
The new INA 2 comes in a sleeker gift box, that is also longer. The box speaks of class right from the get go. The box comes in the same color as the product inside. The product can be seen depicted at the back of the box. The outer box is matte-black which opens up to the inner box where the vibrator is nicely tucked. You'll also find a LELO lube, international charger, a satin pouch, user manual, and product registration.
Product Registration Card
The INA 2 and the INA both have a one-year warranty and a ten-year guarantee period. However, the INA 2 now comes with a product registration card that can easily be stored in your wallet like any other debit/credit cards. So you know where to find it when you need it.
Design And Safety
The base and inner part of the LELO INA 2 is made of ABS plastic and the rest of the vibrator is made of body-safe silicone that is approved by the FDA. Unlike other silicone vibes in the market, this one has a matte finish to the silicone; thereby, repulsing fluffs and dusts. The surface has a little bit of drag to it and they are all free from latex, phthalates, and odor.
The shaft has a flow shape to it and for the most part, it has no texture, barring 2 lines raised on either side of the vibrator. Some girls confuse it with seam since it can be felt when not in use. But to sum it up; the design is modern, ergonomic, user-friendly, and it doesn't look anywhere near an ugly penis.
You get to choose from 3 different colors: Purple, orange, and lime.
LELO INA 2 Vibrator Function
A user-friendly control panel lets you find the control buttons merely with your sense of touch; Every time a button is pressed an indicator lights up; it goes off when you stop pressing a button. This feature comes in particularly handy when you want to find out if there's any charge left or to see whether or not it's in a travel lock mode. The INA 2 is in a travel lock mode by default once it's out of the box. LELO recommends a 24-hour charge before the first use; complete charging takes only 2 hours thereon. A fully-charged battery can support 4 hours of playtime or 90 days of stand-by time.
The control panel is located at the base of the vibe and has 4 control buttons on it. The up and down arrow lets you choose from 8 different stimulation patterns while the plus and the minus buttons lets you raise or lower the speed/intensity of the stimulation. LELO INA 2 offers the following modes at your service:
Internal stimulation.
External stimulation.
External and internal stimulation simultaneously.
Pulsing both the clitoris and the inside of the vagina together.
Accelerate pulsing from low to high.
Decelerate pulsing from high to low.
Crazy Mix – find out on your own and be amazed.
With so many options, you are sure to be spoilt for choice. The LELO INA 2 is a serious rabbit vibrator and it means business; it may be one of the most powerful rabbit vibrator out there. But it's surprisingly quiet for the kind of power it packs in. The noise does increase with the increase in vibration speed but the loudest it can get is 50dB, which is fairly quiet.
The INA 2 and it predecessor; both have their charging points located at the base of the handle, inside a bung that can be completely taken off. The bung can accommodate 60 inches of charging cable.
LELO INA 2 Rabbit Vibrator Review- User Experience
The INA 2 is not a low quality bunny vibrator with a rotating shaft and unsafe materials; it is just the opposite. INA 2 is also not a cheap bunny with limited features; it is just the opposite. INA 2 has an insertable shaft that neither bends nor flexes, giving you that intense G-sport stimulation with the help of its curved tip.
You can also glide the shaft over hard-to-reach places with the least amount of lubricant, largely due to its soft coating. Users will find it easier to focus more on the vibrations than on the texture. And since it is 100% water proof, you can relax and use it at the bath or at the pool.
LELO INA 2 Advantages
Longer, girthier, and curvier shaft.
More flexible clitoral arm.
More powerful.
100% waterproof.
A lot more silent.
LELO INA 2 Disadvantages
Useless User Manual: The manual has incomplete or incorrect information leaving users fending for themselves.
LELO INA 2 Review – Final Thoughts
It's hard to say what kind of girls it is meant for. As you already know by now, the tip of the shaft is quite big, yet easy to glide in. But if you are new to toy pleasure, you may find the INA 2 a li'l tricky. You may also not be too sure of this vibe if more clitoral vibration is what you'd been wanting. But it'll surely grow on you.