(Last Updated On: June 18, 2023)
In the realm of sex toys, Sybian stands in a league of its own. Long dubbed as the most intense vibrator, the machine has been at the top of its game for nearly three decades. There have been some changes, but the family-owned business has not made any compromises on delivering the best Sybian machines.
That is perhaps one of the reasons people are willing to fork over a good amount of money for the joy of owning a Sybian. After a comprehensive review, I'll also have a list of Sybian alternative sex toys.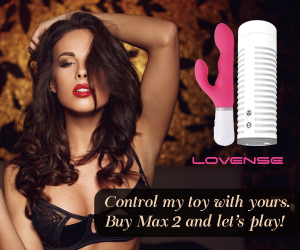 The 5 Best Sybian Alternatives
Keep reading for a full breakdown of Sybian machines and alternatives—from brands like Motorbunny, Lovebotz and The cowgirl—plus, we have also included the most important tips and tricks to keep in mind when buying and using a sex machine.
Sybian is the most popular of these machines – the one that started it all. The success of the Sybian has brought ahead some competition.
Some of these try to offer the same amazing sensations of the Sybian orgasm, though at a lower price. Some hope to go beyond the Sybian in delivering pleasure. Many Sybian alternatives succeed to some degree, though if they go beyond the Sybian is more a matter of personal opinion.
Let's take a look at some of these alternatives, and see what's on offer!
1. The Tremor 'Rock & Roll' Sex Saddle
Best Overall
The Tremor is a powerful sex saddle and machine that is designed to offer some serious competition to the Sybian. It comes with the somewhat humorous tagline of 'Rock & Roll', but I'm willing to look past that and at the machine itself.
Unlike the Sybian, The Tremor is made completely from ABS plastic. Just so you don't have to lower your privates on to the cold, unwelcoming plastic, the sex saddle uses a removable silicone comfort pad. This is placed where the body comes in contact with the machine, and provides a more comfortable and soft contact. Since it is removable, it can also be washed and cleaned as necessary.
A wired remote includes the usual buttons for vibration and rotation intensity. It is fairly convenient and easy to control. The tremor does not come with the Ottoman Stool like the Sybian. And as much as I use that with the Sybian, I do not think it is remotely necessary.
The Tremor ships with two silicone attachments, though more are readily available. It also maintains compatibility with Sybian and MotorBunny, thanks to the "contact piece" licensed from Sybian.
This machine is slightly more compact when compared to Sybian, but it doesn't lose any of the power. The biggest factor going in favor of The Tremor is that it is priced significantly lower than the Sybian, though of course, it is by no means a cheap sex machine to buy.
Pros
Very powerful
Several attachments available, compatible with Sybian and Motorbunny attachments
Convenient control via wired remote
Relatively cheaper (as compared to Sybian)
Cons
Very noisy
Can feel somewhat flimsy, even though it has a robust construction
2. MotorBunny
Most Versatile
Motorbunny (Latest Edition)
Motorbunny is a straddle-style sex machine designed to deliver mind-blowing orgasms, with or without a partner. You plug it in, choose an attachment, and hop on! Motorbunny provides pleasure in ways you never thought possible. Hop on and see for yourself!
See latest price
In several respects, the MotorBunny is quite comparable to The Tremor we just saw. Although this one keeps a more faithful appearance towards the Sybian's shape. It also includes the Ottoman/Stool which has been named the BunnyRest for this machine.
Although the company has tried to give it a new look and features, the MotorBunny cannot shake off the tag of being a Sybian knockoff. I would have said cheap knockoff, but cheap it is not. This bunny is expensive. It's not nearly as expensive as the Sybian and is priced more than the Tremor by a hair. There is an option of adding Bluetooth connectivity, but that is a separate accessory to be purchased.
MotorBunny starter set comes with 4 TPE attachments that are cross-compatible with Tremor and Sybian. I'm not a big fan of TPE, but it seems to be the standard for these sex machines.
You may have gleaned from this review that I'm not very impressed with the MotorBunny. It's not a bad machine, and it can deliver excellent orgasms. However, I feel it could be so much better. It's just not there yet.
Pros
Powerful
Several attachments available; compatible with Sybian and Tremor attachments
Convenient control via remote; Bluetooth capable
Cons
Very noisy
Similar outdated looks as the Sybian
Heavy and bulky
3. The Cowgirl
Premium Sybian
The Cowgirl is perhaps the most serious competition to Sybian. Except in naming. Yeah, I get it, the machine has to be straddled with me in a Cowgirl-style position. I'd take something more abstract, like the Sybian. Heck, even the Tremor sounds better than the Cowgirl sex machine.
What I like about this machine is that it has a more modern, somewhat updated look. I'm not a fan of the saddle outline, but the curves it gives add to the looks of the machine. It is without a doubt better than the awkward and plain looks that its competitors sport.
These modern and sleek looks are matched by modern technology. The Cowgirl has a wired remote control with the vibration intensity and rotation dials. The remote also has a button that brings preset patterns into action, letting the machine do all the work while you enjoy yourself. It includes a total of six preset patterns, cycled through the touch of a button.
Interestingly, The Cowgirl does not use the TPE attachments usual for other machines. Instead, it changes the game and makes use of body-safe silicone attachments.
But there's room to go further! And The Cowgirl has embraced modern technology and the internet. You can download the app for this sex machine and control it directly from your smartphone. If your partner has the app installed, you can transfer control of the machine to their phone.
Direct control through a smartphone works for a distance of 30-feet. However, if you transferred control to your partner (and your phone is in the aforementioned range), they can control The Cowgirl from anywhere in the world. Just be sure both of you have a good internet connection. That is some seriously strong teledildonics action!
Pros
Good looks
Powerful machine
Excellent design
Uses silicone attachments
Preset patterns on the machine
Can be controlled via smartphone
Teledildonics (user can share control of the machine with their partner over long-distance)
Convenient control via wired remote
Cons
Heavy and bulky machine
Almost as expensive as Sybian
App control can be buggy, especially over the internet
Noisy
4. LoveBotz The Saddle Deluxe Sex Machine
Most Comfortable
LoveBotz The Saddle Deluxe Sex Machine
Giddy up! Mount the comfortable padded seat, setting yourself on the firm, velvet-soft dildo. Sink down until your vulva rests against the textured base. The controller allows you to hang on tight while you cycle through the 5 incredible vibration speeds and 5 pulsations.
See latest price
LoveBotz intends to be the more cost-effective sex machine in this category. At the very least, it ends up looking the cheapest. The color scheme isn't doing it any favors, and the overall look isn't very pleasing either. Controls of this machine are handled by means of a wired remote. It is placed at the very front of the "saddle", and looks like a joystick.
The user can hold on to the remote while using the machine, and change the vibration settings. However, it feels way too inconveniently placed that way. It would be easier to remove the remote from its joystick-like position and hold it in your hands. That just renders the joystick gimmick even more useless. I say joystick, because that is what it looks like. Although, given the shape and design scheme, the manufacturers seem to be gunning for a "real" saddle appearance. That's a hard no from me.

LoveBotz The Saddle Deluxe offers five powerful speed and pulsation options. Each speed and pulsation is marked by corresponding number of LEDs showing up on the remote. Wait… maybe the remote is a spaceship now. Maybe it's a joystick. Or is it still a saddle? Who cares! Get a coherent design! Also, the vibrations and pulsations don't really work all that well. Certainly not as well as I would expect from a large machine like this one.
Pros
Low cost compared to similar machines
Quick responding controls
Cons
Tacky appearance
Limited power for a machine this size and cost
Lower quality construction
5. Liberator Bonbon — Cheapest Sybian Alternative, Low-Tech
Most Affordable
Liberator Bonbon, Grape
- Petite sex toy mount for vibrators and dildos
- Low profile and ergonomic design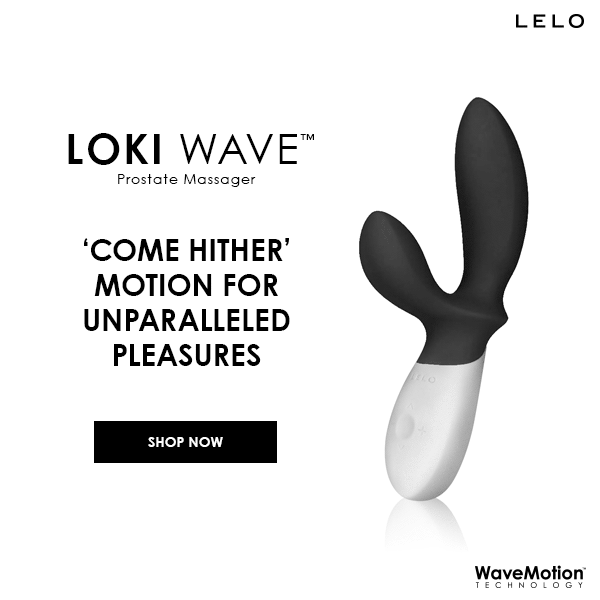 - Allows for comfort while in straddling positions
- High-density foam supports the body
- Prevents sinking into soft mattresses
Get 15% off with Code: GURU15
Let me be clear, the Liberator Bonbon is not a mechanized device like the others mentioned on this list. It is pretty much the same as the half-moon pillows that work great for pillow humping. It is, however, in the general shape of a Sybian and can be used along with conventional vibrators or powerful wand vibrators.
Not all of us want to drop several hundred dollars (or even way more than a thousand bucks) for a Sybian-style sex machine. While the Liberator Bonbon certainly won't recreate the feel of these powerful machines, it does create an excellent simulation. Want some powerful stimulation? Maybe pair it up with a Hitachi Magic Wand or Doxy. It could even work with your favorite G-spot vibrator.
Point is, you do not necessarily need to spend big money before you even try the expected sensations and feel of an expensive sex machine. If you want to experience pillow humping or riding your toy cowgirl style, the Bonbon is an excellent choice.
Liberator Bonbon is made from high-quality materials. The cover is removable and machine washable. I'd like to say again that the Bonbon is just a pillow. It is the vibrator you choose to add to it that will make all the difference.
Pros
Simple and cheap
Well-constructed for use in pillow-humping and with vibrators
Good sensations
Cons
Just a pillow!
Cannot accurately recreate the sensation of Sybian or other sex machines
Sybian Machine Review — The Basics
The Design And Construction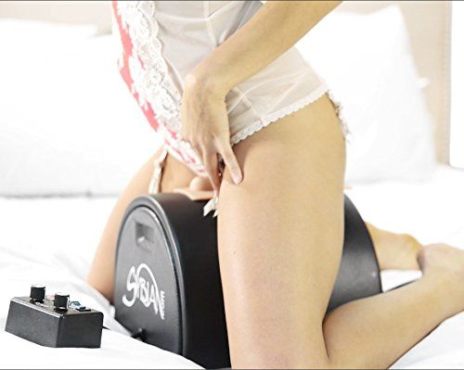 First, we start with the basic nitty-gritty. In terms of simple looks, the Sybian is fairly unassuming to look at. The machine itself is a semi-circle (or half circle, if you prefer) with space at the top for putting on attachments. There's an ottoman stool with the package, power cord, and a control pad with two rotary switches.
There is some padding on the machine mount for comfort, as well as on the ottoman stool. Overall, the Sybian machines look fairly unassuming. If one didn't know this machine by reputation, there would be little to indicate what's in store.
The package also includes leaflets and guides that talk about female anatomy and sexual satisfaction. These too are excellent in their own way. If you get your hands on one of these, I encourage you to read them. It's not just random yada-yada, but actually useful information.
Sybian is available in several color combinations/options. There are also cover sheets available as accessories for easier storage of the machine.
Add-Ons And Accessories
The things that make the Sybian tick are its add-ons and accessories. It has an excellent range of accessories included for vaginal and clitoral stimulation. You could choose one over the other, or perhaps pick one that provides stimulation to the clitoris and vagina at the same time. The attachments take care of all that and range from simplistic dildos to more exotic styles like egg and spiral. There's also a finger attachment, which I find curious and weird at the same time.
While we are on topic, special mention should go to the Red Risers. These little wedges are remarkable. Their job is to raise the attachments a bit to make clitoral stimulation easier. And oh dear they do that so admirably. Well yeah, it is the attachment doing most of the work, but the Red Risers are an inescapable part of the setup.
Sybian is also offering The Lift accessory, which works for enhanced clitoral contact like the Red Risers, but has a different form. This accessory is meant to be used with the classic beige and chocolate attachments. Sybian attachments are typically made from C-Flex TPE. Not an ideal material, but it works pretty well in this category.
Control Panel
Sybian control panel is dominated by two dials and switches that turn either dial on or off. One of these dials controls intensity, the other controls rotation. Both these functions can be used together or individually. Both of them have their uses, and these convenient controls just make it easier to enjoy them.
The range for internal rotation is zero to 120rpm. Sybian vibrator goes all the way from zero to 6500 rpm. Those are some very impressive numbers, and Sybian has every right to flaunt them.
Simply having to turn a dial switch rather than deal with fumbling with buttons is way more appealing to me than the controls of conventional vibrators. These dials make it easy to quickly move to your desired intensity and speed.
The machine is responsive enough, so the controls are convenient. I love this easy operation of power. Though conventional vibrators can't really have a control pad like the Sybian, quick control of intensity is always welcome. I think the app-controlled remote vibrators do a decent job in this regard, though the Sybian's controls are still more intuitive.
Sybian Sex Machine Review — The Machine In Use
Things You Should Know – Noise
When talking about vibrators and machines, we often consider noise. Here's the thing, this machine is NOISY. Sybian is not "can be heard outside your door" noisy. It is can be heard three-floors down on the street noisy. If placed on the floor, it will shake things up. You could practically feel vibrations on the walls!
A better idea is perhaps to add some mats to muffle the vibrations from this fiend. Some people also prefer to take it to the bed, which serves the purpose of muffling the vibrations. Plus, it is a little more fun, especially if you've got those innerspring or hybrid beds that can bounce a bit.
That said, nothing will kill the noise. If your intent is to use this beast discreetly without other people in your house knowing, it is not going to work. The moment the Sybian is switched on, it announces itself with a roar.
Riding The Sybian Saddle
Once the desired attachment is put in place, it is time to mount the Sybian. Sitting on the machine can seem somewhat counter-intuitive to many women. Generally speaking, most masturbation activities are performed while lying on our bed. Having to actually mount a vibrator feels rather odd at first.
Many women also say it makes them feel more exposed and takes some time getting used to. Those of us accustomed to pillow humping may find it an easier transition, but yeah, the Sybian does take some effort getting used to.
The machine itself is fairly comfortable, as are the attachments. The included ottoman stool is a convenient location to place my hands when using the machine, and to work with the control pad. It's also a good place for the partner to sit while you ride the machine and up the intimacy factor.
Given the general shape and positioning of the machine, using it for vaginal stimulation can feel more natural. And yes, that part is awesome, but do not ignore clitoral stimulation! A majority of women need clitoral stimulation to orgasm. Don't be afraid of grinding your clit against the Sybian, and do make use of accessories like Red Risers and The Lift where necessary.
How Does It Perform?
Sybian has the power to satiate even the most demanding power queens. However, that power does not immediately kick in when you switch it on. It can even feel a bit underwhelming. Don't fret, that's how it is supposed to be; this isn't so much about instant gratification. Sybian says most women need to turn the dials to three-quarters of power for better results. Time to turn the dials!
Once the dials turn and the machine starts picking power, the realization comes towards why Sybian has been so successful. That part's in retrospect, of course, because once it hits, the mind has a tendency to go blank. Between the amazing vibrations and the sheer rush of pleasure, there isn't much else to think about.
The vibrations are deep and rumbly. And I don't mean deep and rumbly enough to stimulate the entirety of the clitoris. The vibrations go really deep and feel immensely pleasurable. Dials keep turning, the vibrations keep rumbling. The result is an immensely satisfying, very strong orgasm. You know, the kind that leaves you all sweaty and tired, yet with all the satisfaction that could be asked for.
Sybian says many women enjoy multiple orgasms using the machine. I don't doubt this one bit or their claims of bringing women to squirting orgasms. With all that power, control, and understanding of anatomy, it only seems natural that Sybian should find a way to make it work!
Sybian Pros And Cons
Pros
A large number of attachments and accessories that fulfill most demands
Very powerful
Deep, rumbling vibrations
Excellent controls
Well-designed for clitoral and vaginal stimulation
Cons
Expensive
Very Noisy
Bulky and large machine
Needs direct power
Could use an update for its looks
Quick Guide And Tips To Using The Sybian (And Sybian Alternative Machines)
1. Take Your Position Confidently
Sybian and similar sex machines put the user (you!) in the woman on top or cowgirl sex position. Many women find this position unconventional to use for masturbation. Since most of us generally use our sex toys or masturbate while lying down on our back, the cowgirl can feel unusual.
However, this is also the position where you are in charge. Simple movements from you control the penetration, stimulation, and the angle of stimulation. These machines are built for your pleasure. Reach them confidently to maximize your pleasure.
2. Use Lubricant
Any time you use a toy, make sure to use a lubricant. Do not limit lubricants for penetrative toys only. Clitoral stimulation also deserves lubrication, and makes the experience more enjoyable. And don't be stingy with that lubricant. It's for you. Be generous to yourself!
3. Take Your Time
Same rules as how to use a vibrator apply to these sex machines as well. The machine is there for your pleasure. Take your time to enjoy it. Do not expect instant gratification and orgasms. Most women enjoy building up to an orgasm, and these machines make it possible to build up steadily to that amazing orgasm we've always wanted.
4. Experiment
Use different attachments, play with the intensity and rotation settings. Use customizations the machine has on offer to enjoy yourself. Experiment a bit to explore yourself and get to know yourself better. Don't just focus on the orgasm – focus on the journey as well. These are powerful machines with a lot to offer. Make sure you get your money's worth!
5. Don't Hold Back On Grinding
One big advantage of the cowgirl position is that it makes grinding convenient. Try grinding and see if you get more in terms of vaginal and clitoral stimulation. This is also why the Red Risers on Sybian are so awesome. They make it more convenient to grind, and make clitoral stimulation easier. No reason to deny yourself of more stimulation and pleasure. Grind away!
6. For Prostate Use
When you have a powerful machine like this, your male partner may want to use it for prostate stimulation. If they use this, make sure to use one of the smaller pieces with a curve at its end. An insertable length of more than 3 or 4 inches is usually all that is required for prostate stimulation. Keep in mind, Sybian prostate use is not exactly advisable. The machine simply isn't built for that. If you do use it for prostate stimulation anyway, stay on the low power settings. No point risking and injury with higher power settings.
7. Muffling The Vibrations
As we know, Sybian and most of its alternatives are loud machines. The noise of the motor is difficult enough to cover, but when placed on the ground, the machine will also let loose a torrent of vibrations. It is noticeable, and for the people around you, it can be more annoying than the noise itself.
Placing the machine on a soft surface is a good way to muffle those vibrations. A mattress works pretty well. If you're not comfortable with that, use the machine on a soft carpet or duvet. Sybian too sells a floor mat to be placed under the machine. The machine will be a lot less noisy once you've got it on a soft surface.
Best Sybian Style Machines For Your Pleasure
Best Sybian machines are one of the most impressive sex machines available on the market. Some worthy competitors and Sybian alternative machines have also shown up in the market. The most impressive part about these machines is that they don't just manage to elicit an orgasm – they can bring out very satisfying and amazing orgasms. The noisiness and price tags are a bit of damper on the fun, but the fun is unmistakable!