(Last Updated On: June 18, 2023)
Hitachi Magic Wand is a popular, practically famous "massager" that has been ruling the roost for decades. Now known as the Magic Wand Original, it is one of the most powerful vibrators available on the market.
Famous for its deep, rumbly vibrations that pretty much set the standard for clit vibrators, the Hitachi Magic Wand is also excellent for its original (intended) use as a body massager. This Hitachi Magic Wand Review still stands worthy of its fame.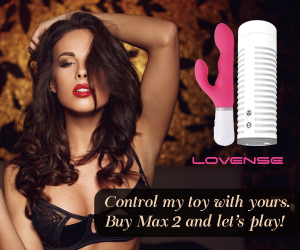 Hitachi Magic Wand Review — Pros And Cons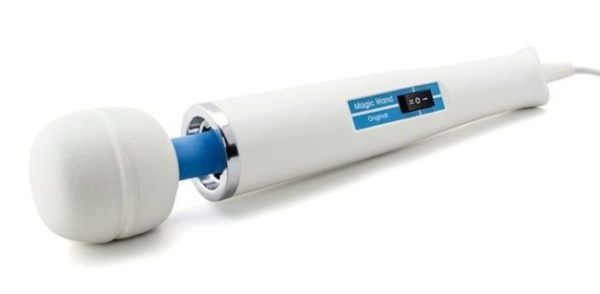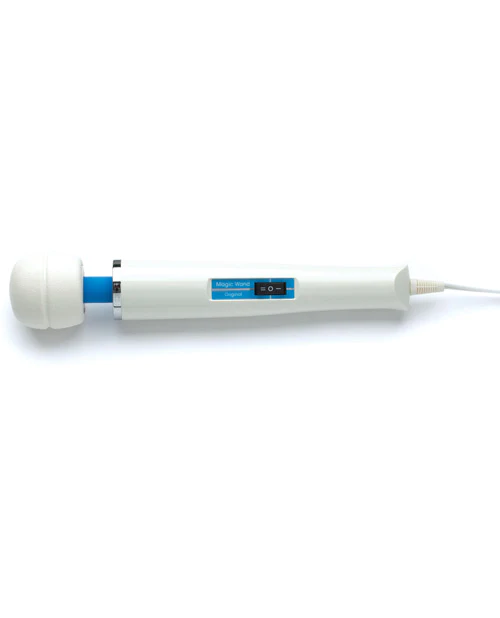 Pros
Powerful!
Deep, rumbling vibrations
High-quality construction
Competitively priced
Plenty of accessories available for customization
Cons
Corded – needs power supply from mains
Limited speed options
The head is made from TPR which can be porous
Simplistic, somewhat dated design
Hitachi Magic Wand Vs. Magic Wand Original
You may often run into both these names or terms when looking for this wand vibrator. For all practical purposes, they are the same product, with the change in name coming from Hitachi's marketing peeves and needs.
The company had released the Hitachi Magic Wand as a massager in 1968. While its use as a massager stayed on, the Magic Wand was also immediately recognized for its ability to bring on amazing orgasms by stimulating the clitoris.
As the sex-positive movement gained ground and more women voiced their opinion on topics of sex and orgasms, vibrators started getting pretty popular. Soon enough, Hitachi Magic Wand was better known for its orgasm-causing abilities, and the regular massager capabilities went into the background.
Hitachi being a somewhat staid and conservative company were disconcerted at their brand name being associated with what was primarily a sex toy. In 2013, Hitachi decided to stop production of the Hitachi Magic Wand.
However, Vibratex, their distributors in the USA convinced Hitachi to continue with the manufacturing without the branding. And thus came along the Magic Wand Original, sometimes also called the Vibratex Magic Wand.
Rebranding efforts by Hitachi may have been a bit too late because the wand vibrator had gained enough fame on its own and still continues to be called Hitachi Magic Wand in many instances, though the usage of the term is reducing in favor of the Magic Wand Original.
Avoiding Purchase Of Counterfeit Hitachi Magic Wand
As a popular and sought-after item, a market of fake products has spawned around the Hitachi Magic Wand, as is usual with popular appliances and gadgets. The construction or appearance of the fakes can often be remarkably similar to the original product.
While knowing essential parameters like weight and construction quality can help, it is best for an average customer to play it safe and not take the risk.
Purchase your Magic Wand Original from a well-known and respected seller, one you know won't be stocking fake or low-quality products. If you are purchasing from Amazon, keep in mind that it is a marketplace.
Look at who the seller of the product is, and what their inventory and reviews are. If you see the slightest shade of doubt, skip the seller.
It's also important to not run for discounts. A fake may be a few bucks cheaper, but the low-quality won't be doing anyone any favors. Hitachi Magic Wand is fairly well-priced as it is, and the original is far more likely to last longer and function better.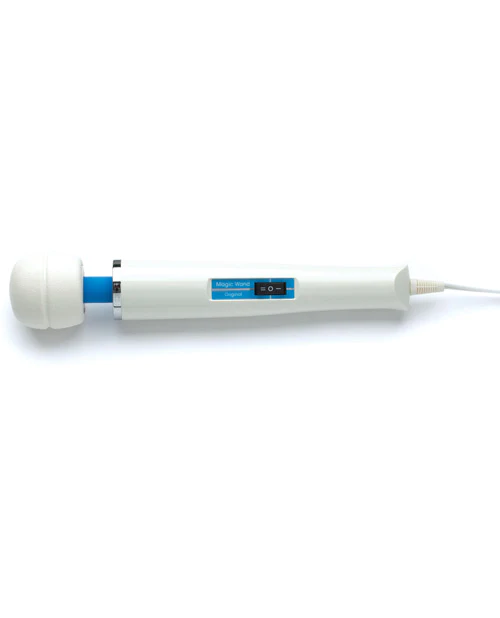 Hitachi Magic Wand Features
Packaging Of The Magic Wand Original

The packaging for the Vibratex Hitachi Magic Wand is simple; it is designed to hold an appliance – the massager – rather than a vibrator. It is a thick and sturdy box that proudly announces its contents and the features and benefits of using a body massager.
Included in the package are the Magic Wand Original, a 6-feet power cord, and an instruction manual. Interestingly, the manual suggests several places you can use the vibrator for massage.
Spoilers: none of them is the clitoris. That's understandable, considering a lot of their focus is on avoiding being associated with sex toys. Spoiler 2: That ship sailed long ago!
Design, Aesthetics, And Construction
Hitachi Magic Wand is designed to be a simple, no-frills massager and its look clearly shows the purpose. In its rather spartan appearance, the wand vibrator has a white ABS plastic body with accenting near the center where the speed switch is located.
Towards the top, the magic wand has a metal ring. Following this is the neck of the massager made of blue, flexible plastic that holds the massager's head.
As for dimensions, the Hitachi Magic Wand measures 12-inches in height and weighs slightly more than a pound (530 grams). The body is 9-inches, and the head (2.5-inch diameter) is made from TPR. While TPR isn't a terrible choice, I'd have preferred the Hitachi Magic Wand use something more suitable and non-porous like silicone.

The Hitachi Magic Wand looks its part as a massager, rather than a sex toy. It is non-phallic in shape and is often allowed sale as a massager in some conservative jurisdictions that otherwise restrict sex toys.
As far as the design is concerned, the Hitachi Magic Wand does show its years. While the design has certainly been refreshed with the rebranding, it can't help but show the age of the original design of the '60s.
Power And Vibrations
One thing that the Hitachi Magic Wand excels at is creating deep, rumbly, and powerful vibrations. Unlike most wand vibrators with several settings for power and patterns, the Magic Wand Original comes with just two speed levels. There is no "low" vibration intensity on this thing, it's just powerful, and even more powerful.
At its first speed setting, the Hitachi Magic Wand puts out vibrations at 5000 rpm, which go up to 6000 rpm at the higher setting. Those are insane numbers that show just how powerful this thing is!
To keep up with that power output, this wand vibrator draws its power directly from the mains. There are no batteries here, which can be a problem if you don't like the clutter of cords.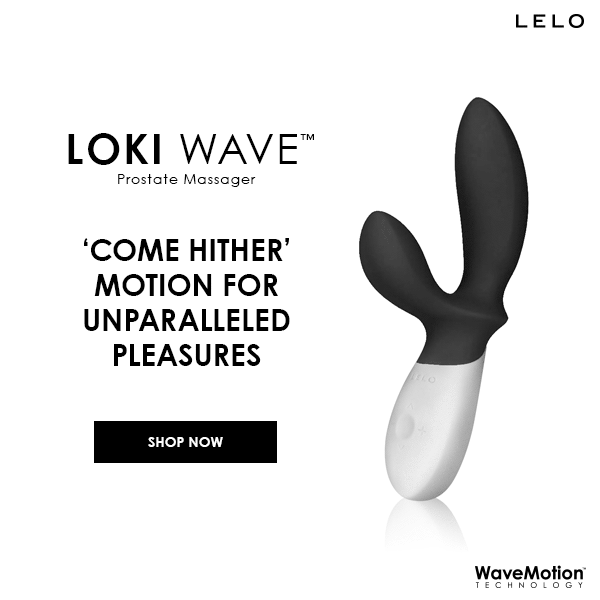 Its included power cable measures about 6-feet, which is a respectable distance, but there is an obvious limit to movement and freedom where being tethered to a power cord is concerned.
A small, but somewhat insignificant downside of all that power is that the Hitachi Magic Wand should not be operated continuously for more than 25 minutes. It starts to overheat after 20 minutes of use, and the problem can get worse after 25 minutes.
That is a small inconvenience though because it is unlikely that anyone will use the wand beyond 20 minutes. You could have multiple knee-bending toe-curling orgasms by that point and be too tired to continue!
As an exercise in the Hitachi Magic Wand's power, consider the Hysterical Literature project by photographer and filmmaker Clayton Cubitt. The project is a series of videos involving women reading from a book while being stimulated by the magic wand. None of the women are actively masturbating, and yet most of the videos in the project wrap up under 11 minutes.
Hitachi Magic Wand Review — Performance And Use
Hitachi Magic Wand As A Massager
For the sake of being comprehensive, let's start with considering how the Magic Wand Original performs as a massager. To put it simply, it is satisfactory and does provide relief especially when used at the lower back, or for the neck. Yup, this thing can relax your muscles and bring you amazing orgasms. It's a complete package.
Using The Hitachi Magic Wand As A Vibrator
Well, for the purpose of this review, the performance of the Magic Wand Original as a vibrator is all that counts. And it scores remarkably well in those arenas. Before you start, keep in mind that this is a powerful vibrator.
Even if you consider yourself a power queen, it is best not to directly take the Hitachi Magic Wand to your privates. Work your way to the clitoris. If you are a beginner, check out my guide on how to use a vibrator.
Even at its low power setting, the Hitachi is a beast. So play around a bit before you take it to the clitoris. You may soon find that its deep, rumbly vibrations excite and stimulate the clitoris even before it makes direct contact with the clit.
If you are very sensitive, this might even do most of the building up for your orgasm. Take your time to build it up, because once you hit the clitoris the gargantuan power of the Hitachi Magic Wand won't give you much time to orgasm.
For the sake of a quick comparison, even though the We-Vibe Tango or the Lelo Mia 2 perform quite well for pinpointed clitoral stimulation, the larger surface area and the more powerful vibrations of the Hitachi can outperform both these clitoral vibrators.
Of course, if you absolutely crave the pinpointed stimulation, you can use the edge of the Hitachi Magic Wand to deliver. The shape of the vibrating head and its flexibility also allows you to put on more pressure on the vibrator, should you feel it necessary.
Noise, Weight, And Other Factors
https://youtu.be/ItDvrj-T3t4
The weight of the Magic Wand Original can be a factor during use. Weighing more than a pound, the vibrator isn't exactly light and it can be a chore to keep it in position especially as you have the pleasure building.
But of course, the rewards far outweigh the small possibility of discomfort. Plus, as far as I'm concerned, that little problem can go right out the window because I'd rather have the prospect of back-to-back orgasms.
Another thing you'll want to keep in mind is that the Hitachi Magic Wand is loud. It will announce its presence and the sound can easily be heard through the door, or even through the walls, especially in the higher power mode.
The sound can be muffled a bit if you throw a blanket/comforter on top while you use the vibrator. However, the power this thing puts in does not allow the Magic Wand Original to be quiet or discreet like other vibrators.
Its power is a bit of issue on its own. It isn't necessarily a bad thing and most women actually do prefer the Hitachi for its power, but then power is not for everybody.
If you are very sensitive, you should consider giving this one a slip and consider more convenient choices like the Lelo Nea 2, which is both sensitive and powerful in its own way, without being underpowered or weak. If you only want a slight reduction in power, you can try using the wand over your underwear.
Getting More Out Of The Hitachi Magic Wand
As a vibrator that has been around for decades and is fairly influential, you can imagine people have thought out more ways to enjoy the Hitachi Magic Wand than just straightforward clitoral stimulation.
The power and versatility of this wand lend it to several uses, and once you get the multitude of attachments involved, you're limited only by your imagination. I'll talk about attachments in a bit, but let's see some other uses of the wand.
As a piece of general advice for most vibrators, experiment and enjoy to find the method that works best for you. Don't just keep the Hitachi Magic Wand limited to your clitoris. You can use it to stimulate other erogenous zones as well. Its rumbly vibrations are great at stimulating the vulva, and the vaginal opening.
There's always room to include the vibrator in some of your other activities as well. If you enjoy pillow humping, placing the magic wand below the pillow or in its curves can really bring on that extra touch of power. If you prefer something kinkier, the Magic Wand Original has been a staple for forced orgasm play.
Hitachi Magic Wand Attachments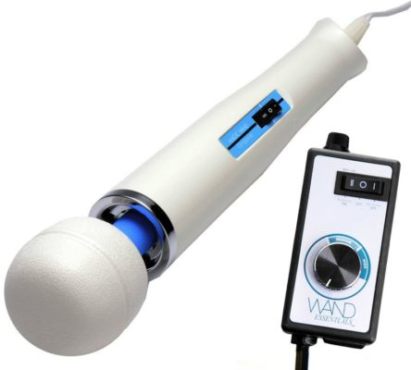 One of the most useful things about the Hitachi is the sheer volume of accessories and customizations available. These accessories don't just add more functions to the magic wand, to a big extent, they also take away some of its flaws.
Accessories can play a big role, which is why most other wand massagers like the Lelo Smart Wand stay compatible with most Hitachi Magic Wand attachments and accessories. Here are some of the attachments to consider:
Silicone Flutter Attachment: If the TPR head of the wand massager is a source of concern, you can try this silicone attachment. The material is non-porous and body safe, making it easier for you to clean and maintain your wand. Additionally, the flutter extension allows you to enjoy a much lighter stimulation, so there's more room to build up to an orgasm! You can buy it on Amazon.
Speed Controller: Two speeds sometimes just aren't enough! The speed controller attachment gives you finer control over the intensity of the Hitachi Magic Wand, bending it to your will and comfort. You can buy the speed controller attachment on Amazon as a standalone product, as a combo with the massager, or go wireless.
Rabbit-style Attachment: The attachments aren't just limited to external uses, some make the Magic Wand fit for internal use as well. This silicone attachment makes the wand a powerful rabbit vibrator and claims to simultaneously stimulate the G-spot and the clitoris. See it on Amazon.
There are a lot more attachments available, including those targeted for use by males, so just look around and see what you can find!
Hitachi Magic Wand Review — Conclusion
Iconic as it is, there is a lot to be said about the Hitachi Magic Wand. Like we see in this in-depth Hitachi Magic Wand review, this wand massager has a lot to offer going beyond just plain power.
And of course, there is nothing wrong with wanting the raw power of its deep, rumbly vibrations. It's versatile, useful, powerful, and has a high-quality build. There is no reason to miss out on this amazing wand vibrator because this sex toy really is magic!