(Last Updated On: March 31, 2023)
In the realm of clitoral stimulation, wand vibrators can be amazing thanks to the deep, rumbly vibrations they promise. Most wand vibrators double as massagers as well, so deep tissue stimulation is kind of their thing. Shibari Mini Halo shrinks the conventional wand massager to a smaller size, all the while trying to maintain the power and performance of conventional wands. Let's see how well it manages to do that with our Shibari Mini Halo review.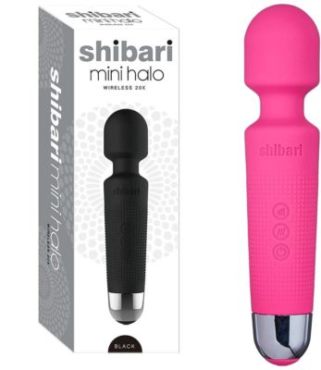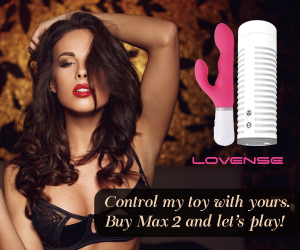 Smallest Wand
Shibari Mini Halo Review — Pros And Cons
Pros
Deep, rumbly, and satisfying vibrations.
Easy to hold and manage.
Powerful.
About 20 patterns and 8 intensity settings.
Silicone coated body is non-porous, non-toxic, and phthalate free.
Water resistant.
Rechargeable battery with good battery usage time.
Cons
Incompatible with many Hitachi Magic Wand attachments.
Noisy at high intensity settings.
The toy is mapped with a silicone sleeve/membrane which can move with usage and make buttons difficult to identify.
Starts with max intensity vibrations.
Shibari Mini Halo Features
Shibari Mini Halo is a conveniently sized and powerful wand vibrator. For its tiny size and rechargeable battery, the Mini Halo packs quite a punch. Most wand massagers are usually fairly large in size. And while we do love them, they're not the most convenient and useful choice every time.
Sometimes, I'd rather enjoy a lightweight and pint-sized massager like the Shibari Mini Halo. It seems to be a belief many women share, at least enough for the Shibari Mini Halo to rival (if not eclipse) its more powerful sibling, the Shibari Halo.
Well, say hello to the Mini Halo! This Shibari Wand Massager comes packed with 20 different patterns and eight intensity settings so there are plenty of choices to choose from. Plus, its head is somewhat flexible, making it easier to target the wand for an amazing clitoral orgasm.
The water resistance is quite amazing. You can't submerge this massager in a bathtub, but it is remarkably easier to clean your vibrator. Also, the silicone covering that makes it all possible is excellent to touch and feels great rubbing against the body.
Its name, of course, is due to its relatively diminutive size. The Shibari Mini Halo measures some 7.8-inches in length and is about 1.6-inches at its maximum diameter. As far as wand vibrators are concerned, that's a tiny, power-packed machine.
Shibari Mini Halo — Battery, Charging, And Play Time
The Shibari Mini Halo is powered by a rechargeable battery that is capable of delivering quite a punch. I can't help be slightly impressed by the battery managing good power in a (relatively) small side wand massager. Shibari Mini Halo is recharged via a conventional USB outlet.
It should always be remembered, that the first time you set most of the toys to charge, they will take a lot of time. I'm even going to suggest you go ahead and let them sit overnight since many can easily take six to eight hours.
Once the Shibari Mini Halo has had its fill, it has a decent play time and can run for several hours. You could even use it for back to back orgasms, and be amazed at its skill!
Shibari Mini Halo Review — How It Performs In The Bed
https://youtu.be/vPvkdCwu7K4
You may have noticed, I have mentioned a couple of times how powerful the Shibari Mini Halo is. This wand vibrator wants you to know it, wants you to remember it, and wants you to get annoyed by it! The first thing to note when you switch on the Shibari Mini Halo is that it's somewhat noisy and vibrating with amazing gusto. Well, that's because this one starts from its highest power/intensity setting.
Why not do the simple thing and start at the lowest intensity as most vibrators do? It's even okay to start with the last-used intensity setting. Why start with max is something I can't fathom.
If you're like me, you want to move up the intensity ladder gradually while enjoying yourself. So, before you start, you spend time pressing the low-intensity (-) button a bunch of times so it comes down from 8 to 1. Maybe the power queens would prefer the high-intensity startup? Some might, but then they would not be using the Shibari Mini Halo.
Getting Down To Business
Anyways, I'll quit complaining about the annoyance that the Mini Halo startup is, and start with its usage. Its small size and low-weight make the Shibari Mini Halo easy to maneuver and use.
Stepping up the intensity settings all the way from one to eight is convenient and even enjoyable. The changes are methodical enough so you glide through, rather than running into a jarring wall of sudden high change in intensity. Move on to your favorite pattern and enjoy the ride. The option of 20+ patterns is quite a handful, and it might take some time to find the one that's just right for you. Even so, that's not much of a problem. and is indeed quite an enjoyable journey.
The head of the vibrator is fairly wide and can stimulate the entire vulva quite well. It has a fairly flexible neck as well, which means you can apply some pressure to better target areas you like.
It won't do pinpoint stimulation, but it will take a fairly targeted approach. Couple that with the deep, rumbling vibrations this thing has to offer, and you got yourself a ticket to orgasm land.
Oh, and while I dissed it for starting at the highest intensity, the mode is quite a pleasure once you work your way up to full throttle. Overall, it's a solid and powerful toy, with good reason for being so popular.
Shibari Mini Halo Review — The Final Word
Bringing this Shibari Mini Halo review to an end, I have to say it is an excellent wand massager. Wireless, battery operated, and even portable. Its deep, rumbly vibrations are worth enjoyment and praise, and it sure does deserve credit for keeping its users on the fast lane to amazing orgasms. If wand massager style clitoral stimulation is your fix, the Shibari Mini Halo has you covered. It has its annoying downsides, but they tend to be more on the side of personal preferences, and may perhaps even be an upside for some women.
Smallest Wand
See it on amazon for latest discounts