(Last Updated On: June 24, 2023)
Magic Wand Rechargeable is an update to the classic Hitachi Magic Wand. Or as it is now called, the Magic Wand Original. The biggest difference is that the Magic Wand Rechargeable is cord-free and has its own battery, but that's not the only improvement. There is a lot to love and like about this vibrator, and we'll get into details with this Magic Wand Rechargeable Review. Is this rechargeable wand really worth a look when you have the original? Well, let's find out!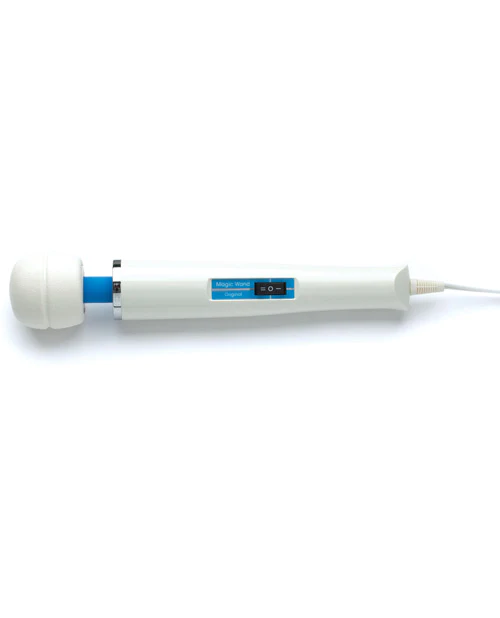 Magic Wand Rechargeable Review — Pros And Cons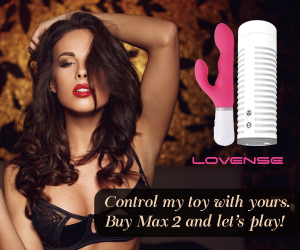 | | |
| --- | --- |
| Pros | Cons |
| Powerful vibrations that can match the original | Can be noisy |
| Several intensity and pattern options | Heavy, almost two pounds |
| Long-lasting battery charge | Auto shut-off in 20 minutes |
| Can be used while charging | Higher-intensity vibrations can feel buzzy |
| Good design | No waterproofing |
| Made from high-quality materials that are non-porous and body-safe | |
| Compatible with magic wand attachments | |
Magic Wand Rechargeable Features
Packaging, Design, And Aesthetics
There is nothing special about the packaging of the Magic Wand Rechargeable. It comes packed in a simple cardboard box. Inside, you'll find the charger, the wand, and an instruction manual. No pouch for storage, no frills. This has been the classic packaging style since the times of the Original, so not much of a surprise there.
Nothing much to write home about design and looks either. While it certainly has a more "modern" look, the Magic Wand Rechargeable is bland in design. It has a solid plastic body that ends in a metallic ring and gives way to a shaft that holds the vibrator head. The sex toy is 12-inches in length and weighs almost two pounds. That's quite heavy and could be a bit of trouble to hold and maneuver for several minutes. At least it weighs less than the njoy Eleven!
An interesting feature here is the presence of LEDs along the buttons. It has four lights that turn on to match corresponding intensity settings. They also function to signal the battery state of the vibrator, as in its transition from "charging" to "charged", with a change of color.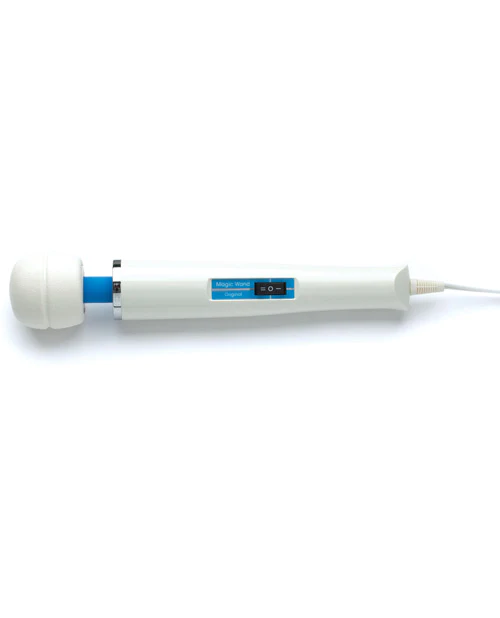 Power And Vibrations For Magic Wand Rechargeable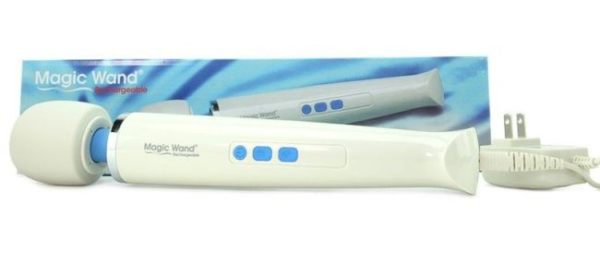 As a battery-powered toy, it would be forgivable for the Magic Wand Rechargeable to offer lower power than the Original. Thankfully, the wand does not require that magnanimity. Magic Wand Rechargeable is powerful, and practically on par with the original.
As a basic comparison, it has four power modes, the ratings for the four intensity modes (in RPM) are 2700, 3800, 5400, and 6300. In comparison, the original has 5000 RPM and 6000 RPM modes to accommodate its two speeds. At this point, I'll also point out that the numbers are of purely academic interest. Just the RPM does not make a better vibrator, or for that matter, even a more powerful vibrator.
An excellent feature for the Magic Wand Rechargeable is that you can use it even when it is charging. It is far better than the fear of running out of battery mid-romp. You can practically use this vibrator anytime you want. If it has a battery, great. If it doesn't well, you'll be tethered to a cord, but the vibrator will be functional.
There are three buttons to control the Magic Wand Rechargeable. One is to turn the power on/off. The second button controls the vibration intensity, cycling you through the four intensity levels. Its third button accesses the patterns and offers four patterns to manage and enjoy.
Magic Wand Rechargeable Cleaning And Construction
The Magic Wand Rechargeable is not waterproof. You will have to clean this sex toy with a damp cloth, or using cleaning formulations available in the market. Thankfully, the materials used in constructing the vibrator are non-porous and will make cleaning easier. Magic Wand Rechargeable has a silicone head, which is non-porous – a huge plus over the original which had a porous head.
The construction is fairly skillful, and even when the head vibrates at high intensity, the handle remains relatively calm. Vibrations don't really trouble that much while holding this vibrator, which means you can comfortably use it for a long time.
Magic Wand Rechargeable Vs Hitachi Magic Wand
Sometimes erroneously called the Hitachi Magic Wand Rechargeable, the wand does not have much to do with Hitachi. It does come from the same stock as the Hitachi Magic Wand, but the company has made it very clear that they don't want to continue their association with the product. Hence, the original wand is now called Magic Wand Original. The Magic Wand Rechargeable comes from Vibratex, the same company that handles the Magic Wand Original.
Here are some properties of the Magic Wand Rechargeable that differentiate it from the Magic Wand Original. The Magic Wand Rechargeable has:
A battery to power it, so it does not have to stay connected to a power outlet
Four speed options and four pattern options (The Hitachi only has two speed options)
Silicone-clad non-porous head
More expensive
Magic Wand Rechargeable Review — Vibrator In Action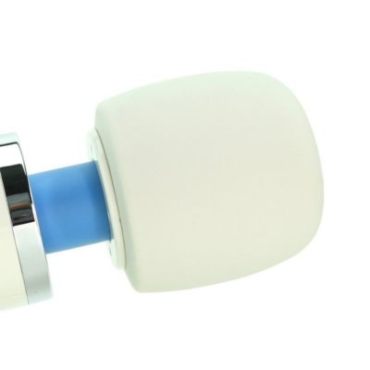 The first thing to know, the Magic Wand Rechargeable is a powerful vibrator even at its lowest setting. If you are very sensitive to vibrations, this is not a toy to start with. However, if power is what you need, the cordless magic wand has you covered. It can go toe-to-toe with the Magic Wand Original and the Doxy Vibrator. Magic Wand Rechargeable goes as well with pillow humping as the other two and is especially suitable if you are sensitive enough to vibrations to avoid direct contact.
For those who enjoy the powerful vibrations, the Magic Wand Rechargeable is exactly the toy. It won't give you pinpoint vibrations like the We-Vibe Tango, but its large and powerful head will deliver strong, rumbly, and deep vibrations to stimulate your clitoris and labia. I find that the lower vibration modes are far more effective, and the vibrator tends to get a bit buzzy at higher speeds. Of course, that is also dependent on personal preferences, and some may find the highest intensity to be as welcoming as this wand vibrator intended it to be.
The patterns are a nice touch, and add value to this vibrator. It is fun to play with all the options and build your way to an amazing orgasm. Magic Wand Rechargeable works great for back-to-back orgasms as well. The fly in the ointment here is that the vibrator does has an auto shut-off after 20 minutes. It's a built-in feature to avoid overheating, although I haven't felt the vibrator overheat in that time. You can switch the vibrator back on right away, but it is a bit of a mood killer.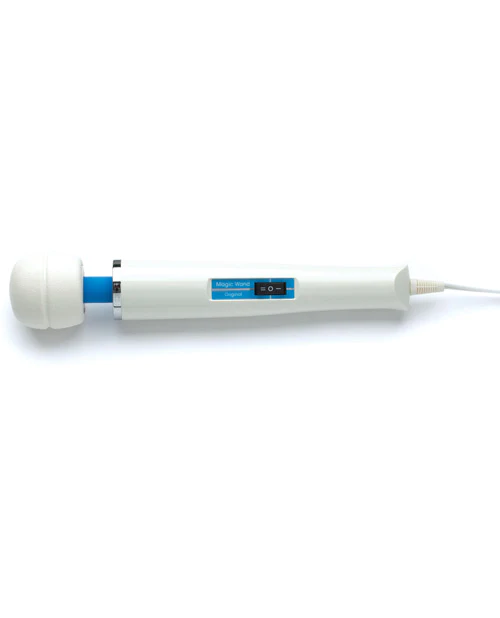 Working With Hitachi Magic Wand Accessories
Even though this one does not shy from its role as a vibrator, it follows the Magic Wand Original pretty well and can be used as a body massager. Magic Wand Rechargeable is also compatible with most Magic Wand accessories. If anything, the hard silicone head is a better fit for the accessories as compared to the squishy head of the original.
Accessories and attachments make this toy a lot more fun and full of opportunities. While its larger surface area may not provide pinpoint stimulation, adding the right attachment can fix that. There are plenty of attachments available for penetrative use as well, allowing the toy to go beyond its use as a clitoral vibrator. Magic Wand Rechargeable is an amazing clit vibrator, the attachments can refine that role and even let it go beyond those confines.
Magic Wand Rechargeable Review — Conclusion
To speak the bottom line for this Magic Wand Rechargeable Review, I give it a big thumbs up. It is powerful, functional, and what it lacks in looks, it makes up in features. If a high-powered vibrator is what you want, the Magic Wand Rechargeable is very likely to fit your needs. If you loved the original Hitachi and are looking for a replacement, this might be the more modern option to consider.