(Last Updated On: June 24, 2023)
If you called Lelo Smart Wand a vibrator, it would give you some seriously angry looks. Although the shape, and the company it comes from suggest that the Lelo Smart Wand must be a vibrator, there is more to its story. This smart wand is actually a massager as well, and a pretty decent one at that.
Given the number of ostensible massagers flying around the market, one could be forgiven for imagining that the Smart Wand was a similar gimmick. In case you were wondering, yes, it's a vibrator too. Let's find all about it with this Lelo smart wand review.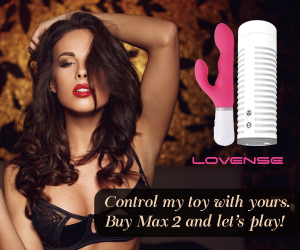 Most Stylish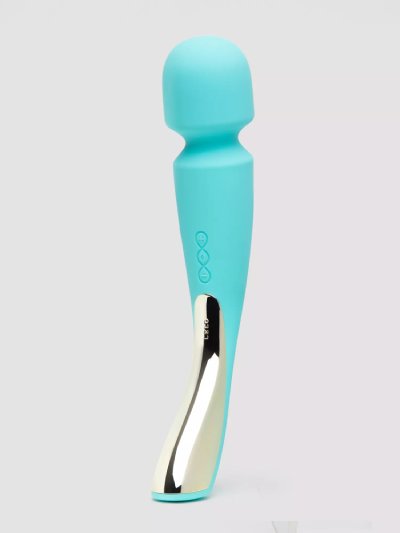 Lelo Smart Wand Features — Know More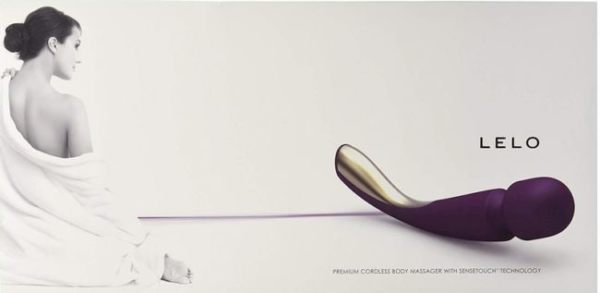 Lelo Smart Wand Is A Cordless Massager
Wired vibrators massagers are excellent at being continually powered, without the user having to worry about running out of charge, or having to recharge after use. But wires are distracting and limiting.
Wires impose a distance limit that sucks out the freedom, and pose restrictions on where you may use the massager. Plus, the feel of wires on the body doesn't really help when you're trying to stimulate yourself.
Maybe these things sound trivial, and minor encumbrance, but they are fully avoidable. And you won't know the joy of going cordless until you actually do go cordless.
Lelo Wand massager is powered by a battery and is big and powerful enough to meet most requirements, and it gives you the freedom of movement. You can decide where you get the massage, and that opens the door to several other possibilities. Possibilities like:
Most Stylish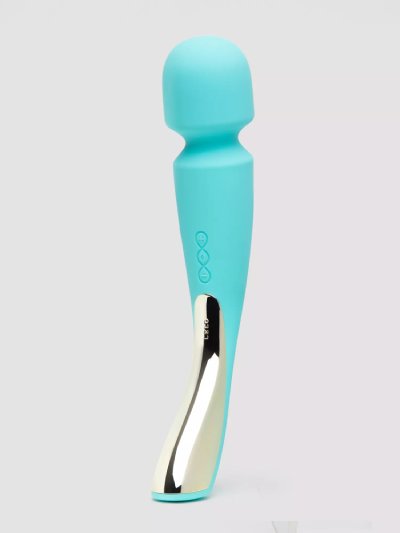 Lelo Smart Wand Is Waterproof
A waterproof, cordless wand opens up a lot of possibilities — and locations. You could carry your Lelo wand massager to the shower, even to the bathtub. It's the freedom to use it where you want that gives it that little extra touch of usefulness. As Lelo puts it, this wand is " the ultimate expression of indulgence and excitement".
https://www.youtube.com/watch?v=CkkqNshiye8
SenseTouch Technology
Lelo has been quite gung-ho about the Lelo body wand's SenseTouch technology. And the technology does seem wonderful from the massager side of things. SenseTouch reduces the massage function when the wand is moved away from the body, and it causes the vibrations to increase once the massager is in contact with the body.
The more pressure you apply on the wand, the greater is the power of vibrations. Lelo Smart Wand SenseTouch can be turned on/off by continuously pressing the central control button continuously pressed for three seconds.


While the SenseTouch does work great on the massager side of things, a fair number of users find it a nuisance when the Smart Wand is used as a vibrator. The sudden changes in speed obviously aren't that welcome when the wand is stimulating the clitoris, or when the vibrator does a U-turn and decides to stop when applied against skin. So maybe the smart wand isn't that smart.
Lelo Smart Wand Speed Modes
Lelo wand comes with eight speed modes. You can increase the speed by pressing (+) and decrease it by pressing (-). Lelo Smart Wand vibrator is quiet in its operation.
There is only a small sound during the first five speeds, and then you hear it getting louder. Lelo says the sound from the vibrator remains below the 60 dB mark, making it about the same level of noise as a normal conversation.
Most Stylish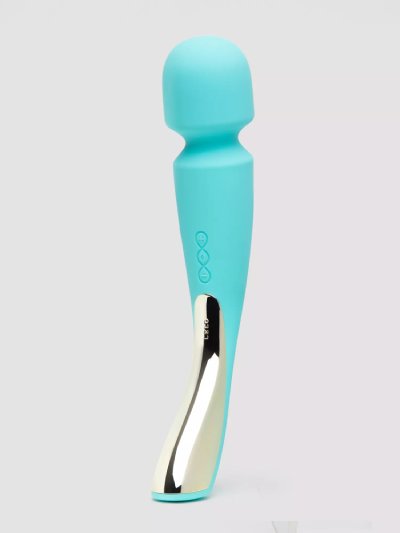 Lelo Magic Wand?
Talking about the massager/vibrator, it would be impossible to not draw parallels with the gadget that birthed this segment, the Hitachi Magic Wand. Since it is corded, the Hitachi can put out more power.
The Lelo Magic Wand sacrifices a bit of that power for the freedom of movement and the ability to go cordless. Lelo's wand is compatible with all attachments made for the Hitachi magic wand.
What Is It Worth? — Performance As A Massager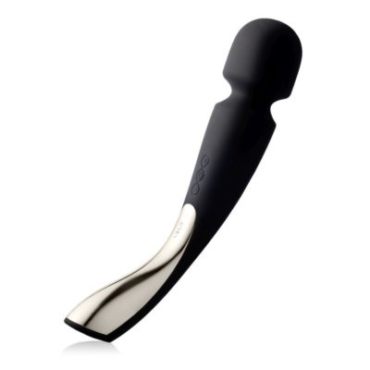 Lelo Smart Wand is a potent and useful massager. In fact, if you're looking solely for a portable massager, buy it without hesitation. It's big, it's slightly heavy, and it can massage your body from head to toe. In fact, the curved handle gives you excellent control over where the massager goes, and helps position the Smart Wand exactly where you want it.
Yes, that includes those pesky, hard to reach places in your back. Plus, it's a joy for the lower back. Massage your back at your will and whim, and you will find love for this Smart Wand massager.
Most Stylish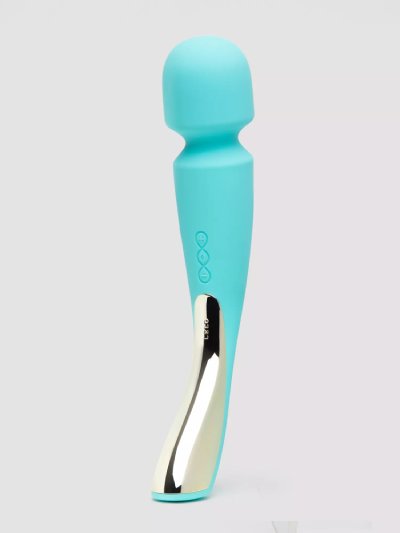 Lelo Smart Wand Performance As A Vibrator
"Yes, I can appreciate all the talk about massaging, but tell me more about this Smart Wand vibrator thingy"!
– Said no one ever, and just like this attempt at a good line went awry, so do the vibrator qualities of the Lelo Smart Wand. Let's be perfectly clear here, it is not bad. It is in fact, fairly good at its job, it's just that it could do better.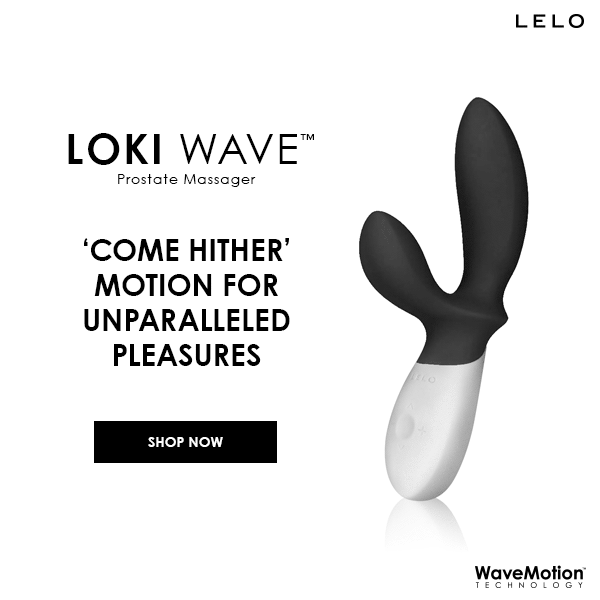 It does a pretty good job at stimulating the clitoris. Once you get it going, it can make the whole vulva vibrate, which can be a very pleasurable thing. Or at least a great warmup!
The part it does have trouble with is providing pinpoint stimulation. This machine just isn't made for that sort of thing, and is fairly broad to accomplish these goals.
That's also where the attachments of Hitachi wand come in. Lelo Smart Wand is fully compatible with attachments made for the Hitachi wand. Now that should clear up most vibrator shortcomings of this wand, and makes it a great choice.
Many customers complain that the wand can stop when pressure is applied, even though the opposite of that should happen when pressure is applied on the wand against the body, at least according to the product description. This is especially visible in the "Medium" model.
Aesthetics, Build Quality, And Packaging
As a product from Lelo, you can bet the Smart Wand has great looks and has an excellent build. It is large and heavy, and somehow still manages to be sleek and streamlined. The curve on the handle is fairly helpful in using this as a massager and a vibrator, though if you are used to other brands with straight handles, it might take some time getting used to.
Options include three colors, and two sizes. The large wand is one-foot long, while the medium version is about nine-inches long. Both sizes have a similar look and a glossy/matte finish completing the luxuriously sleek look. Packaging is pretty straight-forward and includes a satin pouch to store your massager/vibrator.
Lelo Smart Wand Package
The full packaging for the wand includes:
Lelo Smart Wand
USB charging cord
Warranty card
Instruction manual
Technical Specifications
The full-body massager is made from ABS plastic and silicon
The Large model weighs 395 grams, Medium weighs 155 grams
Both models have a Li-ion battery. Lelo Magic Wand Large has a 900 mAh 7.4 volt battery, making it fairly powerful. Lelo Magic Medium runs off a 500 mAh 3.7 volt battery, making it remarkably weaker than the Large.
Charging time: 2 hours for both models
Usage time: 2 hours
Standby time: Up to 90 days
Lelo Smart Wand Pros And Cons
Pros:
Great looks
Excellent as a massager
Works fairly well as a vibrator (especially the Large model)
Curved handle makes it easy to convert and manipulate
Compatible with Hitachi Magic Massager attachments
Large model is fairly powerful, the medium model is above average
SenseTouch technology
Cordless, rechargeable, waterproof
Cons:
In some cases, massager may lack power and shut down when pressed against the skin
Does not work as well for pinpoint stimulation
Most Stylish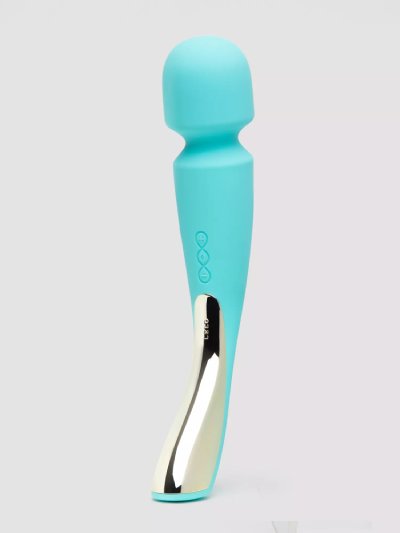 Lelo Smart Wand Review — The Final Take
Lelo Smart Wand will win you over with its look. The sleek, elegant look for works pretty well for Lelo, and is pretty much easily recognizable. Lelo Smart Wand Large excels at its functions, being fairly powerful to give you a good massage and a good orgasm. The Lelo Smart Wand Medium suffers from a less powerful battery reserve and motor.
If you want strong vibrations, buy the large one.