Using a vibrator is a skill, just like sex. Well ladies, it's the technique that matters, and that takes you from a meh orgasm to an intense orgasm. The market has several types of vibrators, and each type has its own use, waiting for you to explore. How to use a vibrator is a skill you acquire through experience and learning more about your own preferences. Here are a few tried and tested techniques and tips that will point you to the direction of toe-curling orgasms.
Preparing Yourself For Vibrator Orgasm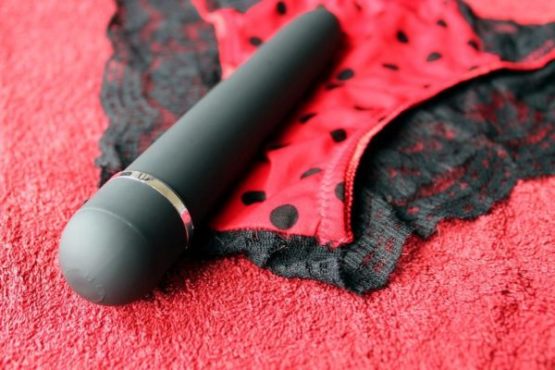 Selecting The Right Vibrator
As I said, there are plenty of choices available, and it's up to you to find the one that works right for you. Check out this comprehensive guide on finding the best vibrator for you. Here's a quick summary on pointers to consider in choosing a vibrator.
Shape And Size
If clitoral stimulation is what gets you going, then there's little to worry about the shape and size. Clitoral vibrators can be as large as body massagers wands, or as small as lipstick-sized bullet vibrators.
Size and shape considerations become more important when you want a vibrator for penetration or g-spot stimulation to get solid vibrator fueled orgasms. There's plenty of options to work with here as well, going from penis-shaped vibrators to smooth vibrators with bumps and bends in the right places. Even if you feel tempted to take on large vibrators, start smaller so you can focus on pleasure. Oh, and also consider rabbit vibrators, there are plenty that will stimulate the inside and the outside of your vagina.
Power Of Your Vibrator
Power is perhaps the most important factor to consider. More so, if you struggle to have an orgasm with masturbation or sex. If you think you require intense stimulation to get there, pick one of the powerful vibrators to orgasm. When choosing a powerful vibrator, it's best to give up on the cheaper vibrators and place more focus on quality.
Modes And Intensity Settings
A large number of vibrators these days come with settings to increase or decrease the intensity of vibrations. Several also include preset patterns of vibrations you can employ. Use those options to build a customized vibration setting that works for you.
How Noisy Is Your Vibrator
Noise is an important consideration especially if you share the house with others and want to be discreet with the use of your sex toy. Good quality toys usually avoid the ruckus, and at the very least have clear indications on expected noise.
Materials Used In The Vibrator
For the sake of your health and hygiene, choose sex toys that use high-quality materials. Ideally, you want a toy that is non-porous, hypoallergenic, and completely free of phthalates.
Prepping For Vibrator Orgasms
You've picked the best vibrator for orgasm, read its manual, charged it (or inserted batteries). Girl, now it's time to put yourself in the mood. Do your thing to get yourself relaxed and turned on. Here are a few things you can try:
Take a nice, hot bath.
Set the mood with lights, candles, and music. Ambiance matters and you know it.
If you prefer, read some erotica or watch porn.
Have a glass of wine.
Do a bit of foreplay on yourself.
Point is, you need to be relaxed, in the mood, and horny. These are general suggestions. Ultimately, it is you who knows what gets you going.
Keep Lubricant At Hand
Always use a lubricant. It makes things so much easier and smoother, and your vibrator will glide effortlessly. And yes, that's relevant even if you only intend to perform clitoral stimulation. Water-based lubricant is usually a safe bet. Do not use silicone-based lubricant with silicone toys, and no oil-based lubricant with latex toys or condoms.
How To Use A Vibrator — Amazing Vibrator Techniques
The preparations are done. It's time for action and to put amazing vibrator techniques to use as we get to more advanced techniques on how to masturbate with a vibrator.
Before Vibrator Orgasm Comes Vibrator Foreplay
A good place to start is by stimulating your erogenous zones. Your breasts, nipples, inner thighs are all fair game. Let the vibrator caress these areas. Slow, deliberate movements should get you going As you start to get aroused, move closer to the vagina. Building up anticipation is half the fun!
Tease Yourself With The Vibrator
Your body wants more, but we are going to make it wait and build up the anticipation. Get the vibrator closer to your vagina but don't let it directly touch the clitoris or the vagina. It may seem like you're going very slow, and that's okay. Building anticipation and pleasure is an excellent skill to pick when learning how to use a vibrator on a woman, and yes, that includes yourself.
Move around the vagina, gently teasing yourself. Slowly moving closer. By this time, the clitoris should be demanding more attention and intensity. Well, let's not keep it waiting!
Put The Spotlight On The Clitoris
It's time for the clitoris to come into the proverbial spotlight. Move gently to your clitoris using the clitoral hood as a buffer at first. If you do not enjoy direct stimulation on the clitoris, the buffer is a good place to stay.
For those who enjoy stronger or more pinpointed vibrations, spend some time on the hood then move on to the clitoris. Let your instincts take over and give the clitoris what it demands. You have both earned it!
How To Use A Clit Vibrator — The Second Approach
If you are not a fan of moving the spotlight directly to the clitoris, give this approach a shot. Rather than moving from the clitoral hood to the clitoris, circle around to the base of the vagina. Place the vibrator at its length against your vagina, with the tip of the vibrator touching the clitoris, and its body covering the vagina. This is a great way to stimulate your clitoris, vulva, labia, and vaginal opening.
You can slowly move the focus towards the clitoris for that amazing clitoral orgasm that you've been waiting for. If vaginal or g-spot orgasm is your goal, there is more to do.
Entering The Vagina
For entering the vagina, you will need a vibrator ready to be inserted. If you have been using a bullet vibrator or magic wand until now, it's time to set it aside and pick up your preferred G-spot vibrator, penis shaped vibrator, or rabbit vibrator. There will be natural lubrication, but add some lube anyway.
Slowly and gently enter the vagina. Take your time. Once the vibrator is inside and you've got your preferred pattern and intensity going, it will be pleasurable enough to leave it there. But where's the fun in that?!
Apply pressure to the sensitive spots in there. The G-spot and Skene's gland are what you're looking for. Bear in mind, the G-spot responds more favorably to gentle pressure than just vibrations, so keep the gentle pressure of your vibrator on the G-spot. Once you're comfortable with vibrator techniques that stimulate the G-spot, you'll also open up the world of intense orgasms and squirting.
Read the full guide on how to achieve that thunderous, squirting g-spot orgasm you've always wanted.
More Things To Do For An Intense Orgasm
Here are more ideas for enhancing your pleasure, and getting more out of the experience.
Use A Mirror
This one is a bit of a hit-or-miss, but you'll know it when you see it. Watching yourself masturbating, or having sex can be a huge turn-on. See how your body reacts to vibrator placement, and how strong the experience is.
Use Your Fingers
Match the working of the vibrator with your fingers. If you are using a clitoral vibrator, use the other hand to massage the vagina and the g-spot. Similarly, if you are using an insertable vibrator, work your fingers on the clitoris. You may also use two vibrators, or a rabbit vibrator.
Using A Vibrator During Sex
Using vibrators during sex can be an amazing and satisfying feeling, increasing the pleasure for both you AND your man. For example, you can use a clitoral vibrator, a c-ring, or a couples vibrator. The goal is to enhance your pleasure.
Using a vibrator can be a couple's activity, as you let the man take charge of the vibrator. Be communicative and tell him how and where to use it. You can also use the vibrator on the man, touching the balls, penis, or the perineum. This can especially come in handy during blow jobs and handjobs, as you move the vibrator to stimulate the rights spots and give him an amazing orgasm.
In some cases, your significant other may not be up to using vibrators or even feel threatened and insecure. Talk to him, and explain that vibrators are an accessory, and certainly not a replacement for human relationships.
Experiment With Your Vibrator — The Best Vibrator For Orgasm
Remember, your vibrator is an accessory and a tool in your hand. While the quality of the vibrator does go a long way, what goes even further is how well you wield it. The road to intense orgasms comes with the techniques you develop as you learn how to masturbate with a vibrator.
Experiment with yourself and you will learn more about your erogenous zones, and how your body responds best to pleasure. The trick in learning how to use a vibrator is to build up from the basics, experimenting, and devising your own ways to get yourself to intense orgasms.
Concluding Remarks — How To Use A Vibrator
Vibrator orgasms are often simple, and far easier to achieve once you learn how to use a vibrator properly. Do not get lost in that pleasure and remember to exercise some caution. Your vibrator techniques to pleasure should never be an addiction. Equally importantly, relying solely on the strong vibrations of a vibrator can reduce your sensitivity to other means like using your hand, and even sex. Exercise some moderation and you will find your vibrator an excellent companion for amazing and intense orgasms.