(Last Updated On: September 10, 2023)
Maybe you are completely new to sex toys and are wanting to discover the pleasure of them for the first time. Or maybe, like me, you are experienced but looking for the next exciting new addition to your collection. Either way, sex toys are a fantastic way to take your intimate time up to the next level.
I know that it can be a little overwhelming at first, but let me be your guide through the magic of sex toys. From choosing the best toys for you to helping you integrate them into your sex life, I will show you the way when it comes to leveling up your sex life.
Having been around the block when it comes to sex, one thing that I have come to realize is that there is always a next level. No matter how good things get in the bedroom, there is always something new to explore.
Surely many people agree, It's suggested that in the US 50% of men and 65% of women have used a sex toy. I think that toys can be for almost anyone. If you are looking to improve your sex life, you should be looking at what tools are available to you.
The Basics:
If you have stepped foot inside a sex shop or scrolled through the pages of an online one like Lovehoney, then you might already have some understanding of the toys available. If not, here are the basics of sex toys.
Dildos are probably the oldest of all the toys. At their heart, they are simple and effective tools that don't need too much explanation. As we look a little closer though, there are some details to note about dildos. Size is the obvious one, what kind of length and girth will work best for you. Stiffness is another detail that's up to personal preference. Would you like a hard glass dildo? Or something made of a softer jelly that's more flexible. Beyond that, we get into the special features. You can buy something with a suction cup for hands free use. You can buy one that vibrates. As an old toy, it's experienced a lot of innovation over the years. My article on the differences between a dildo and a vibrator should serve as an incredibly useful guide in this respect.
Vibrators come in lots of shapes and sizes. From tingling sensations to powerful rumbling that draws out instant orgasms, there is something for everyone. Since being mentioned in Sex and The City, the rabbit vibrator has been a popular toy but there are many options out there for those of us looking to get a little pleasurable buzz. For external stimulation, I recommend a wand or bullet. Internally, the rabbit or vibrating dildo is a great place to start.
Butt Plugs are the must have toy for those of us interested in anal play. If you're new to anal play with toys then I have two pieces of key advice. One, only use toys that have a flared base to keep yourself safe and to avoid awkward trips to the hospital. Two, start small and work your way up. Anal play takes training, and this is why plugs are often sold in sets of toys with each one a little larger than the last.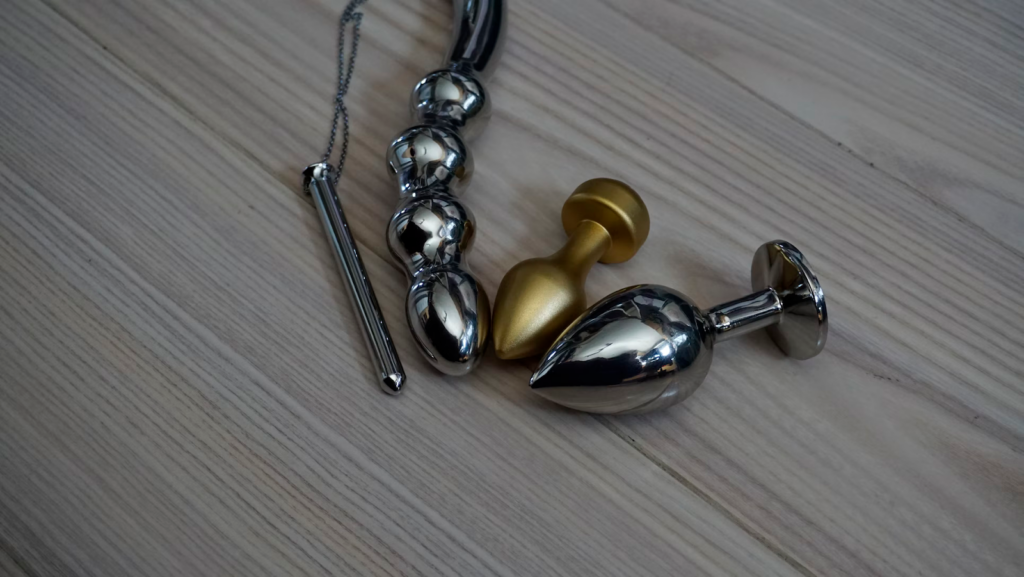 Strokers are the go to toy for people with penises. These toys slip over the cock and are used to create interesting sensations or mimic the feeling of penetrative sex. Perfect for solo play but also for foreplay.
My First Time Using A Vibrator:
When my partner asked if they could use a toy on me, I was equal parts nervous and excited. I didn't know what to expect, but I knew that there was a good chance it could be mind blowing.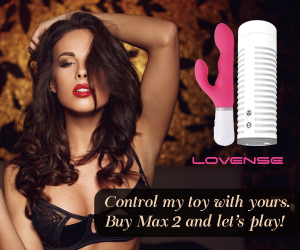 What they pulled out was a large, mains powered, wand vibrator. I had seen them in porn before but never in real life. From what I had seen of them, I knew that they could give women knee buckling mind blowing orgasms in a matter of moments. I didn't know at the time whether that would happen to me, but I was about to find out.
Laying on my back, with my legs spread, the head of the wand was pressed down onto me. Right away I felt the shuddering of my orgasm start to sweep through my body. It really was an instant reaction. I started to orgasm powerfully and entirely out of my control. It was a sensation that I had not felt before, a kind of orgasm that I hadn't experienced, and I knew that vibrators would become a huge part of my sex life moving forward.
More Advanced Toys
Dildos and vibrators really are just the start. There's a huge range of toys out there for the spectrum of weird and wonderful tastes that we have. These won't be for everyone, but give a little thought to if they might be for you.
Nipple toys like Nipple Suckers and Nipple Clamps are perfect for those of us that get a lot of pleasure from having our nipples played with. They can be intimidating, but they don't have to be painful unless you want them too. Nipple clamps are adjustable so can pinch a little or a lot depending on your tastes. My guide on sucking breasts the right way should provide a lovely accompaniment.
Remote Controlled Toys are some of the most tech advanced toys you can get. Using bluetooth or over the internet, they can be controlled by a partner. These are perfect for long distance relationships or public foreplay.
Sex Machines are at the higher end of the budget when it comes to sex toys and for a reason. They are an advanced toy that takes some commitment when it comes to money and the space that they take up but, for some, they are the perfect addition to a toy collection. Vibrators that you ride and thrusting machines are more advanced toys but, if you're ready for them, they can be very fulfilling for putting on a show for your partner or just having fun by yourself.
Sex Dolls are another toy that's not for everyone. In recent years, the sex doll industry has been steaming ahead with more and more realistic dolls that can be custom made to your tastes. For a threesome fantasy or solo play, a doll can add a lot to your sex life if you're open minded. 
Kinky Sex
Kink covers a huge range of things as does the phrase BDSM. If you're new to kink, then don't be afraid. There's something for everyone if you're willing to explore. The use of toys and accessories can be a great way to explore kink. Here's a quick run down of the kinds of toys that you can expect to find for kinky play.
Restraints cover the 'B' in BDSM- Bondage. There are a lot of restraints available from silky ties to spreader bars and ball gags. For beginners, I recommend starting with simple handcuffs or bondage tape. If you're ready to expand your collection then buying some shibari rope and learning some knots is a great next step. 
Impact Play is the act of striking someone. This can be done with your hand but there are a wide range of whips, flogs, and paddles that can create interesting sensations. Even if you're not into pain, impact play can be worth a try since items like flogs can be used to create more sensations than just pain. It can be a light teasing feeling, or it can be sharp and stinging.
Key Point to note: For all kinky play, please make sure to set your boundaries beforehand and have a safe word for any times you want to reevaluate those boundaries.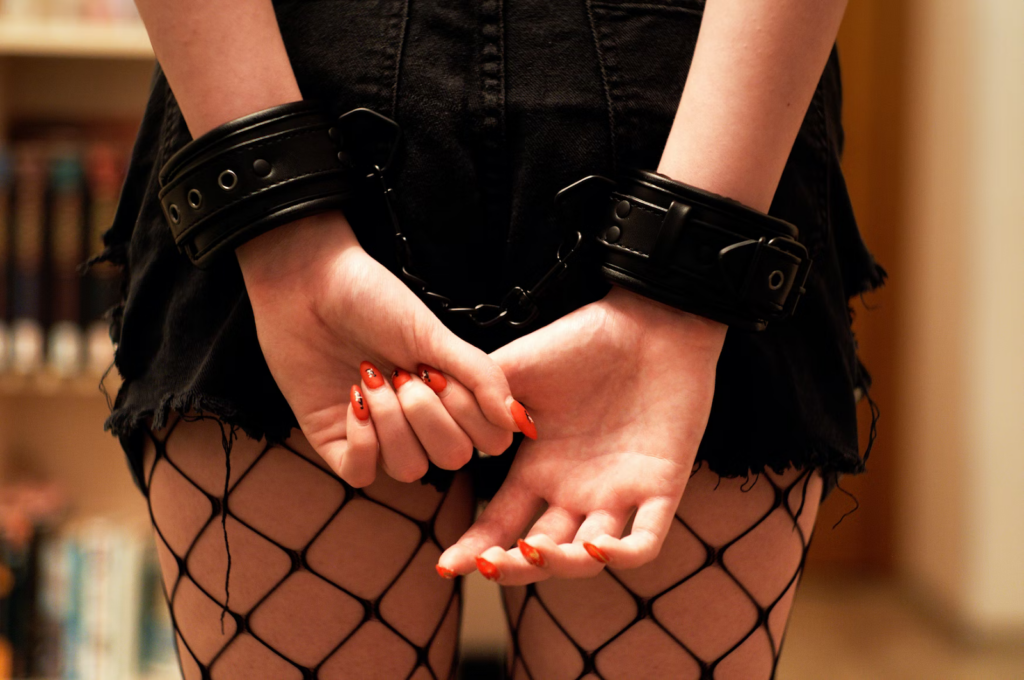 My Experiences With Bondage:
Light bondage is often someone's introduction into kink and it was the case for me. Being tied up, or even restrained by having someone stronger than me hold me down, is such a freeing feeling. The sensation that I get from tying someone else up is a similar kind of thrill. Knowing that someone has given up their power to you, trusting their body in your hands, is an incredible feeling.
I find bondage exciting because of the way that it changes the power in a situation. There is something very exciting about giving up your power and giving into another person entirely. You can let your brain switch off and give into your body entirely allowing for deeper pleasure. Losing control means that you can tap into those primal parts of yourself where the most pleasure can be found. It allows you to relax, to breathe a little deeper, and orgasm a little harder. It's not for everyone but if you're even a little curious, it's always worth a try.
A Note On Materials
It's important to consider materials when buying sex toys, especially if you're working on a budget. Cheaper is not always better and, in some cases, it can be bad for your health. Try to research the retailers that you buy from and use my tips on materials.
Some cheaper toys are made from porous materials. This means that there are very small holes that bacteria can get into meaning that you will never really get your toys clean. Because of this you should always stick to non porous materials like silicone or glass rather than cheaper PVC toys.
Another thing that you should be aware of is allergies. Watch out for any reaction that you or a partner could have to a toy. Latex allergies are the most common, and will limit the toys that you can buy.
If you're looking for the highest quality toys available, I think that Lelo is a great place to start. They make luxury toys that I'm sure will satisfy your needs.
Where to start
For an absolute beginner, choosing your first few toys can be a little overwhelming. Here's my advice on what questions you need to ask yourself and what the answers mean for your first sex toy purchases and how to use a sex toy.
Do you want to use the toy predominantly alone or with a partner? If you're playing alone then think about how you masturbate. Do you like to feel things inside you? Then, try a dildo. If you only want external stimulation, then a wand vibrator is your best bet. If you want to play as a couple then ask yourself this next question.
Is it for foreplay or use during penetrative sex? Toys for external use are best when it comes to use during penetrative sex, like a wand vibrator or a clit sucker. When it comes to erotic foreplay, you could go for a vibrating dildo or a rabbit instead.
What do you fantasize about? This is the most important question to ask yourself. Bringing toys into the bedroom can help you to explore some of these fantasies. Do you want to be double penetrated? Then use a dildo during penetrative sex with your partner. Think about your own fantasies and know that the sky is the limit.
The Ideal First Toy
The toy in my collection that gets the most use, and the toy I most strongly recommend as anyone's first, is a wand vibrator.
It's a super versatile toy that can be used alone, during penetrative sex, or with other toys. Depending on what setting you use and the amount of pressure you apply, the sensation can be teasing or very intense. It can be used on any body part, teasing and massaging or sending you into a shuddering orgasm. There are a lot of them on the market from budget options to luxury options.
The design of some of the larger ones can be intimidating, but there are plenty of smaller ones that have sleek and unthreatening designs. Huge veiny flesh colored toys can be scary for a beginner, a wand looks stylish and cute.
Talking To Partners
People are often scared to bring toys into the bedroom because they don't know how their partner will react. Studies have found that 18% of women are nervous to bring toys into the bedroom. If it's not something that you've talked about before then it can be hard to know what your partner might feel. The main issues can be feelings of jealousy that come from fears that the toy might replace them and their skill or that the toys are a sign that they're not performing well enough as your lover.
The best way to approach these conversations, especially if you're worried about the kind of reactions that I've described, is with compassion and empathy. Acknowledge the fears that your partner may have and give them comfort. If someone feels threatened by the idea of you using sex toys, then it's likely that they have insecurities that you should be trying to heal together. Explain to them that you think toys can enhance the wonderful sex you already have. Tell them that toys are just tools. Make sure that they feel wanted and have patience.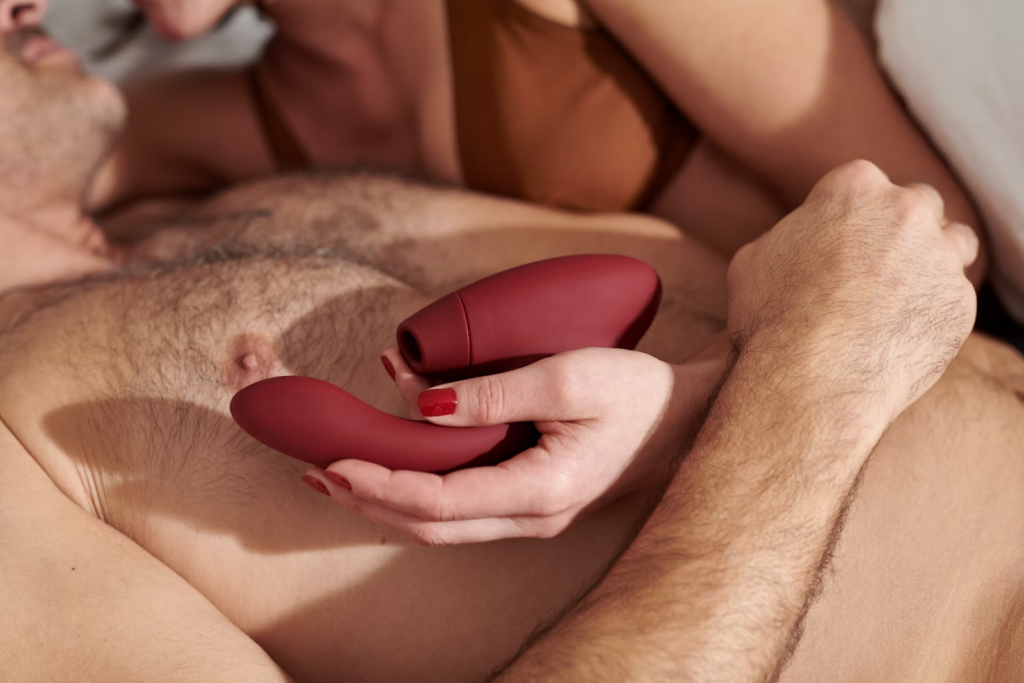 Homemade Toys:
You don't have to break the bank to bring some extra spice into the bedroom. There are things you have around the house that could be used as sex toys.

For example, there's a lot that can be used for bondage without buying expensive handcuffs and under bed restraint sets. You can use scarfs or rope that you already have. Though, to be safe, it's best to always have scissors on hand if you're not experienced with knots. Homemade additions like ice could also be used to spice things up.
You can use items from the kitchen in place of dildo's too. It sounds silly, but some of those veggies can make great single use dildos. To be safe though, it's always best to put a condom on your carrot or cucumber.
Final Thoughts
The world of sex toys is a large one but I hope I've given you a map to help you navigate your journey. Whether you're taking your first steps or just some new ones, there is always more to explore.
The most important thing to remember when you explore using sex toys is that you're pleasure matters. It's worth putting the time into finding toys that excite you and then putting the time into using them. It's worth spending time fantasizing, alone or with your partner, about new things that might excite you. Remember to stay curious, open, and adventurous. That will ensure that you're sex life remains exciting and continues to grow. The sky's the limit when it comes to sex and there is always more pleasure to be had.