You can't go wrong with a classic right? Well, inflatable sex dolls (or blow-up dolls) are a classic in the sex toy industry, and for a mind-blowing reason.
The first time I ever saw a blow-up doll I felt caught off guard in a way. True, sex dolls have come a long way since they first broke the market – with a not-as-appealing design and less than ideal performance. Today, they exist in all shapes, sizes, designs, and performances, and upon digging deeper, I came to find they are super-fun to introduce in the bedroom, too!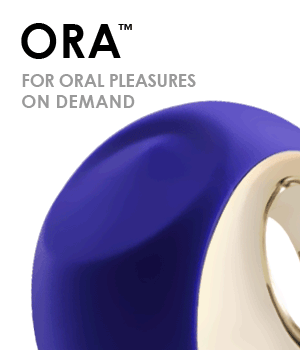 To be quite honest, I had the time of my life getting busy with a sex doll – a few of them actually! Their ease of use, inflation feature, and versatility have all led me to discover a newfound respect for sex dolls as a sexy concept- and the kinky opportunities they offer!
Looking for that perfect sex doll addition to spice things up – solo or with a partner?
Look no further – I did the homework right in time for your bedroom adventures. Out of thousands of products online, here are the finest inflatable sex doll options to consider – alongside a detailed guide on how a sex doll can inflate your pleasure beyond limits!
What is an Inflatable Sex Doll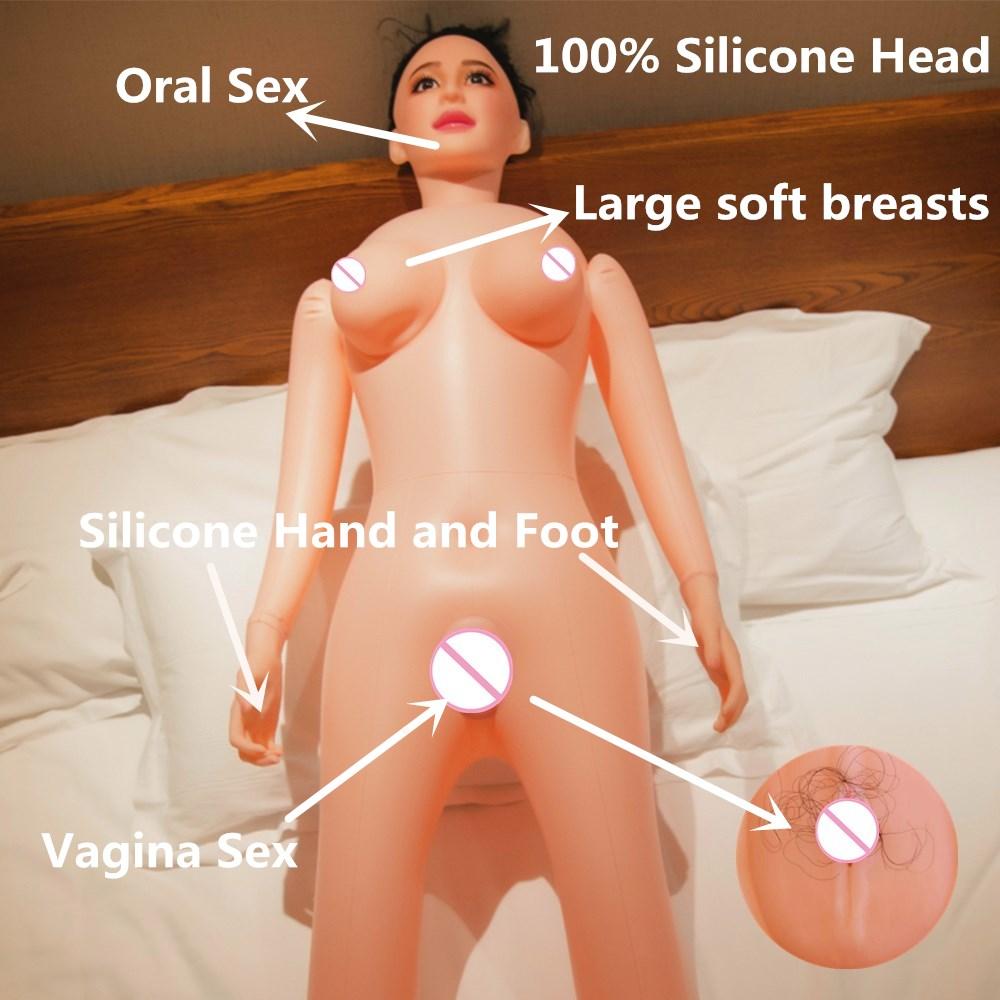 An inflatable sex doll, better known as a blow-up doll, means exactly what the name suggests. Let's be real, we've all seen one of them, but not all have used one, which is actually where the magic happens.
For most people, inflatable sex dolls have been taken with a grain of salt as well as partial reservation. However, as the world of erotic pleasures shifted, so did the perception of what inflatable sex dolls can actually do for your bedroom life.
Sex dolls, even the most rudimentary blow-up kinds, can be made from a variety of different materials. Such include PVC, TRP, latex, rubber, and Cyberskin, to name a few. As technology grows so does the refinement in the sex doll industry. A sex doll is an inflatable pleasure provider with a realistic human-like appearance – and size – and equally pleasing performance.

Sex dolls come with designated vaginal and anal openings, as well as an oral cavity.
By definition, all sex dolls are 'shes' which might entail only males using them, however, let me be the first lady to admit that, yes, we also like our share of fun with these saucy inflatables!
The Best Inflatable Sex Dolls of 2023
If you're looking to try a sex doll, whether it be for the first or hundredth time, the following picks are sure to catch your eye, and maybe even become part of your regular naughty games!
Shy Camilla Realistic Vagina and Ass Vibrating Inflatable Sex Doll – Best Budget Pick
Best Budget Pick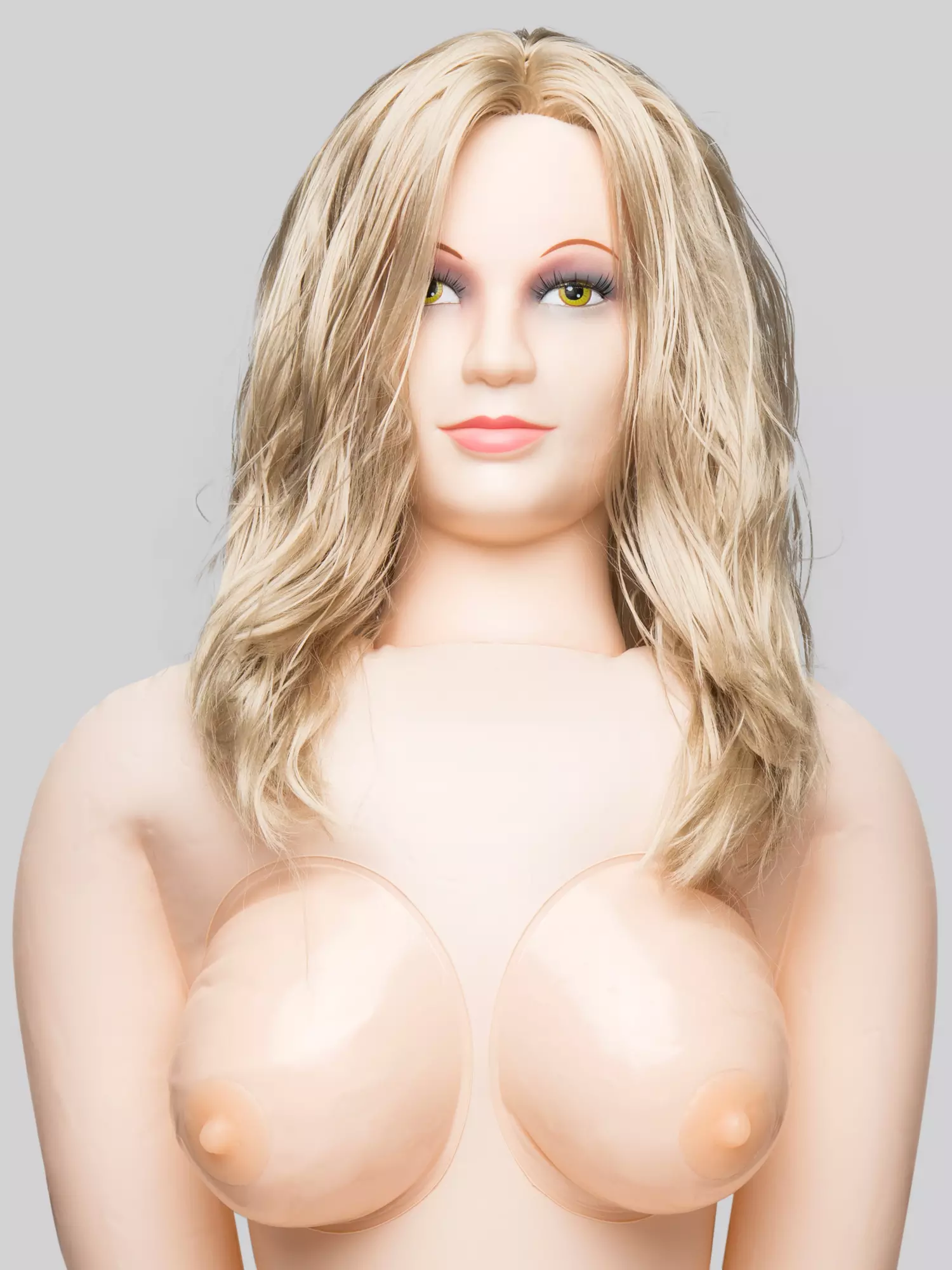 Shy Camilla Inflatable Sex Doll
Her name is Shy Camilla, but don't be fooled – she's a sex kitten aching to have your hands all over her. With wavy blonde hair, big boobs, erect nipples and amazingly authentic entrances to explore, she'll have you purring with satisfaction.
Get 15% off with Code: GURU15
Specifications
Opening: Vaginal and anal
Material: PVC
Vibration: Multispeed bullet
Power type: 2 x AA batteries
Shy Camilla will bear it all for you if you decide to choose her as your bedroom mate. Once in your arms, this stunning doll will show you her not-as-shy side. The best thing about Camilla – she's down to do whatever you had in mind!
Camilla comes in at 5 feet 7 inches and by the time your fingers are intertwined in her lush hair and you're caressing her tender breasts, you'll have forgotten she ever came in a box!
Shy Camilla is here to emulate real deal boinking and does a marvelous job at it, too. Both her hands and feet are realistically shaped, whereas the lifelike eyelashes add a special authenticity. The doll's vaginal canal is textured to imitate an actual woman's netherregions and provide you with a realistic penetration feel. Mmm.
Camilla comes with both a butt and vaginal hole for your utmost and diverse pleasure, with the butt opening feeling especially tight and cozy.

Doll authenticity aside, let's talk about her vibrating features. The Camilla comes with a multi-speed bullet that can be inserted into either hole to heighten the experience of the user – all the while creating a powerful quivering motion!
Shy Camilla also comes with a foot pump, a storage bag, a repair kit, as well as a sample of renewer powder.
Pros
Lightweight
The textured interior canal provides a real feel
Multiple vibration options
Cons
Vibrator requires you to buy batteries for use
Difficult to clean well, need a lot of attention to hygiene
THRUST Pro Xtra Brianna Realistic Inflatable Sex Doll – Most Realistic
Most Realistic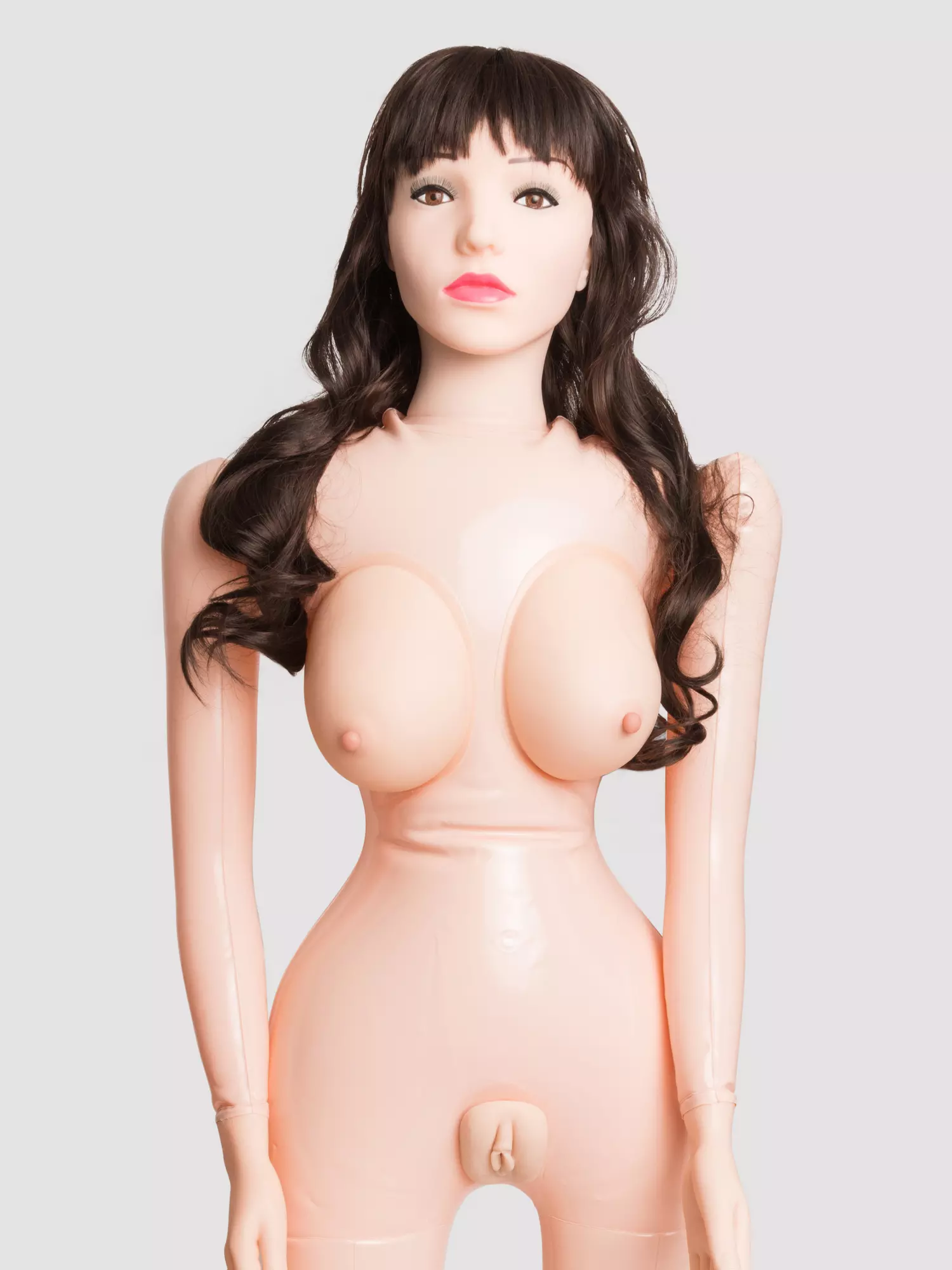 Specifications
Opening: Vagina and anus
Length: 3.5 inches
Material: Soft Plastic

Looking for something a little extra? Are brunettes more your type? Brianna is demanding your immediate attention!
This brown-haired babe comes with a foot pump, so you can get to action mere minutes after getting her to bed. Her breasts are ample, her lips are full, and her eyes spring with desire – Brianna is the ultimate doll for those looking for the dark femme fatale type. With Brianna, I'd recommend setting a nice atmosphere to further enhance her realistic look. You can give the doll a spritz of a nice perfume – it goes a long way!
Brianna has two holes that enter a textured canal – ribbed for your pleasure and easy to remove and clean. I like to give attention to the front and the backside equally.
Whatever your intentions with Bri, make sure to use a lot of water-based lubricants to increase your comfort when using her.
Pros
Has realistic hands, feet, breasts, and vaginal canal
Comes with a foot pump

THRUST Pro Xtra Naomi Vibrating Realistic Inflatable Sex Doll – Best for Oral Penetration
Best for Oral Sensations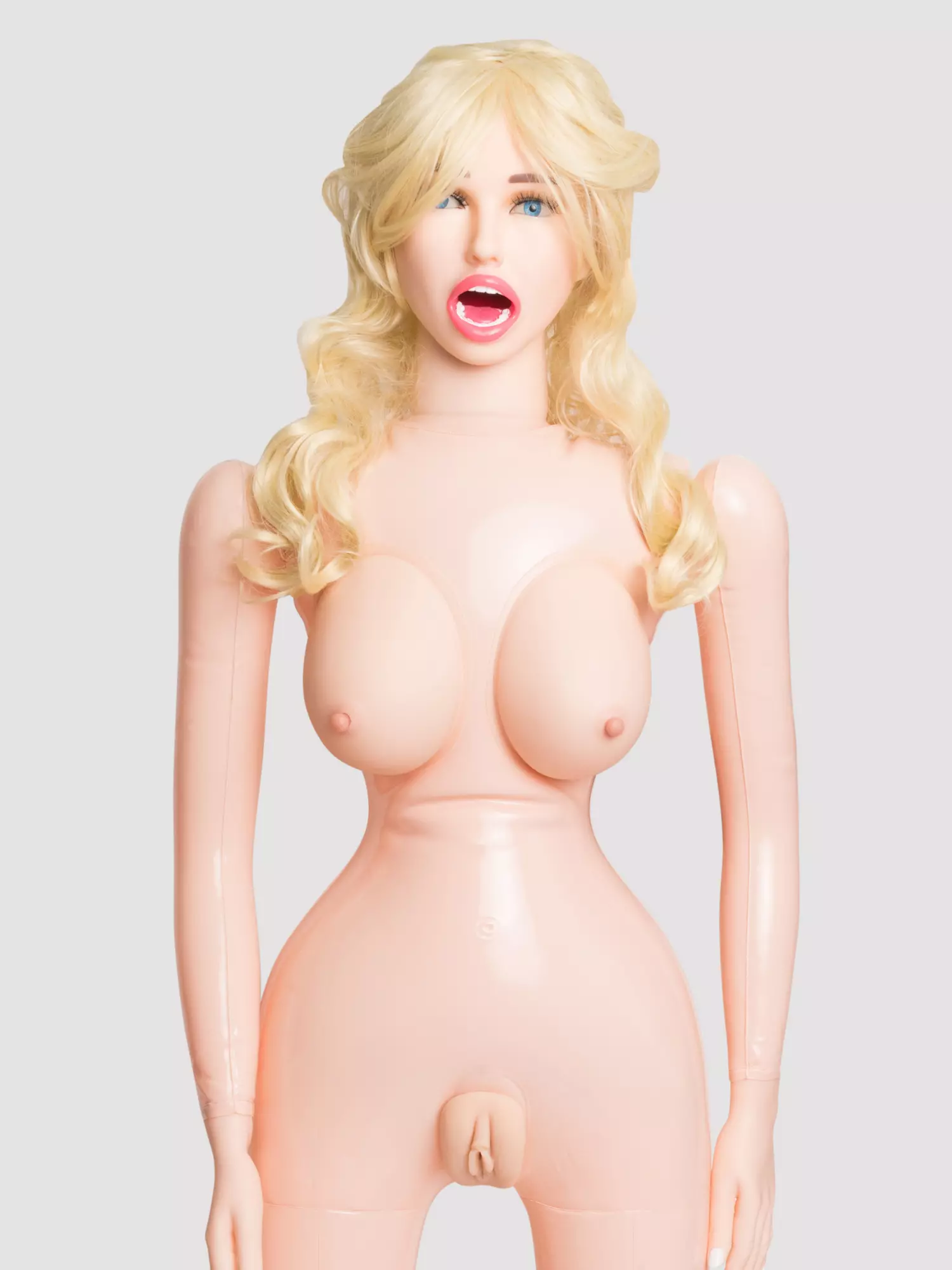 Specifications
Opening: Vagina, anus, and mouth
Length: 3.5 inches
Material: Soft plastic
Vibrations: Three speeds and seven patterns
Power Type: 2 x AAA batteries
Your ultimate fantasies await fulfillment in Naomi's slender arms!
She's the blond-hair-blue-eye bombshell every man has dreamed of at least once in his lifetime. Now you finally get the chance to be with her and envelop yourself in pleasures, unlike anything you've known.
Naomi has mesmerizing eyes, bountiful realistic boobs, and never shuts her mouth – but only in the best of ways. With three penetrable holes, you can have fun with this cutie for a long time, and in various fun ways!

As for its vibrating feature, the Naomi doll vagina and anus come with 3 speeds and 7 vibration patterns, only adding more variety and great possibilities to an already splendid product.
Naomi reminds me of the first blow-up doll I ever saw – blonde, inflatable, and mouth-wide open. Only, Naomi comes far more refined and evolved, with a beautiful lifelike face that entices you to enter her mouth.
She also comes with a foot pump so you can get straight to the action like you mean it!
Pros
Highly realistic
Beautiful facial design
Many vibration options
Cons
Holes are difficult to squeeze into
Gladiator Inflatable Male Sex Doll with 7 Inch Realistic Dildo – Best for Ladies & Couple Play
Best for Ladies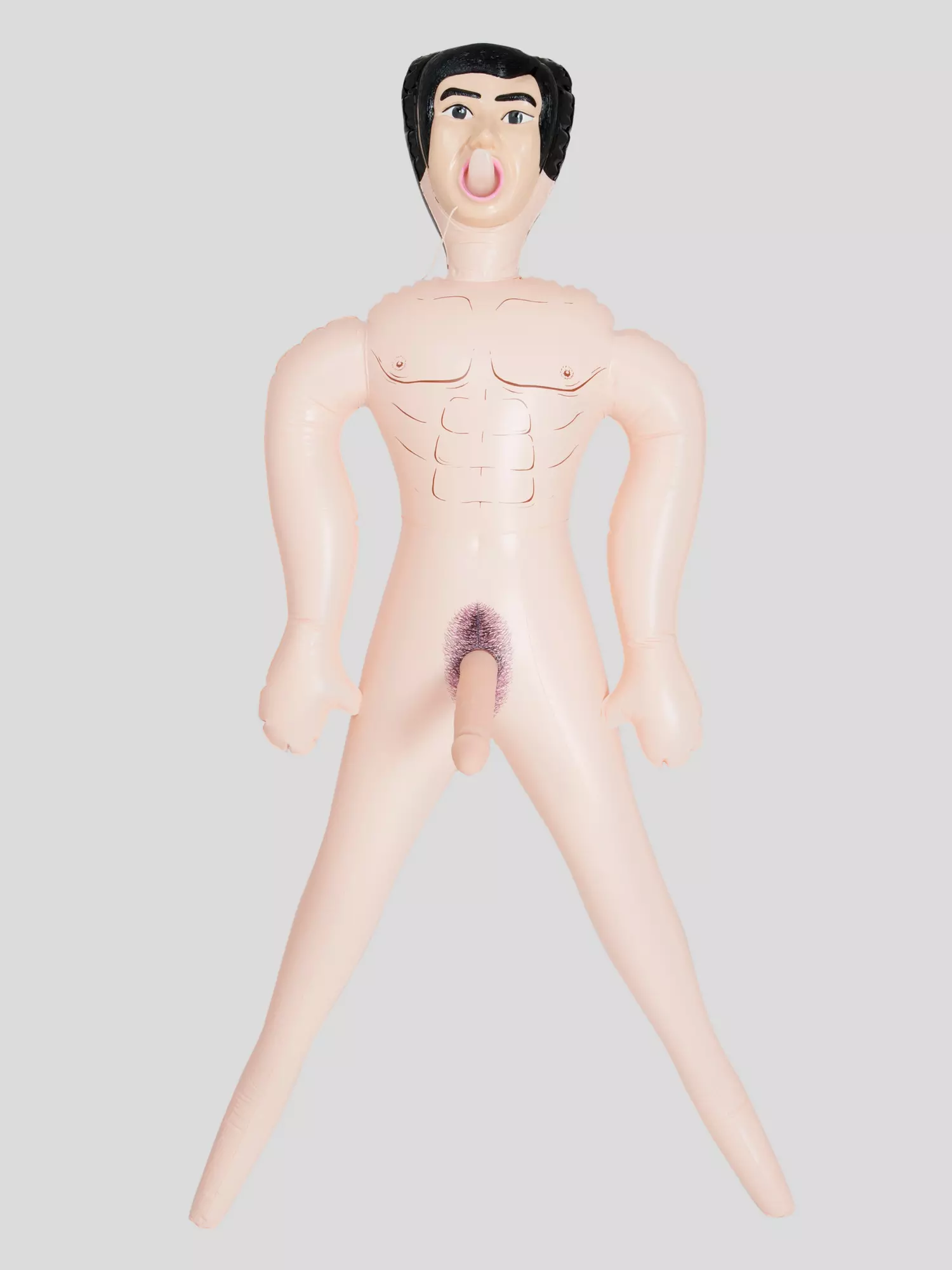 Specifications
Allergen Warning: Contains latex
Waterproof: No
Length: 7 inches
Circumference: 5.25 inches
Material: PVC
Vibration: Multiple speeds
Power Type: 3 x AA batteries

They don't call it the Gladiator for nothing! This unique inflatable male sex doll is a great choice for any woman looking for a more authentic experience when masturbating.
Or, it can be a perfect addition to the bedroom for couples who want a safer take on the threesome fantasy.
Either way, this 4 feet 11 inches Adonis-like figure is always ready for some good fun – you just need to hop on for the ride. It features a realistic 7-inch dildo with a 5.25-inch circumference, which includes a vibrator for added stimulation and pleasure. If this wasn't enough to sell you on the Gladiator, its special tongue feature – which also vibrates – will tickle you into OrgasmVille in no time!
The doll is partially made of latex, so it won't be fit for those allergic to the fabric.
The Gladiator is also not waterproof, so all the fun will have to stay out of the water – although you can still get plenty wet, IYKWIM.
Reenact your wildest dreams and enjoy all the sex appeal, smolder, and sultriness this realistic inflatable hunk can offer. You can play with him all you want and be sure he'll never play you!
Pros
Affordable
Oral sex simulation
Lightweight
Cons
Contains latex, an allergen
Requires batteries for use, not included in the purchase
Horny Quella Realistic Vagina and Ass Vibrating Inflatable Sex Doll – Best for Kinky Play
Best for Kinky Plays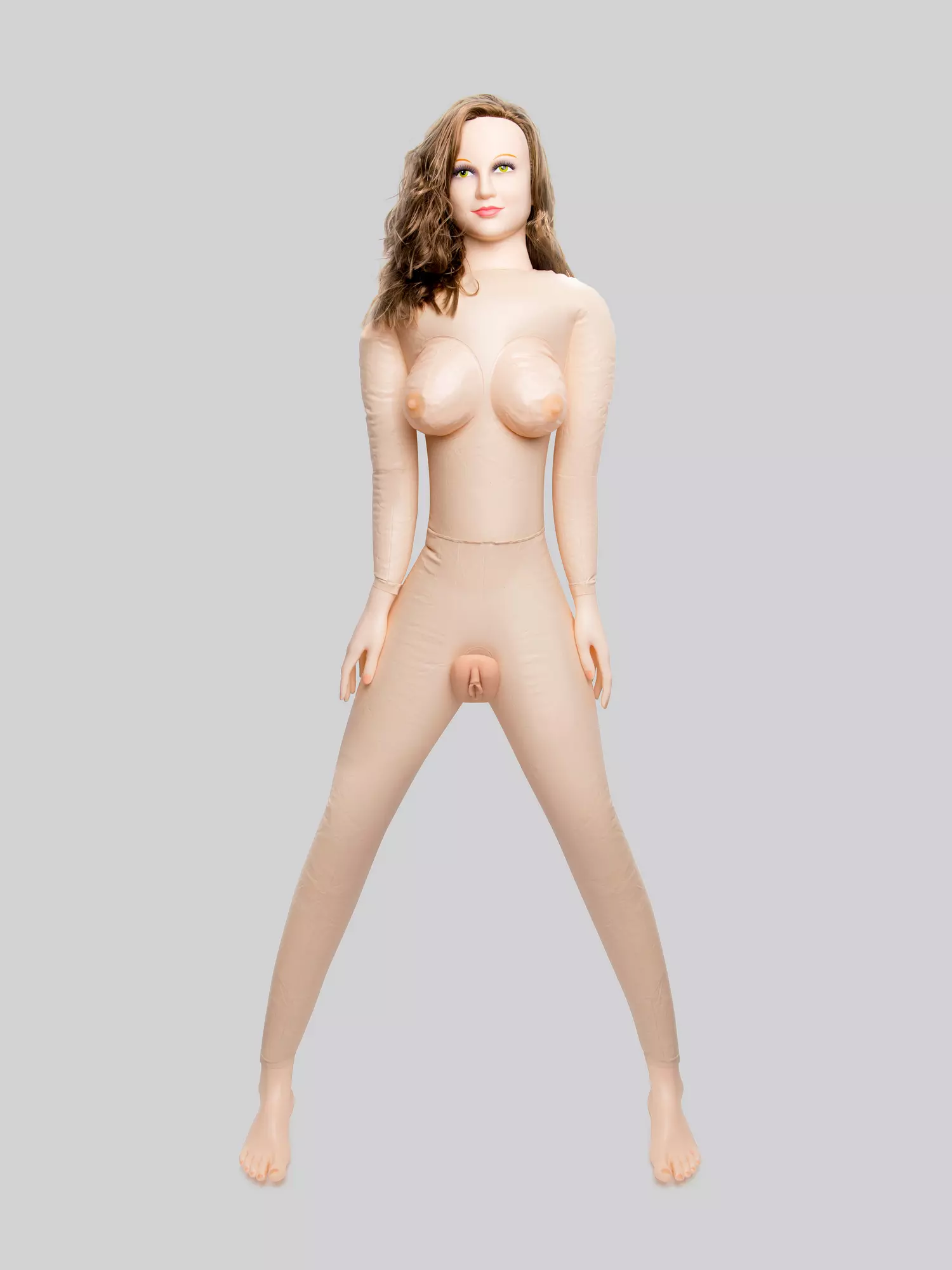 Specifications
Opening: Vagina and butt
Material: PVC
Vibration: Multi-speed vibrating egg
Power type: 2 x AA batteries
Horny Quella is not looking for love, she just wants someone to feel her up… and, maybe, fill her up? She's sultry, incredibly sexy, and made for authentic play – serving you a real treat should you decide to let it keep you busy!
Her ash blonde hair beautifully shapes her face, while soft, natural lashes bring out her green eyes. Quella's more than just a pretty face, though. She has plump C-cup breasts with nipples that trap your gaze in place and a tiny waist to wrap your arms around. Not to forget, the doll comes with a vaginal and butt hole, both vibrating and offering the chance to get as kinky as you want!
Upfront, the doll offers 5 inches of the ribbed vaginal hole, that hugs your dong like a blanket. If this isn't enough, you can go for the tighter butt hole, or insert a vibrating bullet for added sensations and fun.
The vagina and butt are removable, which makes this dirty girl super easy to clean and get ready for your next time together.
Pros
Realistic vagina and anus
Realistic facial features, hands, and feet
Removable vagina and butt allows for easy clean-up
Cons
Batteries required to use vibrating features
Inflatable Sex Doll Buying Guide
The advantage of buying an inflatable sex doll is that you can customize it to your own liking. Therefore, when shopping for the best inflatable sex dolls, you want to be aware of exactly what features to look at.
Type
To start, you're going to need to know if you want a male or female doll. On this list, there's only one male doll included, as the boy-toy market isn't as large as that for female sex dolls. Therefore, there is a lot less variety and a lot less opportunity for good products to emerge. When it comes to female blow-up dolls, however, you'll be welcomed with many more choices.
Material
The material can make or break a sex doll. Most inflatable sex dolls are made up largely of soft plastic. However, there can still be a lot of variety in materials that different doll parts are made of. Always make sure the lube you use is suitable to the material the toy is made of, and watch out for any allergies you may have. Also, the material type decides on the lubricant type you'll use, so ensure those two match.
Size
Sex dolls are not one-size-fits-all. Therefore, the proportions of a doll are incredibly important, especially if you are just starting out.
Maneuvering a new sex toy can be difficult no matter what, but when a doll simply doesn't work for your measurements, you might as well have thrown that money in the garbage. This is one problem that won't get fixed with just practice.
As to not waste your money on a product that you will never get to fully experience, keep in mind your own size compared to that of the doll – both body height and member length and girth.
Shape
No body shape is inherently bad or good. That being said, we all have our preferences.

Just as with everything else, when picking out a sex doll, you can look for a specific shape you want. Whether it be large breasts, a slim waist, and big thighs, or a slender figure with a smaller chest – it is up to your liking to match your exact type!
Features
We already know what the doll is going to be for, so it shouldn't surprise you to hear that a sex doll's features are the most important things to look out for.
Before buying one, think carefully about what you want from your toy doll. Is it a vaginal, anal, or mouth opening? Perhaps it's all three. Do you want vibrations? Have you considered if you need a waterproof doll?
You can find all these features and more if desired; all we're saying is – do proper research and keep your expectations in mind when choosing.
Appearance
If you're getting a doll for more authentic sexual activity, you want to make sure she's a looker, no? Not all dolls have realistic features, but among those that do, you might just find the face that was made for you.
Price
When buying, well anything, the price will matter a lot. With sex dolls, you may find options that are on the cheaper side, but they're not bound to be very pleasurable, or at all worth the money. Price-wise, inflatable sex dolls won't offer much without some investment in quality, so if you are looking for a top-notch product, something extra's got to give.
The Verdict on Inflatable Sex Dolls
If you are willing to take the plunge, THRUST Pro Xtra Naomi Vibrating Realistic Inflatable Sex Doll is the one you want to invest in. She's got the looks, an easy set-up, and gives you the most options and variations to keep you busy and hot!
If the price tag seems too hefty you can look at more affordable options, such as the Shy Camilla Realistic Vagina and Ass Vibrating Inflatable Sex Doll, which still offers a lot of great features for consumers.
Now, even though there are cheaper options to consider, if you really don't like overspending but still appreciate quality, you might want a fleshlight, as a superb alternative to testing the waters. Plus, fleshlights require less set-up and can be bought for more than half the price of a decent blow-up doll. This being said, a fleshlight definitely doesn't offer the same experience a doll would, but surely gives you a suitable introduction to the world of lifelike penetration and lovemaking.
Back to sex dolls, these are the key steps involved in actually using them for pleasure:
Assemble the inflatable doll – insert the removable insertion canal and inflate.
Lube up – make sure to use a generous amount of water-based lube! Trust me, a sex doll requires plenty of lubrication.
Do it – do whatever you want, and satisfy yourself however you please
Clean up – thoroughly clean your doll after every use to prevent bacteria growth and keep her ready for the next use.
Deflate and put away – after deflation, she should be easy to store and require minimal space.
Ready to have your expectations blown – pun intended – out of proportion, and in all the right ways? Your inflatable sex doll is waiting – and is looking hella fine!