(Last Updated On: January 14, 2023)
Fleshlights. Pocket pussies. Guybrators. Faux Ginas. No matter what you call them, they are designed to do one thing and they ain't going anywhere. The first male masturbatory aid hit the market all the way back in 1994 when Fleshlight introduced the "Pink Lady Original" to instant commercial success.`
Fast forward to today and the choices for the best fleshlights seem almost never-ending. There's anal fleshlights, milf fleshlights, fleshlights from all of your favorite pornstars, realistic fleshlights, fantasy fleshlights – the list really is never-ending.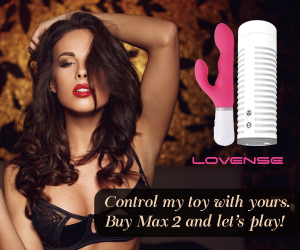 Today's rundown is all about the best mouth fleshlights – that is the best fleshlights that simulate or enhance a blow job. The almost 3 decades of R & D in the field has led to some pretty amazing machines that do a surprisingly good job at imitating the real thing.
So let's take a deep dive… into the world of the best mouth fleshlights and see exactly what's on offer!
What is a Mouth, or Oral Fleshlight?
Well, to put it in simple terms, they aim to simulate the feeling of getting a blowjob. There are a bunch of different styles of mouth fleshlights – compact, enhancer, vibrating, hands-free, etc.
They all have one thing in common though. The end game is to help dudes get their rocks off in new, fun, exciting, and pleasurable ways that resemble getting a great hummer!
The Best Mouth Fleshlights Compared
Turbo Thrust by Fleshlight – The Best Overall
Best Overall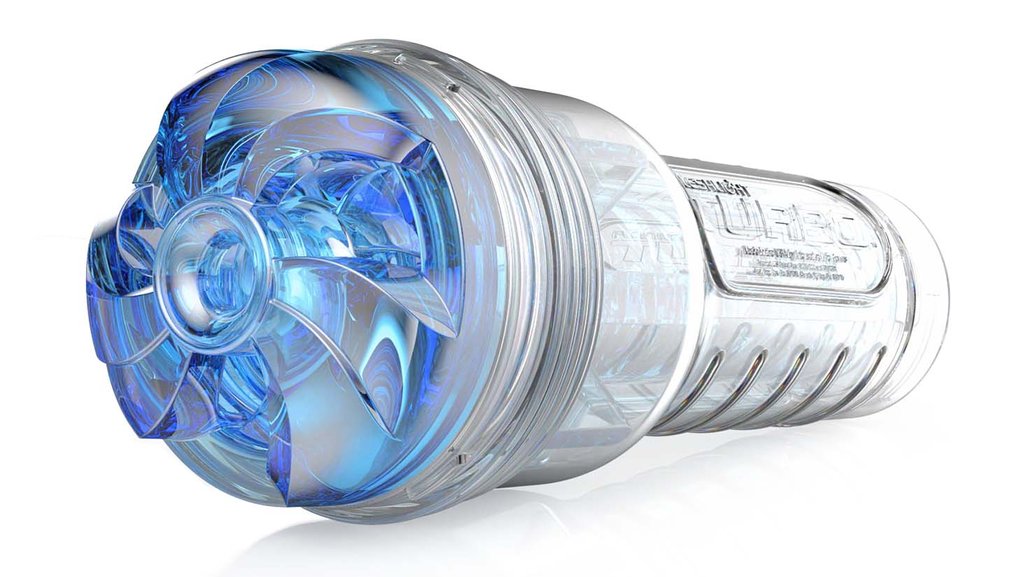 Turbo Thrust by Fleshlight
The Fleshlight Turbo offers you the most realistic and satisfying alternative to oral sex. Uniquely designed with three points of initial insertion, the Turbo provides the mind-blowing sensations synonymous with getting a stellar blowjob every time you use it. Whether you like to stimulate just the tip or you prefer the tight, spine-tingling sensation of deep throating, the Turbo provides you the tease and the thrill to get to the finish line.
See latest price
Specs
Length: 9.75 inches
Insertable length: 8.5 inches
Opening: Neutral
Diameter: Conical 4 to 2.5-inch design
Canal Diameter: ½ inch with suction control
Material: Hard moulded PVC clear case with the Fleshlight's Superskin sleeve
Color: Blue Ice – Light blue
Allergens: Phthalate-Free
If you are in the market for a realistic blowjob simulator then the Turbo Thrust might not be for you. But, if you want what most consider to be the best feeling mouth fleshlight then stop what you are doing and take a long hard look at the Turbo Thrust by Fleshlight.
This is one of the newest products in the Fleshlight range, and it comes with some fantastic new features.
In the past, Fleshlight has offered toys that have openings resembling the holy trilogy. That is vaginas, throats, and assholes. But with the Turbo Thrust, Fleshlight has decided to go for function over form. The orifice has three points of insertion that simulate the feeling of slipping your dick through a set of lips, over the tongue, and down the throat. The first time I tested this one out I was, well, blown away…

The tight squeeze provided by the Turbo Thrust is perfect once lubed up. This suction can be adjusted from the endcap so you can set the level to exactly how you like it! The overall feeling is truly realistic.
The deep throat effect had me literally curling my toes, with new sensations flowing each time I hit a different angle or position. If I'm being totally honest, this is my new favorite sleeve and I can't see myself getting rid of it anytime soon.
Priced to please, perfect for Brobrator veterans like me or total noobs, and my wife loves it as it gets her off the deep throating hook!
Pros
The most realistic feeling sleeve I have ever owned.
Triple chambered which offers a broad range of sensations.
The "Fleshlight Superskin" is as realistic as you can get.
Lightweight but tough.
See-through design.
Discrete with zero sound as there is no motor.
Mid-range affordable price.
Cons
The design makes it inherently tricky to clean.
Doc Johnson Good Head Blow Job Stroker – Best Budget Blow Job Enhancer
Most Affordable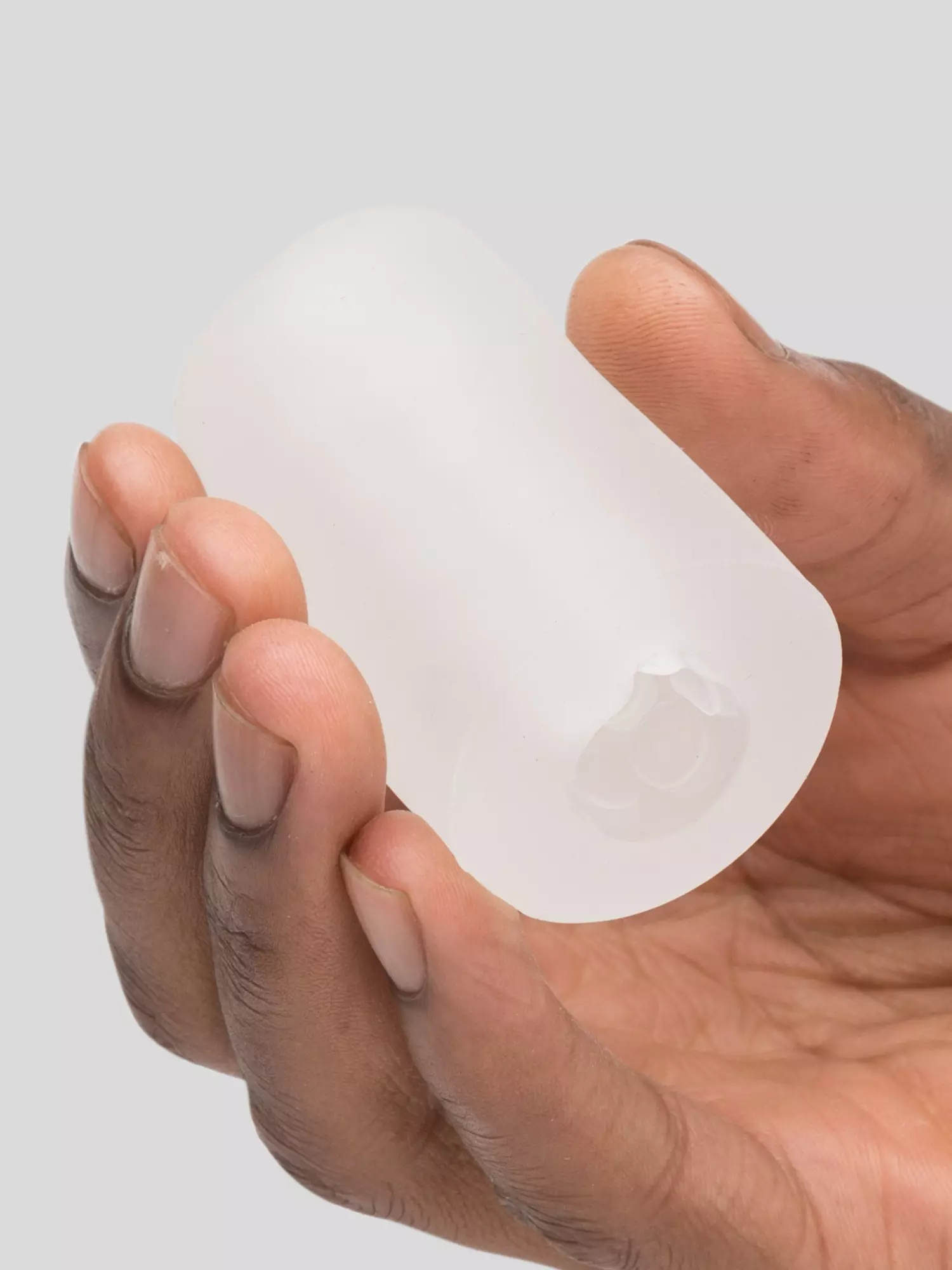 Specs
Length: 2 inches
Insertable length: 2 + inches (openings at both ends)
Circumference: 5 inches
Opening: Neutral
Material: "UltraSkyn" ultra-realistic UR3 material (TPE)
Canal Diameter: 0.5 inch
Color: Clear
Allergens: Latex-Free, Phthalate-Free
The Doc Johnson Good Head Blow Job Stroker takes two categories down here – the best budget toy and the best blowjob enhancer. Depending on where you buy it from, you could be picking this one up for not much more than the price of a good coffee in San Francisco – expensive for a beverage but super cheap for an adult toy!
Marketed as a "BJ Helper", this toy is perfect for couples where deepthroating is out of the question. But don't count this one out just yet if you are looking for a toy to use solo. This works great as a straight-up masturbatory aid, although the short length may have you wishing for a little more coverage.
Straight out of the box the tightness of the sleeve was quite intense (I am just above average in terms of size and girth) so a fair whack of lube was required. This tightness actually turned out to be one of the best features of the Doc Johnson Good Head Blow Job Stroker.
But how well does it work as a blow job helper?
SO well! The internal bumps and ridges simulate the feel of being deepthroated quite well, and with my wife going at it at the same time, I was in a pretty happy place, to say the least!
The price is slightly indicative of the lifetime of this product. It's made from soft TPE that does feel nice and fairly realistic, but it is porous and is impossible to totally sterilize. It will need to be replaced every 6 months or so, but at this price that's still great value.
The Doc Johnson Good Head Blow Job Stroker is the perfect fellatio addition at a rock bottom price, that can also be used to spice up your solo play.
Pros
Super affordable.
Great for solo or partner play.
Stimulating massage beads.
Simulates deepthroat sensations.
Quiet and discreet.
Allergen-free.
Cons
Maybe a tight fit for large guys.
Porous material will not last forever.
Magic Eyes La Bocca Della Verita Realistic Blow Job Stroker – Most Visually Realistic
Most Visually Realistic
Specs
Length: 6.5 inches
Insertable length: 5.5 inches
Circumference: 3 inches
Opening: Mouth
Material: Thermoplastic elastomers (TPE)
Canal Diameter: 0.75 inch
Color: Skin color
Allergens: Latex-Free, Phthalate-Free
The Magic Eyes La Bocca Della Verita Realistic Blow Job Stroker is the most visually realistic sex toy on this list, but the naming has always confused me. See, this product only has the lower half of the face and leaves out the eyes totally.
This may be due to some sort of translation issue, as this is a Japanese-designed "Onahole" (more on these in the buying guide).
Lemme just say right now, this toy has not been designed to accommodate well-endowed dudes. My old fella was pushing its limits, so if you're a big boy then you should definitely choose another option.
But if (like me) you are just above average or smaller, the Magic Eyes La Bocca Della Verita offers insanely pleasurable feelings.

Traditionally, Onaholes have not sold super well in the States. The Magic Eyes La Bocca Della Verita seems to have been able to buck this trend and is one the most highly rated BJ simulators currently available on the US market.
In terms of realism, they have done a great job. Opening the mouth reveals a set of rubber teeth (not too hard) and a soft rubber tongue. The upper mouth palate is nicely ridged, the tongue extends back down the throat, and they have included the genioglossus, that string like muscle under the tongue.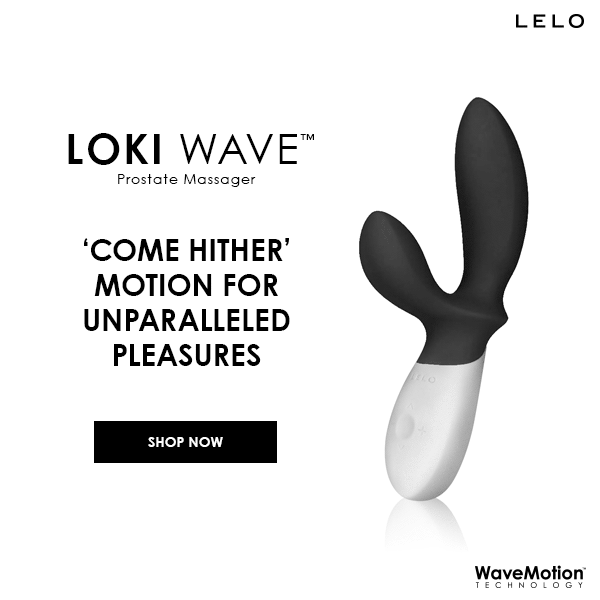 As this unit has the single opening, the suction power created is impressive and surprising. This vacuum power really hits.
So, if you've been searching for a mouth fleshlight that tries hard to closely replicate the look and feel of the real thing then your search may be over!
Pros
Realistic design and feel.
Strong suction power.
Designed to last.
Not overly expensive.
Silent and discreet.
Flexible and comfortable.
Dual-layer construction.
Cons
Too small for anyone that's 7.5 inches or bigger.
Hard to clean.
Blowmotion Warming Rechargeable Vibrating Male Masturbator – Best Warming Oral Fleshlight
Specs:
Length: 5 inches
Insertable length: 3.5 inches
Circumference: 3 inches
Opening: Neutral
Material: Silicone
Color: Black
Allergens: Latex-Free, Phthalate-Free
Battery Life: 1 hour
Battery Type: Li-Ion rechargeable
Vibration: 6 speed with 3 different patterns
Warming male sex toys are the newest addition to the market, and they are gaining a strong reputation for providing a pretty special experience. Not only does this one offer a warming feeling, but it also has 6 different vibration settings with 3 intensity levels for each setting that can be used separately or in conjunction with the warming effect.
This toy comes fully splashproof, free of any allergens that could cause skin irritation, and is made from 100% silicon. The full silicon layer makes this one completely non-porous, meaning that although it may not be as soft to the touch as some of the other options, it can be fully sterilized after each use.
The Blowmotion Warming Rechargeable Vibrating Male Masturbator is designed to slip over the top half of your penis like a warm mouth. It delivers lifelike stimulation through the warming and vibrating actions to the most sensitive area for most guys. When coupled with a healthy dose of water-based lube, the sensations are pretty mind-blowing.
Although this comes with a battery pack, it is not a "hands-free" model. The whole thing is malleable and can be squeezed over the tip of your cock to add to the intensity. It heats up to 104 F (40 C) which seems to be the goldilocks zone for dick sleeves.
For a male sex toy that offers so many options and fun, the Blowmotion Warming Rechargeable Vibrating Male Masturbator is an absolute bargain!
Pros
Silicone design that can be fully sterilized after each use.
Each of the 6 vibration patterns can be adjusted with 3 intensity levels.
Rechargeable Li-Ion battery pack.
104 F internal temperature.
Focused on the most sensitive area of the penis.
Can be squeezed to add to the sensation.
Cons
Not particularly discreet, especially when the power level is turned up.
The battery life could be better.
Lovehoney Head Master Vibrating Blow Job Stroker – Best Low-Cost Vibrating Blow Job Enhancer
Specs:
Length: 2.5 inches
Insertable length: 2.5 inches + (open-ended)
Circumference: 7.5 inches
Opening: Neutral
Material: Skin like soft plastic
Color: Clear
Allergens: Phthalate-Free
Battery Life: 10 + hours
Battery Type:2 x LR44 batteries (included)
Vibration: 3 speed
Ok, so you want a new hummer helper that is easy on the wallet but also offers the excitement of some vibrations? Say hello to the Lovehoney Head Master Vibrating Blow Job Stroker!
This low-cost, open-ended cock sucking enhancer works in much the same way as the previously reviewed Doc Johnson Good Head Blow Job Stroker, with one addition – a vibrating bullet that can be inserted into the toy for pleasure maximization.
The open-ended design makes this unit super easy to clean (although it is made of a porous TPE so full sterilization is not possible) and can be used while getting ahead. Designed to sit around the shaft, the internal ribbed texture offers intense feelings of pleasure which are only heightened by the vibrations!
I did find this toy to be a pretty tight fit, so healthy amounts of water-based lube is a definite recommendation (as always).
While this toy is marketed as for couple play, it also works great for solo sessions. The vibrating bullet is surprisingly quiet for the amount of power it provides, making it a perfect travel companion. The deep throat feeling it is trying to replicate may not be perfect, but is great fun all the same.
All of this for the price of a 1-mile cab ride? Yes, please.
Pros
High quality.
Super affordable.
Quiet and discrete.
Easy to clean.
Long battery life.
Perfect for solo or couple play.
Cons
Really not much to complain about here.
Hummer Plus 2.0 Ultimate Blow Job Male Masturbator – Best Hands-Free Oral Fleshlight
Best Hands-Free Oral Fleshlight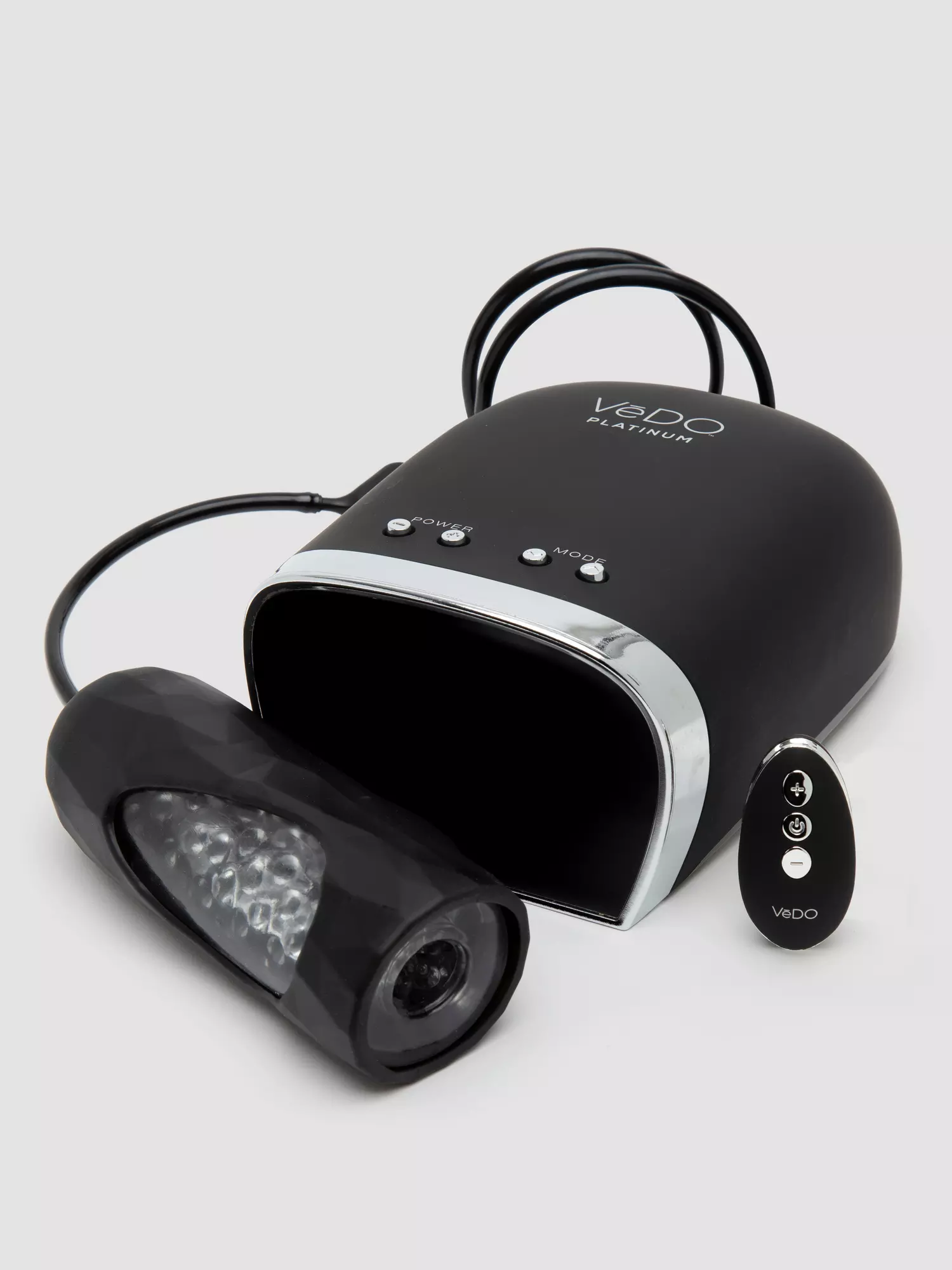 Specs:
Length: 6.5 inches
Insertable length: 5 inches
Circumference: 1.25 inches
Opening: Neutral
Material: Skin like TPE
Color: Black
Allergens: Latex-Free, Phthalate-Free
Battery Life: 3 hours
Battery Type: 2 x CR2032
Mains Powered: Yes
Vibration: 10 vibration modes
The Hummer Plus Ultimate Blow Job Male Masturbator is not for the faint-hearted or the budget-conscious among us. But, if you are looking for the ultimate in hands-free, blowjob simulating goodness then this is most likely the product for you.
The Hummer Plus 2.0 is a TPE-based stoker that offers some crazy numbers. We are talking mind-boggling speeds of 180. That's 180 sucking thrusts per minute. Or 3 per second. W.T.F!
But that's not the end of the ridiculous numbers, no sir. There are 9 internal gears that control the unit, 8 separate hands-free, automatic modes to choose from, 10 vibration settings, and the choice between battery or mains power – so you never have to worry about the toy giving out on you at an inopportune time.
The handy remote control allows for easy operation, which is well needed. It's easy to get distracted by what the machine is doing to you and forget how to use fine motor functions. The sensations delivered by this particular Lewinsky provider are up there with the overall winner (Fleshlight Turbo Thrust) and may actually surpass it thanks to the hands free operation.
SO, why is this one not the overall top-dog?
It comes down to a simple price differential. This machine is not cheap by anyone's standards. But, if you have a couple of hundred spare benjamins laying about, you could definitely spend them in worse ways!
Pros
Battery of wall plug powered for never ending fun!
A ridiculous amount of functions.
Totally hands-free.
3 cycles a second.
Designed to last a lifetime.
Maybe the best feeling BJ simulator out there.
Cons
Restrictively priced.
Not the easiest to clean.
Fleshlight QUICKSHOT Vantage Compact Male Masturbator – Best Compact Mouth Fleshlight
Best Overall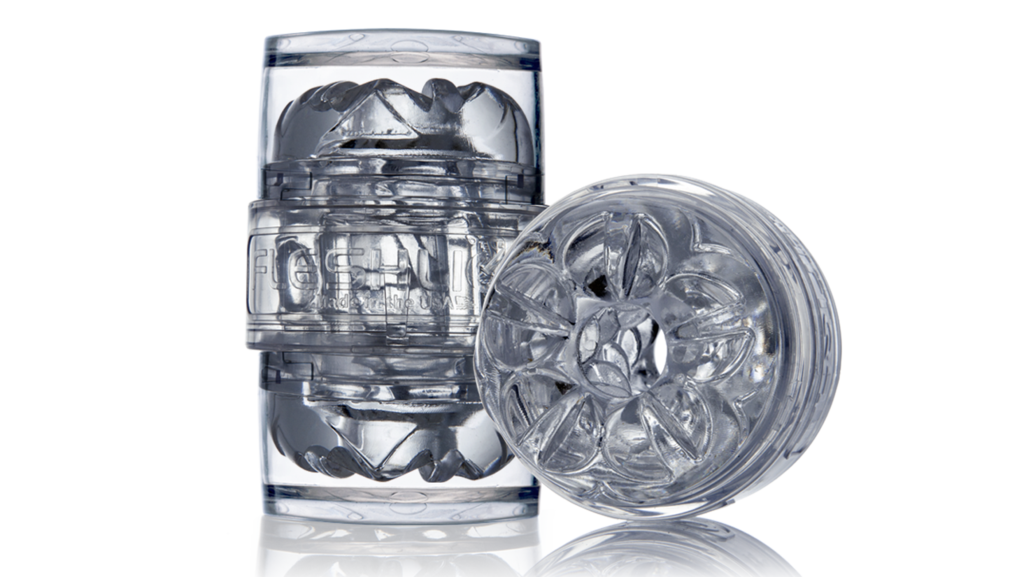 It's true, we have already been over two small sized head job helpers. And, without a doubt, they both do a great job for a bargain.
But, if you want the lambo of compact deep throat simulators, then look no further than the Fleshlight QUICKSHOT Vantage. This open-ended unit may be more than double the price of the other compact offering on this list, but it makes up for the price jump in a few key ways.
The Fleshlight QUICKSHOT Vantage is longer and thicker than the other compacts on this list, meaning it covers a larger area and is more comfortable for guys over 7 inches. The SuperSkin material is of a higher quality, with non-anatomical nodules and chambers that create some pretty invigorating feelings. Who am i kidding, this toy makes you feel like Don Juan himself.
Simple and easy to clean, perfect for use all by yourself or with a partner, completely discrete, and from the most trusted male sex aid comapny on this planet (Fleshlight).
There's not much else to say. Grab one for yourself and see what all the fuss is about!
Pros
Dual openings.
Use by yourself or with a special friend.
The easiest Fleshlight to clean.
Discrete as can be.
Great for larger, girthier guys.
The best compact unit available right now.
Cons
The hard plastic case offers great grip but stops the ability to squeeze the toy tighter.
Mouth Fleshlights Buyers Guide
Just like Hoover or Kleenex, Fleshlight is actually a brand name that has worked its way into the public consciousness and has become the catch-all phrase for any male masturbatory aid. There is now a literal smorgasbord of options available from a long list of manufacturers which makes finding the right jack-off tool… hard.
There are a few key factors to take into consideration when deciding on which toy will work best for you – What type of toy are you looking for? How big is your dick? What sort of wanking do you enjoy? Does the toy have to look realistic? Is there a certain fantasy you are wanting to indulge? Are you a mouth, pussy, or butt man?
We all have our preferences and desires so no one fleshlight will tick all the boxes, but hopefully there is the right toy for you in the selection above. Let's take a bit more of an in-depth look at the important factors that you should be thinking about before you drop that hard-earned cash.
Types of Masturbators
Original Fleshlights – The original and most well-known brand of toys that help you beat the meat. Usually shaped to look like a flashlight, they come in a variety of styles and price points.
Tenga Eggs – Discretely shaped to resemble an egg, these products use a stretchable cup that is designed to snuggly fit over the tip of the cock.
Onahole – Essentially the same as a pocket pussy, these Japanese-designed male sex toys are known for using stronger materials, having a wider variety of designs, and usually use anime or hentai characters in the marketing and package design.
Vibrating – Pretty self-explanatory here, but these devices combine the power of the pussy with the stimulating joy of a vibrator for double pleasure.
Hands-Free – These units do all the work for you. Sit back, relax, and take a load off while you drop your load off.
Warming – Added comfort, helps with a more realistic feeling.
Bowl Job Enhancer – made to be used either by themselves or while also receiving a blow job to enhance the overall sensation.
Masturbator Material
Not all male sex toys are made equal. There's a range of materials used, each with its own set of pros and cons. A highly durable material might last a lifetime, but not feel as good as a shorter life option you stick the old fella in.
So what's the best material for wanking sleeves?
Again, there is no one answer to this question. The most common material is a combination of silicon, TPE and PVC with other additives. Soft to the touch, quick to warm with friction, and with similar elasticity to human skin – Cyberskin is usually thought of as having a more realistic feel than straight silicone.
The big downside to these blended options is that they are nowhere near as durable as silicone. They are also porous, meaning they cannot be 100% sterilized after usage. Make sure you thoroughly clean all toys after every use with an antibacterial soap, pat it dry with a clean towel, and store it in a cool, dry, dark spot.
Silicone may not imitate the human touch as well, but it is a much more durable material that is totally non-porous. It also costs more, but will last a lot longer, and can be totally sterilized after every use.
Aesthetics
There are two distinct categories when it comes to male sex aids, ones that try to mimic human anatomy and ones that do not. I have never been too bothered either way, but that doesn't mean that everyone is as blase on the subject as me.
From porn star pussies, to milf buttholes, to dragon gash, to robotic sex goddesses, and pretty much anything in between – every niche has been well and truly filled.
And then there are your units that are only concerned with function and have little regard for form.
No matter what look you are after, you will most probably be able to find it these days at either Lovehoney, Pinkcherry, or of course the ever-trusted Amazon.
Design and Discretion
I would hazard a bet that almost every guy on planet earth would be fine with owning one of the best mouth fleshlights, but that doesn't mean they would all be so comfortable with others knowing about it.
Luckily there are a bunch of discrete units available that are easily overlooked in case you forget to pack the bad boy away.
Cost
The price range for wank tools is huge. You can pick up a simple sleeve for less than the price of a cinema ticket, or you can drop hundreds of dollars on a radical, high-tech unit that may actually blow your socks off.
I'm no huge fan of the super expensive, over-the-top, hands-free style units but that doesn't mean you won't be. I just personally don't think they are the best value for money, but they produce some pretty spectacular results.
The Wrap Up
Ok then, no that we have seen all the possible options, which one would I personally choose?
Well, as there is a pretty wide range of uses from this list, it is a little tricky to choose just one.
But, since it must be done, for an overall winner it's impossible to go past the Turbo Thrust by Fleshlight. The combination of price, sensation, and ease of use make this my favorite blow job toy right now.
That's not to say that any of the other options shouldnt be considered though! They are all fantastic units with their own sets of upsides.
So, before you drop any cash, have a long hard think about exactly what you are looking for. I'm sure you'll find a toy that will satisfy your urges and desires!