(Last Updated On: July 26, 2023)
Tenga Eggs are unique and interesting in the world of male masturbation sex toys. Most masturbation sleeves directed for males usually involve a cylindrical box that has a disembodied vagina-look at an end. That is not necessarily a bad thing, but a little variety and perhaps a different look can certainly be appreciated. That's exactly what Tenga Eggs for men bring to the table. There are several options and varieties available, and we'll talk about them in this Tenga Eggs Review.
Tenga Eggs Review — Pros And Cons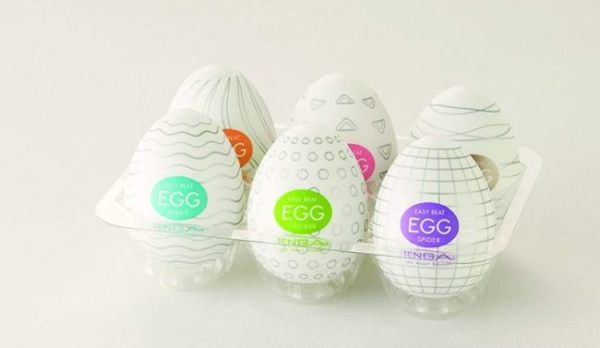 See pricing and deals on Amazon
Pros
Simple, discreet look
Pleasurable
Available in several options
Comfortable fit
Package includes all things necessary for use
Cons
Questionable value as a single use masturbator
Can be a bit noisy sometimes during use
One-size fits all approach
Tenga Eggs Features
Packaging, Design, And Aesthetics
Tenga Eggs are built as single-use masturbation sleeves. And they play that part really well. The packaging is discreet, and well, adorable. That's not a word usually employed for male masturbation sleeves, but Tenga Eggs made it happen! Tenga Eggs for men come in a rather simplistic egg-shaped packaging. You can purchase individual eggs, or buy combo packs that contain several eggs. Or stay on with classic numbers, and buy a six pack! A Tenga Eggs set does seem like a sensible purchase, even if you just intend to give it a try.
Each egg has a plastic outer shell. You remove the packaging, get the shell out of the way, and find the masturbation sleeve inside. Each egg includes a water-based lubricant with the sleeve. It's simple and convenient, which explains one part of why Tenga Eggs are so popular.
Tenga Egg Varieties And Textures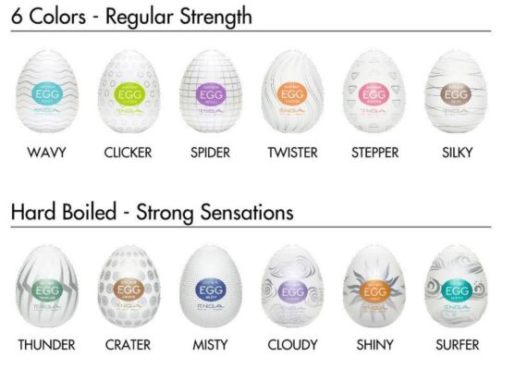 There is quite a lot on offer in terms of sensations from Tenga Eggs. The range now includes more 10 eggs as a testament to its popularity. Most variants of the eggs differ in terms of textures on the sleeve. To name a few, you can have prominent, rippling ridges, big orbs, or prominent lines running through the sleeve. Some eggs have textures on both sides and can be used during vaginal sex.
Your choice of texture may dictate the choice of eggs you like, so if you are a first-time use, keep note of the variant you're employing. Personally, I don't have a favorite amongst textures, though they certainly make the whole thing more enjoyable.
Sleeves used in Tenga Eggs are soft and squishy, made from Thermoplastic Elastomer (TPE). This allows them to be both soft to touch, and flexible for use on a male masturbation device. The flexibility means that the Tenga Eggs sleeve can fit multiple penis sizes, and be comfortable for most users. It may stretch a bit for those who have very large girth, but it generally stays pleasurable thanks to its construction and use of lubricant.
Most of the currently available Tenga Eggs allow an insertable length of up to 7.80 inches, and diameter of up to 2.4 inches. While there is no point in trying to stretch the sleeve to its breaking limit, it should be fairly comfortable to penis sizes in the range of 6.5-inches. That size range should cover most men.
Tenga Eggs Review — The Sleeve In Use
https://youtu.be/dr2SFQj3wCE
Removing the packaging and getting the sleeve in hand is simple enough, which is a great sign. No one wants to fiddle with the packaging while trying to masturbate! Once you've got the sleeve in hand, spread the included lube around the circumference to get the toy ready. You can use your favorite lube as well, though it's recommended you choose a water-based lubricant.
Placing the sleeve on the penis can feel like awkwardly putting on a condom, but it is fairly quick to bring on the pleasure. Just a few movements and you will be enjoying this sleeve quite a bit. Tenga Eggs focus more on the head of the penis rather than the shaft, which can seem offbeat at first, but is a good choice.
The soft and smooth feel of the sleeve works pretty well. The internal texture on the sleeve feels nice, though it won't be as prominent if you stretch the sleeve while putting it on, or place some extra pressure on the sleeve. If you're well-endowed enough to stretch the Tenga Eggs sleeve as you pull it while masturbating, you might see it get translucent at some points. Nothing to worry about, that's just how the material is.
Did I say it feels great? The Tenga Eggs masturbation sleeve really does feel amazing. Well, not as good as the real thing, but then what is? There might be some sloshy and squishy noises when you're using the sleeve, but that's physics at work. It's not very loud, and not every session has that noise. Overall, these eggs are fun and definitely worth a try, and the lower price makes it easy to give the Tenga Eggs a shot.
Tenga Eggs And Value For Money
Assuming that you get the Tenga Eggs for an excellent price, you would very likely be spending $5 for one round of masturbation. Well, five bucks don't sound like much, and that is true, but it certainly isn't suitable for a regular-use masturbator. The costs will pile up pretty quick.
Tenga Eggs are sold as a single use masturbation sleeve. I've seen some suggestions about cleaning and reusing the sleeve a couple of times. Personally, I don't think that reusing is worth the risk. After use, the sleeve is going to be swarming with bacteria, body fluids, and lubricant. TPE is porous and will absorb a fair amount of these substances. Putting your health (and penis) at risk to save a few bucks is a terrible choice.
I'll suggest you stay true to the manufacturer's instructions and discard the sleeve after a single use.
Tenga Eggs Review — Bottom Line
There is a lot of variety and adventure on offer with Tenga Eggs. I like that they are discreet in packaging, and convenient to store, given the size of the packaging. As this Tenga Eggs review goes, I'll suggest you buy an egg, or buy a set. It's worth the experience, and is economical enough to try just for the heck of it.