(Last Updated On: July 26, 2023)
Fleshlight Destroya is one of the most popular, and most intense textures Fleshlight has to offer. As a male masturbator, the Destroya texture takes the cake with the sheer stimulation and range on offer. Adding to its allure is the fact that it is modeled after the well-known erotic actress Stoya. A lot of men buy the Fleshlight Stoya simply because of that reason. Imagination, after all, does play a big role for male masturbators. Time for this Fleshlight Destroya review to see if the Fleshlight holds up as good as imagination would lead us to believe.
Fleshlight Stoya Review — Pros And Cons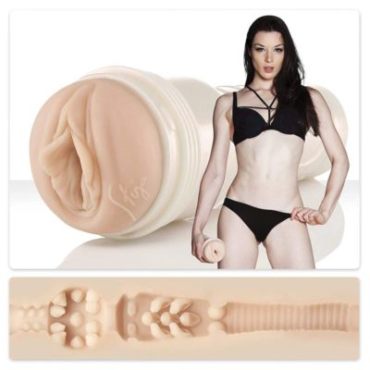 See best price and buy on Amazon
Pros
Vaginal opening modeled from actress Stoya
Amazing stimulation and great texture
SuperSkin material
Phthalate-free and completely body safe
Cons
Takes a lot of time and effort to clean
Takes a lot of time to dry
Fleshlight Destroya Features
Fleshlight Girls Stoya Design And Aesthetics
Fleshlight Stoya is part of the Fleshlight Girls series, which means its orifice has been modeled using molds from a woman. In this case, the woman is pornographic actress Stoya, also known as Jessica Stoyadinovich. As such, the vaginal orifice you see on the Fleshlight Destroya Stoya texture matches the vagina of the well-known actress.
Incidentally, the Fleshlight Destroya texture was initially built to be used exclusively for the Fleshlight Girls Stoya range. However, the popularity of the Destroya texture saw it being introduced to other products as well.
The Fleshlight Destroya arrives in the standard covering used by Fleshlight, with two caps placed at either end. Removing the larger cap gives you access to the orifice, while the smaller cap controls the vacuum/suction effect for the sleeve. Now that can be an amazing feeling depending on how you feel about the suction and oral sex. However, if you would rather avoid the encumbrance, removing the smaller cap will get rid of the vacuum.
Fleshlight Destroya Texture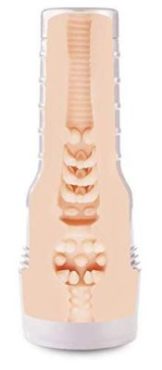 The unique Destroya texture does not fail to grab attention, and it is worthy of going into detail. Many customers say that the Destroya is more intense than the texture of the Fleshlight STU, though I'd say it is pretty much a tie. While the Stamina Training Unit does have an amazing texture, it is relatively simple. The complexity of the Fleshlight Destroya adds a layer of stimulation and pleasure that is not easily topped.
Its entry canal is a small tube with tiny bumps that eventually opens up into a larger spherical chamber. This chamber is filled with long-stemmed bumps that taper to a point on their top and converge towards the center of the chamber. This chamber, along with the mild resistance the bumps offer creates quite a sensation as you push through. Additionally, it offers excellent stimulation for the shaft of the penis.
Next comes a constriction that opens up into the main chamber. This one too is full of long-stemmed bumps. It is cylindrical in shape and packs more of the bumps. Most men with average penis size will stay in this section. It is quite fruitful, especially with the combo of bumps providing excellent massage and stimulation for the penis with each thrust.
There's another constriction at the end of this passage and leads to a tapering canal with a soft, ribbed texture. It usually holds the vacuum for a solid sucking effect and is fairly stimulating for those with a penis long enough to enter this chamber.
As you see, it's quite a mix of textures and constrictions, a delicious concoction of pleasure that lives in complexity!
Cleaning The Fleshlight Destroya
Given the complexity of construction and the amazing set of textures, the Fleshlight Destroya needs a little more effort in cleaning than conventional Fleshlights. You'll have to spend longer cleaning it and be more thorough. Every nook and cranny and the multitude of bumps needs to be cleaned, so take your time and do it right. It will also take longer to be completely dry, so expect to spend a long time waiting for the Fleshlight Stoya to be completely dry before you store it away.
You may also want to use a mild antibacterial spray as well as a sleeve renewing powder to ensure your Fleshlight Destroya stays in good shape for a longer time.
Fleshlight Destroya Review — Using The Fleshlight
https://youtu.be/SFQ-pfiAM9Q
As I said earlier, the Fleshlight Girls series does help the imagination by giving the orifice a look to match a personality. While I'm generally not a fan of the aesthetics of disembodied vaginas used for a pocket pussy, the Fleshlight Girls series is an exception in some part. This set does not simply play on the imagination, it gives the imagination an object. Pair that with just your imagination and you could let imagination spread its wings.
Or better still, forget about the appearance and let's keep our focus on the texture because that's what really matters.
Enjoying With The Fleshlight Girls Stoya
It is generally good sense to use lubricant generously when using a male masturbator. For the Fleshlight Destroya however, I'll recommend you go extra generous with that water-based lubricant. All those long-stemmed bumps and their bases will need to be awash with lube. Given the larger surface area of the canal and thus the texture, you will need a lot of lubricant.
As soon as the penis enters the canal, you'll know why the Fleshlight Destroya deserves its place of honor amongst the best pocket pussies you can buy. All those bumps and their unusual angles give the Fleshlight Stoya an amazing feel. Each chamber being punctuated with constrictions also works pretty well, and you'll find yourself racing towards an orgasm. In that sense, it really can compete well with the Fleshlight STU. Orgasms seem to come easy and rather quickly, especially when you're new to the texture.
It may very well help get you in line for a nice stamina training for when you are having sex. Men with a penis girth that's well over the average may actually find the constrictions in the canal unappealing. It can seem like extra work, and a simpler texture may perhaps seem better suited. For all other considerations, the Fleshlight Destroya is an amazing texture.
Fleshlight Destroya Review — Conclusion
Fleshlight Destroya texture is one of the best-regarded textures Fleshlight has to offer. Its fame is well-earned. It is especially rewarding for those near the average penis size, so most men will enjoy the Fleshlight Destroya. The external mold made from Stoya's vagina can be quite a boost to imagination, and may add to your pleasure if imagination is a strong factor for your use of male masturbators. Overall, this Fleshlight Destroya review can recommend this product and its wonderful complexity of texture.