(Last Updated On: April 9, 2023)
Male sex toys never really gained the praise they deserve. But, gone are the days of you sneaking between your bedsheets, wanking your meat with a discarded sock you spotted somewhere under your bed. Allow us to enlighten you with the knowledge that can radically alter your life, and spare your hand at the same time.
If you are a devotee of the Quickshot sex toys, we have some marvelous news for you – you're going to fall head over heels with their latest addition.

The new and improved pleasurable male toy – the Quickshot Launch – is finally on the market, and Fleshlight's professionals have nailed it yet again! Why do the dirty work all by yourself, when you can just sit back and relax, and let this designated fleshlight do all the job for you? Thanks to the Quickshot Launch, taking control over your personal satisfaction has never been easier. And, unlike other toys out there – this one only comes with only two buttons to provide you with maximum pleasure!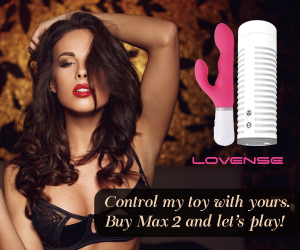 Best Male Masturbator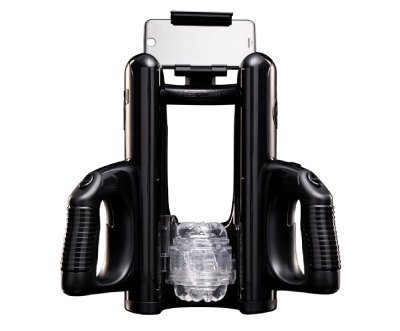 Intended for experienced, eccentric, and newbie self-pleasurers, the Quickshot by Fleshlight takes your orgasm to a whole new level of intensity!

No worries, we already did the digging for you and rounded up the best and least favored aspects of using and maintaining the Quickshot – to ensure your the hottest solo action you've partaken in!
The Fleshlight Quickshot Launch, Up Close
Fleshlight Quickshot Launch is a majestic blowjob sex toy, and a combination of two staple toys the brand offers – the well-known Fleshlight Launch and the delicate Quickshot. As the well-improved version of the original Fleshlight Launch, the Quickshot Launch ensures far fewer to no malfunctioning errors. Seeing it for the first time gets most people confused, as the toy bears the resemblance of a coffee maker – but it is the furthest thing from an espresso maker!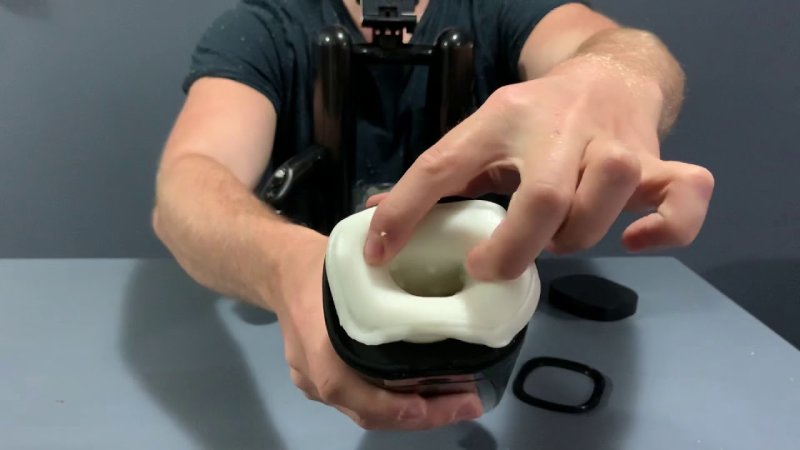 The toy is widely known as a rocket asset and comes with a hands-free masturbator. But, this absolutely doesn't mean that you will be aiming for a hands-free experience and let the Launch do all the work for you. Though there is a generous thrust and blowjob sensation are a given with the Quickshot Launch, you still have to hold it in order to control the speed and motion of your arousal. On the bright side, your hand cramps will become a thing of the past.
The Quickshot Launch masturbator is not to be confused with the original Fleshlight Launch, so keep this distinction in mind before investing your money in a toy. The blowjob toy maestro serves as a tiny and reusable dick stroker that can entirely automate your masturbating experience, and reduce your movement and effort to a minimum.
Just like the Launch, the Quickshot is a peek-a-boo toy that comes open-ended. It is therefore adaptable to any penis size, and transparent enough so you can tune in on the action. The toy's insides are textured and enable an incredible tickling experience that makes for a more intense climax. Nevertheless, if used wrongfully or without the generous application of lube, the Quickshot Launch can also trigger uncomfortable friction if you forget to use a water-based lubricant.
You should know that the Quickshot sex toy doesn't come together with the Fleshlight Quickshot Launch. Due to this, you'll have to purchase both elements separately to achieve that eye-rolling erotic experience.
Best Male Masturbator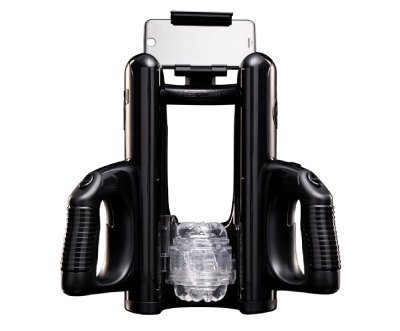 Quickshot Launch and Toys Alike It
For their most curious users, the company behind the product, Fleshlight, offers three different Quickshot masturbators: Fleshlight Pulse Quickshot, Fleshlight Vantage Quickshot, and Fleshlight Riley Reid Quickshot. Take your pick and use either – or all – to enhance your solo or partner performance.
The Quickshot Launch fundamentally represents the container for the device's most important component, the Fleshlight Quickshot sex toy. Brace yourself, you can teach yourself countless more inventive and unexpected aspects about giving yourself a blast than any other wanking machine. Simply said, this completely automated wanking machine doesn't require you to move it around your General, unlike many other sex toys do.

Instead, its refined and facilitated concept has been retested and reevaluated by the design magicians at Fleshlight when the Launch was first released.
Pushing the Right Buttons
In the beginning, when using the Quickshot Launch, several customers complained about their controlling failure of the product, due to a residual water-based lubricant. Most of them also disliked the scrollable buttons the toy has as well as its oftentimes deceptive touch controls.

To make the right amends, Fleshlight refined their product and made it way better – with a full potential battery, and a more well-thought-out mechanism.
The toy's touch controls are now gone, and you don't have to make those weird circular movements to find your desired technique and speed. The former touch option has been completely replaced with buttons that make maneuvering the toy a breeze. But that's just the tip of the iceberg.
Fleshlight Quickshot Launch: Main Features
Quickshot Launch can unmistakably be your auxiliary to oral sex – alone or when foreplaying with a partner.

The toy offers impressive potency and moves at 250 strokes in 60 seconds. Its handles are perfectly designed to allow you full security when using it, even if your hands are all slippery from applying that lubricant. The left handle holds the magic button and boasts the most pleasurable feature this device has, focusing fully on the tip of your John, as well as its middle and base. By combining the right button and personalizing the speed of your strokes – fireworks are in order!
If charged via a USB connection, your pleasure can go on for up to one hour. Nevertheless, you shouldn't take the risk of running it longer, since you can use the Quickshot Launch while it's charging too. Best thing about using it? You'll be completely safe!
Keep in mind that, unlike the old version of Fleshlight Quickshot Launch, this one can't be utilized with the FeelMe site and doesn't possess Bluetooth connectivity.
If you are more of a visual guy, place your mobile phone at the top of the Quickshot Launch – there is a special place for it. As it is completely adaptable, this mount will allow you to put almost every phone in it, without having concerns that it might crash to the ground and spoil the fun. Make sure you always have a tissue in hand, as the Launch is open-ended and your phone might suffer splash damage if not positioned at the right angle.
Best Male Masturbator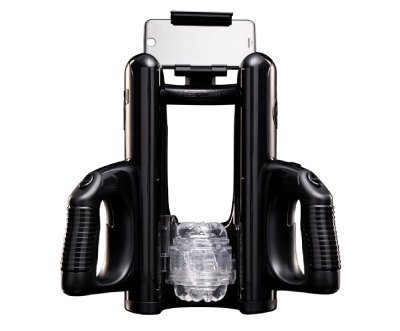 Fleshlight Quickshot Launch: The Specs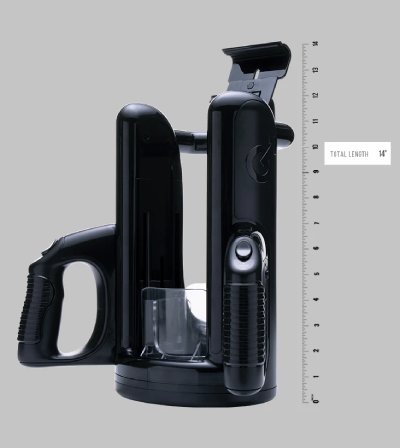 The Fleshlight Quickshot Launch is a 14-inch device with personalized controls and switches, ease-of-use design, and an exceptional speed of 250 strokes per minute! Constructed of completely body-safe materials, it is entirely compatible with all three sex toys from the Quickshot collection.
But, what exactly do these switches change?
Well, depending on your mood, you can decide between four different speeds and two different stroke styles for your maximal pleasure. You choose how far the Quickshot toy will travel up and down your penis, whether it focuses on the entire length of your penis or just the tip, or how rapid the strokes will be. Sadly, altering between modes and speeds is not as practical as it was with the toy's former touch controls. However, once you get the hang of it, the effects will work the same – right handle to regulate the strokes and left handle to control the speed.
A great thing about this toy is that you will never be frustrated with it running out of battery again. The Quickshot Launch offers the best of both worlds – a corded or a battery-operated option. Its powered-up battery can last up to 60 minutes, and the charging time takes up an hour and a half. But, if you are one of those masturbating legends that can last longer, this is a completely safe gadget you can use while plugged in. Of course, before using it, either way, ensure you read the instructions well.
This toy's spacecraft cockpit provides you with two significant aspects of controlling the device – one is motion range and the other, speed. This instantly allows you to use the Quickshot Launch in almost every position, something that was not yet achieved with the conventional Launch toy.
Pretty lightweight and comfortable, the toy is made from ABS plastic and is available in black only. A huge plus to its outer shell is that it is much quieter than other automatic sex toys, but not silent enough with another person in the room.
How to Use the Fleshlight Quickshot Launch
Using the Quickshot Launch is a breeze. Remove the caps, twist the Quickshot toy in its position, and plug it in the socket so it can charge first. After an hour and a half, when it's fully charged via a USB connection, it only takes three seconds to turn it on and get your sexy show on the road. Apart from charging it fully that first time, you can proceed to use the toy whilst charging during all your upcoming adventures.
Never forget to use a lubricant on you and the Quickshot toy. With that monstrous Velvet Jackhammer speed, the last thing you want is to cause yourself an injury. That said, avoid silicone-based lubricants as they can damage the toy material and cause unpleasant stimulation. For the safest solo session, you just screw the Quickshot masturbator in the Fleshlight Quickshot Launch, lube it up, fire up the sucker, and take your orgasm places!

The bottom of the Quickshot Launch is super-soft, more open, and perfectly crafted to lay well on your naked body. The speeds differ in intensities by one level, which gives you a wide range of strokes to choose from. As for the stroke length, these distinct options can definitely provide you the fascinating experience you're longing for. Trust the left handle button to absolutely "ruin" you with targeted pleasure applied over the tip, length, and base of your manhood – user's pick!
The toy is safe to use in any position you desire without any risks of penile fracture, all thanks to the perfectly crafted bottom. However, we don't recommend standing when using it as it can be trickier to keep your balance while seeing the fireworks.
You might need to make a few test uses to be fully experienced in operating the Fleshlight Quickshot Launch. This device does a marvelous job on your head, but with enough practice, you can fully master the whole blowjob experience. It may lead you to the point you start "reaching to pull hair" as if someone is there. Though the device does not come under warranty, Fleshlight ensures safe and oh-so-pleasurable use for all masturbation aficionados.
How to Clean the Fleshlight Quickshot Launch
Both the Quickshot masturbator and this Launch are pretty much simple to clean. You just need warm water and a little bit of soap, or you can purchase the Fleshlight Wash and Renewing Cleaning Powder for a more thorough cleanse. After you are done cleaning the Quickshot toy, just leave it to air dry. Use cleaning wipes as your finishing touches and put it to good work!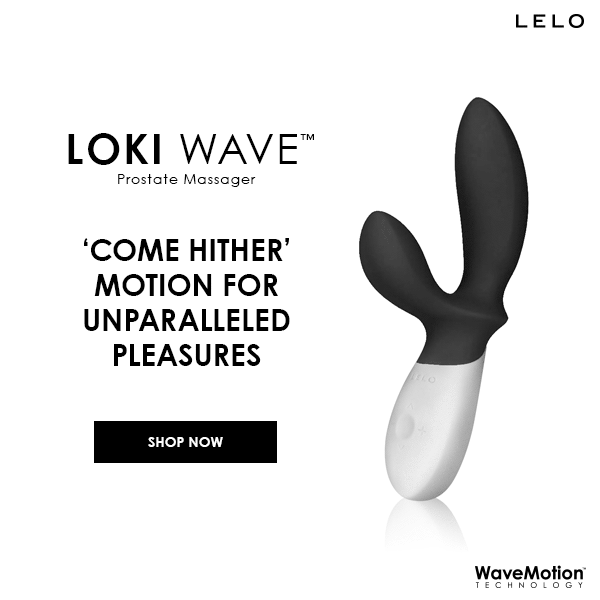 As the post-spanky chaos can definitely be a huge turn-off, some basic cleaning will not do the trick in ridding of the mess you made. Especially if there's extra lube on the toy still, a tissue might not do the trick entirely, so you can proceed to use a towel.
Best Male Masturbator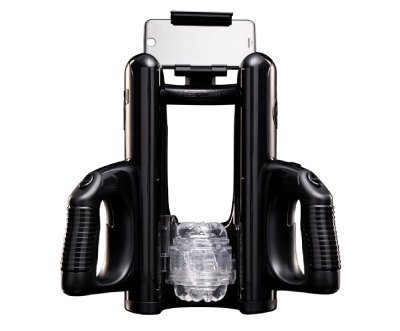 Our Verdict
Not that long ago, hands-free stimulation had everyone thinking of receiving a realistic blowjob, as if from a partner. However, thanks to the latest bedroom advancements, the Quickshot Launch easily replaces manual work with apt technology, which is a great plus for blowjob appreciators. Another plus of the toy is its overall easiness of use. After the too heavy, bulky, and definitely travel-unfriendly sex toy line, Fleshlight finally improved themselves drastically with the newly launched easy and practical Quickshot assortment.
The Fleshlight Quickshot Launch has everything you can simply imagine in a designated automatic masturbator. Whether you want to slow dance or go for a quickie, the Quickshot Launch is practical, easy to use, and multilayered in delivering you that desired climax. What's better, based on our research and feedback from users who have tried the toy for themselves, common feedback keeps popping up – the experience of using this toy is more akin to being yanked off by someone else!
For those who appreciate an extra push of pleasure down below, feel free to purchase the Quickshot Launch with an additional connector for two masturbators. Some users have noted that the toy does the job of mimicking a real blowjob motion and is quite explosive with its speeds and intensities to ensure even the hungriest of orgasms chasers get their cut of the pleasure.
Price-wise and function-wise, the toy is salty, yet not as expensive as others like it. With a reasonable price of $200, you will get a full solo-pack – though under no warranty – that will turn your nights alone a bit wilder!
Pros and Cons
Pros
Provides users with a realistic-looking masturbation experience
A good option for first-timers
More expensive than a regular fleshlight, but available at a discount and with free shipping
You can use it while plugged in electricity or use it on a battery
Cons
The phone holder is placed right above your dong;
The splashing mess you can make;
No Bluetooth connectivity
Alternatives
Quickshot masturbators are manual requisites for blowjob stimulation, but we all know how that can run you ragged. For one, the pain of overusing your hand can certainly distract you from the pleasure you aim to receive. As far as automatic male sex machines go, Fleshlight Quickshot Launch may go beyond what you've already tried – so it's wise to consider viable alternatives to keep your nights hot and busy!
If you are looking for your own Quickshot Launch, we recommend you order it from the official Fleshlight Website as it ensures maximum service and safety. You will receive one of a kind customer experience, and you'll get exactly what you've ordered. 
As for other ideas, you can consider using the Fleshlight Universal Launch – much bigger and voluminous, but also compatible with other Fleshlight toys, not just the Quickshots.
As a second-best choice, Kiiroo Keon deserves its place here. Filled with interactive features, this beauty offers one unique blowjob experience too when combined with Kiiroo strokers or Fleshlights. You can connect this device via Bluetooth or the FeelConnect app.
Or, and for just a few extra dollars, you can even build your own custom preferred Fleshlight. Putting your pleasure first, indeed!
Best Male Masturbator