(Last Updated On: May 29, 2023)
There are plenty of sex toys for women, but lesbians can have special requirements – especially for couples play. Regular toys can be sufficient, but specialized toys for some acts make all the difference. For this article, I'll highlight the best lesbian sex toys available. Many of these toys are suitable for multiple purposes and can go beyond lesbian use. However, they are designed for the benefit of lesbians.
9 Amazing Sex Toys For Lesbians in 2022
1. Utimi Wearable Strap-on with Silicone Dildo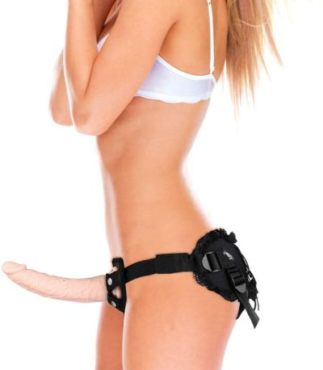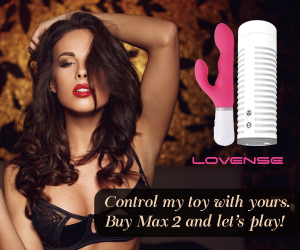 Strap-ons are, perhaps, the most stereotypical of lesbian-oriented sex toys. The affordable price of the Utimi makes it an attractive choice. It's a fairly good choice for beginners trying to decide if strap-ons are for them, and pros too could find value in the product.
The strap-on, harness, and dildo are well made, and won't be a cause for complaint. There's padding on the front and back of the strap-on so it remains comfortable to wear. Four straps are included with the package, which makes it easy enough to place the strap-on. These are adjustable and easy to manage, so the strap-on is convenient enough to use for most sizes.
Utimi has included a dildo with the strap-on. It's a very veiny realistic-looking dong that's a bit of a put-off. I would have preferred if it wasn't so realistic, and took a more abstract appearance. Anyway, the dildo is easy enough to attach to the harness and stays in place. At 8.5-inches long and with a maximum diameter of 1.5-inches, it works fairly well. The curves and ridges are all in the right place, and the stimulation is amazing.
Pros:
Good value for money
Phthalate-free and body-safe
Easy to use
The strap-on fits most sizes
Cons:
The overly realistic penis-like dildo can be a put-off
Package lacks clear instructions
2. Feelingirl Strap-on Silicone Dildo-Harness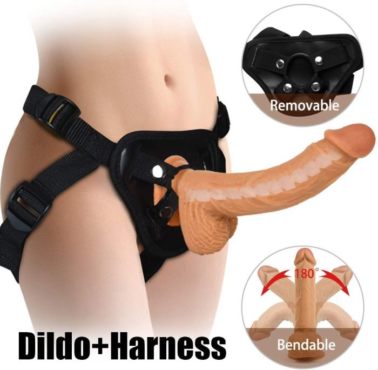 Feelingirl Strap-on is another well-priced sex toy that serves the purpose of being fit for beginners as well as pros. The material of the strap-on is body-safe and skin-friendly. Including an adjustable harness and snap fasteners, the strap-on is made from smooth PU leather and elastic belt.
It includes a detachable fixing ring for attaching dildos so you can use your own preferred dildo apart from the one included. The included dildo is a realistic-looking phallic dildo with testicles at the base and a total length of 7.87-inches, 5.9-inch of which is insertable. The dildo has a suction cup for hands-free sex toy fun when you want to use it out of the harness. According to the seller, the dildo is FDA approved body-safe.
Pros:
Good value for money
Phthalate-free and body-safe
Easy to use
Fits most sizes
Cons:
The overly realistic phallic dildo can be a turn-off
Questionable longevity
3. Lelo Sona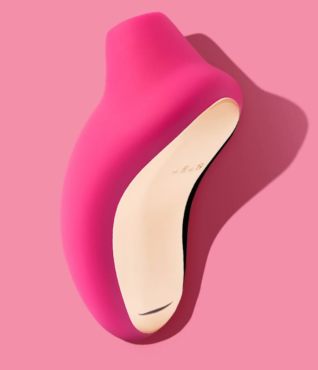 Lelo Sona and its sibling Lelo Sona Cruise are both excellent vibrators that leverage technology well for orgasmic pleasure. Sona uses sonic waves to stimulate the clitoris. According to the company, the waves travel throughout the clitoris to present maximum pleasure.
For most vibrators, the effect is concentrated on the surface of the clitoris. Lelo Sona takes the effect to the whole organ, including parts that lie below the surface. It's the same effect as with deep, rumbling vibrations we so love on clitoral vibrators, except that the Sona employs sonic waves.
The shape of this sex toy is very similar to conventional clitoral sucking vibrators. The nozzle allows it to cover the clitoris and deliver pinpointed stimulation. Controls are conventional Lelo style, with the pattern button in the center flanked by intensity increase/ decrease buttons on either side. The vibrator is covered in Lelo's well-regarded silicone finish, which feels great to the touch. It is non-porous, phthalate-free, and completely body safe.
Pros:
Stimulates the entirety of the clitoris, including the non-visible parts
Waterproof and rechargeable
Excellent, satisfying orgasms
Cons:
Buy the Lelo Sona on Lelo's Online Store
4. SHEQU 14.96 Inch Silicone Double Sided Dildo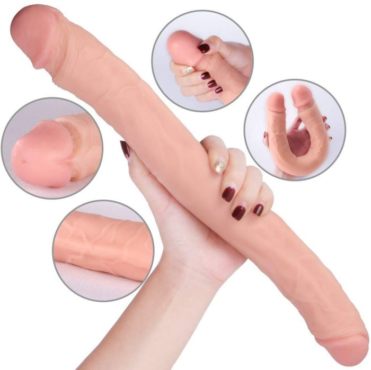 Double-ended dildos are fun to play and enjoy. The possibilities are great – from use on a single person to the couple enjoying the dildo together. Its flexibility and large size make this dildo compatible for use in several scenarios, just use your imagination!

At 14.96-inches, the double-ended dildo, which the company also calls dual dong Peter gives you plenty of room to play and enjoy. The dildo is flexible enough to be bent in half, which allows its use in vagina to anus play, or vagina to vagina partner play. Its length means it is comfortable enough for use between two people. It isn't exactly intended as a horse dildo, though of course, as an oversized dildo it can be used for that purpose as well.
The body of the dildo is somewhat smooth, though it does have occasional veins which provide it a nice texture. It is designed to have a realistic look, which might be a hop too far for some people. Silicone forms the primary material of the dildo and is non-porous and body-safe.
Pros:
Convenient to use
Flexible
Soft material with good thickness/girth
Cons:
The focus on a realistic penis shape may be a downside for many women
5. Matata 13.2 Inch Double Sided Dildo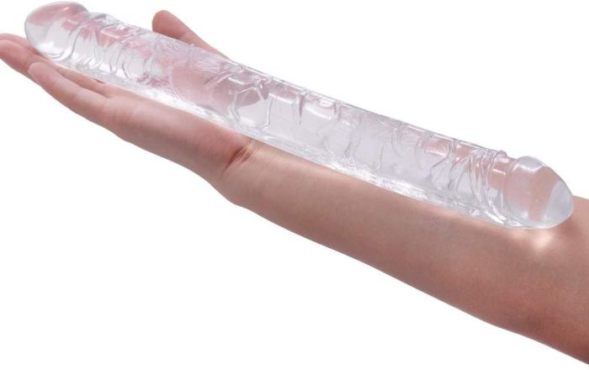 I like the playful colors available with the Matata double sided dildo. It is shaped to be anatomically like a penis and has a ton of veins for texture. However, the range of colors available does not make it feel overly realistic and adds to the fun factor of this dildo.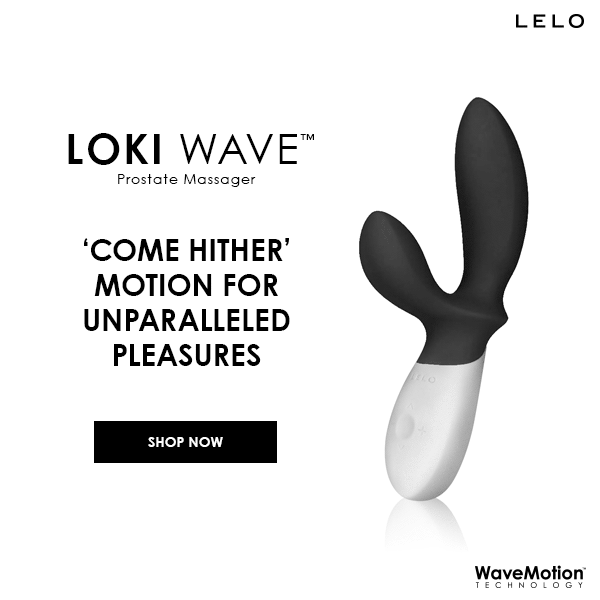 Matata double sided dildo is 13.2-inches in length and has a diameter of 1.3-inch. It is made from TPR, which allows the dildo to be easily flexible, while also being soft to the touch and body-safe. TPR is porous, so I'll recommend being more careful with the toy as you share it with your partner. Clean this sex toy before and after each use (as you should with each toy), and discard as soon as you see it developing cracks or odors.
Pros:
Fun to play
Flexible
Good length and girth
A choice of colors
Cons:
6. Lelo Siri 2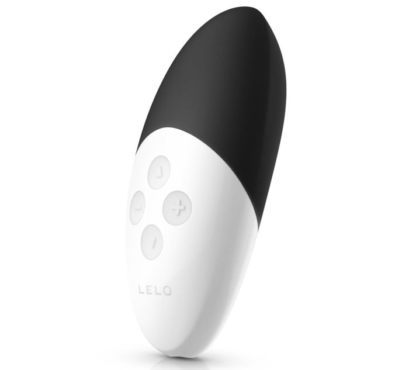 As a petite, lightweight vibrator high on technology, the Lelo Siri 2 offers fun and play in one package. Its small frame packs a powerful motor that is capable of delivering solid, deep-reaching vibrations that bring on killer orgasms. The shape is sleek; Siri 2 is 3.8-inch long, 1.8-inch wide, and at its widest has a diameter of 1.3-inch.
Controls of the vibrator are placed at the lower side, which is made from ABS plastic. The side that delivers vibrations is covered in silicone that is great to the touch. Overall, the vibrator is non-porous, phthalate-free, and completely body-safe. The change from ABS plastic to the silicone material is well-executed and practically seamless. This good workmanship also makes the vibrator waterproof, allowing it to be used in a bathtub or a shower.
There are eight pattern and intensity settings available on the vibrator. However, the big draw here is that the vibrator has a sound-controlled setting. It can draw in ambient sound and use it to deliver vibrations. How cool is that?! You can enjoy orgasms to not just your favorite music, but also to your partner's voice. Now that is a whole new world of intimacy!
Pros:
Strong, deep vibrations
Small, lightweight, and petite
Waterproof
Rechargeable
Can vibrate to ambient sound
Cons:
Expensive
Ambient sound/ music feature has some glitches
7. Satisfyer Pro 2 Next Generation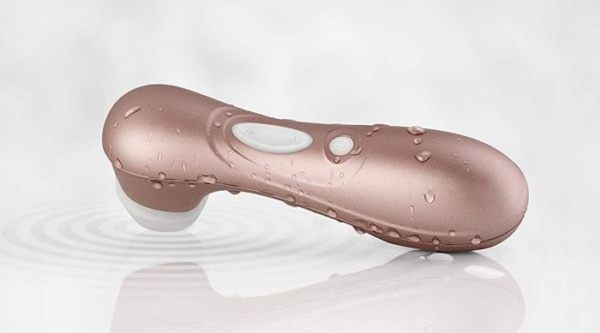 Satisfyer Pro 2 Next Generation is one of the best-known vibrators in the genre of non-contact clit-sucking vibrators. Once you switch it on, the Satisfyer roars into action. Quite literally on that part, because this toy can be noisy.
However, it goes quiet once you place it on the clitoris. Use a good amount of lube so a seal is formed, and the noise goes further down. This also has the additional benefit of directing the available power of the Satisfyer to your clitoris.
There are 11 intensity settings available and all of them are pretty good. I doubt most of us will even need to explore the higher reaches, because the Satisfyer is pretty good at bringing out orgasms. My preferred style is to start at lower intensity settings and slowly build up the orgasm and move to higher settings. It's pretty good!
It's worth noting that this toy works best if you enjoy oral sex. Satisfyer Pro 2 Next Generation is an oral sex stimulator, so those who don't enjoy the clit-sucking sensation of oral sex may not find the toy as useful. And though it rarely fails to bring about an orgasm, it is worth noting that you may have very little control over when to orgasm. It's a great feeling, but the almost involuntary orgasm may not be everyone's cup of tea.
Pros:
Excellent range of intensity settings
Powerful
Rechargeable and waterproof
Removable and replaceable silicone tip
Cons:
Can be noisy (before contact with skin)
Higher intensity settings can feel buzzy
8. Adorime Vibrating Strapless Strap on Dildo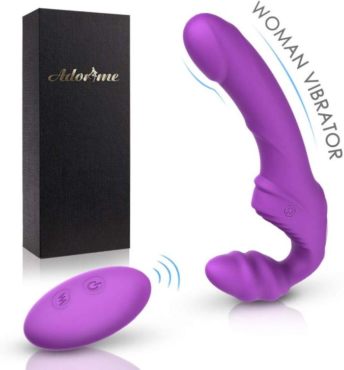 Calling something a "strapless strap on" is something of an oxymoron. The idea here is more of "sharing" vibrations between partners. Both ends of this vibrator are insertable, though rather than falling in the category of dual-ended dildos, this reaches for the vibrating "strapless strap-on" monicker.
The idea is that one partner inserts the stumpier side into herself, and then uses the longer dildo-shaped side to penetrate the other partner. It's a great idea in practice. In theory, it thoroughly limits movement because you have to worry about the (vibrating) dildo falling out. A vibrator falling out is not easy, but when both partners are moving, it becomes very plausible.
Anyways, if you figure out a good way to use this thing, it can be a lot of fun. There are dual motors in this vibrating dildo to pleasure both partners. The longer insertable side vibrates, while the shorter side rotates as well adding more to the pleasure.
Adorime Vibrating Strapless Strap on Dildo is slightly flexible for easier use, has 9 vibration modes, and can be operated using a remote control. It is made from body-safe silicone that is free from any toxic materials and phthalates.
Pros:
Good, strong vibrations
Remote controlled, rechargeable vibrator
Dual motors for more pleasure
Cons:
Can be difficult/ inconvenient to keep in place
9. CalExotics Pocket Exotics Wired Remote Double Bullet Vibrator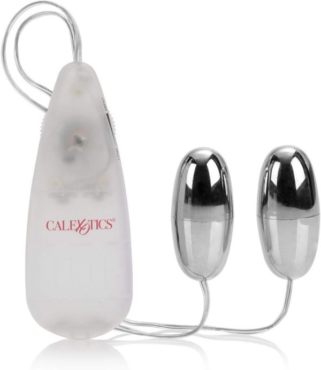 CalExotics double bullet vibrator connects to bullets to a single control unit. Because sharing is caring… or something like that. The bullets are made from ABS plastic and silver-plated to be durable and body-safe. The multi-speed remote is housed in a polypropylene plastic body.
Power to run the eggs/bullets comes from two AA batteries. You could be excused for thinking that the batteries would fail to deliver powerful vibrations to two bullets. Thankfully, the vibrations are pretty good. Overall, the toy is pretty enjoyable, and the speed-dial control on the wired remote adds an element of fun as you enjoy the vibrations as a couple.
Pros:
Good value for money
Body-safe, non-toxic materials
Cons:
Requires two AA batteries (don't forget to keep them at hand!)
No way to individually manage controls of each bullet
Quick Tips For Making The Best Use Of These Sex Toys
Be Generous With Your Lube
Whether you're going for partner play or using the sex toy solo, use lubricant and use it generously. It makes things feel better and adds to the fun. If you're unsure of which lubricant to use with a specific toy, use a water-based lubricant.
Several brands specifically cater to lubricants for women. Use them, and not just for bigger toys like strap-ons or double-ended dildos. Clitoral stimulators like Lelo Siri 2 and the Satisfyer Pro too can benefit from a healthy layer of lubricant.
Get A Strap-On
Strap-ons are versatile and keep room for a lot of options and play. Yes, they're a bit stereotypical, but that's for a good reason! They are convenient, easy to use, and let you do a lot more than you could by simply using your hands. Going hands-free has its benefits — put the strap-on to work and use your hands for more magical things!
Lesbian Vibrator Of Choice
There is no real thing like a Lesbian Vibrator. Sure there are toys that you can put to good use, but they're as good to use for any female, not just lesbians. While sex toys like strap-ons and double-ended dildos are more geared towards lesbians, the usage is certainly not limited.
Get Good With Your Moves
Any sex toy you use is ultimately as good as the moves you make. Satisfying your partner in lesbian sex or just sex in general requires both partners to be enthusiastic, fun, and willing to go the extra mile. Learn to go down on her. You may know every nook and cranny of the female anatomy, and so you know everyone is different.
Find her pleasure spots and work at them. Even with lesbian sex, it isn't just enough to know how to make a woman squirt, but knowing how to push the right buttons on your partner to send her into ecstasy.
Don't be afraid to experiment, to enjoy, and don't forget to talk to your partner so both of you can be onboard on this amazing journey.
Best Sex Toys For Lesbian Couples
Finding the best lesbian sex toys is half the job. The other half is getting to know how to use them. And no, that's not the job of tutorials, but getting to know your partner so you can pleasure her in the ways she enjoys. Take a look at the toys above, and you'll find some of the best-rated and highly regarded toys that can play a big role in your fun as you enjoy your time together.