(Last Updated On: November 15, 2022)
Satisfyer Pro 2 is a very popular and one of the bestselling contact-free clitoral vibrators. It is a part of the relatively new generation of suction-based sex toys — a segment that's getting increasingly popular. Satisfyer Pro has been quick with new models and improvements. The general construction and performance have stayed fairly consistent, though the product has been made better with each iteration. In my Satisfyer Pro 2 review, I'll also walk through some popular variants; the focus will mostly be on the Satisfyer Pro 2 Next Gen as the current flagship model. Let's dive in!
Most Discreet Option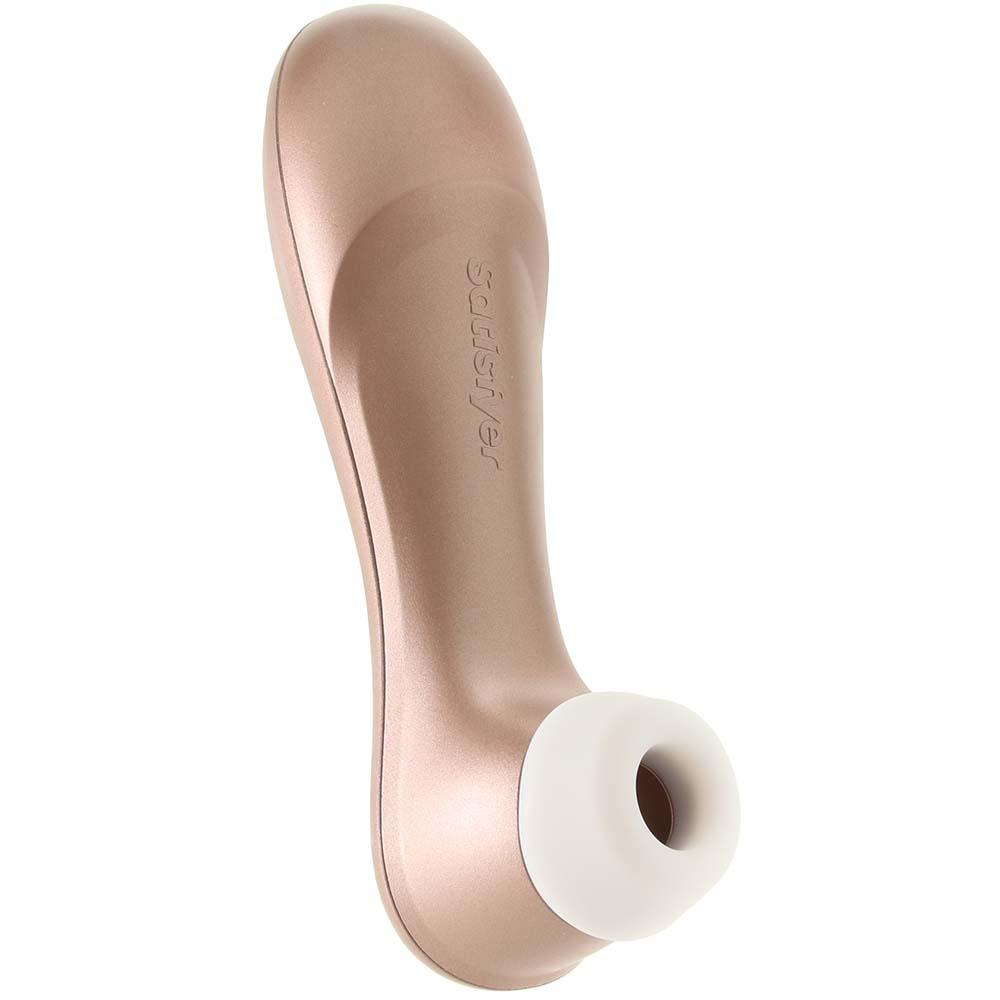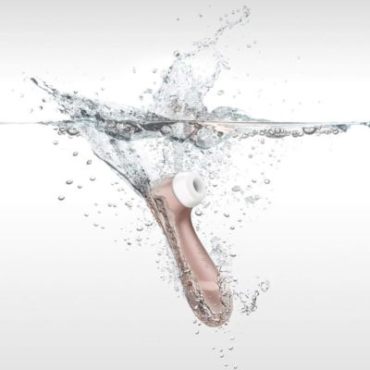 Satisfyer Pro 2 Review — Pros And Cons
Pros
Satisfyer Pro 2 Next Generation is waterproof
Rechargeable
Powerful
11 Intensity modes that match most preferences
Removable silicone tip for easier cleaning
Made from ABS plastic and silicone, the toy is non-porous, body safe, and non-toxic
Cons
Can get noisy, especially before it is placed in position
Can get buzzy at higher intensity settings
The magnetic charger connection is somewhat flimsy
Several users say the battery does not last very long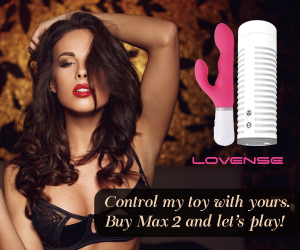 Contact-Free Suction Vibrator Explained
It would seem the term is fairly self-descriptive, but there are a few catches and they can make all the difference. Understanding what the product offers should give you more realistic expectations rather than simply going by terminology implications.
Most suction vibrators do not actually "vibrate" the way you would expect from something like a bullet vibrator. Primary function of a suction vibrator is to use a vacuum to simulate a sucking sensation on the clitoris – something like oral sex. This creates a gentle tugging at the clitoris, resulting in stimulation and the waves of pleasure we've come to love so much. It's important to remember that most suction vibrators, like the Satisfyer Pro 2 Next Generation, are not miniature vacuum cleaners sucking at the clitoris. Most of these vibrators employ "pulsating air" technology to mimic oral sex and suction.
As for the contact-free part, it means the vibrator does not have to be necessarily in physical contact with the clitoris. The nozzle is placed around the clitoris to enhance the suction effect. Oh, and it helps to use lube! Not only does it make movement easier, but it also provides a better contact surface for the Satisfyer Pro 2 nozzle. Water-based lubricants are generally the safest and easiest to use.
Most Discreet Option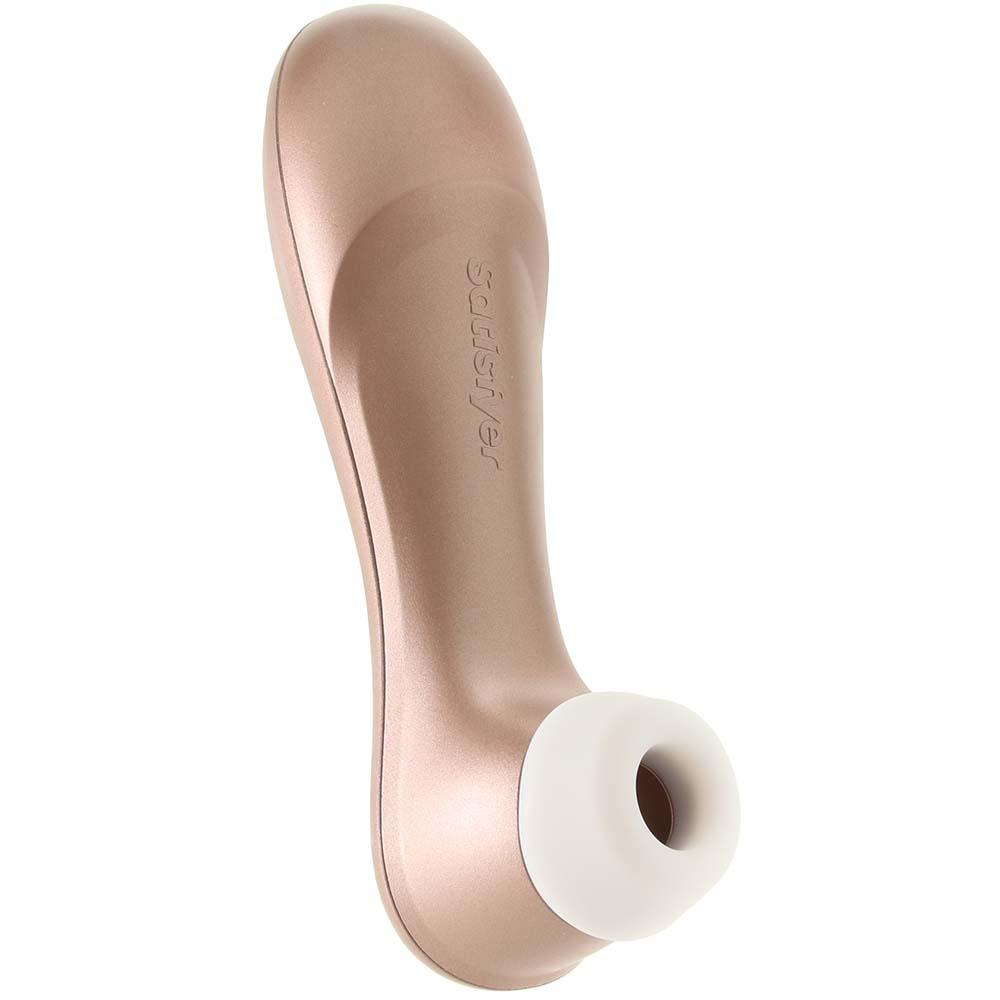 Satisfyer Pro 2 Review — What Makes It Tick
Satisfyer Pro 2 Clitoral Vibrator Construction
Satisfyer Pro 2 has a simple, slender body topped by the nozzle placed at the top. The body is made from ABS plastic, and the nozzle has been made from silicone. Realizing that not all body types are the same, the manufacturer has made the nozzle removable.
This serves two purposes. The first being that the vibrator is much easier to clean and you can easily reach and remove lube and other materials that get stuck there. Second, you can use a size or shape of the silicone tip that is more appropriate for your body. Accessories like the silicone tips and the charging cable are also available individually, so your vibrator does not become useless should you lose any of these.
The handle has a power button and +/- buttons to cycle through or control the intensity of the Satisfyer Pro 2 clitoral vibrator. Placement of the buttons is fairly convenient, and they can be easily accessed and manipulated while using the toy. Charging points are placed at the bottom-end of the vibrator and provide a good surface for the magnetic charger to attach. You might have to be somewhat vigilant while using the charger, as the connection can be a bit flaky and the charger may be displaced charging is complete.
Satisfyer Pro 2 Next Gen clitoral vibrator is waterproof. And indeed, the company does seem to "encourage" you to take it along to the bathtub. It will be much less noisy, and if using toys in the tub is your thing, it's very much likely that you'll love it.
Satisfyer Pro 2 Power And Performance
When it comes down to power and performance, the Satisfyer Pro 2 does not fail to impress in both categories. If you love the sensations of oral sex like I do, you might end up being satisfied within moments of placing the vibrator on the clitoris. If there is one complaint, it is that the Satisfyer does not let me build up to the orgasm! It's best to start with the lower power level and then build your way up to a higher intensity setting (if necessary!).
Thankfully, the quickness to orgasm does not mean that you're left wanting. The orgasms are long, deep, and rumbly — just the way they should be. Having a "quickie on-demand" can be quite addictive, and I have to say I did enjoy the wonders of it.
The vibrator is fairly powerful. Even most ardent power queens would agree that the Satisfyer Pro 2 Next Gen offers a fair bit of punch, and you're not left wanting for much. A drawback for higher power is that the vibrator starts getting buzzy once you reach higher intensity settings, and that takes a big bite out of the fun. As a saving grace, there rarely is a reason to hunt for a stay at the buzzy speeds.
Satisfyer Pro 2 Battery And Charging
The vibrator promises 30 minutes of play time after 150 minutes of charging. That seems fairly lopsided, and I would much prefer the numbers to be the other way around. However, it rarely needs to run beyond a few minutes so there's a good chance you won't have troubles with the lack of battery power. For most people, the vibrator is powerful enough at lower power levels, and that may actually lead to a longer play time beyond the advertised 30 minutes. Remember, the first charge takes significantly longer and you may have to wait as much as eight hours before you can take your Satisfyer Pro 2 for a spin.
Satisfyer Pro 2 Variants
Success of the Satisfyer Pro 2 has encouraged the company to make different variants based on the bestselling model. I have so far focused on the Satisfyer Pro 2 Next Gen, but let's take a look at what else is on offer! Here are some select variations of the Satisfyer Pro on offer.
Satisfyer Pro 2 (Previous Version)
The basic version of the Satisfyer Pro 2. It is no longer sold by the company that has moved to the Next Gen, and clearly, there is no reason for you to be buying an old, inferior model either. While it is similar to the current model, it is not waterproof and lacks the better-refined controls that make the Next Gen a much more useful device.
Satisfyer Pro Penguin Next Generation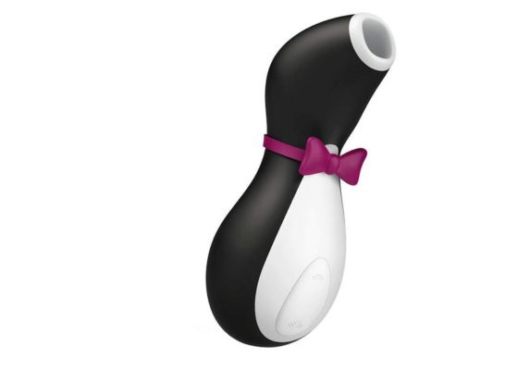 What if your Satisfyer Pro dressed up for you… a tux, a bowtie, and a hat. It could almost be a perfect gentleman if it wasn't a penguin! We can swoon over the tux, but let's face it, the biggest selling point here is that this toy looks adorable. The penguin is waterproof and has 11 suction modes. The bowtie and silicone tip are removable for easier cleaning.
Satisfyer Pro Traveler
The Traveler is a smaller, portable version of the Satisfyer Pro that you can carry along while you travel. It has a small cover case that makes the vibrator fairly discreet as an item that can easily belong in your handbag. It is waterproof, USB rechargeable, and has 11 intensity settings.
See best available price on Amazon
Satisfyer Pro Plus Vibration
This one combines the classic contact-less function of the Satisfyer Pro with the more conventional vibration features akin to a bullet vibrator. Shaped like an "L", It has the same 11 intensity settings for the suction side, while the vibration side gets 10 vibration settings including speed/intensity and patterns. The vibrator includes two motors to conveniently handle both its functions.
See the latest price on Amazon
Satisfyer Pro 2 Review — Conclusion
Satisfyer Pro 2 is, without a doubt one of the most popular clitoral vibrators available on the market today. Its praise and position are both well-earned, and it is a useful product. The vibrator is powerful, has good performance, and can bring on very rewarding orgasms in mere moments. Those who enjoy oral sex might find the Satisfyer Pro 2 more enjoyable. Conversely, this may not be the vibrator for those who dislike the sensation of oral sex, even when it is simulated.
Most Discreet Option