Using a horse dildo isn't simply about horsing around! These dildos are massive, and best used by those who are skilled and have experience. The large insertable length isn't the only quality of these dildos. Their shape and flared head is a defining feature as well. A horse dildo doesn't necessarily have to be shaped like a horse penis. It isn't about bestiality either. These are the dildos to reach for when you want something huge with an insane insertable length.
8 Amazing Horse Dildos To Play With
Top Horse Dildos Reviewed
1. 12 Inch Dual Density Silicone Anal Dildo Realistic
12 inch Large Dual Density Silicone Anal Dildo Realistic Huge Suction Cup Dildo
This is the biggest dual density toy I have found yet, and it is amazing. It is slightly over 12 inches long, but the 9.5 inch insertable is accurate. The shaft has just enough softness and give to it and is between 2.25-2.3 inches thick. The head is the widest part at just shy of 2.4 inches, but it is super squishy so it goes in easily but still gives a little pop on the way out.
See latest price
This dildo is designed to be realistic. Rather than take the shape of an equine penis, this is a large-sized human penis replica that has a length of 12-inch. This foot-long schlong has a soft-silicone body outside, supported by a firmer rigid core for the dildo.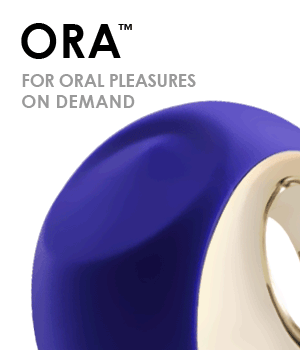 This makes it fairly pliable and soft, while keeping it capable of maintaining its general shape. On that note, given the realistic looks of this dildo, I can't help but cringe at the images where they show the softness of the dildo's materials by squeezing its base/balls. That looks painful! Below the balls, you'll find a suction cup for easy mounting and use of this dildo.
The total length of this dildo is 12-inch, insertable length is 9.5-inch, and it is firm and flexible. Excellent ribbing and texture on this dildo is bound to make it feel more pleasurable.
Pros
Good shape, size, and girth
Well-designed
Good pricing
The suction cup works great and holds the dildo in position
Cons
Slightly more expensive than other horse dildos
2. LZYAA Super Big Size Horse Dildo
LZYAA Super Big Size Horse Dildo (Black)
While you can see the measurements in the product description, visualizing just how big this dildo is might be a different matter. For comparison's sake, my previous dildo was 7.5" observable with a 1" diameter head and a 1.5" diameter shaft. It was by no means "small". The first picture should give an idea just what a step up in size this is.
See latest price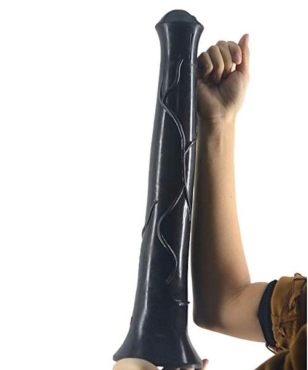 One of the more popular dildos for horsing around, LZYAA Super Big Size Horse Dildo is an impressive toy. This thing is truly massive. The dildo measures 17-inch in length, is 2.56-inches at its highest width, and 1.73 inches at its minimum width. A suction cup is included to make handling this a little easier.
Keep in mind, "easier" is a relative term here. This thing is truly massive and is certainly not meant for beginners. The experienced will certainly enjoy it. The large size of LZYAA Horse Dildo is accompanied by the pliability of its body and a weight that makes itself pleasurably noticed.
There is a satisfying "pop" sound it makes when inserted. I never thought I'd find something like that fun, and yet here we are! That sound is caused by the large diameter of the flared head. And it's smooth sailing afterwards. Literally so, because the texture of this dildo is quite plain, with the exception of the small portion covered in veins. As it goes deeper, the dildo continues to feel filling and pleasurable. How far you're willing to go is obviously entirely up to you, but the length of the LZYAA Horse Dildo is sufficient for most demanding of patrons. Just be sure to use lubricant liberally. When you think you've put in enough lubricant, add some more!
The company says the dildo is made using medical grade PVC. It's not the most impressive material for a dildo, but some compromises have to be made for the length and flexibility. Keep in mind, this is a porous material. Clean your dildo thoroughly before and after use. If you intend to use it both anally and vaginally, or if you want to share it with a partner, use a condom.
Pros
Excellent length and overall dimensions
Reasonably priced
Phthalate-free
Good construction
Cons
Not for beginners
The suction cup isn't strong enough for a dildo of this size and weight
3. PNBB Realistic Dildo Big Horse Penis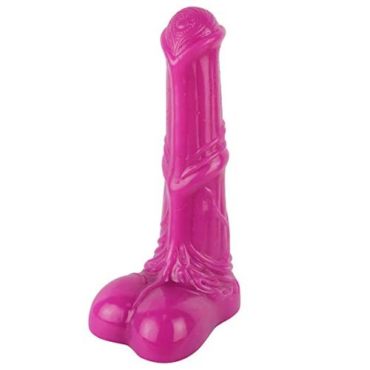 This realistic horse dildo adds a characteristic that has been missing from several other options: texture. It's not overly ridden with additions, it just has some nice additions of texture to go along. This isn't an especially long horse dildo, measuring at just about 10-inch in length and 2-inch in diameter. Its insertable length is 8.5-inch.
Somewhat amusingly, the product's description on Amazon says it is a "perfect substitute for a normal sized man". I'd very much like to know where it is that normal sized men go around waving 10-inch schlongs.
The seller goes on to say that the dildo is made from body-safe materials and is odorless. I wouldn't put much stock in the latter part. PNBB Realistic Dildo Big Horse Penis is made from soft, pliable, jelly-like material. This is a porous dildo. Over time, it will absorb odors, irrespective of how thoroughly it is cleaned.
Great feeling as this dildo is, I'm iffy about sex toys made from jelly-like materials. There are a whole lot of chemicals going in there which make these dildos that deliciously soft and pliable. If you buy a dildo like this one, clean it thoroughly before and after each use. Avoid sharing, or better, use a condom even if you're the only one using this dildo. It's better than having to deal with a dildo made from porous materials.
Pros
Excellent shape
Great texture
Can be used by beginners
Well-priced
Cons
Porous materials used for construction
4. TSX Toys 18.5 Inch Large Horse Huge Dildo
TSX Toys 18.5 Inch Large Horse Huge Dildo Without Hardener Flesh
"Always interested in "stretching my limits" I bought this huge dildo. Even though it doesn't have a hard core, it is stiff enough to use with a little effort and technique.
The difficult thing is that the head of it is so wide it's difficult to get very deep without discomfort. This is definitely not for amateurs and even for this longtime "player" I've never taken it all the way. Good luck to you!"
See latest price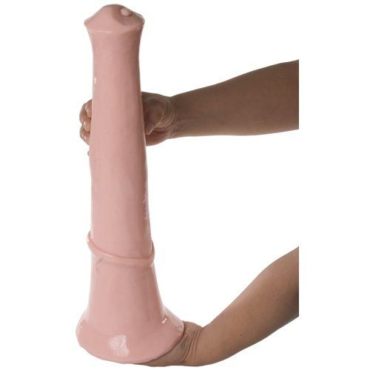 This massive, massive dildo is not for the faint of heart. Designed to closely resemble a realistic horse penis, this dildo is 18.5-inch long and has a maximum circumference of 7.5-inch. It's so heavy, you could probably injure someone hitting them with this dildo!
TSX Toys dildo is made from phthalate-free PVC. Given the size, I guess it would not be ideal to go with a better material. In any case, remember that PVC is porous and should be thoroughly cleaned before and after use. The choice of material makes it somewhat pliable, but make no mistake, this dildo is huge and needs a practiced and experienced hand.
Pros
Massive, large-sized dildo
Good construction
Phthalate-free
Cons
User needs to be well-experienced
Porous materials
5. Romi Big Animal Dildo Horse Penis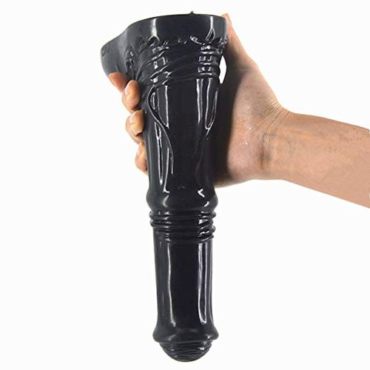 In many ways, the Romi Big Animal Dildo Horse Penis is similar to the PNBB Realistic Dildo Big Horse Penis, which is also on this list. It has very similar design, shape, and dimensions. I wouldn't be overreaching if I said these are both pretty much the same dildo with different names.
This dildo is made from TPE and is safe and odorless to use. Of course, by its very nature, this is a porous material and will retain bacteria. A good idea here is to clean it thoroughly before and after use. Using a condom is worth considering.
Pros
Excellent texture
Well-priced
Good length and dimensions
Cons
Made from TPE, which is porous
6. Fantasy Dildo – Pegasus – Horse Dildo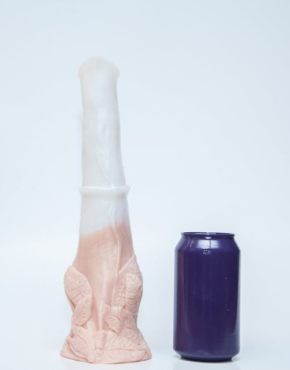 I guess if we've talked about horses and unicorns, a Pegasus dildo can't be far behind! Primary materials for this Theo the Pegasus dildo are premium silicone and silicone pigments. There isn't much by way of texture on this dildo, except some veins running across its length. Interestingly however, the construction of this dildo does end up giving it some texture, which is both interesting and fun.
The base of this dildo isn't the usual testicles/ball style look. Instead, it's a wide region covered in leaf patterns and carvings. It could almost pass as a decoration ornament! The base and length of the dildo can be in different colors, and the seller offers a rather interesting range of options. You can also choose to have a suction cup added to the dildo. That should certainly help with some usage.
In terms of straightforward measurements, the Pegasus Fantasy dildo is 12.25-inch in length with an insertable diameter of 11-inch. Circumference of the dildo at its head is 5-inch, and it weighs 1lb 11oz.
There are no prominent glans here as seen with other horse cock dildos. I would have almost considered them necessary if not for this dildo. It does a simple, yet excellent job at stimulation, whether you choose it to be anal or vaginal.
Pros:
Excellent design
High-quality materials
Great construction
Cons:
7. Custom Stallion Ultra Platinum Silicone Dildo
Stallion dildo is available in several color and size choices. It goes from the relatively tame length of 7.1-inch, all the way to a humongous 16.6-inch. From the five sizes available, the medium at 9.5-inch seems like a fairly good bet.
The insertable length of this dildo is 8.3-inch, the diameter of the head is 1.7-inch, and for the shaft it is at 2-inch. Stallion dildos are made from ultra platinum silicone and silicone pigments. Like several other dildos on this list, the texture here is relatively plain. Some veins offer relief against the mostly plain background.
One interesting thing here is the large choice of colors available separately for the base and the insertable dildo. It creates a nice effect, and having a dildo customized to your specific preference is always something worth looking into. Stallion dildos are handmade and though the craftsmanship is exquisite, expect some imperfections that come with handmade objects.
Pros:
Excellent choice in colors
Good range of sizes
High-quality construction
Cons:
8. Tyson the Unicorn Equine Dildo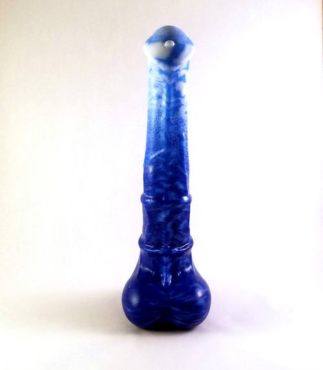 Well, if we are going to look for a horse cock dildo, we certainly won't give up on a unicorn! This unicorn apparently has a name and it is Tyson the Unicorn. My fascination with unicorn nomenclature aside, the dildo has an interesting shape, and is available in several color, size, and firmness customizations. I certainly do expect some magic from a unicorn dildo!
Tyson the unicorn has a body made from silicone and platinum silicone. This dildo is available in several sizes, with the 9.25-inch length being the smallest. In this one, the insertable length is 7.46-inch, with the diameter of the shaft at 1.42-inch, and that of the medial ring at 1.63-inch. The texture is generally smooth, except some vein-like patterns and the rings.
An interesting feature here is the unflared ridge of the glans. It's pleasurable and simple. I can say this small-size horse dildo can even work for beginners. It doesn't quite push the boundaries of size, and yet it is deliciously large. And if you do enjoy length, this is good enough for a ball-deep experience.
Tyson the Unicorn equine dildo is handmade, and apart from the information already mentioned, customers can also choose the firmness of this sex toy. Four options are available in this category – Soft (3), Medium (5), Firm (8), Very Firm (10).
Pros:
Custom made to user preferences
Good color and design choices
The silicone body feels great to touch
Cons:
Being handmade, dimensions can sometimes be slightly different to those mentioned
Comparatively expensive
Quick Considerations On Using A Horse Dildo
A horse dildo is a massive sex toy. It should be used with care. While you certainly should be well-experienced in using dildos, being careful with horse dildos is a necessity.
These dildos can be used for anal as well as vaginal stimulation, though the former is more popular. Some practice is definitely necessary when using this dildo. While feeling sore after using a dildo this size is expected, being injured is not. We use dildos for fun and pleasure, so being careful and having a fun experience is preferable to having a painful experience. Try some anal training and stretching before using a horse dildo.