(Last Updated On: November 15, 2022)
Dildos are available in all sorts of shapes, sizes, and colors. They usually don't have motors or electric power like vibrators do, but if you know your way around a dildo, it will offer mountains of pleasure. Like all things sex, it's the technique that matters. Knowing how to use a dildo can be very effective. Whether you are a newcomer looking to learn the ropes, or an advanced user, I've got something for you in this article.
Prepping Up — Things To Do Before You Use A Dildo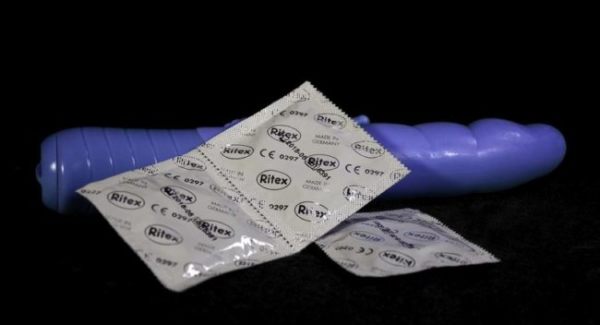 Choose A Dildo That's Right For You
Knowing how to use a dildo starts with selecting a dildo that works for you. Or even one that you assume will work for you. If you're just starting up, start with something non-intimidating like the Lelo Ella. Or just let your imagination run wild and choose the dildo that catches your fancy. There are plenty of designs available, so you will easily find something that works for your needs.
I've said it before, and I'll say it again. Choose dildos made from non-porous and body-safe materials. While porous materials do offer some flexibility, these sex toys are tough to clean and can put your health at risk. If you must use a porous sex toy, use it with a condom.
Inspect The Dildo
Before you let the dildo anywhere near your privates inspect it to ensure it has no sharp edges, cuts, or tears. Also, make sure it does not smell bad. If it does smell, clean it thoroughly before use.
Set The Mood
Take a shower, have a cup of wine, and lighten up a bit. Set the mood and ambiance, like you would for sex. Enjoy some foreplay to get yourself in the mood. It might be worthwhile to get some clitoral stimulation, either by using a bullet vibrator or by pillow humping. If you're not in the mood for that, try some good old-fashioned fingering. The point is to get yourself aroused and your natural lubrication going. More you are aroused, the more you will enjoy the act.
Use Lubricant
Even if you have natural lubricant going well, use a lubricant. Water-based lubricant is a safe bet and can be used with practically all materials.
Anal Use
If you intend to use the dildo anally, make sure it has a flared base so it does not completely enter the rectum. Also, dildos used anally should not be used in the vagina unless they are covered with a condom.
Most of these requirements are quite similar to those when choosing a vibrator. Read my guide on how to use a vibrator for more ideas and tips.
How To Use A Dildo — Things To Do
Start Slow
Don't push the dildo into the vagina. Start by playing yourself a bit. You can use the dildo to stimulate your clitoris and nipples before moving to the vagina. Start with small thrusts, gradually pushing the dildo in. Do not force it. You should not feel pain or discomfort at any point during this exercise. We're sticking to pleasure.
Insert And Thrust
As your dildo goes deeper into the vagina, start putting more focus into thrusting and rhythm. Experiment with your speed and rhythm to find one that works best for you. If you are aiming for the g-spot with the dildo, you can give up on thrusting with speed, and focus on slow massage and consistent pressure. Do it properly, and the g-spot will reward you with a squirting orgasm! Experiment with speed, rhythm, and pressure to find the setting that works best for you.
Mix It Up With Clitoral Stimulation
Many dildos include an appendage for clitoral stimulation (like rabbit vibrators). It is perhaps better to use your own free hand, or a clitoral vibrator to stimulate the clitoris while the dildo works its magic inside the vagina. The dual stimulation can bring powerful, toe-curling orgasms.
Tips And Techniques When Using A Dildo
There's more to using a dildo than simple thrusting and applying pressure. Here are some techniques on how to use a dildo that you can employ for more pleasure.
Shallow Thrusts
A lot of nerve endings can be accessed near the vaginal opening, up to about one-third of the way into the vagina. Use this relatively high density of nerve endings to your advantage, and give the dildo some quick and shallow thrusts. Do not aim for deep penetration, but quick movement is the key to pleasure here.
Rock It
Skip the routine of thrusting and get more out of your dildo. Move it up/down or in any direction you prefer. You may choose to quit thrusting and instead move the dildo up and down to mimic a motion similar to grinding. It will be as pleasurable as thrusting. You will also enjoy the added advantage of some clitoral stimulation, and stimulation around the vaginal opening.
Let It Stay With The Filling Feel
If you are using a sufficiently sized dildo, you will experience a filling and comfortable feeling while the dildo is inserted. It may not be much for thrusting, but you don't really need it. Let the dildo stay in its position and enjoy the feeling. Stimulate your clitoris for orgasm, and you will find the dildo enhances the orgasm while simply staying in its place.
How To Use A Dildo — Conclusion
Experimentation and maintaining your sex toy clean are two points you must take away when learning how to use a dildo. Dildos are available in all kinds of shapes and sizes, so find one that's comfortable for you. If you have some experience, pick a toy that appeals to your imagination. Use the tips and tricks above to get the most out of using your dildo, and continue to enjoy it some more!