(Last Updated On: March 15, 2023)
Through and through, I've searched for many realistic cocks and stumbled upon this treasure of a find – the Realcock 2! This baby has all the necessities of a real penis and is marketed as the world's most lifelike cock, and apparently, it actually is.
As for why I've readied my hands to make a review on this realistic cock is quite straightforward. From its practical looks to the hanging ballsack to the veiny exterior, the Realcock 2 is flawless in every aspect. It's like the creators of this masterpiece cut out the penis from an unsuspecting victim and advertised it as a realistic cock. Luckily, it's not a cut one, but a very-well handcrafted.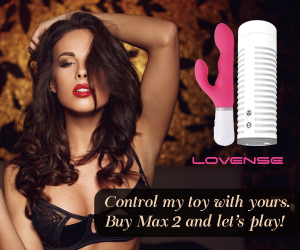 It's fully compatible with every girls' needs and even great for a guy to try out his pegging fantasy. The uniqueness doesn't stop there, as the Realcock 2 has a shaft that goes up and down just like the real deal.
To get a grasp on the full details of this monster of a realistic cock, focus on reading this absolutely informational review.
World's Most Realistic Dildo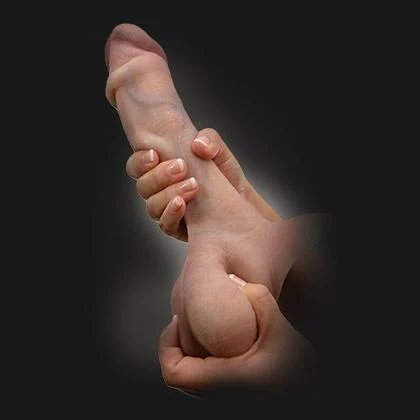 Realcock 2 Cheaper Alternative?
I won't lie, Realcock 2 are pretty expensive! Yes, I think they're worth it, but if you're not willing to spend that much money on a dildo, here's a pretty good – and very affordable – alternative: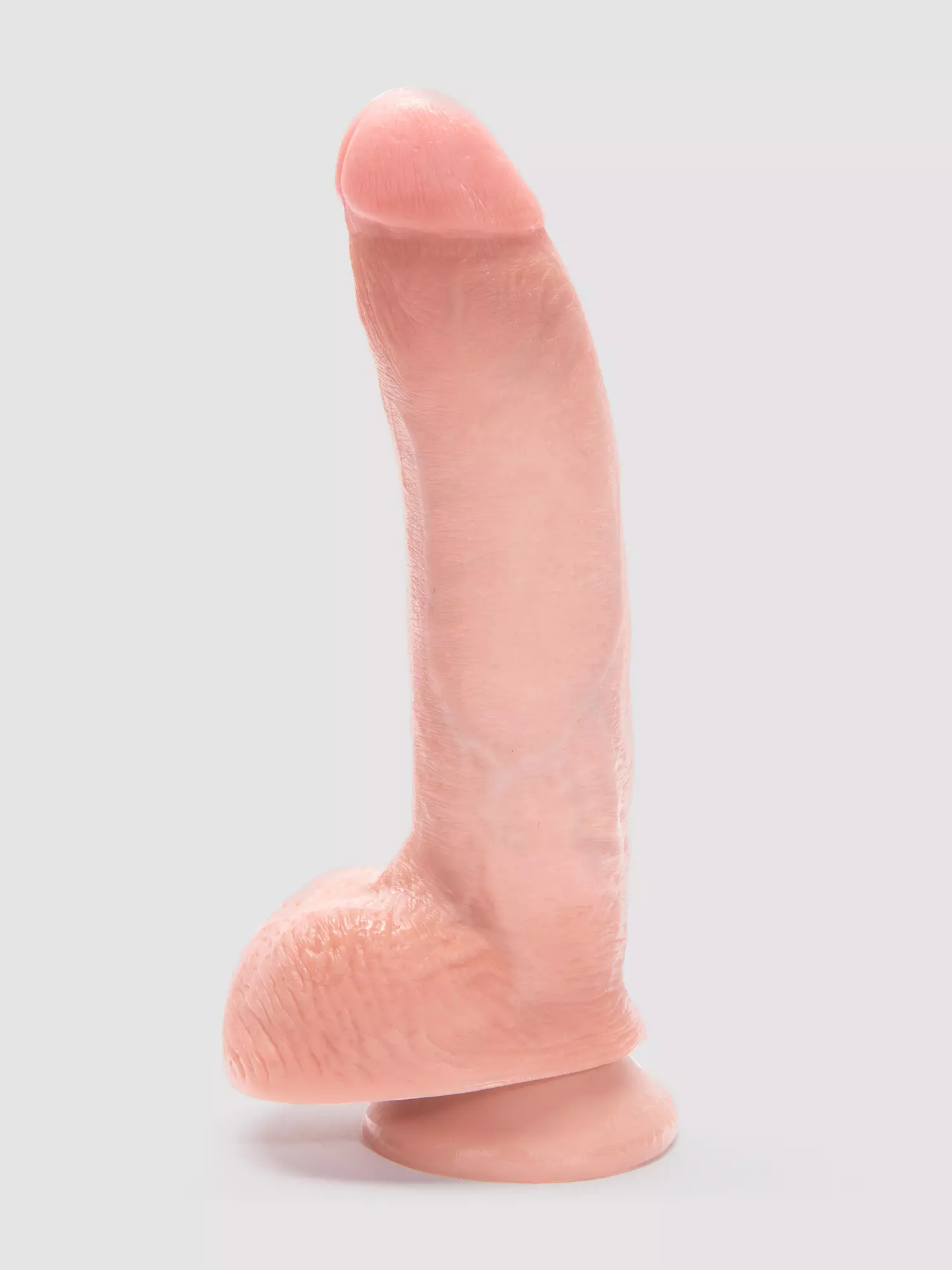 What is Realcock 2
Realcock 2 is a realistic penis, or dildo to be exact, made explicitly for excellent sexual intercourse, no matter the gender (just the kink). Since 1996, the brand Abyss Creations has made realistic sex toys for everyone's needs, like the realdoll product, and now, with this scrumptious treat, they've outdone themselves! With the Realcock 2, they've done that by applying three whole layers for the most real satisfaction you could possibly receive.
But wait, this bad boy doesn't stop at being the sole second generation of a Realcock, as it comes with 5 different models named Jones, Bruce, Rockwell, James, and finally Dirk! Not only does the Realcock 2 have five models, but you can also get it in three variant colors, which are; fair, medium, and dark. And if you don't like the standard colors, you can always opt for a customized one – even a pink one at that!
From the material that it's made out of to its texture, you'll get a grand realistic sexual experience with the Realcock 2. On top of that, it comes with a Vac-U-Lock system which you can implement during a strap-on play or even a pegging sensation of your lifetime.
All of the five models differentiate from one another, whether it's in length, diameter, or the whole girth of the dildos.
Let's see the major features that the Realcock 2 has, and why I consider it one of the best realistic dildos known to men (and women)!
World's Most Realistic Dildo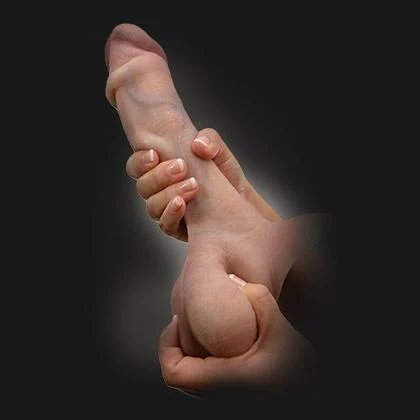 Realcock 2 – Main Features
There are several main features that I'll discuss which make the Realcock 2 stand out. It takes a lot of precious time to make this absolutely realistic penetrating toy, and that's about 8 to 10 weeks, so it's bound to have some great characteristics.
Adjustability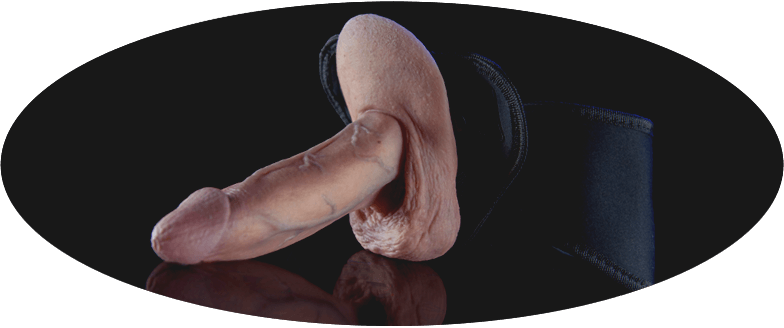 Its adjustability is the true nature of the Realcock 2 that counts. With the implementation of a Vac-U-Lock, which was made a valuable addition to sex toys by Doc Johnson, you can choose the best realistic strap-on journey. Not just strap ons, but suction cups, harnesses, and all kinds of sex apparatus – you name it! Girls, if you have a certain someone that's into pegging, they'll most certainly enjoy the ordeal of the Realistic cock 2 inside them.
Artwork With a Purpose
Now I've talked about how each and every one of the 5 models have specific measurements. But don't think that's all the things that they differ in. Each model is completely handmade with meticulous attention to detail.
These dexterous pieces are created by artists in the United States, making them with tiny coatings of colored platinum silicone. Coating them down with this material guarantees that they form and link together for a single and rigid piece of art.
Realcock 2 has every facet of a real penis, from its pinkish bulbous head that expands being realistically the same, the external pointy veins on the shaft, to the complex wrinkles and the incision on the head. Even the wrinkly ball sack is super realistic, and just for your information, the Realcock 2 may even have freckles on it! Its texture is smooth and bulgy where it has to be, and the color ratio is perfect, even without an ordered and customizable color.
Distinctive Manufacturing
The outermost silicon layer of the whole Realcock 2 swivels besides its shaft, and that's a technology called Sil-Slide. It drifts anywhere along with the harder layer beneath when stroked, wholly mimicking the touch of actual penis flesh and skin.
All in all, there are three layers, a solid core that's on the inside, the softer layer in the middle, and finally, the movable outermost layer. The added realistic color and texture make up for the super realistic Realcock 2 that you want to get your hands on. Unlike other dildos, this distinctive and realistic cock has a ball sack that you can pinch, twist, grasp, rub and do everything that your heart desires.
Because of its various proportions and densities, the Realcock 2 stands extremely lifelike and accurate, which sets it apart from other competitions. Currently, double-density silicone seems to be all the craze! The added level of a real cock sensation throws anyone on track, and I loved how it felt on the hand and even when inserting it deep on the inside of the vagina.
Realcock 2 – Specs
First, let's go over the general specs that all of the Realcock 2 models have and then move on to meet the models. When I bought one of the models (it's a secret of which model I purchased), it came in a simple yet sophisticated packaging in a cardboard box.
Inside I found a transparent bag made out of plastic with a small yet clear instruction manual.
You won't need a larger instruction manual as it's not a cockpit – it's a realistic cock!
As with every model, you can choose between the fine, medium, and dark one or you can manage the color of your Realcock 2 as you like. I was in shock at how realistic it was and spent a good time just looking at it and discovering all the minor but awesome details that came along with it.
After inspecting it, I concluded that it's a one-of-a-kind, realistic piece of artwork, and each of the models is handmade and colored by a craftsman; hence no two models are similar.

Made out of non-porous and absolutely safe platinum-grade silicone, it's really sturdy and quite simple to manage and clean whatever Realcock 2 you'll opt for. When you put pressure on the skin, it expands as if you're holding a genuine penis, which is practically great and disturbing at the same time.
Now it's time to showcase them individually, starting from the shortest one called James, up to the longest and bulkiest one named Bruce!
All Realcock2 Models
#1. James
While this baby may be the shortest of the models, it's also the girthiest one of the so-called normal-sized realistic cocks. On the whole, it's a really straight penis and consists of a smaller-scale head, while the shaft is really girthy for a great immersive experience. Its dimensions are 6 inches in length, 5.½ inches for the circumference, and its diameter stands at 1.⅞ inches.
#2. Jones
The other Realcock 2 model that starts with a J is practically an average-sized penis. Its length is at a fair 6.5 inches, while the circumference and the diameter stand at 4.75 inches and 1.⅝ inches, respectively. It's curved up in just the right manner to hit that sweet g-spot or even the p-spot if you're into pegging.
#3. Rockwell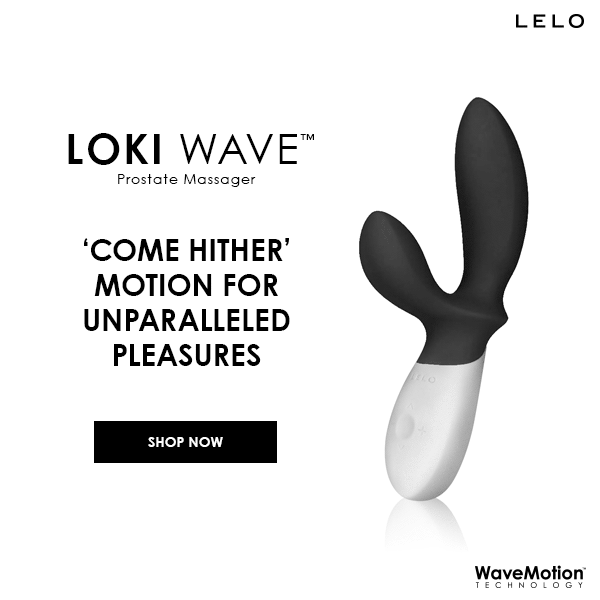 This sturdy cock, is hard as a rock – hence the name! It's a bit wider than the previous Jones, but it has a smaller head, and the shaft has a great convincing tunica like it's full of pumped-up blood. Its testicles are gorgeously textured, just like a real ball sack. The length stands the same as Jones at 6.5 inches, while the circumference is 5.5 inches and the diameter 1.⅞ inches.
#4. Dirk
Now we're heading to the above-average realistic cocks, starting with Dirk which is quite like a dick from your average porn star. It has a great compressible ball sack, and the head is really soft, while the length of the shaft is 7.5 inches. The ridges and veins are protruding enough to get that real feel inside you. The whole length of Dirk stands at 8.5 inches, while the circumference and diameter are 6 inches and 2 inches.
#5. Bruce
It's high time to get this monster of a cock show rolling! Bruce has a slightly narrow head with a great protuberance on its shaft, similar to a fisting kink in girth. If you're brave enough to take it whole, then, by all means, purchase the Bruce model. Its length is a whopping 10 inches, while the circumference and diameter stand at 9.5 inches and 3.25 inches.
All of these models aren't recommended for a really rough sex time because they're practically a real penis, and they can tear up. Nonetheless, if you damage your Realccok 2, don't fret, as Abyss Creations has a repair plan to fix it just like it was when you opened up the package.
How to Use the Realcock 2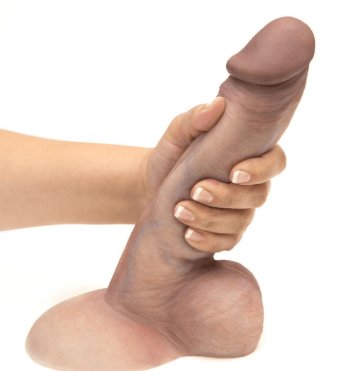 In a straightforward and simple manner, it's practically as simple as it can get when talking about using it. Before starting your sensual experience with any of these models, just remember to get a water-based lubricant since it's made of platinum grade silicone.
The feeling you'll receive from the Realcock 2 is no short of the real thing, and since it's really flexible, any position from your Kamasutra book will suffice. If you want your significant other to take action, the compatibility of the Vac-U-Lock can do the trick to strap on this baby. If you like to do things solo but don't want your hands in the way, attach this bad boy to a sex machine of your liking and commence your delightful deed.
When I used the Realcock 2 at first, I felt the bulged, ridges, and veiny exterior to the fullest at a slower speed. It can get quite intense if you're using it faster, especially if you choose that monster of a Realcock 2 called Bruce. Finally, if you're short on money, get a suction cup and engage in a lifelike ride!
All in all, you'll have a wonderful time using each of the five models of the Realcock 2, and you can bet that you'll get every realistic aspect of it.
How to Clean the Realcock 2
Since this baby isn't made out of your typical TPE but out of platinum-grade silicone, you'll have an effortless time cleaning and maintaining your toy. This silicone is better at keeping your body safe than the standard one, and it's non-porous, meaning that you won't get any bacteria stuck and turn your toy into an infection and germ hotspot.
To keep it in an ideal condition, all you have to do is just wash it away using soap and lukewarm water, rub it down with a dry towel or wipe, and you're all set for another take. Do remember to not use piping hot water because it'll damage the material, and you might get that unwanted friction when engaging in intercourse.
Don't be shy about using a little bit more lube than usual if it's for a greater cause. I poured an extensive amount of water-based lube, and it worked perfectly fine – even better! All things considered, you won't have any hassle cleaning this product, and it'll take just a couple of minutes from your valuable time.
Realcock 2 – Grand Conclusion
It's time to hand out a final verdict on this product, and by all means, it's a great conclusion at that. If you need the most realistic cock on the market for an authentic experience, grab any of the Realcock 2 models listed.
For a great experience with an average-sized penis, get the double J's – James and Jones. James is a lot thicker than Jones, but it cuts out on half of an inch of length. If your take is of average size and a bit more added girth on it, grab the Rockwell, and you'll feel a "hard-rock hallelujah" sensation.
I advise you to get a grip on the Dirk one since its dimensions are hella great and near perfect for hitting the g and p spot head-on. But, if you have a courageous nature and like the feel of a monster cock inside you, get the almighty Bruce, although the pain points might be on the bigger side! It'll take quite a long time for your Realcock 2 to get manufactured, but it's absolutely worth the wait. All of the models are priced at $499, except Bruce, standing at $799, which is ideally more expensive considering its greater length. They may be pricier, but definitely worth the splurge.
At the end of the day, whichever you choose, you definitely won't make a mistake as the Realcock 2 is bound to give you endless pleasure.
Realcock 2 – Pros and Cons
Pros
Absolutely realistic from head to the ball sack
Every Realcock 2 is made from great artisans
Comes in a variety of sizes, shapes, and models
The best realistic dildo on the market
Cons
All of the models are quite expensive
There's a lot of waiting time for you to get an ultra-realistic dildo
Maybe too realistic for some users
Realcock 2 – Similar Alternatives
Now let me say this straight, there is no other realistic dildo that is better than the Realcock 2 in the whole white world. But, there are cheaper alternatives to choose from if you're on a budget, so let's see what those alternatives are.
Much Cheaper Alternative
First of the alternatives is the Vac-U-Lock realistic cock made by Doc Jonson, which is quite girthy in nature. The price varies at around $60, but it's much cheaper than the Realcock 2. This baby has a soft and squishy head, so inserting it won't cause any friction from the get-go. When you insert it in, you'll experience as if the cock itself is stretching inside you. The Vac-U-Lock is great for adding it on sex machines, harnesses, and straps, and its material is ULTRASKYN, thermoplastic elastomer. Its dimensions are 7.6 in length, 1.9 inches in diameter, and 5.97 inches in circumference.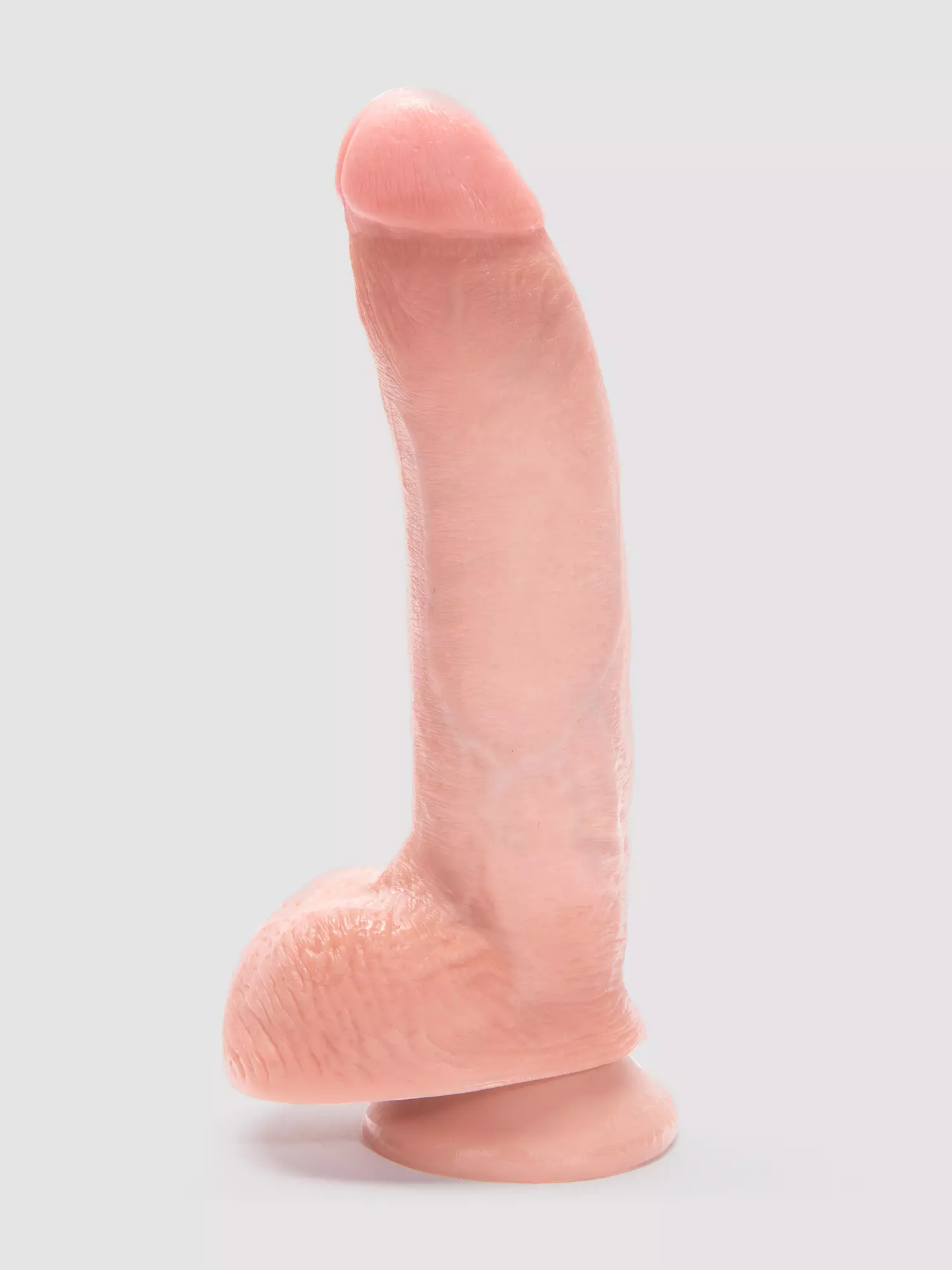 It is made out of a material called CyberSkin PVC for an added realistic touch plus flexibility, and it comes with a clean suction cup for a better sexual indulgence. It's priced at $49.99 on Lovehoney, and the veiny shaft is almost lifelike, still not nearly as lifelike as the Realcock 2. The whole length is 10.5 inches, while the circumference is 6.5 inches and 1.8 inches in diameter. Penetration is incredible since it twists and spins in every direction.