(Last Updated On: November 26, 2023)
Being in a long distance relationship should not be the end of intimacy. Phones and other modern technology have made it possible for couples to connect, share, and spend time together. And improved sex toys have made intimacy possible over a long distance! Modern long distance sex toys use your phones and the internet to keep in contact with your partner. They form a bridge over the distance to bring intimacy to you. It's amazing technologically, physically, and yes, sexually!
Paired Play — Sex Toys That Sync For Him And Her
1. Lovense Nora And Lovense Max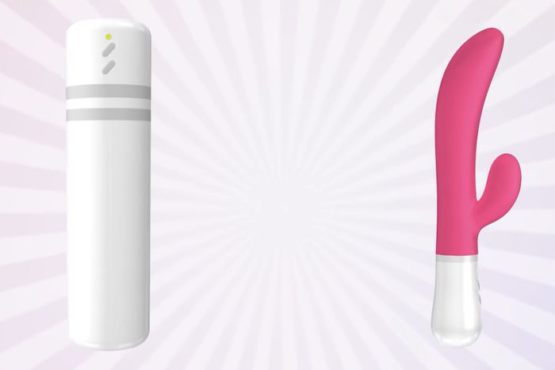 Nora and Max are an absolutely ravishing match. Lovense has had a focus on teledildonics, and it is only natural for the company to push boundaries and increase usability by bringing its toys for men and women closer.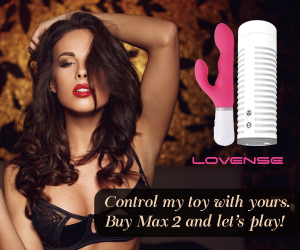 Lovense Nora is a rabbit vibrator that uses Bluetooth to connect to the Lovense app on your smartphone. Similarly, the Lovense Max is a sleeve designed to resemble a vagina. Max too can connect to the Lovense app via Bluetooth.
Nora has a range of vibrations and patterns, and a whole lot of customizable options that can be accessed via the app. Max on its part has three contraction settings and seven vibration modes. Put together, Max and Nora form an amazing system for couples to enjoy intimacy even when separated by thousands of miles. The app is available over most common platforms, including iOS, iMac, Android, Linux, and Windows.
Once you've both connected to the app and shared controls, the sex toys get together and sync up their motions. There are three general modes available, the first two are where either sex toy controls the motions of the other (Nora controlling Max or vice versa). The third is where both toys sync up and share their movements.
When you're ready for your session, simply switch on and move your Nora vibrator. Max 2 will work in sync and start its air pump. The speed of Nora and your movements will dictate the vibrations and contractions he feels over the Max. Conversely, him inserting his penis into the Max will start rotations on the head of the Nora. Faster he moves the Max, the greater the rotation of the Nora and the vibrations.
Pros:
Capable sex toys made from high-quality materials
Max and Nora can be used individually as well as together
Long distance remote control
Full-featured app available across several platforms
Minimal lag
Max supports VR
The app allows video chat but also makes way for third-party software like Skype
Cons:
Expensive
Sync of the toys is somewhat limited in scope and largely depends on movement
Bluetooth connection to app can be buggy
Small disruption in connectivity can cause sync problems
2. Kiiroo Onyx 2 And Pearl 2
Kiiroo Onyx 2 and Pearl 2 couples set is quite a delight and pleasureful combination. Both these devices work beautifully as individual sex toys, and their combination can be seen to be as promising. Onyx 2 and Pearl 2 can switch their uses as individual sex toys, and get to work in tandem to create the amazing feeling of long distance sex for a couple.
Pearl 2 is a remote control vibrator with nine variations on pattern and intensity settings. From slow and calm pulsations to ultra-high vibrations, the Pearl does it all. Its design is something of a classic G-spot vibrator. And yes, the curves do manage to hit all the right spots!
Once it connects to the app, a whole lot of options are unlocked and ready to roll. Controls of the vibrator are managed through a touch-sensitive panel that works fairly well and feels intuitive. It can get a bit problematic once you've lubed up, but that's a small price to pay. Maybe it's just my preference of tactile feedback at play here, but buttons are
Onyx 2 is a real partner to the Pearl 2. Onyx includes ten contraction rings on the sleeve for greater pleasure. It too has a touch-sensitive control panel that can be worked fairly easily. Since there is a larger area to hold the Onyx, the panel stays comfortably out of your way until you need to use it.
Both toys are great to use individually as well as together. When synced up via the app, the motions travel between both these sex toys and translate into pleasure for the partners involved. Pearl 2 and Onyx 2 are also compatible with VR videos and gaming, so you get a more nuanced experience.FeelConnect app is available for iOS and Android, and does a pretty good job in getting both these toys together for action.
Pros:
High-quality toys
Both toys have a range of sensations in terms of vibrations and contractions available
Long distance remote control
The app has a lot of features for couples in LDR
Cons:
Expensive
Onyx 2 is not fully automatic as a penis milking machine and requires manual thrusts
Bluetooth connections can get problematic
See the Kiiroo Onyx 2 and Pearl 2 couples set
3. OhMiBod Fuse And Fleshlight Launch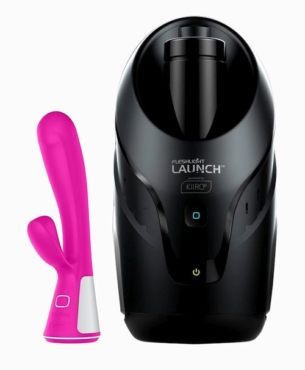 OhMiBod Fuse is a very interesting, high-tech rabbit vibrator. Fuse and Launch are from different companies and used a common platform to come together. That platform is from Kiiroo. These three sex toy manufacturers have created an interesting setup with plenty of possibilities of pairing between their toys.
This is also the reason why you can use the Pearl 2 with Fleshlight Launch, or the OhMiBod Fuse with the Onyx Pearl 2.
OhMiBod Fuse is a rabbit-style vibrator with dual motors that add to the sensations and vibration intensity on offer. The sleek design and silicone build underline the high-quality construction of the device. Its two motors work together to offer four vibration patterns and three intensity settings.
The app allows quite a few features in terms of vibration combinations you can use. Fuse is big on bi-directional control of devices, which is one of the reasons it lends itself so well to paired play by couples. The minimalist design is a good look, and works to its credit.
As a penis milking machine, the Fleshlight Launch performs fairly well. It depends on your use of a conventional Fleshlight, like the Fleshlight STU. For the most part, this automatic penis masturbator moves the Fleshlight up and down. The speed of these movements can be synced to match the movements of the Fuse, which is what makes these two toys a good team.

OhMiBod Fuse as well as the Fleshlight Launch are compatible with VR technologies and allow their users to enjoy videos as well as games while offering interactive stimulation.
Pros:
High-quality, well-regarded sex toys
VR compatible
Fleshlight Launch sensations can be changed by swapping in a different Fleshlight
Great features on app for couples
App offers compatibility between Fleshlight, OhMiBod, and Kiiroo toys
Cons:
Expensive
Limited vibration patterns on Fuse
Fleshlight Launch cannot offer pinpoint stimulation, which remains dependent on the sleeve
See the OhMiBod Fuse on Amazon
See the listing for Fleshlight Launch Stamina Pack
Long Distance App Control Vibrators
1. We-Vibe Rave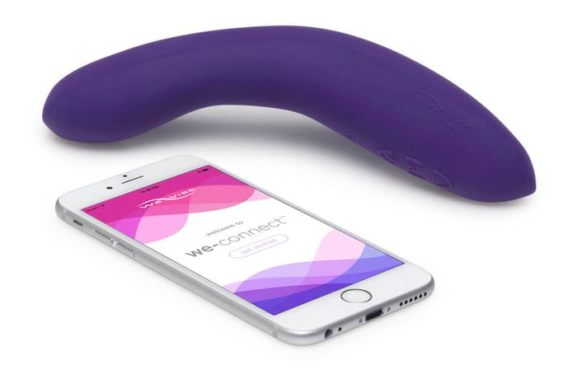 We-Vibe Rave is one of the most powerful vibrators available for the G-spot. Its asymmetric shape doesn't fail to make an impression and its deep, rumbly vibrations don't fail to bring on an orgasm! It makes a point to show off its powerful vibrations, by starting on high intensity every time you switch the vibrator on. This vibrator has quite a lot to offer with 10 vibration modes and intensity settings, which get more diverse when connected to the We-Vibe app.
It uses Bluetooth to connect to the app on your smartphone. Once connected, the app allows for easier control and wider access. You can also share the controls of the vibrator with your partner. This allows your partner to control the vibrator through their smartphone. Your partner could be anywhere in the world; all you need to control the We-Vibe Rave is a good internet connection and the smartphone app.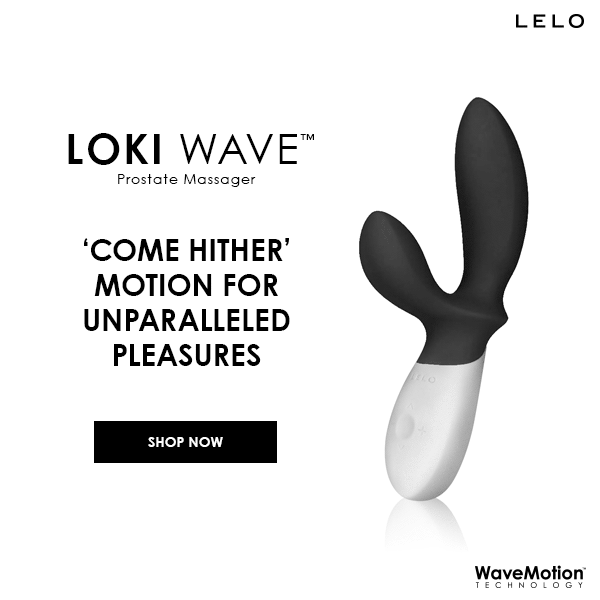 Pros:
Powerful, rumbly vibrations
Works great as a standalone vibrator
Controls can be shared via app
Long distance remote control
Cons:
Vibrator is splashproof, not waterproof
We-Vibe We-Connect needs improvement
2. Lovense Lush 2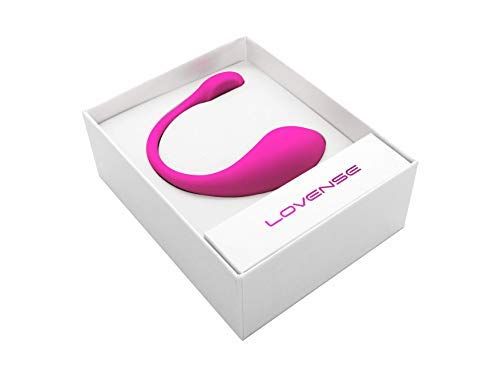 Lovense Lush 2 is powered by the same teledildonics technology that we love in the Lovense Nora and Max above. However, it's not as good (and fun) a toy to sync and compete with the combo of Nora and Max 2. The vibrator can be connected to the Lovense app via Bluetooth, and controls can be shared with your partner. Effectively, all your partner needs is the app and an internet connection, and the vibrator could be controlled from anywhere in the world.
There's more to Lush 2 apart from the long distance app control and customized vibrations via the app. You could sync the vibrator to music playing on your phone, or even to vibrate in response to ambient noise! And yes, it can sync with other Lovense toys like the Max 2, but Nora stays the better option in that arena.
Pros:
Good vibration intensity
Can sync with other sex toys
Several vibration patterns via app
Can sync vibrations to music or sound
Cons:
Pretty ineffective as a classic standalone vibrator
Several complaints about battery longevity
Check current price on lovense
Getting To Know Long Distance Sex Toys Better
Say Hello To The Long Distance Vibrator
Sex toys for women are slightly ahead of the curve (as compared to mens' toys). As such, there are better options for controlling a vibrator over a long distance. Several top quality remote control vibrators for women include app controls and sharing controls. In fact, remote control for vibrators is so advanced, ideas have been floated around for vibrator control options for dating apps.
That may be a controversial topic a long way off, but vibrators being controlled over the long distance is present, and a real choice to make. In most cases, all that is needed is for the partners to have an app installed, and a good internet connection to make sharing possible. The app is generally provided by the manufacturer of the vibrator. Although third-party apps that offer more features like virtual reality experiences are increasingly common and popular with long distance couples.
Bringing Teledildonics For A Couple
Teledildonics is the tech that makes it possible for controlling sex toys over a distance. How about we pair sex toys and have them work in sync for a couple? There you have it, the pair play style sex toys that a couple can enjoy together.
In a simple sense, this means the male and female (or same gender toys) perform their movements in sync. As an example, the thrusts he makes into his masturbation sleeve are relayed to the vibrator she is using. The movements she makes are similarly transported back through his masturbation sleeve. It's the magic of long-distance sex… the intimacy of sex without physical intimacy.
It should be noted that there are still some kinks in this technology and improvements that are coming along. A very neat possibility is the application of virtual reality to bridge the distance and make more interactive sex toys.
VR Sex Toys
VR sex toys, or toys that deal with virtual reality experiences are new arrivals on the field. This is a field where sex toys for men and women are both taking strides and making their presence felt. VR is a broad term, especially when used in marketing ideas.
The application can be as simple as watching porn on a VR device while the user masturbates. A better approach is where the sex toy responds to motions and movements in the VR video, a technology that is available in some cock milking machines. This also falls into the category of interactive sex toys, and there's a whole genre of videos and providers coming up for these sex toys.
The Sex Toys To Bring Long Distance Intimacy To Your Relationship
Maintaining a relationship and a sense of intimacy for long distance couples can end up being a tough job. Keeping the flame alive becomes easier once you bring long distance sex toys into your relationship. They're easy to use, convenient, and give you more ways and reasons to spend quality time together — even when separated by thousands of miles.