(Last Updated On: September 19, 2023)
Thinking of spicing up your sex life? Look no further – the We-Vibe Chorus vibrator for couples may just be that little spark that you need! Almost an upgraded version of We-Vibe's 2016 Sync, the 2022 We-Vibe Chorus is a C-shaped vibrator intended to augment the pleasurable sensations of both women and men during sex!
Honestly, as someone who's used, tested, and reviewed hundreds of different sex toys by now, I was strangely looking forward to it! I remember being positively surprised by the We-Vibe Sync, so I was really hyped to see what they delivered now -, and it didn't disappoint at all! Especially considering how the C-shaped vibrator market has expanded lately – what with Lovense's Dolce and Lush (1, 2, 3), or the Kiiroo and OhMiBod products? We-Vibe really needed to step up their game.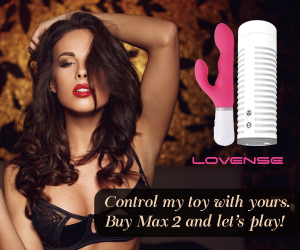 And, man, did they do that!
Not only does Chorus simultaneously work your G-spot, your clit, and your partner's penis, but it comes in such a wide variety of vibration modes, with so many quirks and even an accompanying app. It's, arguably, one of the most intuitive products of its type on the market!
Now, yes, it is mainly intended for heterosexual couples engaged in, rather vanilla, PIV (penis in vagina) sex, but, trust me, it's a true professional in that sphere! And, after all, if feeling so tempted, all you queer folks out there may manage to think of some innovative way to use it! Sex is all about fun and creativity, right?
Ok, so now, without any further ado, let's dive deep into…the review. Wink.
A Great Toy for Couples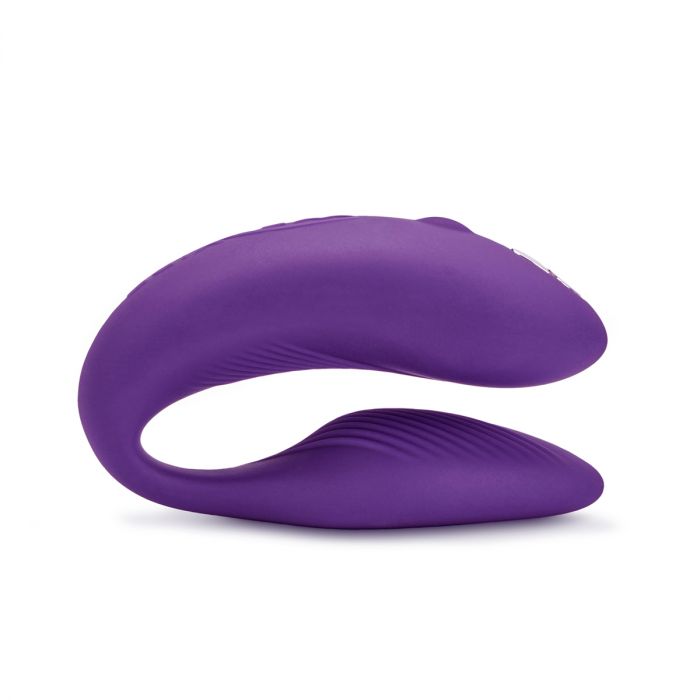 We-Vibe Chorus
Worn during sex, Chorus is adjustable to fit your unique body so you can feel the vibrations right where you want them. The shape is easy to adjust and stays in position once you've found the perfect fit.
See latest price
See on We-Vibe
What is The We-Vibe Chorus?
The We-Vibe Chorus is a C-shaped vibrator meant to be worn during penetrative sex. It comes with two arms, the smaller of which is ridged and is to be put inside the vagina. While this arm pressures and stimulates the G-spot, the bigger arm remains on the outside, pressed tightly onto your clit – doubling the pleasure.
Finally, as your partner inserts his member inside you, he will rub himself against that buzzing smaller arm, thus getting additionally stimulated himself.
Sounds quite ideal, right? Well, listen to this!
You can control the rhythm and tempo of the vibrations in various ways; there are buttons on the bigger arm itself, but there's also a remote control that you can use to direct your "sex coordinator" whichever way you want. Moreover, you can connect We-Vibe Chorus to the affiliated app – We-Connect – and access the additional, so-called "Touch-Sense Modes"! But more on that later!
There are a number of different features and specs which need to be mentioned before. Considering how much this little bugger offers by itself, I honestly doubt that any couple would think to use the app before thoroughly depleting all the non-app stimulation alternatives.
The vibration options are still more than enough to get both me – and my man – to climax ASAP! But, really, this isn't anything new. We-Vibe have, by now, specialized in what they're doing, so it's expected that whatever they bring to the table will be a top-quality invention.
And, speaking of inventions, let's see what the main novelties that Chorus has been bragging about are!
We-Vibe Chorus Main Features
We-Vibe Chorus is, actually, brimming with different features, but I decided to outline the few main ones for the purpose of this review – after all, I can't wait to finish writing it and go test it out – again!
Jack In The Box
First things first, let's see what you get when you buy this naughty little toy! It's arguably a jack of all trades, and it comes with so many additional accessories that I felt as if I was unpacking a brand new smartphone!
Ok, so, most importantly, We-Vibe Chorus comes with a remote control in the same color as the vibrator itself (we'll talk about the colors a bit further down). The remote control is basically Chorus' best buddy, so they should probably go together almost everywhere – except there, you know.
The second most important "accessory" is the magnetic USB cable that enables you to charge the sex toy via any and all USB ports and adapters.
Yet, you also get a charging box – admittedly, impressively discreet – which you can use to charge your extra mini-penis! The lithium-ion battery usually takes about 120 minutes to get to full charge, after which you can feel free to use (and abuse) it for up to 90 minutes of steaminess.
Charging aside, We-Vibe Chorus also comes with a multi-language guide and manual, which explains, in detail, what each part of the package serves for, how to set it up, and how to use it. The manual is also illustrated, so you'll find it incredibly easy to learn your daily lesson and proceed to the practicing stage!
And to do that, you'll need something extra – lube! The We-Vibe Chorus box always contains a 2ml Pjur We-Vibe Lube sample that will let you sneak a peek into how this product should really be utilized.
Of course, we'll discuss the "hows" and "whys" a bit later, but it's cool that We-Vibe, themselves, suggest that you use lube before using Chorus – it's the thing that will elevate the whole experience.
Like this "gift box" elevates the whole product! Yet, still, that's not all!
Additionally, some of the color options (crave coral and cosmic blue) come with an extra booklet that features various sex positions that you could try with the chorus.

A good product should inspire you, right?
Adjustability
And, on that topic, there's one thing that should inspire you most when it comes to sex – your own body. Sex toys should serve as a mere accessory that would enhance your pleasure by allowing themselves to be molded to your body type.
Of course, We-Vibe Chorus delivers on this front as well.
This vibrator prioritizes your comfort and satisfaction, so it comes with a customizable fit, meaning that you can utilize the two joints situated at the beginning of each arm to pull them apart and adjust the sex toy until you get that perfect angle!
And it gives so much room to spread!
Most probably, nobody will need to pull it apart to its limit, but it's still great to know that you have the option to do so!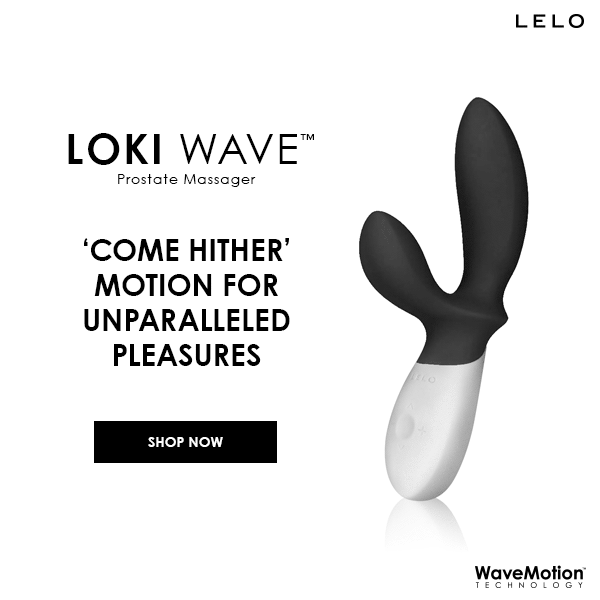 That way, you will be able to adjust the vibrator in just the right ways for you and your partner, getting the most comfortable experience while also enjoying the highest amounts of sexual pleasure!
But, what if I told you that all of this is just the beginning?
The Vibration Modes + Squeeze me tighter
Hitting the right spot is the pinnacle of human sex, but sex toys exist to bring us even further than that! Thus, We-Vibe Chorus comes with up to ten different vibration modes, three of which are the simple "Low," "Medium," and "High" vibration settings. The other seven, however, include some truly diverse and creative patterns!
"Pulse" and "Echo" are kind of jumpy and mildly shocking, while "Wave," "Ultra," and "Tide" take you on a journey across the ocean, through gentle, peaceful waters and thrilling tempests, alike! Finally, "Surf" and "Crest" combine some of the best features from all the previous patterns, launching your genitals straight into heaven!
And, just so you know, all of this is under your control. You can either switch between modes by pressing the button on the outer arm of the vibrator, just beneath the We-Vibe logo, or use the remote control in a similar way to get that hands-free experience!
Most interestingly, Chorus comes with an extra cool feature – Squeeze!
Emulating the basic human tendency to tighten the grip whenever taken aback by intense sexual pleasure, Chorus enables you to get stronger, more rapid vibrations by simply squeezing the remote control in your palm! The more you squeeze, the stronger the vibrations. As you slowly loosen your grip, the vibrator will become gentler and more mellow too!
This is what a really intuitive sex toy should look and feel like!
We-Connect
All sex toys should aspire to be about more than just bodily stimulation – they should be about spiritual and sensual connection too.
Cue in We-Connect.
We-Connect is a downloadable app that enables you to control We-Vibe Chorus' modes and motions further.
Mediated by the Squeeze Remote Control, this newly-established bridge between you, your partner, and the sex toy will allow you to sync all of your desires and even customize the modes!
That's right; you can create your own vibration settings, control them at long distances through the app, and bring experimentation and fun to the next level!
Touch Sense
Once the connection between the vibrator, the remote control, and the app has been established, you can tap into the movement receptors' hidden power within the vibrator's outer arm.
They, following the movement patterns of your and your partner's bodies, will naturally prompt the vibrator to change its modes and movements, to combine them into complex, personalized patterns, and adapt them to your own sexual rhythm. Of course, you have up to three touch-sense modes to additionally choose from, but they're all conditioned by your bodies and your desires!
Bearing all of this in mind, it's safe to say that if there's any C-shaped vibrator out there, packed with as many features as possible, able to satisfy both participants in the sexual act fully maximally, then that's We-Vibe Chorus.
The stronger vibrations can make its "purr" noisier compared to other products of its kind, but, no worries, it's not too loud! That buzz is, instead, quite the turn-on!
That said, let's see what this little wonder machine's exact specifications are!
We-Vibe Chorus Specs
Before delving into the details, let's just get all the basic specs out of the way:
Vibrator size:

Height: 44 mm
Length: 78 mm
Width: 33 mm

Remote control size: 37 x 96 mm
Battery life:

Run time: 90 minutes
Charge time: 120 minutes

Material: Silicone
Control: Direct, through remote, through app
Colors: Purple, pink, blue, crave coral, cosmic blue
Categories: Couples
Warranty: Two years
Price: $199.00
Whew!
Made from ABS and body-safe silicone, this vibrator is entirely phthalates-free, without any additions of latex or jelly, non-porous and completely safe for all kinds of use!
However, the main thing to note is that copious amounts of lubricant (preferably water-based lube) are recommended, nay, necessary, to have the proper experience.
Silicone can "absorb" lube quite fast, and, considering all the thrusting going on, it could all start to feel a bit rough. Hence the plentiful amounts of lube. Just indulge in it! The more slippery, the better!
As you can see, it comes with a two-year warranty and, delivery wise, it always comes in a discreet package. Considering its rather salty price (it's well-deserved, though, don't get me wrong), it said delivery is also free. Yay! It also comes in a plethora of mesmerizing colors! To be fair, I couldn't really make my mind up, so in the end, I went for the most beautiful (at least in my opinion) – the cosmic blue. It's a truly stunning color, and it also includes the extra sex-position booklet! Win-win!
Another thing – Chorus is IPX7 waterproof, so feel free to take it wherever you want! The world (and its seas) are yours to explore!
How to Use The We-Vibe Chorus?
So, how exactly are you meant to explore the world with We-Vibe Chorus?
It's quite simple. Apply generous amounts of lube to both your and your partner's genitals, as well as to the vibrator. Find the vibration mode you want to start with and insert the smaller arm into your vagina. Find the most comfortable position and press the ridged surface against the inside of your genitals – preferably your G-spot.
The bigger arm shouldn't be turned towards the "hind door" – it should be resting on top of your vagina's frontal, outer part. Press it against the clitoris so that you can get that double vibrating stimulation.
Finally, have your partner penetrate you. While thrusting, he will rub the top (if in missionary position), or the bottom of his penis (if in doggy-style) against the ridged, vibrating surface of the Chorus.
The smaller arm should be suitable enough for most penis sizes to be able to enter and exit the vagina comfortably. Once that's out of the way, start to experiment with the vibrations, pulses, and squeezes. See what works best and have fun!
How to Clean The We-Vibe Chorus?
Ok, so you had your fun. What now?
Good news! The We-Vibe Chorus is completely waterproof and, considering its materials, safe to clean in whichever way you find fit! Meaning you can simply shampoo it and wash it under warm water, then dry it, charge it, and store it away for future use.
Just beware! The remote control is not waterproof (but splashproof)! It can tolerate a drop or two but don't submerge it underwater lest you want it to stop working. It's not that difficult to fix afterwards (thorough drying should do the work), but it's not intended for that, so just keep it away from liquids.
Our Verdict on The We-Vibe Chorus
I mean, you can probably tell by now, right? I am absolutely in love with this sex toy!
Aside from it being a bit pricey, it's creative, versatile, extremely intuitive, made from safe, durable materials, and it also comes in truly gorgeous colors! Not only will it provide you with some of the best sex experiences in your life, but it will also increase the intimacy between you and your partner!
The only things that might detract from the whole experience could be the fact that, depending on body types, the insertion of a super-large penis could be slightly uncomfortable if not lubed properly or the remote control is not waterproof. These aspects notwithstanding, though, We-Vibe Chorus should provide a breathtaking experience!
Pros
Made from high-quality body-safe materials
Excellent sensations
Can work with VR, encoded games, and is FeelMe compatible
Stylish design
Cons
Maximum battery life of 1 hour
No vibrations
Alternatives
We-Vibe Chorus doesn't exist in a vacuum like every other product; it, too, has alternatives, better/or worse options that you could choose from!
For example, one would be Lovense Dolce (previously Quake), a C-shaped vibrator for couples, which comes with additional features, such as a Bluetooth option (for long-distance connection with your partner), or a music-sync option (for some atmospheric sex).
Adjustable Prostate Stimulator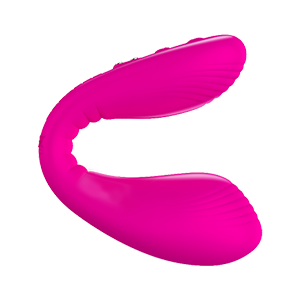 Lovense Dolce
Dolce has quite a few tweaks to make it even more attractive than before. A magnetic charging port makes the charging process a smoother experience. The optimized layout and design of the antenna ensures a more stable connection. To further the advantages of the adjustable and insertable arm, we have updated Dolce's design by making a bigger bulb just above the neck; which provides more stability and even stronger P-Spot stimulation.
See latest price
Another option would be We-Vibe's classic – We-Vibe Sync. A somewhat simpler version of Chorus, Sync is not to be underestimated. Waterproof, body-safe, and adjustable, it could shake you and your partner up, just like it shook the world when it came out! You might even find it at a discount price!
Bestselling Couple's Vibrator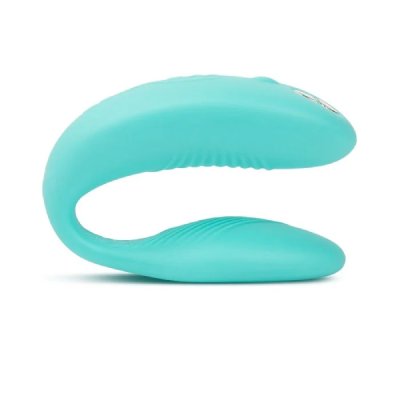 All in all, regardless of what you're looking for, you'll find something that'll suit both you and your partner. Twisting, twirling, or vibrating, Chorus – or any of its alternatives – can help you elevate the intimacy of your relationship.