(Last Updated On: September 10, 2023)
The Swedish company LELO has been making innovative gadgets for his and her pleasure for years now, and when it comes to couple play, its Tiani 3 win big time.
Good news is that: I've been lucky to be sent LELO Tiani 3 to give an honest review.
Whether you're totally new to the game or looking for another luxe toy to reach the big O, grab this sleek little number and see it rock your world from the minute you try it out. But first, check out how I got on with it and what my first impressions were in my LELO Tiani 3 review!
LELO also offers our readers an exclusive coupon code: GURU to save 10%, if you decide to buy Tiani 3 after reading my review.
LELO Tiani 3 Review — Bringing Love-Making to a Whole New Level
The Lush Packaging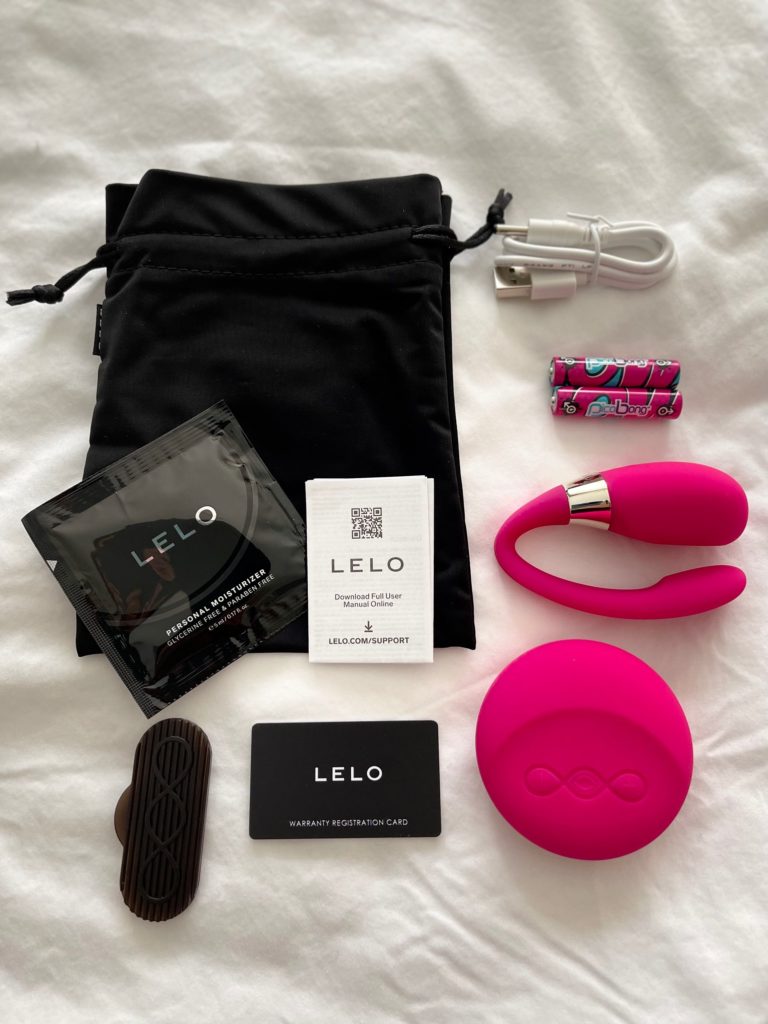 Right off the bat, the company blew me away with the packaging. Going beyond the toy's design, LELO has made sure even the box it comes in (a sleek black one) just screams luxury. Plus, it stores everything I need to use the toy, including:
a USB charging cable
a key that opens the remote control
a packet of LELO's personal moisturizer
the instruction manual
a storage pouch
a warranty registration card (1-year warranty and a 10-year quality guarantee!).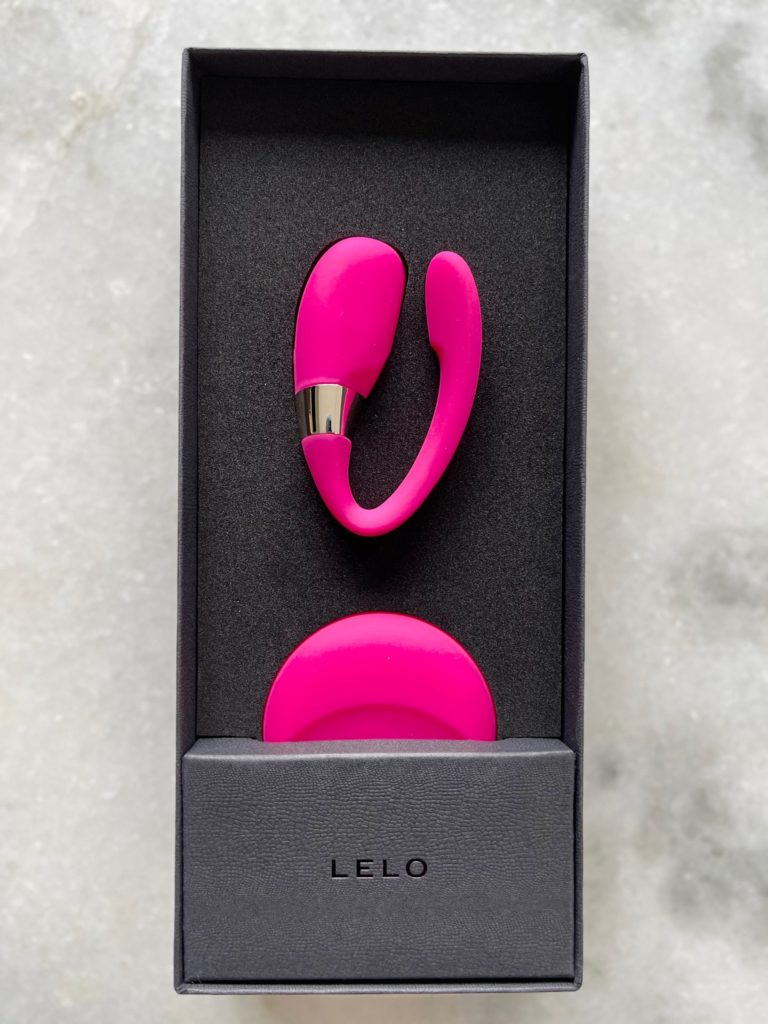 This toy has two parts, or rather, you get the vibrator and the remote control to use it with. The box also includes AAA batteries needed for the remote since only the toy itself is rechargeable.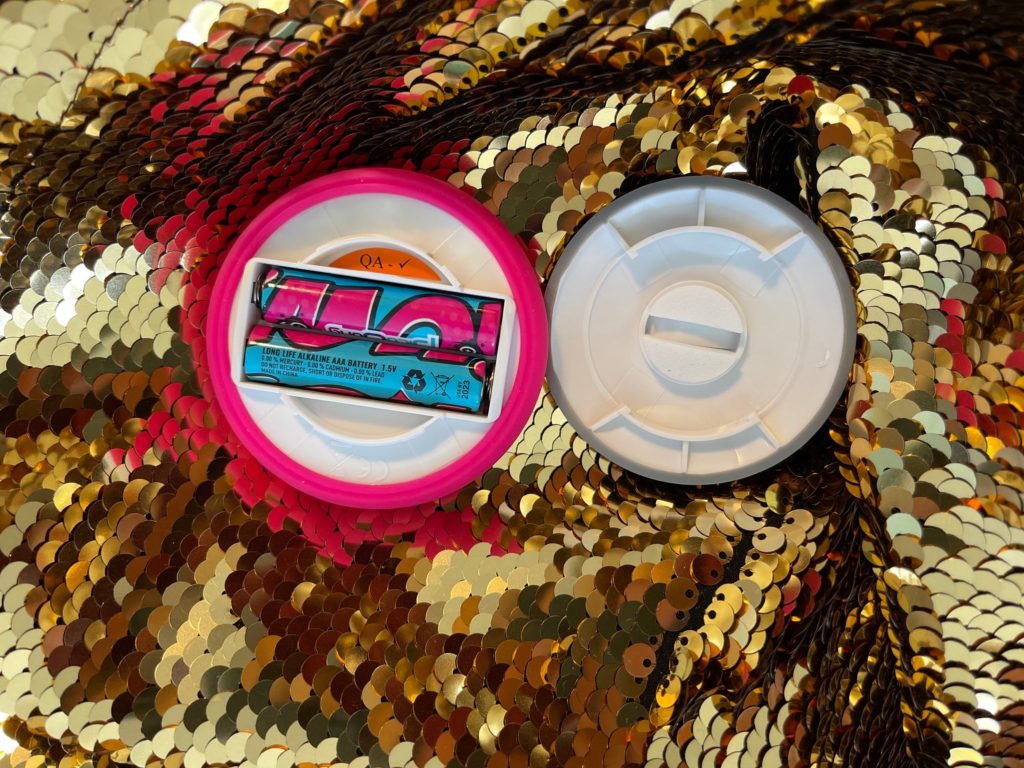 To charge your LELO, just unscrew the top (the bulbous part of the toy that doesn't go inside you); underneath, you'll find a charging port. The toy takes about two hours to fully charge, and this gives you two hours of playtime.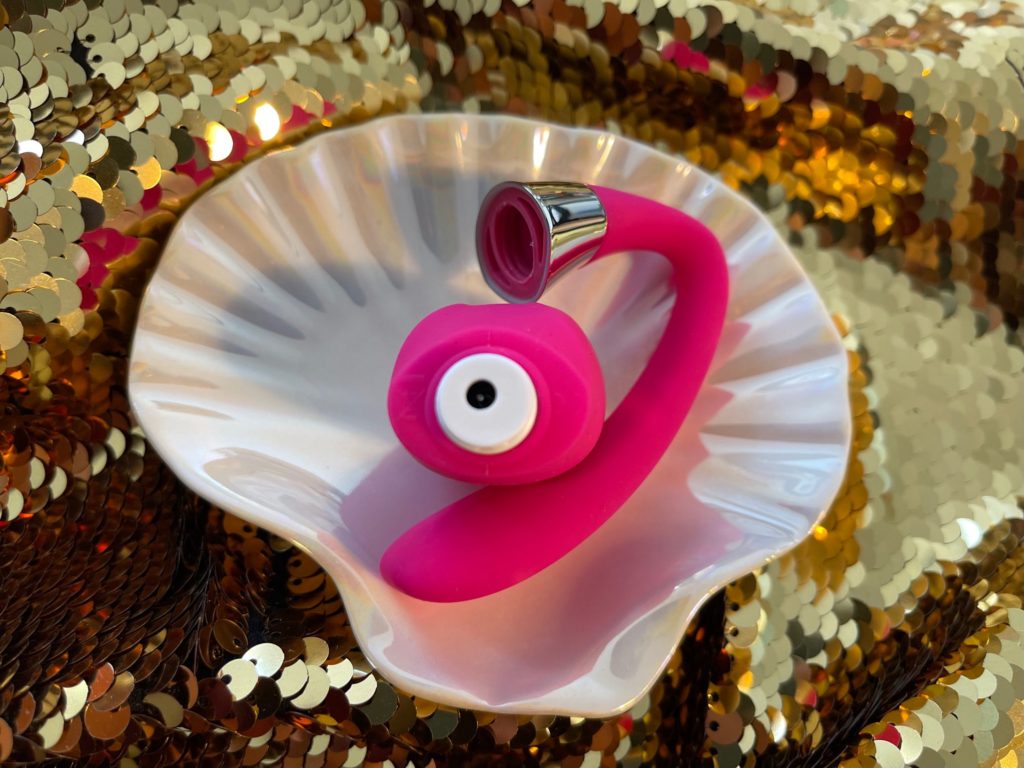 The Clever Design
Extra goodies aside, I was more interested in seeing how the vibrator was designed — and figuring out which part to put where.
Some would say the toy is C-shaped, but I think it looks more like the letter U, with two "arms" squished together. The bigger end is where the motor is, and that's the part that actually vibrates.
The smaller end goes into the vagina, so it had to be more flexible to fit all body types (yes, all!). Its design isn't all flat, though; it has a slight groove that should allow your partner's penis to slide in alongside it comfortably.
Though only the end that goes on the clit vibrates, the sensation can be felt through the whole toy. It travels all the way through the smaller end, so you will feel the vibrations inside you — and so will your partner during sex.
The remote control is circular and has a metal-like cap that opens with the key to insert the batteries. It's made from the same material as the vibrator — velvety body-safe silicone — while the cap is actually ABS plastic (also completely body-safe).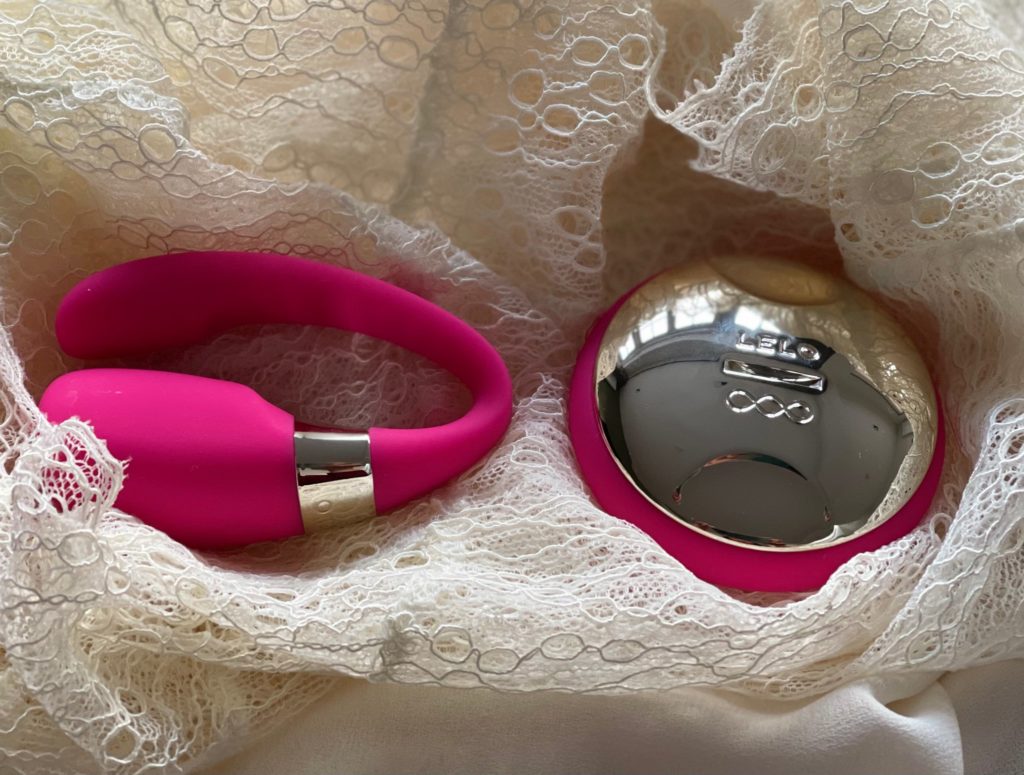 I was so impressed with the fact the toy is waterproof, and since it's made of silicone, the cleanup is super-easy. I just use some warm water and soap after each use to get rid of any gunk. For the remote control, however, I use a wet wipe.
Using LELO Tiani 3 — A Learning Curve That's Worth the Effort!
Before trying the toy, I do urge you to read the manual so that you're using your Tiani 3 to its full potential. Figuring out the controls may take a while on your own, even though we all know what the + and – mean.
Now, an exciting fact about this toy (apart from the orgasms, of course!) is that it's a part of LELO's collection of toys that use SensorMotion™ technology. This translates into a rather interesting experience while using the vibrator, and the remote control plays a crucial part in this.
Using the Vibrator Only
You can use the vibrator on its own too. It has a button on it that you use to turn it on and cycle through the six pre-programmed vibration modes. There are some waves here, pulse vibrations, and even a continuous vibration mode that you'll simply love. However, these are all set on 100% intensity. If you want to make them a bit lighter, you have to use the remote.
Remote Control + Vibrator = Sexual Bliss!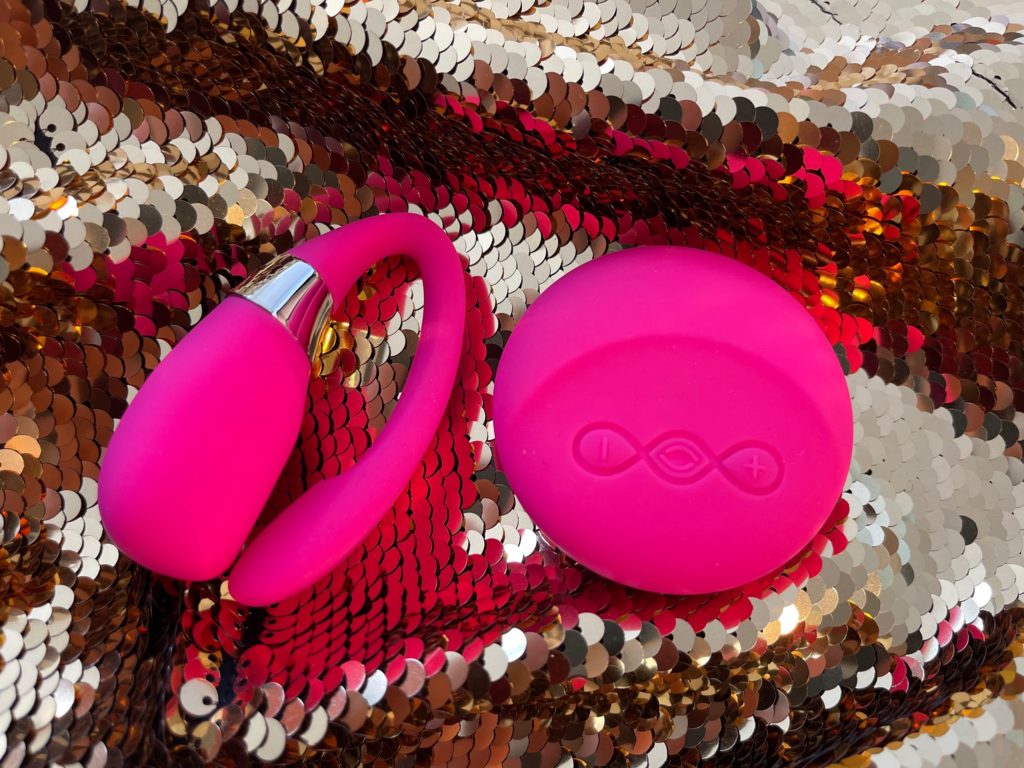 Once you connect the vibrator to the remote, it starts operating on SenseMotion™ mode 1. Here, you can decrease or increase vibrations by simply tilting the remote horizontally or vertically. You can go from 0 to OMG in just a few seconds!
To go to the next mode, you have to press the button in the middle — it'll take you to SenseMotion™ mode 2. In this one, you move the remote in any direction and as fast as you want to intensify the vibrations. You can basically shake your partner (or both of you!) to the core by shaking the remote!
Press once more, and you'll be using the traditional mode with those pre-programmed vibrations. At that point, use the + and – buttons to pump up the action. Alternatively, reduce the vibrations to smooth tickling to slow things down.
Essentially, the features open up a world of possibilities for couple play, especially if you and your partner love longer foreplay. You can start off with some light flicks of the wrist to get your partner in the right mood. Tease them until they cannot take it anymore! Then, go on and play around with all the settings; see what kind of vibration gets you off faster — and which mode works best for both!
In short, the toy guarantees a fantastic time if you and your partner are looking for more adventurous playtime. Do you want to discover how earth-shattering an orgasm can REALLY be? Light or intense, pulsating or constant vibrations — the Tiani 3 will surprise you with how fast the big O comes your way!
Putting the Tiani 3 to the Test
I (gladly!) tested the Tiani 3 as both a solo masturbator and a couples massager.
After I lubed up, the more flexible vibrator arm slid in pretty nicely inside me. It didn't feel weird at all, though I would say it felt much firmer once it was inside.
As soon as it was in place, my partner and I started playing around with the settings without doing the deed. He went through the first two modes; I can honestly say those are my favorites since he's the one in control — so I cannot foresee how he'll flick his wrist each time. He went gently at first, which was a real delight. But the faster he went, the harder it was for me to hold on to my senses!
After a while (and after flipping through the pre-programmed vibrations), my partner joined in on the fun. He slipped his member alongside the slimmer vibrator arm. Since it has a sort of grooved design, it wasn't uncomfortable at all. I do recommend, however, using lots of lube to make sure nobody injures themselves.
The pre-programmed modes are super-fun to use as well, but I love how…unexpected the sex can be with SenseMotion™ technology. Don't get me wrong — all those waves, pulses, and even the constant vibration mode feel oh-so-lovely down there. It's just a thrill knowing you cannot predict what comes next!
The vibrations could be felt throughout the toy, of course, so my partner got off pretty quickly. I'd say, though, that thrusting himself into me wasn't the best idea. Grinding worked much better, so if you're more into love-making and that tight skin-on-skin action, the Tiani 3 will make you quake with pleasure!
The Simplest Positions Work Best With the Tiani 3
A tiny con I noticed while using the Tiani 3 is that it takes a bit of practice to use. Making the toy work for you won't be the same as just using a bullet vibrator. It can slip out if you don't position it properly; that's why I recommend staying in the missionary position until you get nice and comfortable with it.
With your partner on top, and your bodies intertwined, the toy should stay in place tightly, tickling you both with its vibrations. In some other positions, however, like in the reverse cowgirl, you may have to keep it in place with your hand.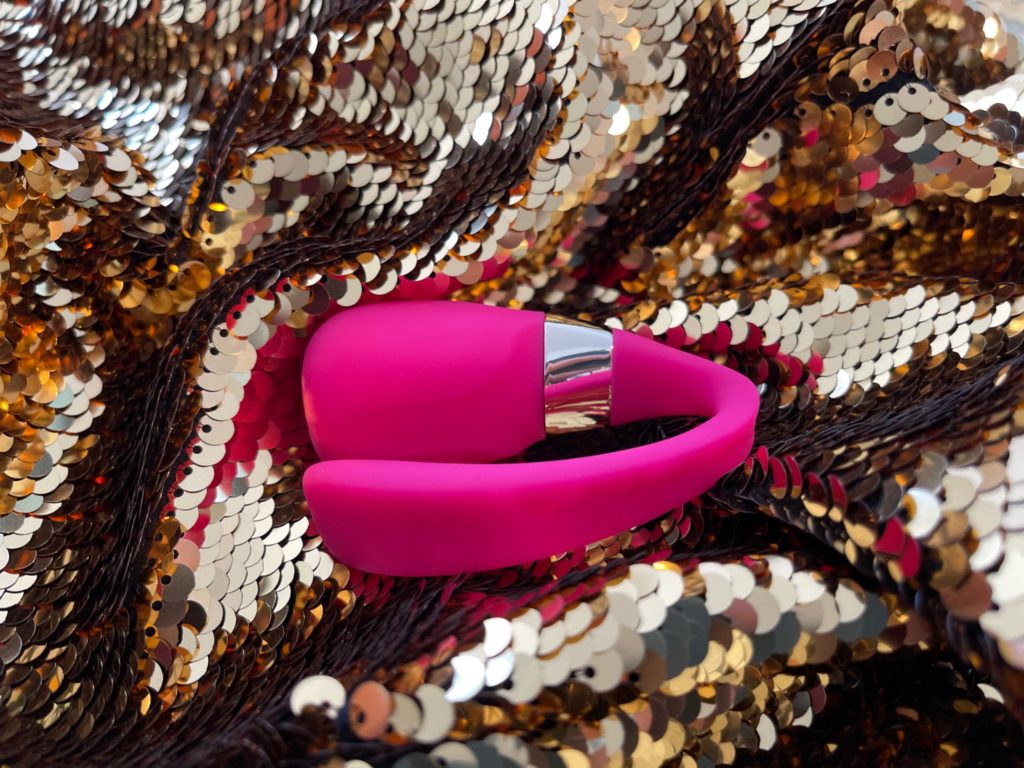 In theory, any position works with the Tiani 3, but prepare to hold it steady in those where your partner's body cannot keep it in place. We tried out a few more and decided the missionary and the cowgirl work best. Gravity is your foe here, as the clit part simply won't stay put in positions like the doggy style.
Flying Solo? The Tiani 3 Could Become Your New Best Friend
The remote control isn't just there to alter the vibrations of the Tiani 3. While in the SenseMotion modes, both the vibrator and the remote vibrate. Essentially, you could use the remote as a massager as well.
For more adventurous couples, this is a huge advantage, as it means it could technically work for a threesome too. The remote has a range of 12 meters, so the participants don't even have to be so close by.
While two people are grinding up and down each other, the third one can enjoy the vibrations at the same time — not to mention control the pleasure of their other two lovers!
But even if you're single and ready to explore your sexuality further, the Tiani 3 works so well! I love that it allows for some hands-free pleasure. I didn't have to keep pushing something inside me or even use my hand to rub the clit. It's basically a set-it-and-forget-it toy that I don't even have to touch to control — that's what the remote is for!
…But Even That's Not the End to Its Talents!
In my humble opinion, the greatest strength of the Tiani 3 is how flexible it is. This makes it a rather versatile toy, as it lets you explore pleasure even further than advertised.
My partner and I wanted to see how it would enhance (somewhat) mundane sex acts, like hand stuff. What we didn't expect is that it would bring foreplay to a whole new, incredibly exciting level.
Using some natural lube (the almighty spit!), I slid the vibrator up and down my partner's member until he (almost) couldn't take it anymore. What finished the job was some sucking action and a few licks here and there. Now that's an orgasm he'll never forget!
Tiani 2 vs. Tiani 3 — Which One's Better?
I've been lucky enough to try both Tiani 2 and Tiani 3, and honestly, both toys earn my recommendation. I will say, however, that I prefer Tiani 3 because it has a few millimeters more of insertable length. It may not be a huge difference (78 mm to Tiani 2's 75 mm), but deeper is (usually) always better!
Best of all, the shape of the external arm on the Tiani 3 offers broader stimulation. That's actually perfect for me as it feels like it encapsulates my whole clit (and beyond that!). Don't feel like your clit has a more dominant side, or you're not a fan of intense pinpoint stimulation? Trust me — the Tiani 3 will become your new favorite gadget!
Final Thoughts
This toy only has one con — you may not be able to use it properly in all positions. I'd still recommend it to every couple out there, especially if they're ready to take their bedroom extravaganza to the next level.
As you can tell, my honest LELO Tiani 3 review sort of turned into me explaining how my partner and I play in the bedroom. But I just wanted you to envision how your sex life could change as well with this tiny but mighty toy. It pleases both partners intensely, feels so smooth inside and outside, and can be used in various ways, making each humping session all the more thrilling.
So, my verdict? Grab the Tiani 3 right now – and get ready for some truly mind-blowing orgasms! Don't forget to use the coupon code: GURU to save 10%