(Last Updated On: June 22, 2023)
We-Vibe Rave is a remarkable g-spot vibrator. It embraces modern technology and has a few eccentricities of its own. A lot could be said, but the only thing that matters is if this vibrator leads to the Big O. It doesn't essentially have to know how to make a woman squirt, but a g-spot vibrator worth its salt should bring on a fulfilling orgasm at the very least. Let's get on with our We-Vibe Wave review to see what it has to offer and if it indeed can receive rave reviews.
We-Vibe Rave Review — Pros And Cons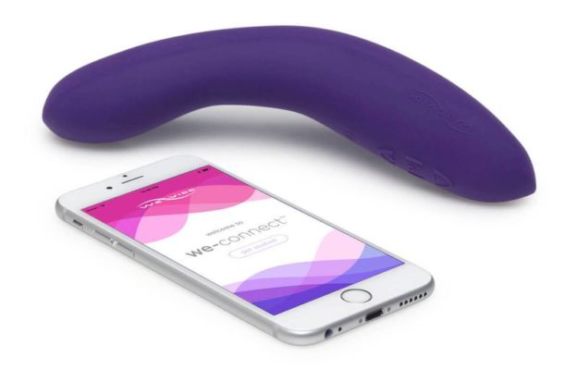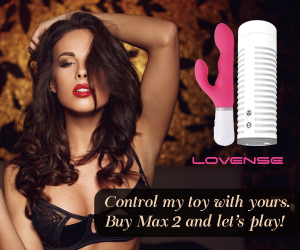 Pros
Strong, rumbly vibrations
Remote control via app
Excellent and convenient shape
Good looks
Silicone covering is phthalate free, non-porous, and body safe
Long use time on a full charge
Low noise
Several patterns settings; pattern customization available via app
Cons
Splashproof, not waterproof
App control can be flaky
The focus on high power and intensity may not be viable for many users
We-Vibe Rave Review — Features
Design And Construction Of We-Vibe Rave Vibrator
The We-Vibe rave has the same bendy-curvy shape that is common with g-spot vibrators. Since the idea is more about hitting and massaging the g-spot rather than a simple, deep penetration, a curved shape is favored by most g-spot vibrators.
An interesting thing to note in the shape of the vibrator is that the insertable head is asymmetric. Now that's quite an intriguing shape and the asymmetry is difficult to ignore. It might feel a bit nagging, considering humans are wired to like symmetrical designs; believe me, you will appreciate that symmetry once you start using the vibrator.
We-Vibe Rave is covered in smooth, velvety silicone and feels great to the touch. It is, however, not smooth in shape and there are clear edges. It can attract lint, so make it a point to clean your vibrator before use. In fact, it is a good habit to clean up any vibrator before and after use.
Controls are located towards the bottom of the vibrator, and just above them is a small hole for the placement of the jack pin port for the charger. I'm no fan of this arrangement and would have much preferred for the We-Vibe Rave to have a better charging position and be waterproof. I think that's a fair expectation to have from modern day premium vibrators.
There are a total of 10 preset patterns to pick from, and the default intensity at starting the vibrator is strong. So take your time and get the right setting before you insert this vibrator.
We-Vibe Rave App
A We-Vibe Rave Review must have something to say about the app. Much like the We-Vibe 4 Plus, the Rave works with the We-Vibe connect app for a whole range of functions and utilities. Aesthetically, the app looks great and offers interesting functions.
You can use it as a remote to control your vibrator or pass on the control to your partner as long as they have the app and are connected to the internet. This feature sounds very appealing, especially to those in a long-distance relationship. Intimacy over the internet sounds awesome! Additionally, you can control vibration intensity from the app simply by moving your finger on the phone's screen, and even cook up your own preferred patterns for the We-Vibe Rave G-Spot Stimulator.
Pairing the We-Vibe Rave with the We-Vibe Connect App is fairly easy and quite intuitive. It's a simple process, and when you're done pairing, the vibrator gives off a couple of quick vibrations to let you know that it's ready for action.
Theory aside, the reality is a bit more disconcerting. The app controls can be finicky and users often report random disconnects. Sometimes, there is a noticeable lag, especially if the long-distance partner is handling the remote. We-Vibe could perhaps learn a few things from the Lovense Hush app. They've still got a great product, and hopefully, will iron out the pesky bugs soon.
We-Vibe Rave Battery And Charging
Something I've always admired about We-Vibe products is the clearly visible low-battery indicator. That simple feature has saved me from any potential shut-downs mid-action. I can appreciate not having to deal with the disappointment and rage that comes from a vibrator giving up with a job half-done.
On to more important things, the We-Vibe Rave takes about 90 minutes to a full charge. Its battery does perform and hold charge remarkably well and can keep the vibrator running for almost two hours.
We-Vibe Rave Review — How It Performs Under The Sheets

It's always a good idea to use some lubricant with your sex toys. Silicone toys especially may need a little more by way of lubrication, and it's much better never to feel wanting. It is best to use a water-based lubricant with this vibrator since silicone toys don't play well with silicone-based lube.
The base of the We-Vibe Rave is fairly symmetrical, and the vibrator slowly flares up with the insertable part taking its maximum diameter shortly before reaching the tip of the vibrator. In that sense, it's fairly similar to its primary competitor, the Lelo Mona 2.
We-Vibe Rave Vibrations
Once ready, the We-Vibe Rave really can flaunt its powerful, rumbling vibrations. Plus, this is where the asymmetry of the vibrator comes in handy. You move the vibrator to place it at the right spot, and that little exploration and guesswork that the asymmetry brings in can really open up the world of pleasurable sensations from the We-Vibe Rave g-spot stimulator.
Its strong, rumbling vibrations and the wider head make an irresistible tool of pleasure for the g-spot. When it comes to a solid, high-quality orgasm, this vibrator rarely disappoints.
Personally, I prefer controlling the We-Vibe Rave directly from its onboard controls. It's easy, intuitive, and just more convenient. While controlling the vibrator through the phone seems alluring, I would rather avoid putting my lube-stained hands on the phone screen. Also, the vibrator isn't quite hands-free, so there isn't much of an advantage in turning to the app during solo play.
An important thing to note is that the vibrations do travel throughout the vibrator. While they are awesome for the g-spot, the hands bear the brunt of the tremors as well. If you have some condition that doesn't go well with the vibrations, this might not be the most comfortable vibrator for your hands.
As for the vibrations themselves, they do well by the name of the We-Vibe Rave g-spot stimulator. The deep, rumbly vibrations are most welcome for an amazing, orgasmic experience.
We-Vibe Rave As A Clit Vibrator

Well, external stimulation is not the advertised function of the We-Vibe Rave, but those rumbling vibrations aren't amiss on the clitoris either. It certainly won't be as powerful as your preferred wand vibrator, but it can do the job quite well. The slight edge on the vibrator can also be used to direct pinpoint stimulation for the clitoris. Or just use the broader side to cover a greater surface area. The We-Vibe rave certainly does stand the test for clitoral vibrations and can easily outperform some of the cheaper clitoral vibrators.
We-Vibe Rave Review — Conclusion
You've probably already heard of praise heaped on the We-Vibe Rave. I'll say it is well-earned. It has its share of drawbacks too, no doubt about that. But overall, the We-Vibe g-spot stimulator is good at its job, and its rumbling vibrations elicit the satisfying orgasms. Per this We-Vibe Rave review, it's a good vibrator, not the best out there, but if you have tried other We-Vibe products and know what to expect, the We-Vibe Rave can be a great fit.