Zumio takes an interesting approach to clitoral stimulation. It is not your usual clit vibrator; this sex toy is far more interested in mimicking the motion of fingers when used for masturbation. There are no traditional vibrations on the Zumio clitoral stimulator. Instead, it has a probe-like thingy that wiggles to stimulate the clitoris. It's quite an interesting approach, and let's see how well it pays off with our detailed Zumio review.
Zumio Review — Pros And Cons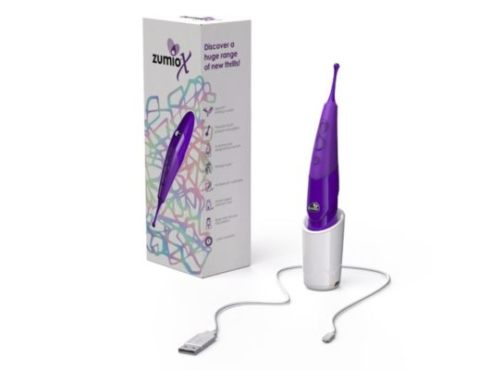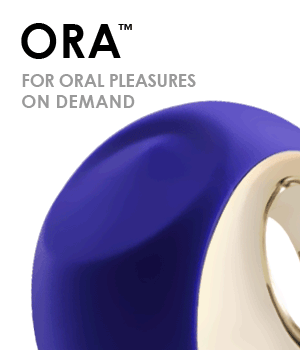 See best price on Amazon for Zumio
ProsZumio Review — Personal Stimulator With A Different Touch
Excellent pinpoint stimulation
Battery can last several hours on a full charge
Innovative approach
Some waterproofing
Several intensity and speed settings
Low noise
Combination of silicone and ABS plastic is non-porous, phthalate-free, and body safe
Cons
Takes too long to charge
Some careful cleaning required
Can take some time getting used to
The novel approach may not work for everyone (considering the price, it can be some risk)
Controls, though simple, can require some adjusting
Zumio Review — Features On Offer
Zumio Appearance And Design
You will notice that the general shape of the Zumio is rather different as compared to traditional sex toys. Its shaft or cylindrical body is followed by a small, probe-like plastic (or silicone coated) appendage with a round tip — or as Zumio calls it, the SpiroTIP. This is the par where the magic happens!
Rather than simply vibrate, the Zumio's tip moves in something of a whirling motion. This motion is intended as a replacement of using your fingers to stimulate the clitoris. Well, obviously it is not exactly the touch of your hand, it is different in the sense that you're using a motor operated appendage with variable intensity settings for stimulation. So there is some vibration involved, even if it's not as deep as your favorite wand vibrator.
Zumio X vs Zumio S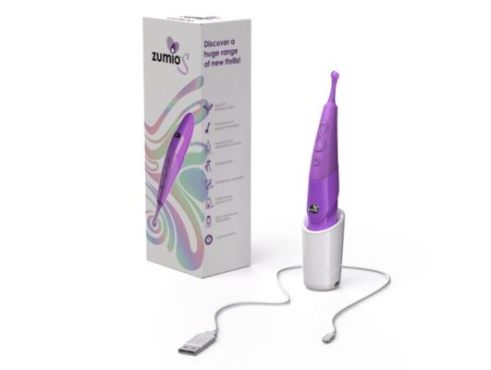 Zumio is available in two models, the Zumio X, and the Zumio S. Both of these come from the same stock, each with a medical-grade silicone-coated shaft/cylinder, and a probe. The difference between both models lies largely in the probe. Zumio X has a longer SpiroTIP made from ABS plastic. On the Zumio S, the SpiroTip gets slightly smaller and is coated with silicone.
Once covered in silicone, the tip loses some of its vibration and intensity. However, it feels better on the body as compared to the plastic tip and makes it more convenient for you to put some pressure at the right spot while using the Zumio. As you can very well guess, the advantage for the Zumio X is its higher power and intensity, since the SpiroTip does not have to give up some of its energy to the silicone coating – or have its vibrations dampened.
If you like a softer touch and would prefer to build up to an orgasm, it is worthwhile to look at the Zumio S. On the other hand, if a quicker, high-intensity vibration is what you need, then look at the Zumio X.
Zumio Battery And Charging
Zumio does a small departure from most modern vibrators or even gadgets in general. Rather than the usual Lithium-ion batteries, the Zumio vibrator draws its power from a NiMH battery. The battery allows Zumio to run for a long time, and the company claims up to four hours of play time, which is pretty impressive. The use time decreases at higher intensity settings, and since most of us are going to go beyond the basic starter setting, it would be fair to assume that your expected play time will be somewhere around 90 minutes to 120 minutes. So far so good! Now to the negative — the battery takes forever to charge! When I say forever, I mean that Zumio says it will take 16 hours to a full charge.
Zumio is USB rechargeable and comes with a nice dock to hold on to it as it powers up. Given the battery charging times, I'm going to go ahead and suggest that you use a wall adapter setting rather than your computer's ports. That just seems more convenient compared to plugging this onto your computer. Well, you can get enough juice for a session after a couple of hours of charging, but personally, I'd rather not risk the battery going out while the vibrator is in action!
Waterproofing
The Zumio is waterproof up to 2 feet under water. Now that's a good enough length for submerging the device, but I'd still be careful about taking it to the bathtub for action.
Zumio Review — How Well Does It Perform?
Controls Of The Zumio
Zumio has controls very near its SpiroTip. There are three buttons – one for power, and two buttons in a figure-of-eight pattern on the vibrator. These two buttons are used to manage the intensity settings of Zumio. There are eight power settings available on the vibrator, and the buttons can be used to manage the controls quickly. The power difference between each intensity setting is smooth, and you can switch from one intensity setting to a higher or lower setting without a jarring jolt of the change in power.
The controls on the Zumio are not quite intuitive, especially when compared to conventional vibrator design. The buttons are placed far too low, and during usage have to face away from the user. Conventional vibrator wisdom suggests that the controls be facing the user and be placed higher on the handle. Well, Zumio reverses this completely.
If you ever wondered why Zumio talks so much about paintbrushes on their website, it's because this sex toy is meant to be held in a way somewhat similar to a paintbrush, or a pen. Hold it like a pen, and let it make its nice, pinpointed motions on the clitoris. Now you've got a good thing going!
There's another downside too. Placing controls so close to the SpiroTip means that Zumio's efforts of making the handle free of vibrations lose some sheen. The hand does feel some vibrations, and they can be buzzy. If you have a medical condition like arthritis or carpal tunnel, there is a risk of this getting painful.
Putting Zumio In Action
Zumio will be in direct contact with your skin and will make clear movements. It's best to use a lubricant (you should be using one anyway, even for solo play). Water-based lubricant works best in this scenario. Zumio actually sends out a "60-second experience" booklet/pamphlet as a suggested way to use the Zumio vibrator. Apparently, some study or survey by the company found that most women could orgasm using the Zumio and the specific steps listed in about 60 seconds. I appreciate the enthusiasm, but no, thanks.
I'd much rather find my own way rather than use an orgasm recipe and wonder why I hadn't orgasmed in 60 seconds. It's way better for me to chill, relax, and work my way to an orgasm. Well, the buildup is half the fun! And I do prefer taking the time.
As its SpiroTip moves, the Zumio X can put on quite a show of intensity. If you put on some pressure for a more intense feel, you'll find the Zumio X can barely keep up. Put enough pressure, and it will have trouble moving. The Zumio S handles pressure much better, and its silicone covered SpiroTip feels so much better against the skin as compared to the plastic approach of the Zumio X.
All of this movement does bring on some vibrations as well, and they can be classified as rumbly, if only slightly weaker. The orgasm is satisfactory, although perhaps not quite the level of a toe-curling finish that we would love in a vibrator. In the same vein, if you are a fan of using your fingers to stimulate the clitoris, Zumio might actually take you to climax easily and make it feel more satisfying.
Playing With The Zumio
Zumio encourages users to not be limited to clitoral stimulation. Zumio personal stimulator has more to offer. You can get creative with your use of the Zumio, and use it to bring on some arousal. Using it on the nipples, near the clitoris, or other erogenous zones can be quite helpful. It's often suggested to run Zumio along the length of your partner's penis, or use it to stimulate his perineum. Well, there are a ton of ways to get some more fun out of the Zumio, so get creative!
Some suggest using it for clitoral stimulation during sex, and even to stimulate your partner's penis. Using the Zumio during sex is probably stretching the uses, but hey, nothing wrong in giving it a shot!
Cleaning Zumio
Zumio is waterproof with a silicone-coated body/handle and an ABS plastic SpiroTip. Or the silicone-coated SpiroTip for the Zumio S. The construction makes it easy to clean the Zumio in general. However, there is a bit of a sticky point — the place where the Zumio's ABS plastic meets its silicone-coated handle. This little point can collect fluids and other random dirt, so it requires extra attention for cleaning. It can also be fairly difficult and fragile, so take extra care when cleaning it.
Zumio Review — The Verdict
Zumio is indeed an interesting toy and much more than a gimmicky novelty. While it has its downsides, it is useful and quite good at its job. If you enjoy using your fingers to stimulate your clitoris for orgasms, this might be a great choice for you. Also, to bring in more salient points form this Zumio review, the Zumio X is the more powerful and intense toy. Its younger sibling, the Zumio S is more docile in terms of intensity, but reacts well to pressure and its silicone-coated SpiroTip feels quite good against the skin.