(Last Updated On: April 14, 2023)
Pleasure doesn't always have to come with high-end technology and gadgetry. Sometimes, it can just be a modified chair! Obviously not your average chair, but something that has been modified to fit a purpose. A monkey rocker works very much like an average rocking chair.
Except the rocking movement does not move the chair, instead it moves built-in attachments or dildos designed for pleasure. It's an ingenious self-propelled system that really gets things moving!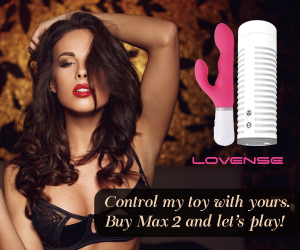 Best Monkey Rocker And Alternatives In 2023
In case the Monkey Rocker isn't the one for you, here are some rocker sex machines and alternatives to consider. Many of these are cheaper than the Monkey Rocker, but there are inherent differences, even if minor ones.
#1. The Love Glider Sex Machine
Best Overall
Love Glider Sex Machine
This amazing sex machine is comfortable and gives you enough power to get it just how you want it. Quick and deep, slow and smooth, your call 😉
Power: Manual
Dildo included?: No
See latest price
The Love Glider is an all-time favorite of mine. I like how I can control the speed and depth. It's also very comfortable for those long sessions.
Check it out:
#2. Editor's Choice: Cloud 9 Novelties F-Slider Pro
Premium alternative
Cloud 9 Novelties F-Slider Pro includes features that make it a very interesting rocker or sex glider. Users get a larger selection of attachments as the machine is compatible with Vac-u-lock Adapter and Universal Dildo Attachment.
It sits about two feet off the ground, making it convenient to ride. The movements of the machine are responsive to your body, so you won't be fully at the mercy of inertia to ride and control this rocker. The motion of the dildo with the chair is fairly simple and stays the course of the conventional up-down movement.
You can make changes to bring in some more fun, like adjusting the penetration height or changing the penetration angle to hit the right spot.
F-Slider Pro has seen greater success due to its flexibility and focus on usability. It remains easily compatible with several dildos, something competitors like Love Glider Sex Machine fail to achieve. That really kills the cost vs quality metric for the Love Glider.
The F-Slider Pro is an excellent value proposition and a wonderful companion to go rocking with.
The Quality And Value Proposition
What makes the Cloud 9 F-Slider Pro the right pick is the attention to quality and convenience. And all of that at a (relatively) affordable price point. Make no mistake, this isn't a cheap machine. But compared to its competition, the F-Slider Pro looks like it has things figured out. Or more directly, it has its monkey rocker business figured out.
Cloud 9 F-Slider Pro is cheaper than its competition – several hundred dollars cheaper for most competitors. However, the lower cost hasn't come at the expense of quality. In fact, the build focuses both on quality and usability.
The rocking parts for motion use high-quality and heavy-duty metal components. The company says the F-Slider Pro is tested for up to 400 pounds of weight. That makes it quite the pick for several activities your creativity might suggest.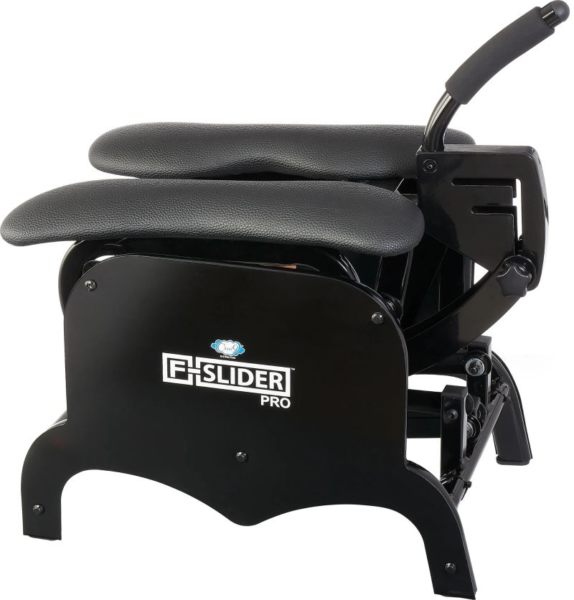 To me, what's more important here is the maintenance – or the lack thereof. Mechanical parts usually require higher maintenance… but not for the F-Slider Pro. Its high-quality construction doesn't need regular maintenance. You can enjoy this rocker without dealing with the maintenance of the moving parts.
Another feather in its cap is the comfort. The well-padded seats on the F-Slider Pro and its ergonomic approach make this rocker more enjoyable. You don't have to struggle with getting it right. Rather, the slider is convenient, and even intuitive, in getting the rocking motion and the dildo movement right.
Accessories And Add-Ons For Cloud 9 Novelties F-Slider Pro
Another good thing about the F-Slider is that it will work with pretty much any dildo. Cloud 9 Novelties hasn't tried to lock users to their products, which is a big plus. The F-Slider Pro comes with Universal and Vac-U-Lock adapters.
This makes it possible to use this slider with most commercially available dildos. So, you can use your favorite dildo, rather than having to buy another expensive dildo to go with the expensive machine.
Although for the sake of convenience, the machine does include a 7-inch realistic dildo (phallic) in the box. Also included in the package are Vac-U-Lock and universal adapters and straps. A few more accessories are included too.
The overall movement of the rocker stays silent, though there are points where it gets a bit creaky.
Pros:
Fun to ride
Works with a large range of dildos
Good motion and convenient to use
Cons:
Expensive
Movement can get a bit creaky
Save 25% on Cloud 9 Novelties F-Slider Pro from cloud9novelties.com
Some Ideas To Go With Your Monkey Rocker Experience

The setup can come with several names. Monkey Rocker was the first on the scene and has been applied to the whole genre of these sex toys. You may also find this type of machines listed as love glider, monkey glider, dildo rocker, sex glider or similar names.
Comfort Comes First On The Rocker Sex Machine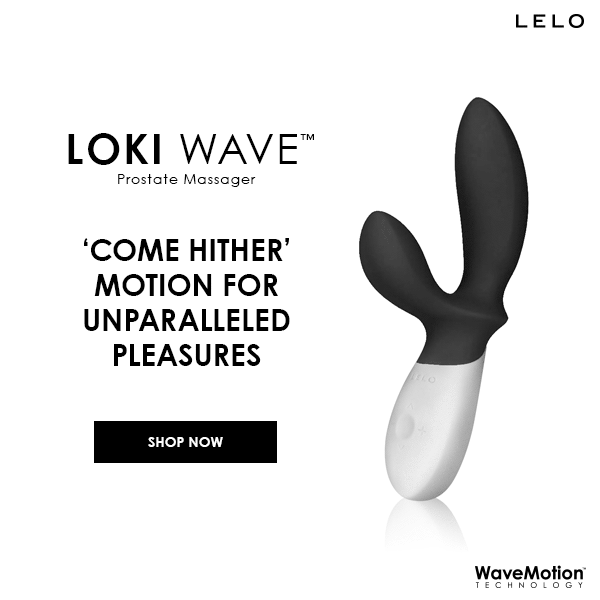 Well, the goal of a monkey rocker is to make you come, so to say, but for that you should first be comfortable. Most rockers or gliders make an attempt to add some padding on top so you can be comfortably seated in a chair. Sitting on a chair where you often have to adjust yourself is bad. Having the same sensation on a monkey rocker is 100x worse.
This is a self-propelled machine – your movements are what drive it and bring fun. A machine that can't offer that is not doing its job properly.
Choosing The Attachments For Your Sex Rocking Chair
A dildo is going to do most of the work involved here. So take your time to choose a dildo and get the most out of it. A good quality sex rocking chair will have an adapter where dildos can be placed. Vac-u-lock dildos are often supported and can be a good choice for machines like these.
Dildos with a good insertable length are preferable given the nature of the movement of these rockers. You don't necessarily have to use a horse dildo, but a small one with only a 4-inch insertable length probably isn't going to cut it.
Experiment With Your Dildo Rocking Chair
A monkey rocker or dildo rocking chair isn't just good for solo fun. Get your creativity flowing, and enjoy some fun with your partner. As an example, many people enjoy it in a "threesome" where the woman rides the rocker while simultaneously giving a blowjob. Another thing to try is to give up control to your partner, and let them rock the chair while you enjoy. This is especially more fun when you're close to an orgasm!
DIY The Monkey Rocker
A good quality monkey rocker can be an expensive machine. If you've got the skills and smarts to whip up your own machine, there are websites that sell plans to build your own. Some forums also have helpful users uploading their designs for free. If you choose to buy plans, treat them as any other purchase and be sure to check reviews and customer opinions before committing to one.
Don't Discount The Dildo Chair Alternatives!
Monkey Rocker and similar products tend to be on the more expensive side of things. You can expect to end up spending several hundred dollars for these sex toys. That isn't a bad thing, but those who like the general idea, but would like something different can consider alternatives.
It isn't all about the cost either. Having a huge chair with a dildo sticking out needs some serious space commitment. Our modern shoebox dwellings don't quite offer that luxury.
Alternatives And More Options For Your Monkey Rocker Experience (The Runner-Ups)
#3. LoveBotz Bangin Bench Extreme Sex Stool
Best Budget Option
LoveBotz Bangin Bench Extreme Sex Stool
Ideal for Solo and Couple Play. Try new stimulating positions. Allow your partner to pleasure you from below. This position grants more exposure as your genitals relax downward. Great for domination fantasies.
Power: Manual
Dildo included?: No
See latest price
LoveBotz Bangin Bench Extreme Sex Stool is a low-cost alternative to the Monkey Rocker and similar machines. The stool has a simple mechanism where a dildo is placed below a springy seat. So, while the stool itself offers no thrusting mechanism (which is the central piece of rockers), you can control the thrusting through your movement over the seat.
It's a brilliant way to enjoy the goodness of rocker or glider machines at a fraction of the price. Of course, it's not as refined as the competing machines, but it can get the job done.
As a cheap workaround, it is fairly enjoyable. And it has some additional qualities that make it more fun to try other things. For example, the dildo mount is removable and you can get into plenty of action by using it for other sexual experiences and positions. That springy elastic seat can come in handy, even if it's just for cunnilingus.
The dildo mount is compatible with almost any suction-cup based dildos. If you have a dildo with a wide base, the included harness could hold it in place while you enjoy moving on the stool's springy seat. Cheap as it is, I do have a liking for the springy seat. Use your creativity a bit, and it can get you places – with or without a dildo placed on the mount!
Pros:
Inexpensive
Simple to use
Removable dildo mount allows the stool's use for other activities too
Cons:
Basic knock-off that can't be truly considered a rocker or glider
The package doesn't include a dildo
The construction quality is average to low at best
#4. The Cowgirl Premium Remote and App Controlled Riding Sex Machine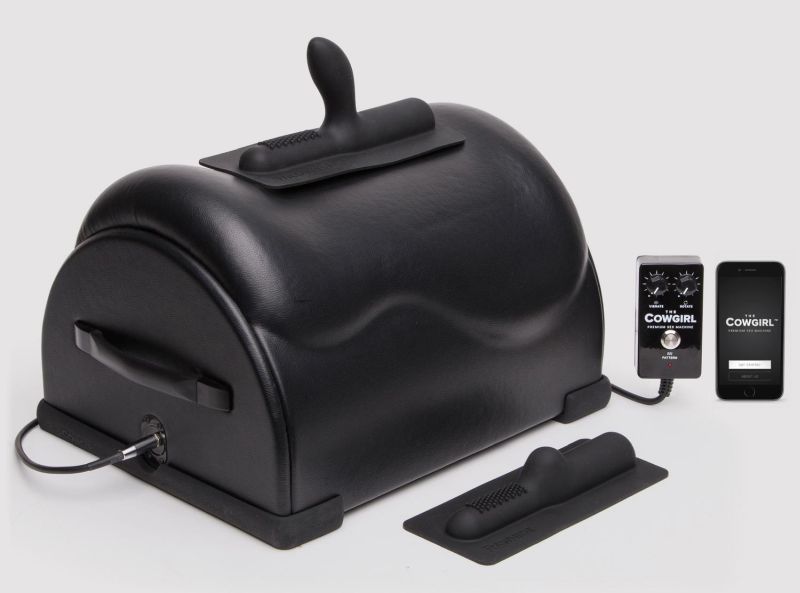 The Cowgirl is not a rocker, but it is a worthy alternative to rockers and gliders. This sex machine is well known for being a powerhouse capable of eliciting orgasms on demand. The Cowgirl is a sophisticated sex machine.
You'll have to lay The Cowgirl on the floor and straddle it for some action. The top of the machine has room for attachments of your choice – and they do make plenty of attachments available. Whether it's clitoral stimulation or vaginal/g-spot stimulation, the machine has an attachment for that.
Better still, it has the power to make things happen. And make them happen just the way we like it! You can control The Cowgirl through the unit itself, but it's not nearly as fun as controlling it through a remote. In that department, they've provided useful options.
The first remote is a conventional wired remote that gets a quick response from the machine and can be rather handy for changing intensity and patterns. If you'd rather go more advanced with tech, The Cowgirl can connect to its smartphone app via Bluetooth. That should give you a thirty-feet range and a wireless controller to add to the fun.
Do keep in mind, there is nothing like noise control on this sex machine. Once it whirrs into action, it will be heard. If you have no trouble with the noise and the high price tag, The Cowgirl could very well be the sex machine you've always wanted.
Pros:
Excellent power and performance
Includes two silicone attachments (though compatible with many more)
Cons:
#5. Monkey Rocker Solo Back In Black Edition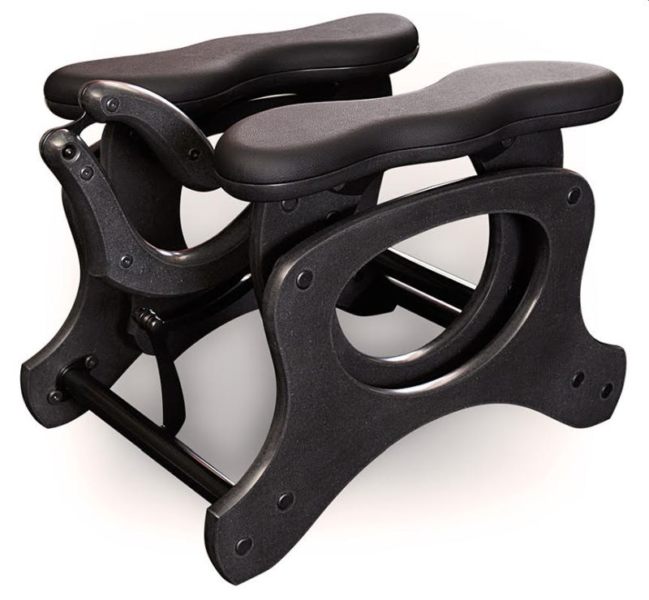 Monkey rocker is the one that started it all and brought this niche into existence. The original Monkey Rocker was so successful that its name is often used as a generic descriptor of this niche.
For a while there, the Monkey Rocker was absent from the market. However, the iconic rocker is back now with the aptly named 'Back in Black' edition. The founder of the company, Dan Siechert assures us that the new machine is a worthy successor to the original lineup.
What makes the Monkey Rocker so successful and likable is the attention to detail and quality. Its movement is still effortless, noiseless, and of course, pleasurable!
Getting Your Groove On The Monkey Rocker
Keep in mind, this machine is mechanical. There is no electricity and batteries involved. It's your movement that powers the machine, and in turn, gives you complete control over its operation. And that makes a whole lot of difference!
Being able to manage the speed, rhythm, and thrusting is the key to pleasure. That's what makes it so orgasmically desirable. Well, that and its flexibility to work with our choice of dildos. The Back in Black edition remains compatible with most dildos.
An included, removable adapter makes it possible to attach most toys that have a hole in the base. Besides that, you can rely on the small, medium, and large O-rings for toys that have a flared base or balls.
Quality Matters For A Rockin' Experience
The high-quality construction is what sets apart the Monkey Rocker from its competition. It's carefully crafted with high-quality materials. The powder-coated steel tubing is sturdy and reliable, the wooden parts are made from responsibly-sourced lumber, and the high-density foam is excellent for comfort.
Given that its weight limit is 450 pounds, you can pretty much rely on the sturdiness of this machine. I'll say that the weight limit leaves a lot of room for letting your imagination take the reigns of the rocker.
Why is Dan's Monkey Rocker expensive?
Dan told us that the production process is so labor intensive and this rocker sex machine is also designed to last for years. That's well worth the investment you'll make in its quality. And well, the pricing as well.
Quality doesn't come cheap, neither does the Monkey Rocker! Although the Back in Black Monkey Rocker is cheaper compared to the original, it is still expensive.
Monkey Rocker Back In Black Edition ships fully assembled and is priced at $1800. For comparison, the original Monkey Rocker Solo carried a price tag of $3000. Thankfully, the quality is still dependable and hasn't gone down with the price.
Dan says that the new machines are available to ship faster. Ideally, the Monkey Rocker Back in Black will ship within days of being ordered. In contrast, the original Solo could take weeks to ship.
Overall, I'd say it's a pretty good machine that lives up to the expectations and brand name of the original Monkey Rocker.
Pros:
Excellent build quality and comfort
You have full control over the speed, control, and rhythm
Nearly silent in use
Fun and enjoyable
Cons:
Getting On The Right Rocker
Taking your pick of a monkey rocker or dildo rocking chair is something that can be pleasurable and fun. An original rocker or glider can cost a pretty penny but are often worth the price in the pleasure they offer. Cheaper alternatives are available as well. Though these are not as elegant and complex machines as a monkey rocker, they do have their uses and can be viable choices.