(Last Updated On: October 6, 2022)
Womanizer made quite a splash with its air-sucking vibrator and pretty much changed the game. It brought in the age of the non-contact vibrator, opening up a whole new niche of pleasure and wonders. Womanizer Pro W500 is a continuation of that line and pretty much as popular as the original. And of course, it has a few new features and improvements to show off, and this Womanizer W500 review will take you through how well this vibrator performs.
Womanizer W500 Review — Pros And Cons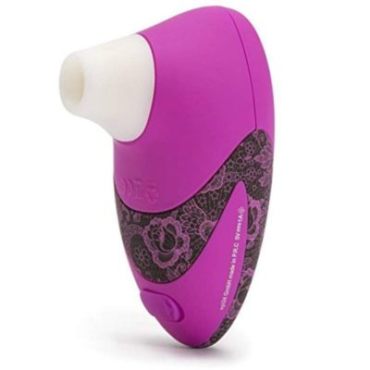 Pros
Excellent performance
Great battery life and play time
2-year warranty
Rechargeable
Powerful
Removable silicone tip
Womanizer is non-porous, body safe, and non-toxic
Several intensity modes, some waterproofing (read on for details)
Many color choice options
Cons
The name. They really should have considered a better name
Tacky design
Swarovski crystal for power button – looks good, but is inconvenient to touch
Can be too wide for comfortable holding
Can be noisy
Expensive
Womanizer W500 Deluxe/Pro Features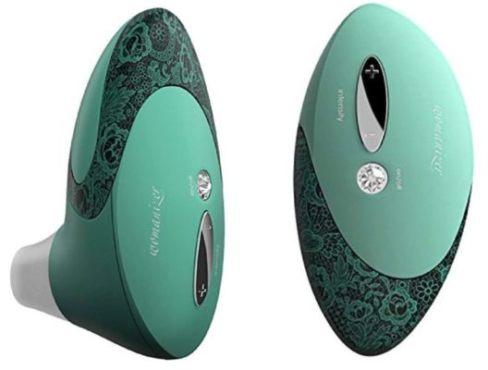 If there is one thing that the Womanizer Pro excels at, it is the orgasm. The Womanizer W500 is an amazing clitoral stimulation vibrator that will bring you to orgasm. Some women swear by the quality of the orgasms, some find it okay, but everybody pretty much agrees that the Womanizer Deluxe will bring on an orgasm.
You may have noticed, I have used different words to represent the same vibrator in the previous paragraph (all in bold). That's because the Womanizer Deluxe W500 does go by all those names! Thankfully, it seems like the company is trying to correct the nomenclature, and will now stick to the name Womanizer Pro. However, don't be surprised if this Womanizer W500 review uses the names interchangeably.
Womanizer W500 Intensity Settings And Waterproofing
Womanizer Pro W500 comes with eight intensity settings, however, some newer versions now have 12 intensity settings. The low-intensity setting in both is super mild, and each step is a smooth increase that sidesteps any jarring and sudden change in force.
As with the intensity settings, newer models of the Womanizer Pro are waterproof, though the earlier versions are not. Waterproofing will play an important role in how you use and clean the toy. So it's much better to confirm with your retailer before you buy, rather than be surprised later!
Womanizer Pro W500 Charging And Playtime
The Womanizer Pro has one of the most versatile and long-lasting batteries for play in the market. It takes about 70 minutes to a full charge, and lasts for about 240 minutes of play. Now that's some serious play time! It runs off a USB rechargeable Lithium-ion battery and can be recharged from a normal socket (with a proper adapter) or your computer's USB port. The silicone nozzle of the Womanizer W500 lights up to signal it is charging and is easily visible. Maybe even too bright for a vibrator.
Point to note, that though the vibrator offers excellent use time and claims back-to-back orgasms, the company discourages the use of the use of the Womanizer Pro for more than 15 minutes at a time. While it is likely you won't be using the Womanizer Pro for all that time, it is something to remember for using your vibrator safely.
Womanizer PleasureAir Technology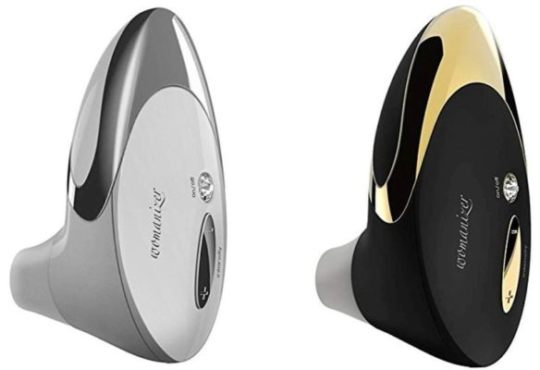 Womanizer is a pioneer of the clit-sucking vibrator. And while they didn't name their product well, they thankfully had the presence of mind to give the technology a decent name. This is a no-contact technology in the sense that the vibrator does not directly touch the clitoris. Its silicone tip forms a seal around the clitoris, making room for the PleasureAir technology to do its job.
Once the seal is done, the undulation of the air inside the silicone tip coupled with a gentle sucking force is what pleasure the clitoris. It may be considered analogous to oral sex for the clitoris, albeit with the undulating air movement and gentle sucking pressure from the vibrator doing all the work.
Womanizer Pro Accessories
Included in the Womanizer Pro package are a charging cable, a sachet to hold the toy, and two silicone tips to accommodate different clitoris sizes. The inclusion of two silicone tips is a useful feature because a one-size-fits-all approach doesn't quite work given the natural variations in anatomy.
Of course, with a sex toy as expensive as the womanizer, you will like to keep the charging cable and the removable silicone tips safe. Those are easily the most likely to be misplaced items, or those likely to break. Should you lose them, you can purchase the charging cable as well as Womanizer silicone tips as accessories, making things a lot more convenient (and sensible).
Womanizer Pro Review — The Name And The Tackiness
Most of us can agree that Womanizer is a tasteless (if not terrible) name for the product. We may be way past rebranding, and the Womanizer Sex Toys have been around for years. Still, the name sometimes manages to elicit a flinch when I write it. It didn't quite help Womanizer that the earlier designs had the tackiness to match the name.
Even the Womanizer W500 has several colors with the weird leopard-print thing going on. Thankfully, there are some subdued and better-colored models as well, and it appears that the company is learning lessons about discretion.
I can't help but wonder if things would have gone so well for Womanizer had it not pioneered the technology. Although, at the same time I am thankful they developed the technology, because I love it!
Womanizer Pro Review — The Good Parts
Womanizer Pro Intensity And Power
The lowest setting of the Womanizer Deluxe is fairly weak. And that's a good thing! The suction vibrator can be a new experience for most people, and you don't want to jump with surprise the moment it wraps around the clitoris. While we may power through the initial shock to pleasure, it is far more convenient and pleasurable to start with a tame setting and build it up.
Oh, and does this thing pack power! Once you start moving up from the base setting, the undulating air and the suction of the Womanizer Pro unleash waves of pleasure. I doubt most women would ever go beyond the medium power.
And it's quick at its job. Once you start powering up the intensity, you will notice it edges you straight towards orgasm. It rarely takes more than a few minutes, and if you're used to the toy, the orgasm will hit you rather quickly.
Those who enjoy oral sex will find the orgasm to be deep, pleasurable, and powerful. Some women swear by the toe-curling orgasms Womanizer Pro brings, but that's more of a personal response. In any case, the Womanizer Deluxe is pretty much a sure shot path to orgasm-land.
It helps to use some lubricant so the silicone tip can form a good seal around your clitoris. It's best to use a water-based lubricant, and perhaps just a small amount because most Womanizer Pro models aren't waterproof and cleaning could be a massive chore. If you have the newer, waterproof variant or are willing to spend the extra effort in cleaning your sex toy, use your lubricant freely.
Womanizer Pro Controls And Comfort Of Use
The intensity control +/- buttons are located on the back of the Womanizer Pro. They are placed sufficiently apart and are easy to reach and press, and not sensitive enough to be triggered by a mistaken touch. I like the controls and their simpler management, plus the low chance of them responding to a random touch makes it very convenient.
Its power button however, is a different thing altogether. The power button is made from a Swarovski crystal, and adds unnecessary bling to the Womanizer W500. I could look past that, but the crystal button can be a bit sharp and uncomfortable to touch when you press it. A small gripe, yes, but annoying nevertheless.
The overall greater width of the Womanizer Pro does have its own problems. It feels bulkier beyond its actual weight thanks to the wide grip that needs to be maintained. I would prefer it took on a sleeker form like the Satisfyer Pro 2, or even the Womanizer Pro 40.
Womanizer Pro Review — Conclusion
The Womanizer W500, or better, the Womanizer Pro has its shortcomings. Don't let them discourage you! As our Womanizer Pro review goes, this is an amazing toy, especially for those who enjoy oral sex for clitoral stimulation. The Womanizer W500 works great for beginners as well as experienced users, and almost always opens up the path to a great orgasm. It works quickly and can be very powerful for those who prefer strong suction. Equally so, the Womanizer Pro can be gentle and ease you into a great time.