Throwing in a remote with a vibrator is seemingly simple, but it increases the fun factor exponentially. Get your hands on a remote controlled vibrator and let your imagination fly. For several of these vibrators, the limit is indeed your creativity. Using a remote control vibrator can be as simple as adding convenience for your use, or bringing your partner into the fun and expanding the range of all the fun stuff you can do together. It's common for vibrators to use wired remotes, although wireless vibrators are fairly popular as well.
1. PALOQUETH Waterproof G Spot Vibrator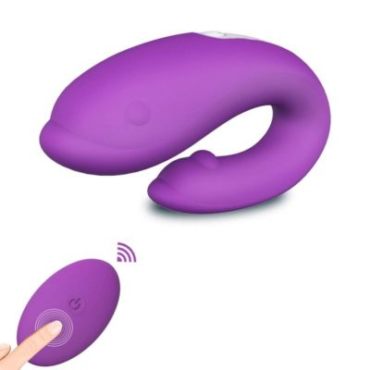 This little vibrator packs a solid punch in its dual motors. The dual-ended vibrator has two appendages, one to massage the G-spot, and the other for the clitoris. It can work solo, or with your partner, in fact, it is designed to be used during sex as well. Insert it, turn it on, and it leaves enough room for the penis to enter comfortably, offering shared vibrations to you and to your partner's penis and testicles.
Since there is no point in fumbling for buttons when you have a good thing going, control it with a remote. This G-spot vibrator has nine vibration modes building off its dual motors to give you that wonderful orgasm. Going solo, you could push the buttons on the remote yourself, or hand it over to your partner and let them be in charge.
Each press of the button changes the vibration pattern, and there is an option available to change the intensity of vibrations as well. The only downside is that the remote control range is limited to just three meters.
Paloqueth remote control vibrator is completely waterproof, safe for vaginal and anal use, and is coated in medical grade body safe silicone. It charges from a magnetic charger in 120 minutes and offers up to 90 minutes of user time. See it on Amazon.
Pros
Simple to use
Dual motors for more patterns and vibrations
Easy to manage remote
Rechargeable
Waterproof
Cons
Magnetic charger can be a bit troublesome sticking to its place
Remote works best within three meters
2. LuLu 4 – Wireless Waterproof Dual Vibrator For Him Her & Couples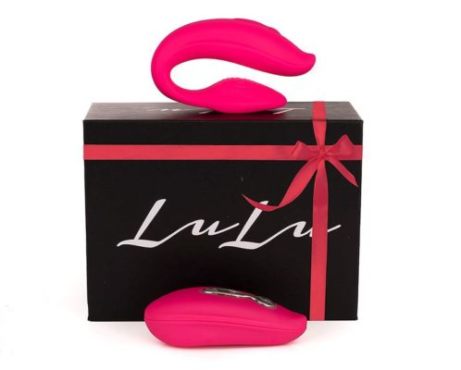 The company calls it LuLu #4 Wireless Therapeutic Massager. Well, a good orgasm is therapeutic, right? LuLu 4 works as a combo clit and g-spot massager running off a single, powerful motor. It is designed for use by couples and keeps room for inserting the penis while the vibrator is in play.
LuLu 4 has five speed settings, all to be controlled by its remote, giving you room to go solo or spice it up with your partner. It is simple, highly functional, and more interested in doing its vibrating jobs than packing up with bells and whistles.
While remote-controlled, the LuLu vibrator does need a bit of human intervention in turning it on or off. The LuLu remote control vibrator has a fair range, with the remote powered by a 12V A23 alkaline battery, while the unit itself is powered by a rechargeable Li-ion battery.
LuLu #4 is coated in medical grade silicone that is amazing to feel and touch. Its battery is recharged by means of a simple USB recharging unit with magnetic charging. See it on Amazon.
Pros
Powerful vibrations
Rechargeable
Simple to use
Waterproof
Cons
Can get noisy on higher speeds
3. Lelo Lyla 2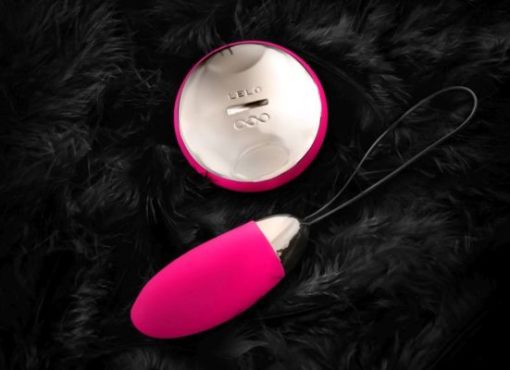 Lelo Lyla 2 will get you in flow with not just remote control vibrators, but a whole new world of convenience. The vibrator itself can be used for regular internal or external use, but it gets into its element when the SenseMotion remote comes into play.
Once connected to the remote, the Lyla 2 can be controlled by means of gestures. In Mode 1 of the remote, the intensity of vibrations depends on the orientation of the remote, with horizontal at 10% and vertical at the full 100%. You or your partner could control the vibrations by simple movements of the remote. In Mode 2, the vibrations are dependent on how fast you move the remote. I'm sure your enterprising minds can find good use of these two modes.
Once out of these two modes, the vibrator can turn through six preset patterns and added speed/intensity settings. The SenseMotion remote gets a touch of the same settings that are going on with the vibrator, so your partner knows exactly how the vibrations are going.
Lelo Lyla 2 has low noise and can be virtually silent especially when inserted, allowing you the pleasures of public play. A bit of background noise is helpful, but other than that, there's little to say this vibrator is buzzing along happily. This is perhaps the best remote vibrator thanks to it matching simplicity with a whole range of options and pleasure. It's the cost that pulls it down a bit.
Lyla 2 is rechargeable and offers 2 hours of user time after 2 hours of charge, the remote runs off 2AAA batteries. It is made coated in velvety smooth silicone and is completely waterproof.
Pros
Noiseless
Waterproof
Rechargeable
Easy control settings on remote
A wide variety of patterns and speeds
Excellent range for remote control of vibrator
Cons
4. Hitachi Magic Wand With Remote Accessory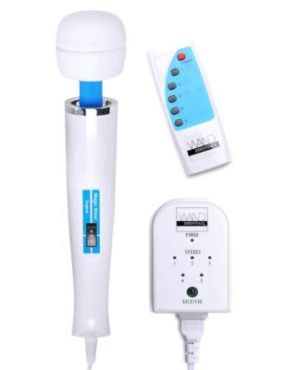 Hitachi magic massager opened up the whole wide world of sex toys. Hitachi no longer wants its name associated with vibrators and sex toys. So, while the name has stuck in public use, the listings usually go by Magic Wand original or Vibratex magic wand. While the wand itself does not offer a remote, it is the availability of accessories that make it go beyond its simple borders.
Few vibrators can match the vibration intensity of the Hitachi Magic wand, and with the speed control accessory, things can take a whole new turn.
You could also pick an option for wireless remote control vibrator. It's the accessories that make the Hitachi Magic Wand all the more useful, and there's a ton you can choose from! The magic wand can work wonders with clitoral stimulation, and you get more power and control with the remote control. The wireless accessory can get you five speeds with ease of use. Keeping the remote wired, however, allows a finer control of the vibrations.
Magic wand massager runs off a direct power supply and offers really powerful vibrations and the ability to customize your vibrator with a very wide range of accessories and options. Plus, you can always use it as a regular massager! See it on Amazon and also checkout the Wireless remote version.
Pros
Powerful
Multiple massager settings
Easy use of accessories, and availability of accessories
Proven performance
Cons
Massager is not battery operated and has to stay wired
5. Sensuelle Remote Control Rechargeable Bullet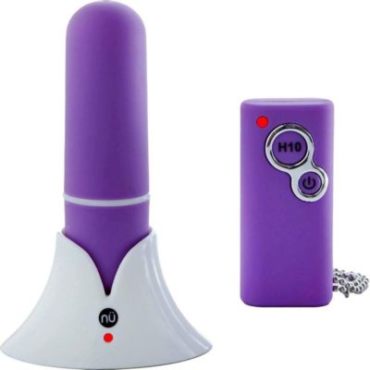 Sensuelle took its simple bullet and made it more impressive by adding in a remote control. The rechargeable vibrator is coated in silicone and includes a pull string so it can be used internally, though that's of little use since the device is not waterproof. It is noiseless enough to be used for public play, and the remote comes with easy controls. Although the simple, two-button remote may lack the options that come with Bluetooth vibrators, with a remarkable ease of use and range that is beyond Bluetooth vibrators' realm. The remote works from a distance of 20 meters (65 feet)!
Sensuelle remote control vibrator can cycle through 10 different vibrations and patterns, all at the touch of a single button. Its bullet shape and noiseless working lends well to public play, so maybe get naughty with your partner.
Although the charger is still weird, spread out rocket-dock base that Sensuelle so loves, the vibrator remains easy to move and carry. I'd like it more if the charger was easier to carry. You have to say, the rocket charging look works well, but I'd so much more prefer ease of carrying.
Sensuelle remote control vibrator is dipped in silicone for that nice feel and touch and is rechargeable. A charging time of 45-60 minutes gives it a user time of up to 1 hour, depending of course on the intensity settings you use. See it on Amazon.
Pros
Low noise
Easy to use
Remote control has a good range
Rechargeable
Cons
Best Remote Vibrators — The Conclusion
Remote control is the future of vibrators, and it is getting big. While the technology is still being perfected, there are many vibrators that can also work off control by a mobile app, for example, the We-Vibe sync amazon product.
For the moment, the best remote vibrators are those that are controlled by conventional remotes. There's plenty of them, and they offer a whole range of functions and more importantly, ease of use.