The world of sex toys is, unsurprisingly, not a new one. Some archeological finds suggest that people have been using sex toys for at least 28,000 years This may lead you to believe that there's nothing new under the sun. Maybe today's dildo's look a lot like the dildo's that were crafted thousands of years ago, just with different materials, but I'm here to tell you that there is still a huge amount of innovation in the sex toy industry. When it comes to 21st century toys for 21st century people, We-Vibe never fails to impress.
Moxie by We-Vibe is a small but powerful toy designed to be worn inside your panties to give you some good external vibrations. This means that this wearable clit vibrator can press comfortably against the clitoris and vibrate pleasurably for, depending on how you use it, a little teasing or even a powerful orgasm. With studies suggesting that 37% of women require clitoral stimulation in order to orgasm, it's about time we paid a little more attention to that magic button.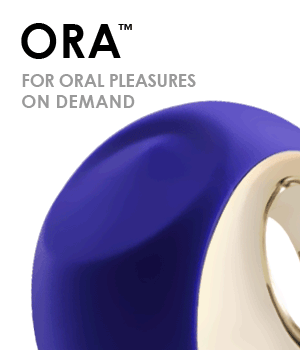 First Impressions
My first impression of the toy is that despite its incredibly small size, it just screams quality. With designer good looks and a lot of well developed tech backing it up, Moxie is beautiful as well as smart. It is made from high quality body-safe silicone which just feels silky smooth on your hands. Plugged it in for my first encounter and gave it a spin. I was thinking I may need to have the charger on hand in case it died on me. Lo and behold, the battery lasted through my play session. So they weren't lying when they specified that it has a 2 hour battery life. I used it two more times before needing to recharge it, that's how powerful the battery is. Since it is waterproof, it was so easy to clean. I was slightly concerned that perhaps the water resistance is limited to pussy-juice. Nope! I tried it in the shower and this baby just kept my juices flowing. So, no matter how excited you get, you know that this toy will out-last you. Lets establish some reasons why this bad-boy should be added to your collection of toys shall we?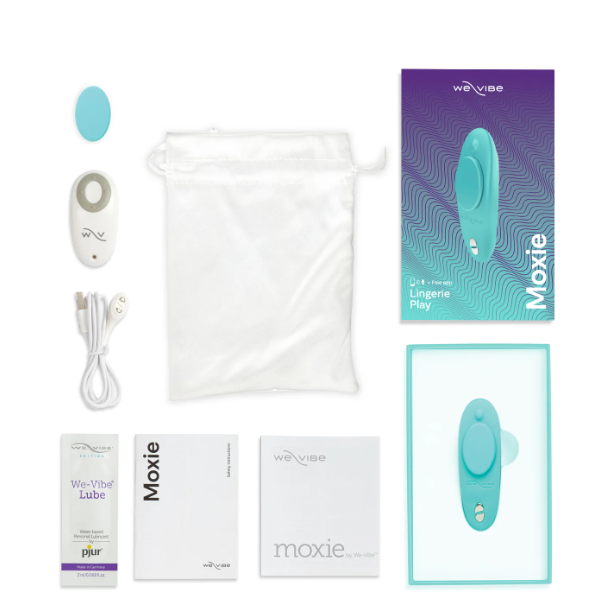 1) Cutting Edge Technology
This Bluetooth panty vibrator is made incredibly current by the easy to use remote control function. Moxie can be connected to the We-Connect app and controlled by yourself or a partner. The app can use Bluetooth for close range control (up to 30 feet) – legs uncrossed of course or you can connect over the internet to lovers in any part of the world for some long distance fun. This is slightly less than the Lovense Ferri, but not bad at all. The app is easy to use, and discrete incase anyone gets too curious and peaks over your shoulder. I must say the we-vibe app is the best amongst its peers so for that alone you won't be disappointed.
2) Amazing Rhythm Control
What I love most about the We-Connect app is how easy it is to personalize your experience of the Moxie panty dildos. Simple screens allow you to create your own personalized vibrations, even saving patterns for use later. Everyone's body is different and being able to control the intensity and rhythm of the vibrations means that the experience can be personalized to your body and your desires. Moxie offers you 10 vibration settings so you can modulate the vibrations to suit you needs.

3) Anti-Slip Features keeps things tight
Aside from the incredible app, what makes the We-Vibe Moxie different from other wearable dildo underwear is the magnetic cap. The last thing that you want when you're in the middle of play is for the vibrator to slip or fall out. The magnetic cap makes sure that you can feel secure while playing. With the Moxie worn on the inside of your pantie's, the magnetic cap sticks to the outside, keeping it in place no matter how excited you get.
This feature also enables the toy to be worn externally rather than inside, meaning that it's more comfortable to be worn over longer periods of time. The shape of the We-Vibe Moxie is perfectly suited to fit along the contours of your body, allowing your clit to get that much needed attention.

4) Does size matter? It does!
We-Vibe makes a lot of sleek and fashionable looking toys. The Moxie is the smallest of all their toys, meaning that it's even cuter and more usable. Not only is it perfectly sized to slip perfectly into your panties, it also travels well. With its sleek design and small size, you won't feel embarrassed if someone catches a glimpse of it in your handbag. Don't be fooled by it's small size though, the We-Vibe Moxie can provide powerful vibrations and intense pleasure when put to its highest settings.
5) Discretion, Discretion, Discretion
When it comes to being discrete, the We-Vibe Moxie has it covered. The We-Connect app allows you to control the Bluetooth panties, the toy is small and sleek, and it's also whisper quiet. One of the things that amazes me is that despite its powerful vibrations , the Moxie only gets as loud as whisper. For comparison a quiet library is expected to be 40db and the ambient noise of a quiet suburb is 50db. So the sound of the Moxie would be easily covered just by the ambient noise of a bar or restaurant. I often use it to unwind on the train on my way back from work. The only sound that emerges are my gentle moans. My co-passengers have no clue!
6) Hands-off, Hands-on – It just works
If public play isn't your thing though, there's loads of other reasons you might choose this wearable sex toy. Hands free play is easy and relaxing. Why do all the work when you can just press a button on your phone and enjoy the ride? If you are playing with a partner then there is something very sexy and powerful about them being able to make you shudder from across the room or across the world. With Moxie, you don't have to miss out on pleasure while away from your partner.
I think the most important question though, and one that I have yet to answer in my review of the We-Vibe Moxie, is why are wearable clit vibrators so much fun? The main appeal of this toy is that it allows for discreet public play. When slipped into the panties, it can be worn all evening. Why wait to start the foreplay when you get home when your partner can tease you all through drinks and dinner?
If you're looking for a wearable remote control toy then look no further. The external vibrations the We-Vibe Moxie provides do not disappoint. With anyone conducting the vibrations, this toy will have you singing the blues or maybe just screaming with pleasure. Whether you're looking for some discreet public play, something just for you, or something to spice up your foreplay, this is a perfect fit.