Say hello to the Lelo Loki Wave, a prostate massager that is, well, making waves. Another obvious reference to Norse mythology, the Loki Wave is slightly different than his family members in the Lelo lineup. While Lelo Oden 2 and Lelo Tor 2 are cock rings, the Loki goes straight up the butt. Well, he was always different than the rest of the family anyway, so he hangs out with Lelo Hugo.
Getting back on track, the Lelo Loki Wave is a very competitive prostate massager, and one with an innovative function. Lelo has made a big deal about the wave or the come hither function on the Loki wave. It is indeed innovative, but does it go beyond the realm of a gimmick? We put it under the lens in our Lelo Loki Wave review.
---
Save 10% on LELO Loki Wave today
Coupon code: GURU
Lelo Loki Wave Packaging — First Impressions
Lelo Loki Wave prostate massager is packed in the same elegant and decent style as other Lelo products. Lelo's box for the Loki Wave has a transparent plastic "window" at the top of the box, through which you can see the Loki Wave.
Although, just to be clear, the packaging is discreet when it arrives at your doorstep. It is available in two colors, Obsidian Black, and Federal Blue. Included within the package are:
Lelo Loki Wave Prostate Massager
USB charging cord
Satin drawstring bag
Warranty registration card (1 year warranty, 10 year quality guarantee)
Instruction manual
A sample of Lelo's water based lube
Lelo Loki Wave Prostate Massager Features And Review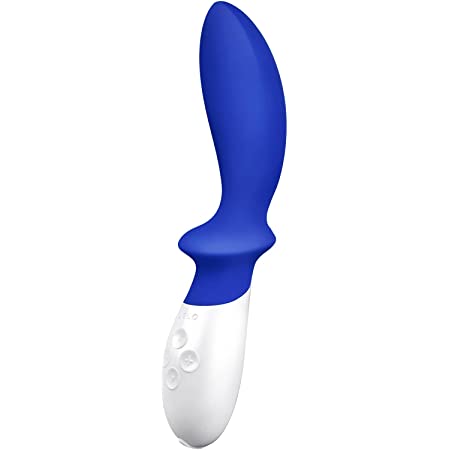 Save 10% on LELO Loki Wave today
Coupon code: GURU
Loki Wave is a medium-sized toy, so it will generally require some warm up before it can be inserted. While it is not intimidating by any means, the insertable end does have a longer length and greater circumference, much like the Lelo Hugo.
Do some warm up, lube it up, and get ready to play. Fair warning at this point: never use a silicone based lubricant with a silicone toy, it can damage the toy. I personally prefer water-based lubricant, but take your pick on your personal preference.
Your play time should not be uncomfortable, and certainly not painful. Keep that in mind, and if you're having some trouble inserting the Loki, warm up first and add lubricant. The tapered style of the Lelo Loki Wave makes it easier to insert it into the rectum. Once you've passed the maximum bulge area, it glides in effortlessly, and the insertable length, as well as the attached perineum arm reach their places with relative ease.
Loki Wave looks quite similar to the Hugo in terms of the insertable and the perineum appendages. The difference here is that the Loki Wave has a plastic handle, which takes out the possibility of public play, or simply walking around with this inserted. Another obvious difference is the lack of a remote, and that's quite a downer, but more on that later.
Putting Lelo Loki Wave's Come Hither Function To The Test
One of the most touted features of the Loki Wave prostate massager is its come hither function. Basically, the inserted appendage moves horizontally, in a motion similar to calling someone by moving your fingers. According to Lelo, this should create a wonderful sensation of the Loki Wave alternatively massaging the prostate and moving away.
While Lelo market the "come hither" aspect, the technology is officially called "Wave Motion", and is the reason for the Loke Wave getting its name. I'd say the marketing has lived up to the hype on this one.
It usually results in a deep orgasm, and can feel entirely amazing. Don't expect to have an orgasm right away, or perhaps even the first time if you're somewhat new to prostate massagers. Give it time, and the Loki will impress you.
Save 10% on LELO Loki Wave today
Coupon code: GURU
Loki Wave Control Panel And Vibration Settings
Lelo Loki Wave control panel has five buttons arranged in a circular style. The central button forms the power on/off button, while the pattern up/down buttons are arranged vertically and the intensity +/- buttons are arranged horizontally. The separate power button serves a good function; this prostate massager remembers the last setting it had when it was turned off, and can start right where it left off.
If you build up to an intense vibration setting while using the Loki Wave, this might not be the best setting to start. On the other hand, if you always stay at a constant setting, just turning the Loki Wave on will have you good to go.
It's also a good idea to get comfortable with the buttons and their positions before you insert this toy into the rectum. As you can very well imagine, it's not going to be easy to turn around and fumble for buttons when you want changes to the settings. Being comfortable with button placement is your friend in this scenario. It's a pity the Lelo Loki Wave lacks a remote, even a basic wired remote would make this so much easier to manage and play.
It has about 10 patterns, with five of them employing the Loki Wave function. And of course, there is the ability to change intensity, so you have a fairly large number of patterns and intensities to choose from.
Dual Motors
Much like the Hugo, the Lelo Loki Wave prostate massager employs two motors in each of its appendages. While the motor in the insertable arm pleasures the anus and prostate, the motor in the perineum arm sends waves of pleasure to the testicles and the perineum. Within the modes available, both these motors can work together, alternately, or individually.
Each mode gives you a different sensation, like bouncing off waves from one motor to another, or both working together. Overall, the testicles and the prostate are both going to receive pleasurable massages. No wonders orgasms with the Loki Wave can be so intense!
Save 10% on LELO Loki Wave today
Coupon code: GURU
The Wave Motion Can Get Loud
For the most part, the Loki Wave is a fairly silent toy, buzzing its way through to bring you to an orgasm. However, once the wave motion is turned on, it gets a lot more noisy. I think it made louder, somewhat robotic noises, which were quite distracting. So if you live in a setting where you don't want people outside your room to know what's going on, keeping the Wave Motion off would be your best bet.
The noisiness and general crankiness of the mode also had me worried about the lifetime of the toy and its motion. I mean, once mechanical parts are added, things get less reliable. Once noisy mechanical parts are added, things are less reliable. Of course, this is all conjecture at this point, and going by customer reviews, it doesn't seem to be a major problem.
Checking Out Build And Dimensions Of Loki Wave
Loki Wave's insertable end and perineum arm are both coated in silicone, while the handle is made from ABS plastic. Both these materials are phthalate-free, non-porous, hypoallergenic, and completely body safe.
Lelo Loki Wave measures 7.7-inches in total, with 3.6-inches insertable. The diameter at the widest point is 1.47-inches, giving it a total circumference of about 4.6-inches. It certainly is a medium-sized prostate massager, and why I suggest that beginners not use it as their first toy.
Battery Specifications
Power to the Loki Wave prostate massager comes from a 850mA Li-ion battery. It takes two hours to charge and gives back a use-time of 2 hours. It can be charged directly from the USB outlet on your computer, or through a wall socket. The end of the handle contains the socket for the battery charger, which is internally sealed. This setup makes the Lelo Loki Wave waterproof, so feel free to use it in the bath, or well, wherever you see fit!
Save 10% on LELO Loki Wave today
Coupon code: GURU
Lelo Loki Wave Review — Pros And Cons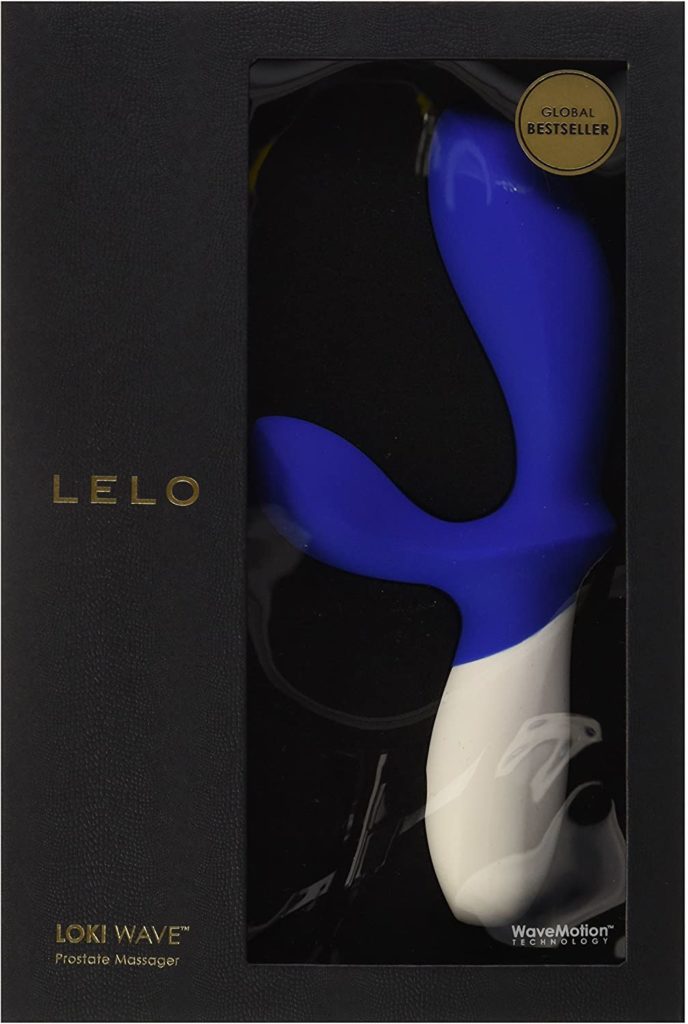 Pros:
Waterproof
Saves last-used setting
Powerful and rumbling vibrations, with a choice of modes and patterns
Dual motors add power and a range of effects
Wave Motion is intense and enjoyable
Cons:
No remote control
Wave Motion is noisy
Save 10% on LELO Loki Wave today
Coupon code: GURU
The Verdict
As our Lelo Loki Wave review goes, this is an excellent toy, but for a user knowledgeable about prostate massagers. Its functions and range are amazing, and the Wave Motion or "come hither" option is more than just a gimmick – it's a real, and amazing experience.
The lack of a remote is a bit of a let down, especially since its price practically matches the remote controlled Lelo Hugo. However, that is not a deal breaker. The Lelo Loki wave prostate massager is an excellent toy that stands on its own benefits, and is worth your attention.