Lelo introduces the Tor 2 as a couples' ring "connoisseurs of sex". There are a few names for this toy, it's called a cock ring, a C-ring, or a couples ring, depending of course, on your choice of words, or how comfortable you are speaking those words aloud in an adult shop. Well, not necessarily for Lelo products though, since you can order them more conveniently from the internet. Lelo Tor 2 also works as a vibrator as well, and you can use it by itself for clitorial stimulation, or with another toy. Our Lelo Tor 2 review takes a deeper look into how it works, and what all it offers.
Lelo Tor 2 Features That Will Grab Your Attention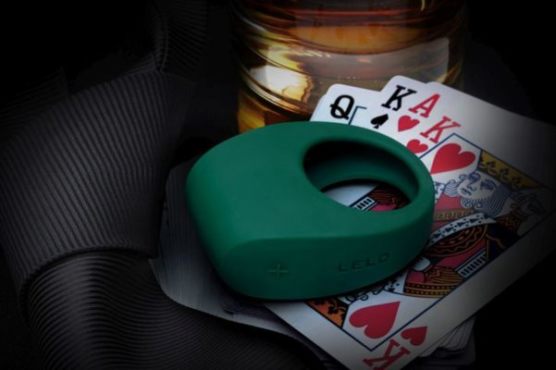 Conventional Use Benefits Of Couples' Rings
Lelo Tor II has got its bases covered on the conventional use of couples' rings. A C-Ring can help man last longer and have stronger erections. While it does work well for those troubled by premature ejacutlation, remember C-Rings aren't only meant to go around these issues. The job of this ring is to make intercourse enjoyable for both parties, and the Tor 2 does that by vibrating and offering stimulation to both parties involved. It is built to be a sex toy you enjoy, not a therapeutic device for cures.
For men, the device offers lasting longer, and enjoying your climax better. Women get to enjoy clitorial stimulation during the act, offered as the device is positioned to rub against the clitoris. There are plenty of other ways you could use or position this, so there is a possibility to move it to a position you find more likeable and enjoyable.
Lelo Tor II Vibration Modes And Interface
The Tor 2 has a two button interface, with a (+) placed on one side of the product, and the (-) button placed on the other side. Hitting the (+) button brings the Tor 2 into action, and you can press the button to increase the intensity of vibrations, or lower them using the (-) button. You can also access Lelo's vibration modes by pressing and holding the (+) button for about 2 seconds.
Generally speaking, the controls work very well, all thanks to their simplicity and placement. While enjoying sex, you can simply move your hand to the C-ring and access the speed and mode you want. Well, the press and hold thing can be a bit of a chore, but isn't too much of a trouble.
We think this use is superior to many of the other couples' rings that use app-based controls. Sure, you may be able to do more with an app, but using your phone during sex has to be incredibly distracting. Also, it can be a bit weird for the partner not using the phone.
Lelo Tor 2 Usage
Well, you certainly don't need instructions on using a C-Ring, but there are a few things to know when using the Lelo Tor 2.
Don't be afraid to experiment! The general position has the ring placed at the base of the penis, with the vibrator aligned to the clitoris. Feel free to go beyond just that. You may choose to turn the direction of the vibrator to stimulate the scrotum, or even change the way you wear the ring to stimulate the man's perineum.
Find your vibration rhythm. Sure, you can easily change the vibration or modes, but it helps to have a preferred one. It's much more simpler than moving your hand to hit the buttons every few seconds.
The penis will be a vibrator. The guy will have a vibrating device at the base of his penis. Both of you should expect the penis to vibrate.
Take your time. There's a chance one or both partners might not exactly enjoy the sensation of a C-Ring. Give it time. The Lelo Tor 2 is easy to use and store, so it can be kept handy in case you decide to use it again. And you should! Give yourself some time to get used to the vibrator couples' ring.
Remember, a C-Ring's job is to grab the base of the penis and somewhat restrict blood flow. Those inexperienced might need some time to get used to it. If you enjoy using it, keep in mind that it must be used only for 20-30 minutes. A cock ring should not stay on the penis for more than 30 minutes, as it can cause issues.
Tor 2 Is Waterproof
The waterproofing helps. Not only is the device safer, you get to use it in all sorts of places. The shower, the pool, and of course maybe some play in the bedroom as well. It's an option — a freedom to do things you like, and to play out the fantasies you imagined.
You Can Use The Lelo Tor 2 As A Vibrator
It may be primarily geared for couples and designed to be used by men, but a woman could as easily use it as an individual sex toy. Just turn it on and use it to stimulate your clitoris and vaginal area, perineum, nipples, or wherever else you like. Or, put it on a non-vibrating toy, and you can convert it into a functional vibrator!
It Does Not Make Much Noise
The sound/noise a vibrating sex toy produces is a little concern many people are worried about. No such issues with the Lelo Tor II. It does not make much noise, so you can use it without worrying about the noise traveling. Most Lelo Tor II reviews agree that the noise level is low, and unlikely to be carried on beyond the room's walls.
Check out the latest discount for Tor 2 from LELO.
Lelo Tor II Packaging And Specifications
Here are the things you will find with your Lelo Tor II:
The product box is elegant and clean. It's as well crafted and pleasing as a box you would expect to come with premium electronics (and it is totally befitting that you are!)
Lelo Tor 2 cock ring
USB charging cord
Satin storage pouch
1-year warranty card
A small packet of Lelo lube
Instruction manual
Specifications:
Silicone material with matte finish
29mm diameter and 30 gram weight
70mAh Lithium-ion battery that takes 2 hours to charge
1.5 hours use time on a full charge
90 day standby
When you first get the device, Lelo recommends you charge it for several hours. It may be a good idea to leave it to charge throughout the day or night before first use.
Lelo Tor 2 Build Quality And Aesthetics
Lelo Tor 2 is built out of silicone, and offers the same smooth and pleasing feel that you see in several Lelo products. And that's an excellent thing, seeing as how the product is designed to be used simultaneously by sensitive areas of two people. Silicone used is non-porous, phthalate-free, latex-friendly, and completely body-safe. While being soft and smooth, it's also non-absorbent. With all these factors put together, you don't have to be terribly concerned about the hygiene of Lelo's Tor 2 cock ring (do remember to clean it after use, that's just good practice).
A slight disadvantage of using silicone in construction is that it is not very elastic. So yes, you may have to worry about the Lelo Tor II being too tight or not very comfortable. It's not a deal-breaker and will fit most men, but that is something you should know about. You will need lube with the Lelo Tor 2. You should not use a silicone based lube with this product, instead look for a water based lubricant.
The charging port is not waterproof, so before you stick the charger in, ensure that there is no water or lube inside the charging point.
Lelo Tor 2 Review — Pros And Cons
Pros:
Easy controls
Great to touch and feel
Good construction and build
Can be used in several positions
Works as a standalone vibrator
Provides better climax and erection, helps deal with erectile dysfunction
Cons:
Low elasticity so may not fit or be comfortable for many people
Lelo Tor 2 Review — The Verdict
As you may have already gathered reading through our Lelo Tor 2 review, it is a great product. Men, if you're reading this, don't be the guy who gets intimidated by sex toys. Use them to enhance pleasure and enjoyment for your partner and yourself. The cock ring is a great place to start. Being compact, powerful, and practically hands-free are great advantages for the Lelo Tor II. These, and the tons of other advantages are why you should absolutely bring the Lelo Tor II to your couples' amorous adventures.