Lelo Olga is an exclusive (read: super expensive) dildo for those looking at something more than the classic premium products offered by Lelo. Olga is available in two versions, one with a gold plating, and the second variant is made from stainless steel, even though the color is called "silver" on Lelo's website. If the shape looks familiar, that's because the Lelo Olga is the uptown sibling of the Lelo Ella. Let's march on ahead with our Lelo Olga review.
Lelo Olga Packaging And First Impressions — What Makes It Worth The Price Tag?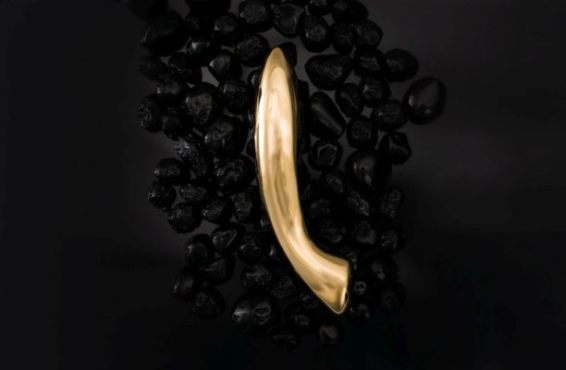 As you may have already figured, this gold dildo is not packaged in the same classy and elegant box as a regular Lelo product. Cool as it is, that cardboard box isn't fit for a gold dildo (or a stainless steel dildo, if you go for the other model). This is a special one, and it needs special packaging. Lelo didn't give up on the jewelry box theme, it just got more sophisticated.
Lelo Olga arrives in a beautiful, charming wooden box. It looks like a jewelry box, but it has Lelo branded on top. The box is heavy, and the wood is polished to perfection. You can see the attention to detail in even the tiniest of elements. Hinges are painted gold, and add to the overall effect. It's a nice box, and perhaps an amazing purchase all by itself as well.
Flip open the lid of the box, and you will be introduced the Lelo Olga, nestled in satin. The box includes:
Lelo Olga dildo/personal massager
A satin storage pouch for your toy
Instruction manual
Warranty registration card
Polishing cloth for your Lelo Olga
Lelo also counts the "Presentation box" as content included, which holds true if you start the count from the sleeve.
While I have often praised Lelo's attention to detail, there is one huge oversight for the golden Lelo Olga dildo. Lelo's website lists it as 24-karat gold, though the manual lists it at 18-karat gold. Quite a difference, eh?
An Overview Of Construction And Dimensions For Lelo Olga
Let's start with the dimensions first. As you already know, the Olga is an upscale version of the Lelo Ella, and as such follows the same dimensions. Dimensions are same for the silver (i.e. steel) and gold variants. The tapered, double-ended dildo has a length of 7.7-inches of which 5.1 inches are insertable, one and a quarter inch diameter at its widest point, and the flat-head end is about one inch in diameter.
If you know the Ella, you know that the flat-head end is built to massage the G-spot. And it does wonders there, but more on that later. Similarly, the tapered end is used for thrusting. Both of these modes get a bit more power in the Lelo Olga over the Lelo Ella, all thanks to the weight added due to the metallic construction. The Olga weighs 23 oz (650 grams).
Both the steel and gold variants have a glossy finish, and are beautiful to behold. One thing that is slightly bothersome is that how quickly these materials gather fingerprints and smudges. It's a bit odd to see the glossy finish get tarnished so easily, but thanks to that polishing cloth, you can have it back to its shiny self quickly once the business is done.
Check out the latest discount of Olga from LELO
Lelo Olga For The G-Spot — Maybe It's A Couple's Thing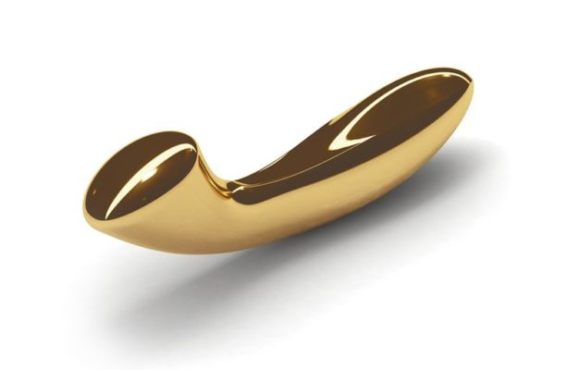 Lelo Olga does a fine job of giving the G-spot a nice, orgasmic massage. If you don't know where your G-spot is, don't worry, the Olga will find it for you and let you know with the sensations of immense pleasure and an amazing orgasm. If you really are clueless about the location, perhaps it's better to start with the less expensive Lelo Ella.
For those of us who do know their way around the G-spot, the Olga works better than the Ella. The added weight provides a deeper massage for the g-spot, and a more filling sensation in general. It's just pure fun-land, or better, orgasm land.
Ella is generally extolled in its virtues of producing stunning orgasms, the Lelo Olga does it better. I guess there's an added incentive to squirt if you're working off a golden dildo!
While you can go solo with the Lelo Olga, it is perhaps more suited as a couples thing. The dildo is heavy (650 grams), and unless you're quick to climax, there is a possibility of running into a fatigue on your arm. It just won't do to worry about an aching arm while racing towards an orgasm. Slick and glossy as the Olga is, once inserted it will soon be covered in fluids and lube. Since the tapered side does not have a grip, the heavy dildo insists on slipping from the hand and being annoying. Your partner could handle this little detail making things easier. If you prefer to go solo, maybe add a few rubber bands to the tapered end, or keep a towel handy.
Pros Of The Lelo Olga G-spot End:
Usually quick at reaching and massaging the G-spot
The weight of the dildo helps give a stronger, deeper massage
Extremely likely to bring on an orgasm
Cons:
The weight can cause some tiring of the arm
Gets somewhat slippery to hold
I have to say, the pros far outweigh the cons. I'd rather be orgasming with a glossy, shiny, and yes, slippery dildo rather than worrying.
Check out the latest discount of Olga from LELO
Tapered Side Of The Lelo Olga dildo
Tapered side of the olga is more easily manageable, thanks to the flathead end of the G-spot side that make for a nice grip as well. Just add a touch of lubricant, and let it go! Well, the glossy Olga may not look like it needs lubricant, and you could use it without lube, but it's always a good idea to use some lube. It just makes things easier and dramatically reduces chances of pain or discomfort.
The thrusting side of course won't bring you to climax by itself, but it does provide excellent warmup. Simple, easy to manage, and a pleasure to "work" with! It helps that the Lego Olga is moderately sized, making it feel more inviting, rather than intimidating.
Pros — Is The Tapered Side Just Average?
Simple, non-intimidating
Easy to thrust and maneuver
Excellent warmup
Comfortable grip
Cons:
If inserted at the wrong angle, tip of this side can be uncomfortable and even painful
Suggestions For Use: More To Know About The Lelo Olga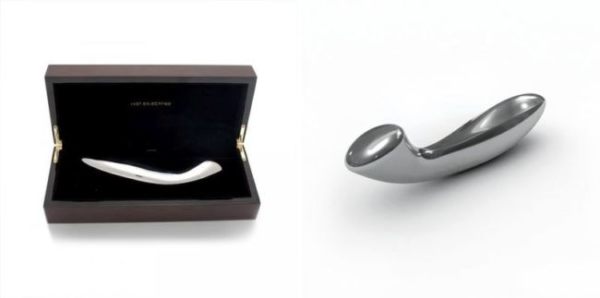 Cleaning
The metal exteriors make it remarkably easy to clean the Lelo Olga. You can simply drop it in hot water and boil to sterilize it, or use an antibacterial and soap. The steel Olga can even be placed on the top rack of the dishwasher. Do not use cleansers containing alcohol, gasoline, or acetone. For the gold Olga dildo, I'd stick to simple antibacterial and soap, and maybe ask Lelo about what works best. Well, it is in the range of $3500, so a bit more enquiry is in order. The stainless steel version is priced substantially lower, with price range at $800.
Getting It To The Right Temperature
Keep in mind, the Olga is made of metal and will likely have a temperature same as the ambient room temperature. You may want to hold the Lelo Olga in your hands for a bit and warm it up. Similarly, be sure it isn't exposed to heat before you use it. A good practice would be to check its temperature on your wrist before letting the Lelo Olga anywhere near your vagina.
The Lack of Clitoral Stimulation
For all the wonderful things that the Lelo Olga does, there is no clitroal stimulation it can offer. Pair up the Olga with a clitoral stimulator to make your fun times even better. It maybe a good idea to let your partner take charge of the Olga, while you focus on your clitoris with something like the Lelo Mia 2.
Lelo Olga Review — The Conclusion
Lelo Olga is the top line premium product in the line of Lelo's premium products. They've chosen one of their most successful and well regarded design, the Lelo Ella, to work as the base for Lelo Olga. If you like the Ella and would like to go for the Olga, by all means, go ahead. Even though a sibling to the Ella, the Olga is a better product, simply by virtue of the materials it uses. Check out more details and real customer reviews for LELO Olga