(Last Updated On: July 26, 2023)
Let your fantasies be free to fly with the Fleshlight Alien. This Fleshlight has the otherworldly, alien look. We can only imagine, but we're pretty sure Captain Kirk would approve. Or if you've got some fascinations with blue aliens from Pandora, let your alien Avatar out for this fleshlight. To keep with its otherworldly look and feel, the manufacturer has added some extra changes to the Fleshlight. Time for our Fleshlight Alien Review to dive deep and check out the goodies for this product.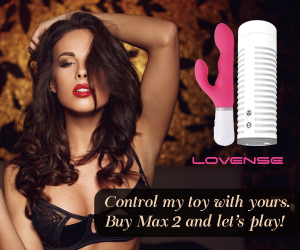 Fleshlight Alien Review — Pros And Cons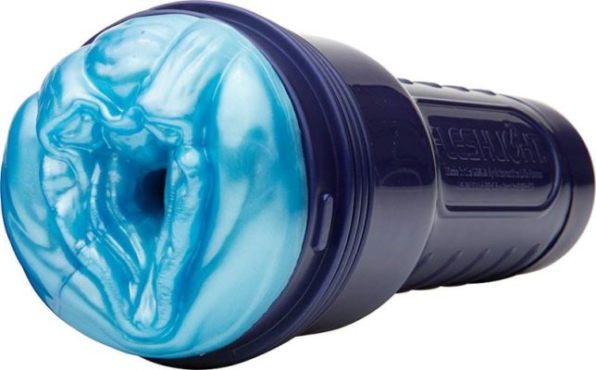 Pros
Kinky look
Intense feeling
SuperSkin material feels great
Body-safe materials used in construction
Multiple texture zones
Cons
Multiple zones can make it harder to clean
Expensive
Best suited for "well above average" penis length
Fleshlight Alien Features
Fleshlight Alien Design And Aesthetics
Coming straight from the Fleshlight Freaks series, the Fleshlight Alien Male Masturbator is easily distinguished by its looks. That blue color is hard to miss. Plus, the alien "vagina" has a double clitoris! So, yeah, otherworldly. The sleeve comes in a blue casing that makes for easier storage and use.
Each end has a screwcap. The one on the main (wider) opening makes the product easier to store and keeps it safe from dust. The one on the other side can be used to manage pressure or air suction inside the fleshlight. It's not much good, to be honest, and you may do better by ignoring it rather than attempting to streamline it into proper use.
Fleshlight Alien Construction And Cleaning

The texture of the Fleshlight Alien Male Masturbator is a bit of a mix. It starts with a vortex texture of mixed ridges, leading to a tighter lotus node, and finally the longer section with a spherical texture like that of the Fleshlight STU. It's quite an imaginative setting and brings together some of the best-known textures Fleshlight has to offer. While the dual-clitoris opening makes the Fleshlight Alien seem wider, things get pretty interesting once you enter. And it's a whole new world once you hit the lotus node.
In terms of pure measurements, the first two nodes cover about 3-inches of length, leading the way onto the third node. Fleshlight Freaks Alien is suitable for a penis up to 8.5-inches in length and about 7-inches in girth. Practically, those with penis sizes near 5-inches may not be able to completely enjoy the Fleshlight Alien. Some customers in that size range also say that passing the Lotus node can be difficult.
As for cleaning, the mix of textures may require additional effort when compared to traditional Fleshlights. When cleaning, make use of fast running tap water to clean it properly. You may also have to use your fingers to ensure it gets cleaned properly. Fleshlight recommends water as the best choice for cleaning its SuperSkin material. Once clean, leave the sleeve to dry. You must ensure it is completely dry before storing it, as any dampness may result in molding of the Fleshlight Alien while in storage.
Fleshlight Alien Review — Fun With Aliens
https://youtu.be/Cp2AJrIFe8s
It is very important that you use a water-based lubricant when using the Fleshlight Alien male masturbator. It not only makes things easier and more enjoyable, it also protects the Fleshlight sleeve from micro-tears, thus increasing the life of your Fleshlight. Water-based lubricant dries up pretty quickly, so keep some at hand. And use it liberally.
You may also want to place the Fleshlight in hot/warm water before use. When cold, it is good. When warm, it can be so much better. Just be sure you've got the temperature right before you stick your dick in!
The vortex texture provides excellent stimulation for the penis. It isn't quite strong given the shape of the Fleshlight Alien, but it does nudge the penis just right and leads it to the tighter lotus node. It takes some force to break through the lotus node, especially since it is flexible. This is the point where those with a longer, girthier dick will have some ease in passing through, but those below average might have trouble going past the lotus. In such a case, some quick motions and thrusting should land you right into the third zone.
The last zone deserves mention for its excellent stimulation. As a series of spheres massage the penis relentlessly, taking over every point. You'll feel stimulation throughout the penis, and there is an especially noticeable effect at the tip of the penis and glans. Once you are in this zone, the stimulation reaches its peak and you can expect an orgasm rather quickly.
Fleshlight Alien Review — The Verdict
Fleshlight Alien is perhaps the best-regarded sleeve from the Fleshlight Freaks series. And as this Fleshlight Alien review found, there's good reason for it. Giving some flight to fantasy seems to fit right in with this setting, and well, there's every reason to imagine some alien action! But of course, it won't do to rate this just on fantasy. This is solid as a male masturbator. It is pleasurable, enjoyable, and works pretty well to make orgasms more fun.