(Last Updated On: November 14, 2022)
The Eroscillator has been around for a few years now. It was one of the first "innovative" sex toys, in the sense that the Eroscillator gave up vibrations in favor of oscillations. For the years it has been around, it has continued to make knees buckle and elicit amazing orgasms. It is now available as the Eroscillator 2 (read the full review) and continues to be an impressive clit vibrator. It is time for my Eroscillator Review, and I'll try not to hold its mutated toothbrush look against it!
Eroscillator Review — Pros And Cons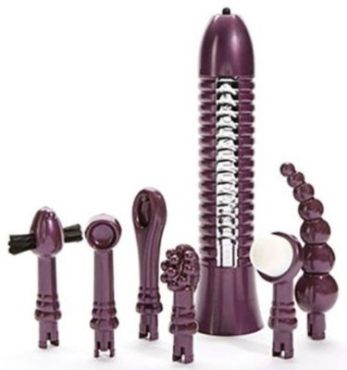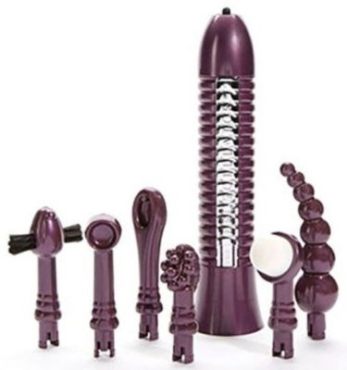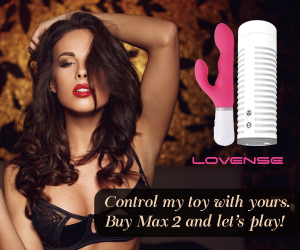 Pros
Non-numbing oscillations in place of vibrations
Variety of heads/attachments available for clitoral stimulation
Powerful
Low noise
Excellent stimulation
Cons
Bland appearance
Corded (even though the wire is long, it requires to be connected to the mains)
Attachments made from TPR
Lack of patterns
Expensive
Eroscillator Features
Eroscillator 2 Packaging
The Eroscillator (or Eroscillator 2 if you prefer to be specific, though only one version is available in the market), arrives in a white cardboard box with floral patterns. It's an average packing — nothing very impressive, endearing, or anything to make a mark. Inside the box, you'll find the Eroscillator, the wire and adapter, and its attachments. The attachments available depend on the package option you buy (more on that in a bit), and are also available to be purchased separately.
One thing that's immediately noticeable is the lack of a pouch, a carry bag, anything to keep your Eroscillator in after you take it out of the box. It is a fairly expensive toy, and yes, I expect it to have storage option included like other modern decent sex toys. Oh, the packing also includes a promo DVD with a lot of marketing crap. A noticeable point on that DVD is an endorsement by Dr. Ruth Westheimer.
Eroscillator Design And Construction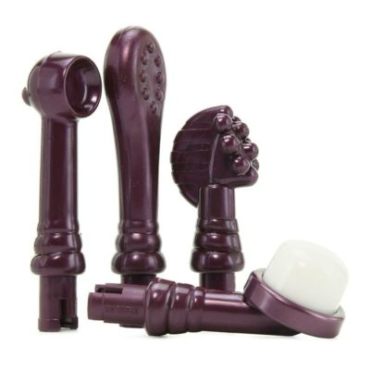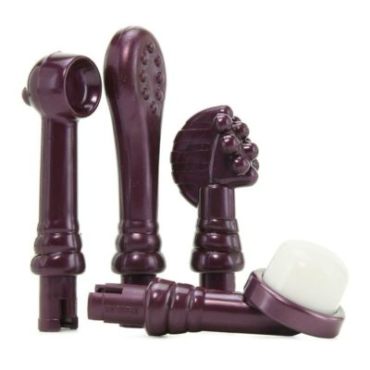 As design goes, the Eroscillator is firmly on the bland side. It has often been compared to an electric toothbrush, and that comparison is not without merit. Some of the attachments actually aid in that look, especially the soft silicone finger attachment. The main body of the Eroscillator is about 8-inches in length, while the attachments range from 2 to 4 inches.
The body is made from ABS plastic, which is a good, non-porous material. Its attachments though are made from TPR, which the company claims is non-porous and phthalate-free. I'd prefer they were more forthcoming about the material used. The soft silicone attachment is made from, well, silicone, though it feels different than other silicone sex toys.
Knowing The 'Eroscillations'
A big point for the Eroscillator is that it doesn't rely on vibrations like conventional sex toys. This is not just a simple vibrator! Instead, it offers "oscillations". You could consider the effect of these oscillations as very similar to using your own fingers to stimulate the clitoris. Only, in this case, the movement comes from electricity and is far faster than any human finger could possibly achieve.
While not exactly similar, parallels can also be made with the Zumio, which draws inspiration from the movement of the fingers for clitoral stimulation. Of course, Zumio is more focused on pinpoint stimulation, while the Eroscillator's attachments allow it a range of sensations.
Eroscillator Power And Speed Settings
Eroscillator 2 draws its power from the mains. As a corded device, you can expect it to limit mobility, though the Eroscillator's wire tries its best to stay out your way. The cable is 12-feet, giving you ample space to move around and do your thing. Most of us won't be moving around while using this, but not being limited to a small radius of a tiny wire has its advantages and appeal.
Once switched on, the Eroscillator can be used at three different power settings. At its maximum power, this sex toy can put out an impressive 60 oscillations per second. It should be said, that though it derives its power from the mains, this is not the most powerful vibrator around. It certainly doesn't hold a candle to the Hitachi Magic Wand, or for that matter, to most good quality wand vibrators. Then again, the Eroscillator does not follow the same route as these vibrators, and its use of oscillations puts it in a somewhat different territory.
Getting To Know The Eroscillator Attachments
The full set of Eroscillator attachments contains seven specific pieces and four of them can be flipped for a different sensation. The attachments are:
Ultra Soft Finger Tip attachment: The most popular attachment and practically the star of the show. If you are buying an Eroscillator, this attachment should be considered either with the package or as a separate order.
Golden Spoon: Another popular attachment. This one has a concave side to cup the clitoris, and a flat side that provides excellent pinpoint stimulation.
Grapes and Cockscomb: The second reversible (or flippable) attachment. As its name would suggest, the grapes side has several beads (a bunch of grapes?) for texture. The Cockscomb side is a thin, narrow, and textured tip.
Ball and Cup: At its cup side, the attachment is concave and circular (unlike the golden spoon where the concave side is more of an oval). This side is designed for stimulating the nipples and the clitoris. The convex ball side is suggested for vaginal stimulation.
French Legionnaire's Mustache: Someone actually thought this was a good name! Well, if you fancy bristles near and on your clitoris, give it a shot!
Seven Pearls of the Orient: This textured attachment is designed for vaginal/anal use. I'll just say it here, I don't fancy the Eroscillator much for vaginal use, and prefer to keep its use limited to clitoral stimulation.
G-Point: This relatively new addition is made for clitoral as well as vaginal stimulation. It is concave on one side, and convex with a slight texture on the other side.
Eroscillator Bundle/Variations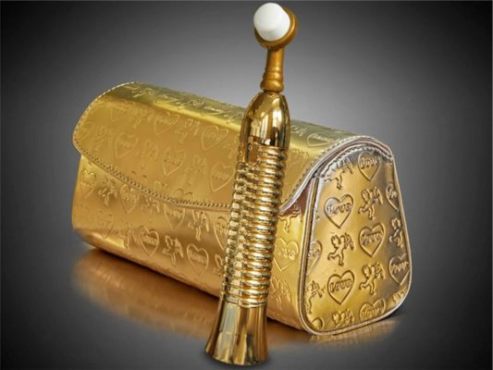 Given the number of attachments, the Eroscillator 2 is offered in about five distinct bundles. All (except one) of these are characterized by the mix of attachments available. If you are looking for a specific set of attachments, please talk to the seller and ensure you have the required attachments. The common variations are:
Eroscillator 2: Eroscillator 2 with just the golden spoon attachment.
Eroscillator 2 Plus: This one is, in my opinion, the best set available. It includes most popular attachments, including the Soft Finger tip, Ball and Cup, Grapes and Cockscomb, and the Golden Spoon. See it on Amazon.
Eroscillator 2 Top Deluxe: This set includes all attachments, except the G-point. See it on Amazon.
Eroscillator 2 Top Deluxe + G-Point: Self-explanatory
Eroscillator Gold: All attachments, and as you can guess by the name, the everything is in golden color. The device actually is plated with 24K gold. This is also the only variant to come with its own carrying case.
Keep in mind, that these are common variations, though some retailers may also offer different sets of attachments. For example, there is also the Eroscillator 2 Plus without the soft finger attachment. You can buy it on Amazon.
Eroscillator 2 Review — Performance And Action
Practically speaking, an Eroscillator review for performance is about its use as a clit stimulator. Yes, it has vaginal attachments too, but as I've said further up, I'm not much impressed there. So I'm going to focus on the attachments I liked, or at least have something more to say about than what I already said in the attachment description.
Ultra Soft Finger Tip Attachment
This attachment really lives up to its name. It's soft, squishy, and feels great when placed against the body. If you like to put pressure on the clitoris while you enjoy yourself, this attachment is an excellent option. As you apply pressure, it can be gentle, yet firmly stay in place. It really has the vibe of using your own finger.
The soft squishiness of the fingertip attachment does take away some power from the Eroscillator, though not enough to actually be a bother. It still works great and can be immensely comforting.
A great thing about the Eroscillator is that it lets you build up to an orgasm. You won't simply place this (or any other attachment) near your clitoris and find yourself in orgasm-land in a few seconds. This one takes its time, and the buildup is great. The result often is a toe-curling, knee-bending orgasm that is incredibly satisfying.
Since with the fingertip attachment you can pretty much let the Eroscillator stay at its job even as you reach orgasm, the results can be quite intense. If you like to stimulate the clitoris with your fingers for masturbation/orgasm, there's a good chance you will love this attachment.
Then again, if you like to have quick orgasms or prefer back to back orgasms, this may not be the ideal sex toy for you. If those are your requirements, you may want to consider something with rumbly and pinpoint vibrations, like the We-Vibe Tango vibrator.
Golden Spoon Attachment
The Golden Spoon is another popular, and practically the default attachment for the Eroscillator. You can place the concave side to cup/cover the clitoris and let the toy hum away in all its glory. It is both simple, and convenient. Plus, it builds up to a great orgasm. The prospects of placing pressure are reduced as compared to the finger tip attachment, though there rarely is a need for that.
You can alternate the concave side with the convex side for more targeted and pinpointed stimulation, if that is what you prefer. The Eroscillator performs well in that arena as well, and the pleasure and stimulation feel great.
Other Attachments
I would not brazenly dismiss other attachments, because these things are a matter of personal preference. While I was not impressed by the bristly side, or the name of the French Legionnaire's Mustache, I know people who enjoy it. Same goes for other attachments as well, and in fact, the Grapes and Cockscomb is often a favorite with many customers.
Eroscillator Review — The Verdict
The Eroscillator is impressive and satisfying as a clitoral vibrator. As we saw in this Eroscillator review, this sex toy does have its shortcomings. However, that does not stop it from being an extremely useful sex toy. Eroscillator 2 is a great option if you like to build up to your orgasms and/or prefer the feel and method of using a finger for clitoral stimulation. If you can overlook the price tag, it certainly is a good sex toy.

Eroscillator 2 Plus Massager: See best deal on Amazon