A little something that gives the original vibrator a run for its money is the new Eroscilator 2. The Eroscillator 2 is one of the most underrated sex toys you can find on the market. I have ridden myself a fair share of vibrators over the years, but nothing made me shiver quite like the new edition to eroscillators.
Proven to be more intense than the rabbit vibrator and causing ever-lasting orgasms for many women, the eroscillator is taking the crown for the top clitoral stimulator. Similar to the vibrating magic wand, the eroscillator comes with interchangeable tips and multiple textures. Thanks to the magic of the eroscillator, many women experienced their first intense orgasm.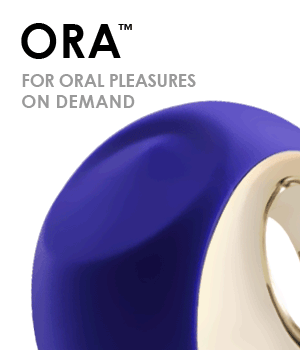 What makes this tooth-brush looking stimulator better than the rest? Apart from having over 3000+ oscillations per minute, the eroscillator is also packed with 14 volts of pure, vibrating power. Dedicated to the fairer sex, this clitoral stimulator will once again make you a believer of the big O!
The following will be a detailed review of the newest edition to the eroscillator family, the Eroscillator 2, so make sure to keep reading!.
What is The Eroscillator 2?
The Eroscilator 2 is a stainless-steel sex toy dedicated to women who want to experience extreme clitoral orgasms. It comes with an elongated neck ending in interchangeable sponges with various textures devoted to extreme clitoral sensation.
As its name suggests, the Eroscillator 2 does not vibrate but oscillates on your lady parts. It comes jam-packed with 3 different speeds and mind-blowing 60 oscillations per second.
The Eroscillator 2 resembles an elongated electric toothbrush with different tips, suited for gentle yet textured clitoral stimulation. It is a sensation incomparable to any other, giving women stimulation like never before. It can be used both externally and internally, depending on which type of orgasm you're aiming for.
The Eroscillators' distinctive and discreet look makes it irrecognizable as a sex toy. Those who got a taste of the Hitachi Magic Wand before it was discontinued might find the eroscillator 2 quite similar. At least to me, they are very similar in sensations.
The Eroscillator 2 Top Deluxe comes with six different attachments, including anal beads for backside stimulation. The LoveHoney Eroscillator 2 Top Deluxe edition is the one that's the most up for grabs on the sex toy market!
Eroscillator 2 Main Features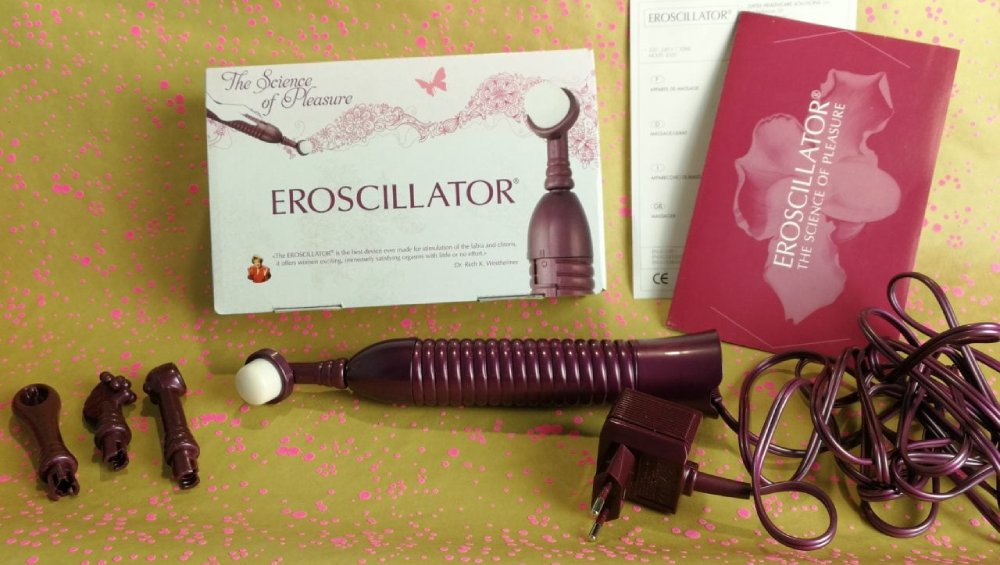 Corded or Battery
The Eroscillator 2 comes with a cord tail that can go on forever. This means you can be on the opposite side of the room and still enjoy its circling glory. It has two EU pins in its package, which means that any adapter you have lying around will do the trick. The best thing about the Eroscillator is that you won't have to worry about batteries every time you want to have a go. Just plug it in the socket and get to electrifying orgasms asap!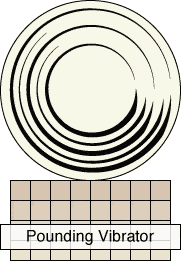 Vibration and Speed
Unlike bunny vibrators, magic wands or bullet vibes, the Eroscillator 2 functions in a back-and-forward stimulation. Some may have become accustomed to the pounding motion of the vibrator, but the eroscillator mimics a finger's touch but cranked up to an extreme.
It basically caresses the clitoris until you reach satisfaction. There are 3600 oscillations per minute and 14 volts of power. The Eroscilator has three speeds, depending on your preferred intensity.
Interchangeable Attachments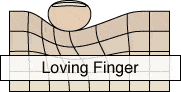 Depending on whether you purchase the Erocillator Plus, Deluxe or the basic version, you should know that they come accompanied with various heads devoted to your pleasure. Starting from the fan-favourite to the most intense, here are the 6 attachments and their satisfactory functions: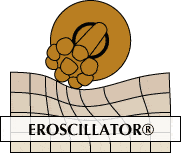 The Super Soft Finger-tip Attachment
The fan's favorite marshmallow or fingertip brings clitoral stimulation unlike any other. With its squishy tip, it acts as jelly against your clitoris, giving you a clit-on-clit kind of vibe. This attachment is known to produce the strongest clitoral orgasms because of the oscillations. The best thing about this attachment is that you can use it internally, too, and the feel is similar to a finger's touch.
The Golden Spoon of Glory Attachment
The golden spoon might seem a little too shaky for some. Unlike the soft fingertip, the golden spoon has a unique pin-point stimulation technique. Toning down to a more low level of the golden spoon will provide just the right amount of stimulation under your clit. This spoon comes with both a flat and bumpy side. I prefer the flat side just under the clitoris, providing enough oscillations for a slow-building orgasm, but you can play around with it as your heart desires.
The Wondrous Seven Pearls of the Orient Head
This menacing-looking head provides stimulations for both the front and backside. The head is equipped with seven pearls ranging in size from smallest tip to largest bottom. This head is preferably used anally for detailed anal penetration. Let your partner gently stimulate your anus with this attachment, and it will make the process all so more slippery wet!
The French Legionnaire's Moustache Head
If you ever pictured what it's like to be pleasured orally by a moustachioed man, then this head can give you a similar experience. This head acts like a personal cooler to your lady bits, providing cool bristly air around your vulva. This head can also act as a tickler for your and your partner's entire body.
Try it on your nipples or even your partner's erect penis. The slight sensations it provides are just enough to cause shivers down your spine. It is advisable to use it on low volumes or more delicate body parts.
The cup and Ball Exercisers
The ball and cup attachments are a couple's favorites. The cups are made to stimulate a woman's nipples while the ball head exercises your vagina. Using both sides to a clitoris may produce exhilarating orgasms, with the cup stimulating the area around the clitoris. Males can use it, too, as it is known to provoke severe erections by oscillating under the tip. According to couples, the cup and ball part takes the crown as the dullest attachment compared to other attachments on the list. But I find it provides just the right level of stimulation before things truly heat up!
The grapes and cock's comb Attachments
This attachment is dedicated to stimulating both nipples, penises and vaginas. The cock's comb can be lightly pressed upon your partner's erect penis, and it will cause hardening reactions.
For me, I did not enjoy the poky side of this head but found it way too bumpy for my pleasure levels. You might enjoy the grape side, which resembles the bullet vibrator's features. If you place the cock's comb on your nipples, you will experience a similar sensation to someone flicking their tongue over them.  
Eroscillator 2 Specs
The eroscillator is one large cucumber-shaped electro sex toy with an 8-inch body and a 5-inch circumference with attachments usually between 2-4 inches. The body is cylinder-shaped with a silver panel for speeds and volumes. Alongside its massive body, you get the Eroscillator 2 with a twelve-foot power cord.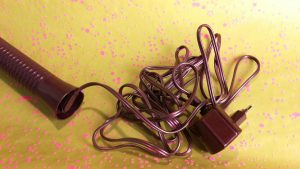 This means that you can end your night with a few hits with the Eroscillator 2 wherever you are in the room. It has no battery, so you don't have to worry about it dying mid-through. The Eroscillator is there for you whenever you want, as long as you have electricity.
The Eroscillator 2 may look like one gigantic cookie, but it weighs only 8 ounces. This means that you can carry your favorite toy in your portable bag wherever you go, and with its discreet look – no one will suspect a thing!

Like mentioned before, the Eroscillator 2 oscillates 3.600 times per minute, equating to 60 oscillations per second. This powerful setting is known to produce slow-building and highly intense orgasms.
The Eroscillator comes in a royal burgundy color, with white settings. Some of the tips of the attachments might be white, like the marshmallow tip. The toy also has a slight metallic shine, giving it a mighty, irresistible look. The official Eroscillator website can offer you a golden version to distinguish the king among your sex toys.
Some may think the Eroscillator 2 is made from metal or steel because of its shiny coating, but it's actually made from high-quality TPR. Although TPR might not be the safest choice for a sex toy material, the Erocillator 2 promises to be non-porous, and Phthalates and PVC-free!
The multiple attachments have different textures, like the grape and cup heads. These have bumpy textures to produce various sensations on and around your private area. However, the marshmallow tip is adored for its jelly-like features, commonly compared to a rubber dildo. The pearls of the Orient are excellent for some newbie anal-play providing gentle penetration with each stroke.
When it comes to cleaning, it's a breeze! You can rinse it with some soap and water after every use for hygienic purposes without causing it to become rusty. The sex toy is known to be pretty durable, as long as it's not plugged in.
The best thing about the gigantic toy is that despite its size, it is extremely quiet. Not that you can't hear it entirely, but no one else in the room will. It provides a silent buzzing sound that you only slightly get a sound of, but your vagina feels to the extreme.
The best sex toys online should come with a guarantee and a warranty. Luckily, the Eroscillator comes with a one-year warranty. However, I don't think you'll be needing it as this is one of the most innovative sex toys of the century. 
How to Use The Eroscillator 2?
The beauty of the Eroscillator 2 is that it does not require you to pull back backward to use it. You can use its massaging power in any position you find most comfortable. Whichever pose you use while pleasuring yourself manually will do wonders when you use the Eroscillator 2.
Because the Eroscillator does not work with a pounding motion like most vibrators, it moves in a back-to-forth motion. Similar to what you would do with your finger, the eroscillator and its head will do the caressing of the clitoris. Any pose you practice while masturbating, like missionary or side-ways, will do wonders with your Eroscillator and maybe the super-soft fingertip attachment. Move it back and forth and enjoy its pleasuring glory.
Like many steel toys, to avoid uncomfortable friction, consider using a lot of water-based lube to maximize the smoothness. The sex toy is waterproof, so don't worry about things getting messy and wet.
I personally enjoyed most multiple orgasms streeks with the marshmallow tip. By placing it on top of my clit the Eroscillator 2 put me in a front-row seat for vigorous oscillations that are nothing like vibrations. If you want continuous powerful orgasms in a row, just accelerate the modes from the second intensity level to the courageous third.
How to Clean the Eroscillator 2?
Like you already must know, part of the Eroscillator contains ABS plastic. Even though the toy has a steel look, the attachments are coated with TPE. TPAs might not be the sex-toy-enthusiasts favorite thing, but the Eroscillator has high-quality and non-porous TPA. The Soft Tip or marshmallow attachment is made from high-quality silicone, and that's why it is the favorite choice among the many pleasure-handling heads.
The best ways to clean your Eroscillator 2 include separating the body from the attachable heads and washing them gently and thoroughly with soap and water. You should wash them after a single use to avoid any unwanted infections and other complications. And as always, make sure your Eroscillator 2 is plugged out of power before you place it under warm water.
The Bottom Line on the Eroscillator 2
To be frank, I have never given my bullet vibrator or magic wand a second guess, but the Eroscillator showed me new levels of pleasure I thought were unapproachable. To say I enjoyed the marshmallow tip would be a terrible understatement. Using it both externally and internally made my toes curl, and my partner wasn't that disappointed either. From his perspective, the cock comb gave him stimulations he had never experienced on his penis before.
Even though the toy is kinda weird looking and humongous, it is very practical and effective. It promises to take you to new levels, and it does, giving you both multiple and squirting orgasms. Kudos to the inventors of the Eroscillator 2 for making the moustache head, perfect for sensation play. This gave me and my partner tickles where we didn't know we had.
Some pain points should be applied to the cup and ball attachments, which may cause uncomfortable pounding if the volume is cranked up. It is also important to note that it takes a while to orgasm while using the toy, with an average woman needing 20 minutes. However slow-building, the orgasms make up for it with their intensity.
The Eroscillator 2 might be a bit steeper than your average vibrator, with the 6 attachment deluxe version costing over $200. It is a luxury sex toy, but it is worth the money. The Eroscillator justifies its high price with its efficiency, without any woman stating that it has not caused her to orgasm at least once. The Top Deluxe version is sold for $239 if you choose the purple version or save $10 for the bronze model. 
Pros and Cons of the Eroscillator 2
We established that Eroscillators accomplish their duty without many complaints. It is a sex toy that knows how to perform. According to different couples and their experiences with the Eroscillator 2, they have reported some of the following pros and cons:
Pros
Re-attachable heads
Meant for both internal and external use
Could be used for both sexes
No battery required
Very light to carry
More effective to vibrators
Cons
Might not feel the same as a vibrator
Some may find the attachments intimidating
It's pretty huge in size
You need electricity
What are the Alternatives?
If you find the Eroscillator 2 not fitting for your likes, you can go for various options. Dildoes, bullet vibrators, or magic wands can compare to the Eroscillator 2, but it does take the throne of the best overall body sex toy. Comparing it with its size, width, and weight, the following are similar yet different alternatives.
The Magic Wand
Unlike the Eroscillator, the magic wand is less costly. It could be a better option as an Eroscillator 2 Top Deluxe costs $239, and a practical magic wand is available at only $66. The magic wand is similar in size and weight but produces vibrating orgasms rather than oscillating ones. Like the marshmallow tip, the magic wand's tip acts as a main stimulant to the clitoris, giving you a new insight into the world of sexual thrill.
Zumio
Zumio is a similarly-shaped yet smaller electro sex toy that doesn't oscillate or vibrate. Zumio whirls around your private area, causing area-specific stimulations just like the eroscillator. It looks like a large pen with a pinpoint upfront designed for both internal g-spot stimulation and external clitoral satisfaction. Like the eroscillator 2, it is perfect for sensation play between couples, providing just the right amount of pokes for sexual arousal.