Lelo Bob is a prostate massager made for men. Due to its very nature, the Bob is bit of a unisex product, but Lelo decided to have this product marketed towards men. To drive the marketing message home to the intended demographic, a fair chunk of the product images show the Lelo Bob placed next to cigars. Interestingly, it also gives the product a sense of scale, eventually giving the user a better perspective on the product and its usefulness. Let's go through the various facets and qualities of this product with our Lelo Bob review.
Lelo Bob Packaging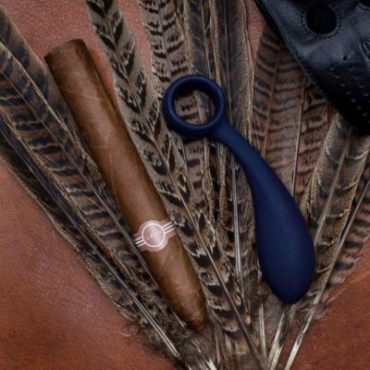 Lelo's products usually arrive in good, even elegant looking boxes and make a strong first impression. The Lelo Bob is no different. It arrives in a nice and discreet packaging; a smooth box covered in a sleeve, with the box holding a plastic casing that holds the Bob and other included items like the instruction manual.
Lelo Bob Build And Dimensions
Lelo Bob is not a vibrator. You will have to handle this one manually, and it is built very well for manual use. The ring at the bottom provides an easy point to hold the Bob prostate massager, and makes it fairly convenient to use.
When you open the package, the first thing noticeable is the size and material of the Lelo Bob. Of course, one already knows the dimensions and material when purchasing, but seeing it up close provides a better perspective. Probably the first thing you notice is that the Lelo Bob is small and relatively petite. Those who have previous experience with butt plugs might even find the size a bit unimpressive. Well, that would be a hasty opinion, and you'll soon find it incorrect.
Dimensions
Purely in terms of dimensions, the Lelo Bob measures 4.8 inches in length (including the handle), of which about 3.5-inches is insertable. At its widest, the Bob is about 1.5, putting up a circumferences of about three-and-a-quarter inches. The widest part is towards the tip, and it tapers down towards the handle. While the prostate massager is not flexible, there is some room for movement where the base meets the ring. The tip is fairly rounded and smooth, and provides a gentle nudge and massage to the prostate.
Lelo Bob Prostate Massager Appearance
Lelo Bob is covered in the smooth, matte silicone finish that is easily recognizable for most Lelo products. There are no seams on the body, and the entire massager is velvety smooth and soft to the touch. However, Lelo decided to engrave the brand's name towards the bottom of the product. It isn't troubling or distracting, but it does create non-required recesses that make cleaning more of a chore, and perhaps should have been best left unused on the product. Silicone used on the Lelo Bob is FDA approved and is phthalate-free, odorless, non-porous and completely body safe.
Velvety smooth feel of the Lelo Bob is quite inviting, and you may find yourself quite eager to give it a try. Keep your desires in check for a few more minutes and clean the Lelo before you start using it. As we said before, this is a bit of a unisex product, so you can share it with your partner. However, keep in mind that the Lelo Bob should be cleaned and sterilized between uses and partners as well. So if your partner has already used it, clean and sterilize the Bob before you use it for yourself.
Lelo Bob is available in two colors: Deep Blue and Bordeaux Red.
Hitting The P-Spot With Lelo Bob
As a prostate massager, Lelo Bob is completely focused on its job, and on doing it well. Even though the insertable length is just about 3.5inches, it reaches and massages the prostate. Well, that part is just human anatomy, and Lelo Bob has used it well. Rather than overreach with a bigger size, Lelo seems to have picked the best size and shape to work with the human body.
The curves and the tapers are excellent, and help Bob head straight for the prostate.
Even if you are a new and relatively inexperienced user, there's a good chance you won't find yourself fumbling around, but will soon reach the prostate and have the way paved to a more intense orgasm. Lelo Bob is a great starting point for the inexperienced user. It is fairly petite, making it possible to be inserted easily, and without any warmup or preparation.Of course, its usability is not limited to new users, and even experienced users will find the Bob quite useful and will appreciate its ability to stimulate the P-spot.
When playing with the Bob, use lube generously. There should be no troubling resistance when you insert or thrust the Lelo Bob. As a rule of thumb, your tryst with sex toys should be enjoyable and fun, without any problems or discomfort. In most cases, inserting Bob should be as simple as relaxing the sphincter muscles, and applying gentle pressure by slipping a finger or thumb through the hoop. Having the wide end upfront and then tapering to the base helps the Bob in inserting conveniently and comfortably.
Prefer using a water-based lubricant with this product. Silicon based lubes can damage the silicone on the butt plug, so steer far away.
The Silicone Ring
Silicone ring at the base of Bob gives easy access to control and manage the butt plug. You can as easily use it for thrusts and movement. It could take some time getting used to when going solo, because the ring opens left and right when the Bob is inserted. The ring can be completely discreet so you can go about your daily activities including walking, sitting, or moving even with the butt plug inserted.
It is not completely invisible or even out of the way, and you will feel the ring as you walk or sit. Still, the ring isn't a major distraction and will not trouble you as you get used to its presence.
Lelo Bob Review — Pros And Cons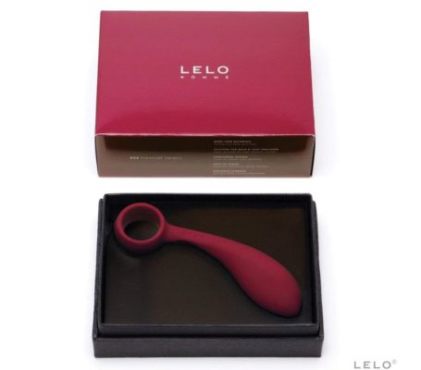 Pros
Excellent quality
Easy to clean
Easily manageable by experienced as well as new users
Simple and comfortable
Provides ergonomic and pinpoint stimulation
Cons
Can be quite rigid
Experienced users may prefer a more advanced option.
Lelo Bob Review — The Verdict
Lelo Bob does a great job as a prostate massager and a butt-plug, There are minor inconveniences or gripes here and there, but there is nothing that will be a dealbreaker. It is reasonably and moderately priced for a luxury item, and is without a doubt, useful.