Double-ended dildos are an extra-long version of a standard dildo. Unlike the traditional dildos, a double-ended dildo can be used to give the best two-way stimulation moments either during masturbation, lesbian sex, or heterosexual sex.
Made of smooth and sturdy rubber, this dildo has a molded head at both sides for penetration. It can be incorporated into various forms of play, from vaginal, oral to anal sex.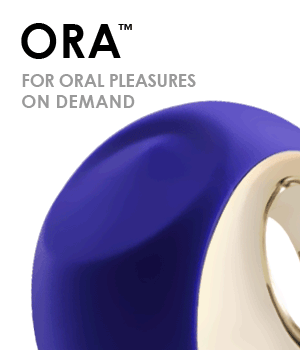 This toy is also known as a double-sided dildo, double-headed dildo, or double dildos. These toys come in a wide range of brands, flesh-like textures, shapes, colors, and lengths, making it easier to select one that suits your sexual fantasies.
If you want to try something new and more versatile than the basic toys, here are some of the double-ended dildos that are a must-have in your sex toy collection!
What is a double dildo
This sextoy, which is called a double dildo, is a dildo that generally measures between 20 and 50 cm and whose two ends are shaped like a penis. It exists in different materials such as silicone or jelly and are more or less flexible depending on the model. Just like the length, the diameter of double dildo is varied: you can find naughty toys with a diameter of 3 cm and others that can reach the 7 cm …
You can also see double dildos represented by two phalluses side by side which are ideal for double female penetration. You will know so the delicious sensations of a report with two men, finally almost…
We advise you, for a solo use, to privilege a soft dildo that will allow you to test the double penetration more easily. On the other hand, a firm double dildo will be more appropriate for 2 people or more.
Types of Double Ended Dildos
Just like with other sex toys, a double-ended dildo comes in various types. Some can be used with your partner, while some are more suited for solo play.
On the other hand, others have a strap-on, while some come fitted with a vibrating part. Let's take a closer look at the different options available.
#1. Standard Double Headed Dildos
These are the most basic form of double-ended dildos you'll find in the market. They usually have a long, sleek, and straight shape ideal for double play with your partner. They also have a smooth surface cut out like a real penis.
If you are looking for a standard double-headed dildo to spice up your sex life, I would recommend the Doc Johnson Classic Veined Double Header Dildo.
Standard Double Headed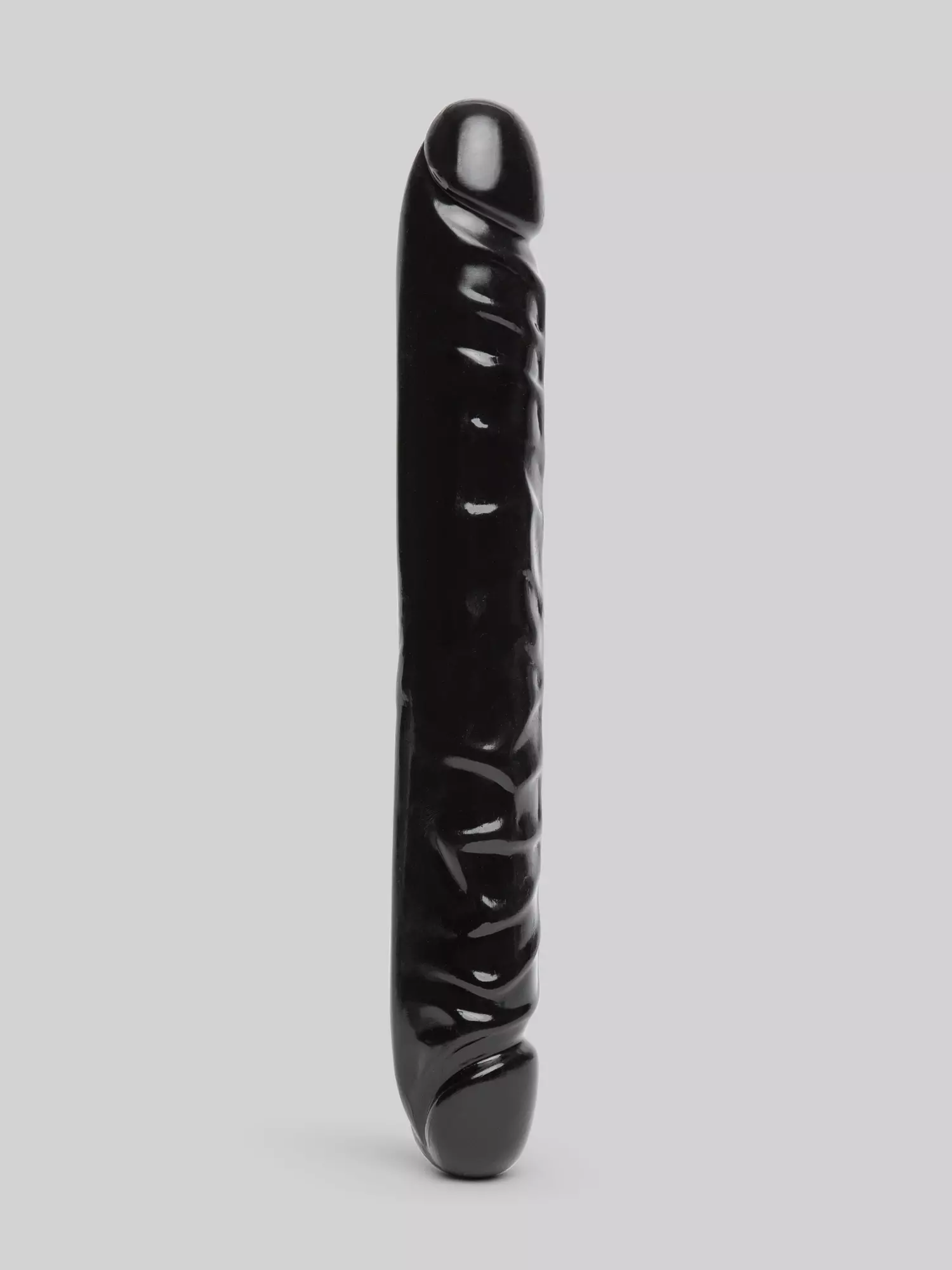 This 18-inch dildo is firm enough to be used by two people and flexible if you want to use it yourself.
It's a perfect dildo for g-spot stimulation.
Main Specs
Length: 18 inches
Insertable Length: 17.5 inches
Width: 5.5 inches
Material: PVC
Price: It's a pricier option compared to other double-sided dildos.
Pros
Defined heads on each end to allow solo or shared double penetration
Latex-free and phthalate-free
Soft rubber exterior covered in textured vein
Firm and flexible
Cons
It might not be ideal for first-time users because of the size
#2. The 'U' Shaped Double Dongs
These U-shaped dildos or vagina-to-anus dildos are used to penetrate the anus and vagina at the same time. Made from ultra-flexible material, they can bend to your desired positions for use with a partner or solo play.
Some double-ended dildos are not u-shaped but can bend well enough to be used by one partner to penetrate the vagina while the other can penetrate the anus.
I would recommend the BASICS Mini Double Penetration Dildo if you are shopping for a U-shaped double-ended dildo.
U Shaped Double Dongs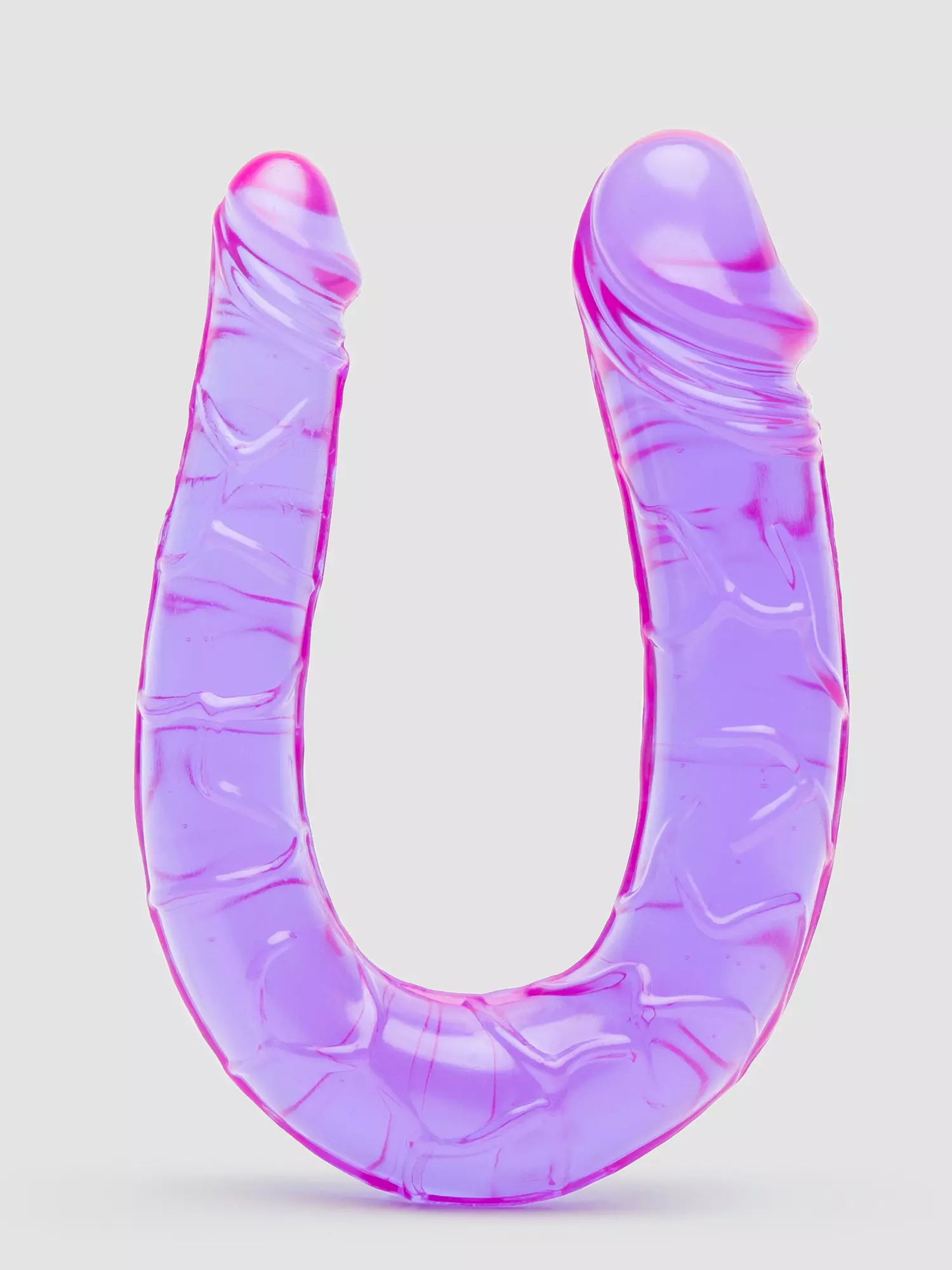 This mini double-sided dildo is what you need for double penetration either with a partner or during masturbation.
It's ideal for both vaginal and anal stimulation.
Main Specs
Length: 13 inches
Insertable Length: 5 inches
Width: 4 inches
Material: Soft Plastic
Price: This dildo is pretty affordable.
Pros
The size is ideal for first-time beginners
Pretty affordable
Firm but flexible shafts with pronounced heads for authentic stimulation
The U-shape works for both vaginal and anal stimulation
Cons
It contains Phthalates, therefore might not be ideal if you are allergic
#3. Strap-on Double Sided Dildos
Unlike the basic strap-on, which has a belt harness worn by one partner, this double-ended strap-on dildo is different for extra stimulation.
With these options, one side of the dildo goes inside the vagina of the one penetrating while the other one is inside the partner playing the bottom.
These dildos are ideal for lesbian dom plays or roleplays. They are popular with lesbian partners.
If you are looking for one of these, the Double Delight Double-Sided Strap on Dong is one of the best options in the market.
Strap-on Double Sided
Main Specs
Length: 6 inches
Width: 3.5 inches
Color: Purple
Material: PVC
Price: It's a pricier option
Pros
Two partners can use it
Made from phthalate-free, non-toxic materials PVC
It has an elastic harness that easily adjusts to fit most sizes
Ideal size and thickness
Cons
It comes in only one color
It's a bit expensive
#4. Strapless Strap-on Double Headed Dildo
This dildo is an L-shaped double-headed dildo that has one big shaft and a smaller one. It's used with a partner. The partner who's thrusting inserts the smaller shaft while the other one gets the larger shaft.
With this sex toy, you don't have to use straps around the pelvis. I would recommend the MRIMIN Strapless Strap-On Double-Sided Headed Dildo.
Lesbian couples and partners can use it.
Main Specs
Length: 13.5 cm for the shorter shaft & 15.5 cm for the larger shaft
Width: 2.6 cm for the smaller shaft and 3.2 cm for the larger shaft
Material: High-quality liquid silicone
Price: The dildo is quite affordable
Pros
It can be used for both vaginal and anal stimulation
It can reach the G-spot much better than other dildos
It has two shafts in different sizes
Cons
The total length is much shorter than other double-ended dildos
#5. Realistic Dual Dildos
These types of dildos are available either as u-shape or straight dildos for users to choose their preferred option.
Realistic Dual Dildos are designed in different skin colors and textures to resemble a real penis. Here's an ideal Realistic Dildo that you can buy.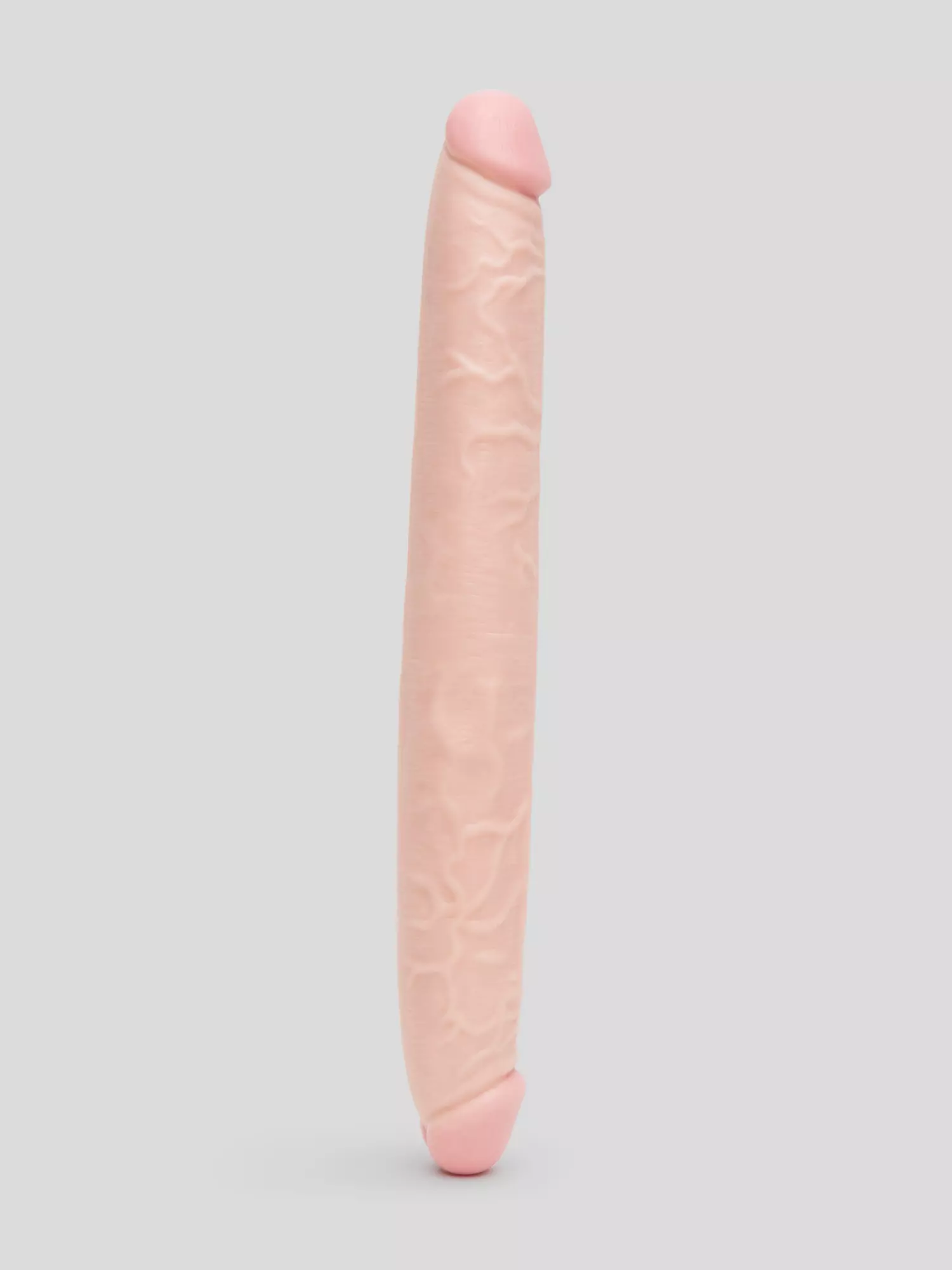 Designed to feel like an actual male erection with a skin-like outer layer, it's suitable for women, men, and couples. Users can use this dildo for anal masturbation or vaginal g-spot stimulation.
Main Specs
Length: 12 inches
Insertable Length: 10 inches
Width: 2 inches
Material: Liquid silicone
Pros
It is made with dual-density liquid silicone, which is body-safe
Firm core and soft outer skin for easier penetration
Realistic head and bulging vein textures
Suction cup base for hands-free play
The toy is harness compatible
Cons
The dildo is pretty expensive
It might not be ideal for beginners
#6. Vibrating Double Ended Dildos
Just like its name, this double-ended dildo has a vibrating unit attached. When you use this toy, you get the best of both worlds. It brings sensations from double penetration and intense vibrations for dual pleasure.
The vibrating part comes in handy when you are using it by yourself or with your partner. Vibrating double-ended dildos are either fitted in the strap-on double dongs or u-shaped dildos.
The vibrating unit is added at the base of each shaft for maximum pleasure. These sex toys come in different shapes, colors, types, and textures.
For instance, this Vibrating Double-Ended Dildo comes with 9×9 vibrations and is ideal for women's vaginal G-spot stimulation and anal play.
This toy has a wireless remote, which allows partners to control vibrations during playtime. They are ideal for interactive sex games between lovers and solo masturbation.
Main Specs
Length: 8.66 inches
Width: 2.91 inches
Material: Body-safe silicone
Color: Pink
Price: It's a bit pricey
Pros
It has nine different vibration modes
It comes with a wireless remote to control vibrations
It's 100% waterproof
It's USB rechargeable
Made of body-safe silicone
Cons
It's expensive compared to other double-ended dildos
How To Use A Double-Ended Dildo
A double-ended dildo is a fun sex toy to introduce to your sex life. Since they come in different shapes, sizes and textures, you can also use them in different ways. Here are some of the ways you can use this toy.
Solo
Adding sex toys to your masturbation or solo play session is an exciting experience. A double-sided dildo brings more sensations, especially if you are looking to achieve both vaginal and anal stimulation.
These toys will come in handy because you don't need to reach out to hold the dildo. They have a perfect angle that helps you achieve your orgasm without getting a hand cramp.
If you are using a double-ended dildo solo, you'll need a flexible toy that makes it easier to grip. While it may be wobbly at first, it becomes much firmer with time as you bend and twist it more.
Once you've mastered how to position the dildo, you can now use both ends for vaginal and anal penetration.
If it's your first time using this type of dildo, especially for anal play, select one with a slimmer end for easier penetration.
Foreplay is suggested (play with yourself first), as always, which ensures natural lubrication, also facilitates a certain level of comfort and deters some elements of anxiety the user may have.
Apply the desired amount(s) of lubricant.
Gently insert the dildo into your vagina or anus. Experimentation is crucial during this first use.
Familiarize yourself with the dildo, experiment with its use, and determine what feels good and what doesn't (this is especially important in couples play).
If you want to have double penetration (anal and vaginal), slowly insert the remaining end of the dildo into your vagina or anus. Be sure to use plenty of lube, as the anus usually doesn't produce much natural lubrication.
Again, take your time and experiment with this experience. Familiarize yourself with the anal penetration aspect of the dildo. Remember that the anus is not your vagina and just because it felt good in your vagina doesn't mean it doesn't feel good in your anus.
Enjoy a safe, rewarding and hopefully orgasmic experience with your new best friend.
With Two People
If you are having a threesome, a double-ended dildo is a perfect toy. Two partners can use the two different ends for either anal or vaginal stimulation.
There are different types of dildos to choose from. For instance, you can use the strap-on double-ended dildos for penetrative sex. The strap is worn by one partner who controls the thrusts while the other end goes inside the other partner.
With a partner, you can explore the u-shaped dildos and get the best position that works for both of you.
Foreplay is again recommended.
Use the foreplay period to communicate each partner's desires. Communication throughout this process is essential.
Ensure that adequate lubrication has been applied.
One or both partners can insert the desired end of the dildo into the desired orifice, depending on specific desires. Remember, this is not a race and it is recommended to be gentle, especially with anal penetration.
Experiment and determine what each partner likes and dislikes. Take your time, ask questions and keep an open line of communication.
Use the different positions available; for example, try sitting facing each other with your legs open or bend over and use the dildo back to back.
There are countless positions that can be used when using a double-sided dildo.
Try Different Positions
A double-headed dildo is ideal if you and your partner want to try out different positions. Depending on the type of double dildo you are using, you can switch positions from laying on your back or kneeling on all fours.
The type of dildo will guide some of these positions. For instance, if you are using a straight or u-shaped double-ended dildo, you can squat over it and gently insert one end into the vagina and the other into the anus.
Once you get the best position, you can bounce on it until you achieve sensational orgasms. If you are using it with a partner, ensure you get a dildo that's a bit firmer for a much better experience and minimal interruptions.
On the other hand, you can both kneel on all your fours and back onto each end of the dildo at your own pace.
For more pleasure, you can also face each other, intertwine your legs and insert the dildo between you. With this position, you can enjoy the full length of the dildo as you both thrust back and forth.
Use Lube
Once you buy a double-ended dildo, remember to also buy lube. It's essential to moisten both ends of your dildo with water-based lube to make penetration more comfortable.
Keep in mind that for silicone sex toys, you shouldn't use silicone lube because it will react badly with your toy and make it deteriorate.
Wash Your Dildo
If you are using the double-sided dildo with your partner and you need to switch positions, you need to wash and add lube on both ends to avoid spreading infections.
You can also use condoms on the toys to avoid issues such as STIs. This makes clean-up easier and sex much safer.
Important Factors to Consider Before Buying a Double Ended Dildo
Before checking out your sex toy order, you need to consider several factors to ensure you got the right fit. Since there are many types of double-ended dildos, you can use the following criteria to make things easier.
Flexibility
These dildos are mostly used with a partner and for both the vagina and anus. Therefore, they need to have a certain level of flexibility.
Before choosing one, ensure you discuss with your partner what degree of flexibility you both need. This way, you'll select the best dildo for the best sex experience.
Size
When choosing dildos, the size matters. The girth of a particular double-ended dildo might not be ideal for beginners; therefore, in this case, you have to choose one with a smaller width.
You should choose a huge double dildo once you have become more comfortable with these types of toys to make it enjoyable.
Shape
The shape you choose will depend on whether the double-sided dildo is meant for solo play or to use with a partner. Strap-on dildos might be more ideal for enacting sex, while a straight or u-shaped one might be good for solo play.
Material
The material you choose is also critical. Ensure that your double-sided dildo is not made from toxic materials. In addition, you should choose a toy that's easy to clean up. Here are some of the materials you can choose from.
Silicone
Silicone is one of the most commonly used materials to make sex toys. It's body-safe, bendier, and realistic. However, you might notice that it's more expensive than toys made from other materials because it is more durable.
Furthermore, it's very hypoallergenic; therefore, it does not cause any allergic or toxic reactions to the human skin or cause pH levels of the vagina.
Metal
If your toy is made from stable metals such as stainless steel and aluminum or precious metals such as gold and silver, they are body-safe. These materials are pleasant to look at, easy to clean and are non-porous.
Rubber
A double-ended dildo made of this latex material could cause allergies and have a pungent odor. If you buy a sex toy made of rubber, ensure you use it with a condom because it's porous.
On the other hand, rubber doesn't have natural flexibility; therefore, most brands will have phthalates, a toxic salt that causes skin reactions. When buying the dildo, confirm that it doesn't have phthalates.
Plastic
If the toy is made from ABS plastic, it's completely safe. However, it has PVC and vinyl; these cheap materials contain harmful phthalates. You'll notice that most plastic sex toys are affordable.
Glass
Glass is perfect for sex toys because it is neither porous nor toxic. They are also pretty popular for their aesthetic appeal and low maintenance needs. Most glass double-ended dildos are made from break-free glass; therefore, they won't break quickly.
How to Clean Them
Silicone is pretty easy to clean and does not become porous with constant use. On the other hand, metal dildos are low maintenance. You can clean them using a disinfectant or warm soapy solution.
If your double-sided dildo is made of rubber, it might get porous over time. Therefore, you need to clean it well before and after use using warm water and a disinfectant.
To clean plastic and glass double-ended dildos, you'll need warm water and soap solution. You also use a disinfectant to kill the bacteria.
Conclusion
All these double-ended dildos provide different levels of pleasure. Whether you need to use them with a partner or for solo play, there are various types of toys to choose from.
My favorite is the vibrating double-ended dildos because they are ideal for both double penetration and vibrations for maximum pleasure. They also have key features such as wireless remote control for partners.