Are you burned out of playing with regular dildos, and you dream about hanging out with something new? Well, I know I am fed up with old-fashioned types of dildos. I must admit that recently I have spoiled myself with something that I will never forget. Namely, the second I experienced fantasy dildos for the first time, my loyalty towards my previous dildos changed, and I refuse my gravy cave to continue eating something ordinary and already seen and felt!
Even though there are a variety of fun toys to spice your bedroom life, the modern fantasy dildos offer an extra dimension of self-pleasuring that you won't be able to find with typical dildos. The different textures and shapes provide a delightful sensation to boost your fun zone experience.
I am thrilled that the fantasy dildos market is constantly growing, creating an easier life for those who aren't fans of regular dildos or people like me who want to include something extraordinary in their rich sex toy collection. I've touched, tested, and reviewed over a dozen fantasy dildos, read several forum articles and customer feedback to give you this inclusive and informative fantasy dildo review. 
So hop on this ride, and let's go to Fantasy land together!
Our Top 3 Fantasy Dildos
In this review, we'll go through the top 10 great dildos with an accent on explaining the experience they offer to help you pick the best fantasy dildo for your sugar cookie. Get ready and look into the different types of fantasy dildos, such as the dragon and sci-fi dildos. Since I am a great fan of dildos, I will share my knowledge of these pleasure-serving sex toys before I recommend you the top places where you can purchase one or more than one for yourself. So, keep reading to see my top 3 picks out of the bunch.
Kthulu: Best dildo for size queens
If you are searching for the best fantasy dildo, buy the giant Kthulu dildo. These toys guarantee a pleasure-filled dildo-riding action, and on top of it, you can choose one of the available sizes and get the bang type you prefer.
Deep Diver Dildo: Great for P-spot and G-Spot Stimulation
If you wish to live your biggest fantasies or you prefer using unique textures, get Deep Diver Dildo. This fantastic toy is S-curved and will sink deep into you to hit the G-spot or P-spot depths, leaving you breathless and yearning for more.
Alien Breeder: Best for Sci-Fi Fans
Now, if you're a born predator creeping around for extraterrestrial vibrations, then the Alien Breeder dildo is your rocket ship to out-of-this-world pleasure land. It's a unique-designed dildo that is ideal for hardcore Sci-Fi maniacs looking for an ecstatic-wonderful experience.
What is a Fantasy Dildo?
Fantasy dildos are revolutionary dildos that come in the form of fairytale or legendary creatures' penises that leave much space for your wicked imagination. The extra-pleasure offering monster dildos are the pioneers of fantasy cocks. I really like that you can find them in different firmness, shapes, sizes, and designs, so you can't run dry of options.
As you already know, there are lots of different types of super handy fantasy dildos available on the market. You can find everything from notorious dragons' dongs to alien dildos – and everything in between. The manufacturers continuously design new types of dildos to ensure you an exclusive and thrilling experience. It means that you can pick what you dream of, helping you meet your wildest fantasies.
The Best Fantasy Dildos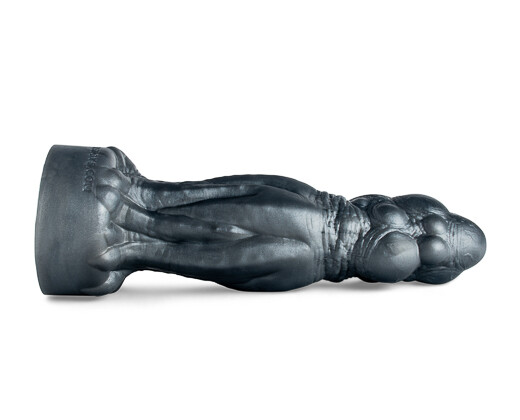 KTHULU Dildo - 4 sizes
This fantasy toy is sure to please, it is beautifully made and the detail is absolutely perfect. This toy is available in our new Gunmetal Grey color as well as Metallic Green and our three standard colors.
See latest price
Material: Platinum Silicone
Total Lenght: 9.5″ (S), 11.13″ (M), 12.63″ (L), 14.25″ (XXL)
Insertable Lenght: 7.5″, 9.5″, 11″, 12.5″
Diameter: 2.47″, 3.02″, 3.54″, 4.1″
Firmness: Medium-Firm, 75% Soft
Colors: Natural tan, black, deep brown, gunmetal grey, metallic green (5)
Like something straight out of a Lovecraftian Saga, the revolutionary Kthulu belongs in the group of enormous-size fantasy dildos. I mean, with a 2.47" diameter in the tinniest part and a 7.5-12.5″ length for inserting in your sweet cookie, Kthulu is designed for skilled fantasy dildo customers.
The size isn't the only noteworthy part, as its scaly texture also stands out. If you are an experienced user of dildos or are not afraid to try this giant, you should consider investing in this bad boy. We guarantee that you will fall in love with this toy, as its texture is well planned, and the second you insert it inside you, you will feel each inch in and out.
Pros
It is available in 4 different sizes
Unique textures, great color, and firmness
Can fit Vac-u-Hole for all sizes
Compatible with strap-ons and fuck machines
Cons
Extremely huge dildo, not recommended for beginners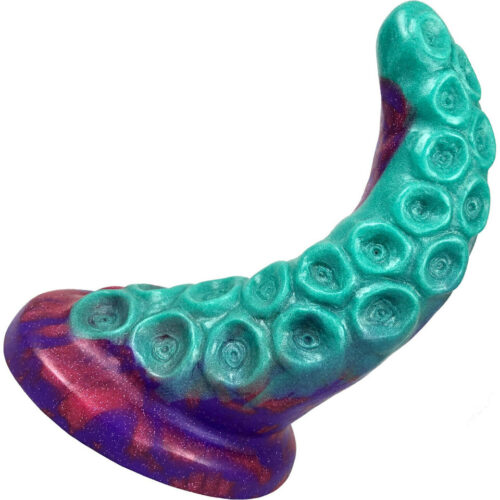 Material: Platinum Silicone
Insertable Length: 5″
Diameter: 5″
Colors: Marbled Red/Orange and Electric Violet pigments with glow in the dark aqua green suckers
If you're into tentacle-shaped dildos, then the Deep Diver is your toy. It comes with a unique texture that attracts customers' attention the moment they notice it. This is something you need to have, but not just in your dildo collection, but in your ladyparts as well.
This incredible fantasy dildo is sold in a silk bag, typical for all Uberrime sex toys. Once you buy this toy, your rainbow cookie will practically beg you to "swallow" this stylish but hard bang promising dildo. Did I mention it glows in the dark too?!
Pros
Stylish design–Angled tip and curved shaft make it beginner-friendly.
First-class quality silicone–durable and non-porous.
Competitive price- a real bargain.
Flared base–perfect for anal play.
Various-colored dildo–the suckers are glimmering in the dark.
Cons
Enormous base–customers with smaller-sized hands find it hard to use.
Available in just one size.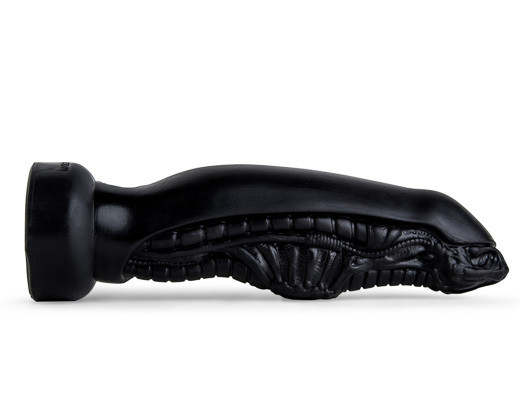 ALIEN BREEDER DILDO
The Alien Breeder xenomorph will invade any space your fantasy will lead it to. Life on earth — and your bedroom — will never be the same again.
See latest price
Material: Platinum Silicone
Total Lenght: 8.5″ (S), 10.62″ (M), 12.5″ (L/XL), 15″ (XXXL)
Insertable Lenght: 7.5″, 9.37″, 11.37″, 13.37″
Diameter: 2.19″, 2.79″, 3.38″, 3.98″
Firmness: Medium-Firm, 75% Soft
Colors: Natural tan, deep brown, black (3)
Buy your new Alien Breeder dildo and wait for the nasty alien to take control over your body and fill your vagina while making you scream with real pleasure. Remember my words that when this dildo penetrates deeper and deeper, inch by inch, rubbing your vagina walls, you will be more than happy that you have bought it.
The Alien Breeder dildo has a textured underside and smooth top, meaning you'll get double the sensations! As other toys from the Hankey's store, this dildo is compatible with strap-ons and fucking machines, so you can let your creativity run wild! The Alien Breeder dildo won't stop its mission until you are exhausted of fucking!
Pros
A must-have for hardcore Alien fans
Compatible with fuck machines and strap-ons
Two different textures
Cons
Larger sizes- not for beginners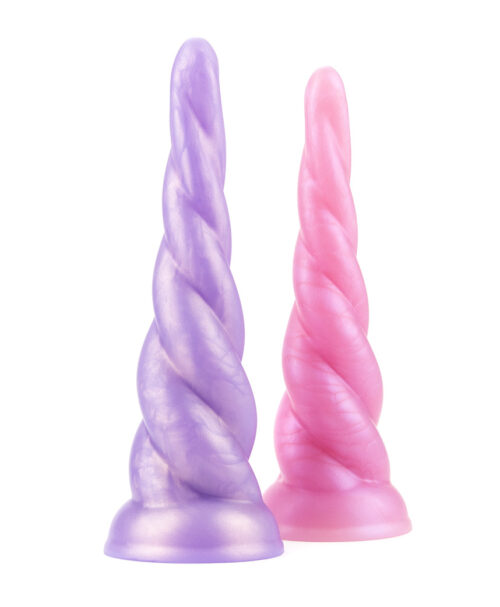 Unicorn Dildo | Geeky Sex Toys
The Unicorn Horn Dildo is a super cute toy made by us at Geeky Sex Toys. This legendary mysteriously mystical dildo will help stimulate the most magical orgasms. The suction cup allows for more adventurous role play creating your very own fairy tale ending.
See latest price
Material: Platinum Silicone
Total Lenght: 8.5″
Insertable Lenght: 8″
Diameter: 1.75″
Firmness: Shore-A25 (Medium)
Colors: Purple, pink
You already know that stunning unicorns are magical beings, but you may not know that this type of dildo provides you with a glorious orgasm every time you give it a chance. As you can notice, the unicorn dildo is reminiscent of a unicorn horn and is stylishly designed with the twists typically seen in unicorn illustrations.
This fantasy dildo is ideal for sliding in and having fun. The part that Unicorn dildo is 100% body-safe makes it one of the most desirable sex toys worldwide. With 7.5 inches insertable length, this product is a perfect match for beginners, but professionals also pick it for its cute design. This dildo is ideal for travelling as it weighs only 264 grams, so you can take it with you wherever you go. The revolutionary waterproof unicorn dildo comes in purple pearl or pink pearl color, so which one would you pick?
Pros
Thin design for beginners
Ridges feel magical
Cons
Not recommended for anal use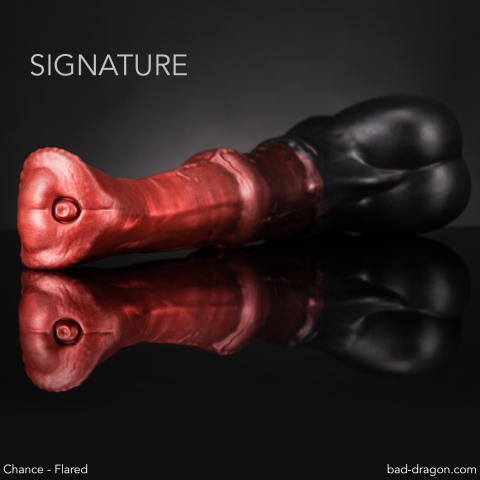 Chance Flared | Bad Dragon
Grab your saddle! Chance (Flared) is ready to be tamed and you're just the one for the job. Its most notable feature? A pronounced, flared head that will make you buck with excitement as it powers into you for the wildest ride of your life.
See latest price
Material: Platinum Silicone
Insertable Lenght: 8″
Diameter: 2″
Firmness: Shore-A15 (Medium-Soft)
Colors: Vast choice
A horse dildo or Chance Flared may look strange and a bit scary the moment you see it for the first time, but this dildo won't harm you, so you have nothing to fear. The horse dildo comes with a headstrong point that reminds me of a real horse penis. It features an unusually long shaft with a unique veiny texture and is one of the longest dildos available on the market today.
Once you buy this fantasy dildo, it will soon become your best friend because it will fulfil even your darkest and most erotic dreams. Put your horse-riding boots on, and jump on the horse fantasy dildo for the most memorable horse ride ever.
Pros
Heavily textured
Comes with realistic balls
A variety of colors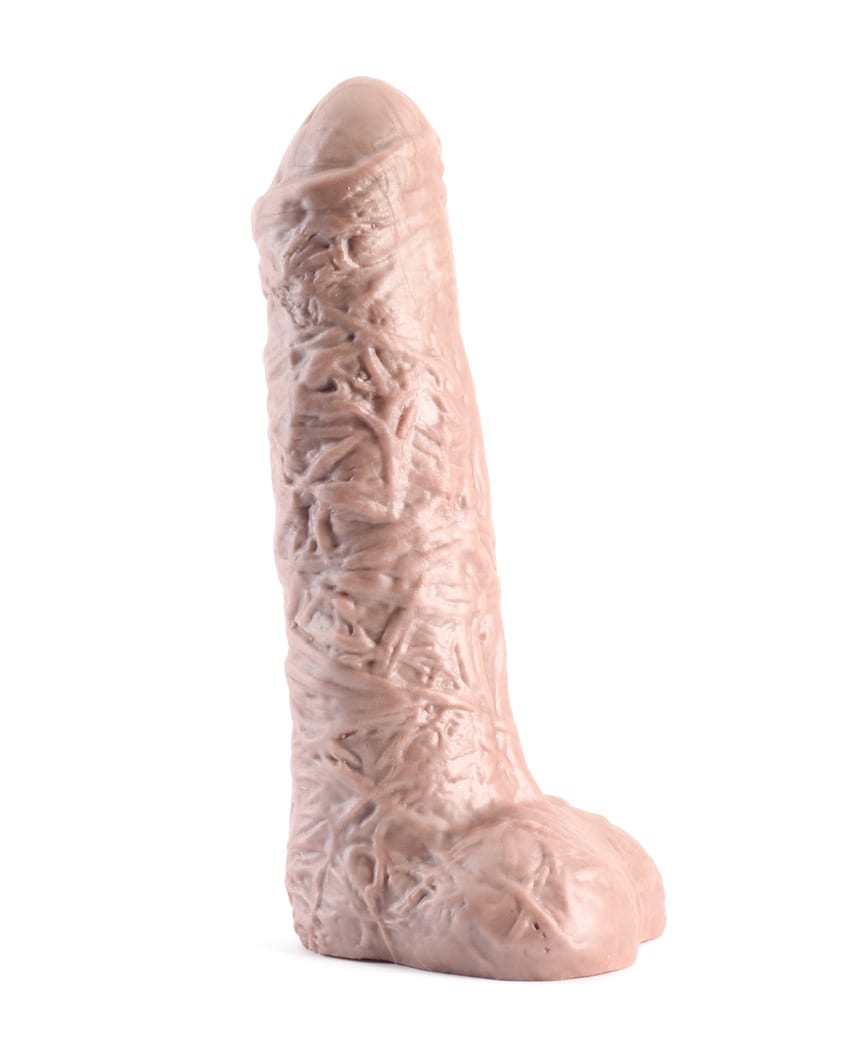 Material: Platinum Silicone
Length: 7″
Insertable Lenght: 5″
Diametar:1.9″
Firmness: Shore-A15 (Medium-Soft)
Colors: Pale, corpse-like
If you are a fan of zombie movies and you wonder what they have in their pants, here is the answer you were looking for. The zombie dildo is a human-like fantasy dildo that will satisfy your wishes for a flesh-like experience with a hint of fantasy. Its stitches, bumps, and veins will make you scream just like the central character of a horror movie does.
This delightful fantasy dildo is 100% body-safe and 100% waterproof. It may not eat your brains out, but it will definitely blow them away with how amazing it will make you feel.
Pros
Beginner-friendly
Affordable 
Cons
Textured ridges require extra clean time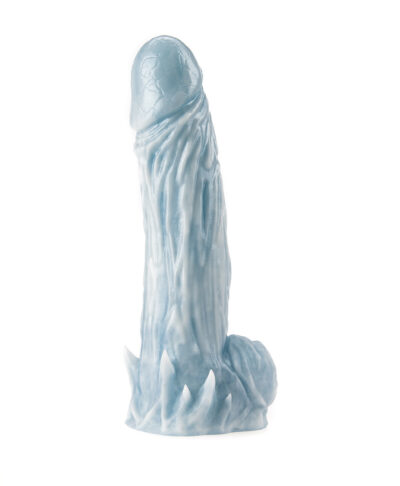 The Night Kink - Glow in the Dark Dildo
Sculpted in amazing detail this glow in the dark silicone dildo is hand crafted to give you the ultimate fantasy experience. The icy whites blended with the coolest of blues look exquisite during the day but come alive when the lights go out!
See latest price
Material: Platinum Silicone
Total Lenght: 8″
Insertable Lenght: 7.25″
Diameter:1.5″
Firmness: Shore-A15 (Medium-Soft)
Colors: Glowing
Game of Thrones Dildo is a must-have product, not just for Game of Thrones fans, but for all those who collect rare things. The Night Kink, for instance, is a limited-edition fantasy dildo, and there are only 350 copies. So, hurry up and purchase your copy as soon as possible, as it also ensures interesting under sheets pleasure with its 7.25 inches insertable length.
Turn off the lights and enjoy this glow-in-the-dark dildo that will make your vagina glow in pleasure as well. This handmade fantasy dildo is an ideal addition to your dildo collection and an exact match for your pussy.
Pros
Great insertable length
Glowing colors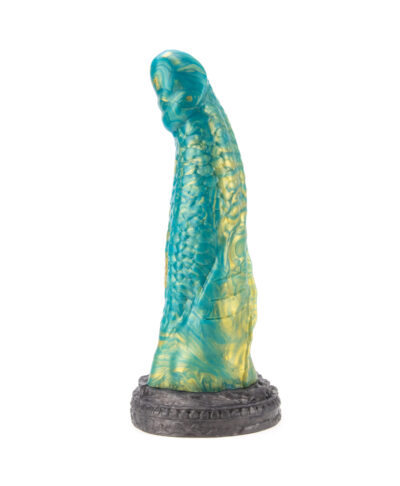 Mermaid - Dildo of the Deep
The added texture of the scales increases sensation and to top off this toys stunning visual and pleasurable appeal, we've designed it with extra functionality! A silicone, lock on style, suction cup base that can be removed making your new toy vac-u-lock compatible. AND the Mermaid Dildo of the Deep is available in 2 sizes!
See latest price
Material: Platinum Silicone
Total Lenght: 7.25″-9.5"
Insertable Lenght: 4.25″
Diameter:1.7″
Firmness: Shore-A15 (Medium-Soft)
Colors: Blue and Yellow
The Mermaid dildo is a marvelous toy as its theme offers a nice look and a provocative sexual experience. The dominant colors of this dildo are yellow and blue and match fully to create the illusion of a real mermaid shaft.
This fantasy dildo is 100% waterproof as it is made from 100% body-safe silicone. This medium-soft sex toy comes in 2 sizes, so buy the ideal size for you and enjoy your mermaid time.
Pros
Perfect match of the colors
Available in 2 sizes
Cons
Not suitable for anal insertion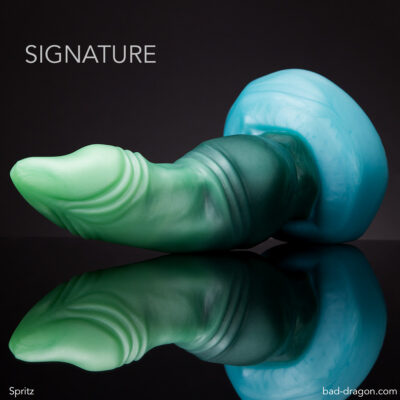 Spritz Dildo
This is one toy that will never leave you dry. Whether it's stimulating your g-spot with its pointed tip, tickling you with its tantalizing ridges, or leaving you fulfilled with its hefty bulge, Spritz is sure to deliver endless waves of pleasure.
See latest price
Material: Platinum Silicone
Total Lenght: 7″
Insertable Lenght: 6″
Diameter:1.9″
Firmness: Shore-A15 (Medium-Soft)
I have tested various animal theme dildos, but I can say that the Dog dildo, also known as Spritz, is great for beginners. It comes in different shapes and firmness, so you can select the one that best suits your needs.
Similar to a dog's penis, this toy isn't extremely long, but you can use its curved tip for extra stimulation. Dog Dildo focuses on your p and g spots, and it can be used for both anal and vaginal fun.
Pros
Beginner-friendly
Targets p and g spots
Cons
Small size for advanced users
Master Dildo Sword
Are you a hero that has gone through trials to test your courage, wisdom and power? Are you worthy of wielding the Master Dildo Sword? Of course you are! What are you waiting for, turn your breath wild with this incredibly stimulating dildo sword from Geeky Sex Toys. Read the full description below for more info.
See latest price
Material: Platinum Silicone
Total Lenght: 14.05″
Insertable Lenght: 8″-10″
Diameter: 1.43″
Firmness: Shore-A25 (Medium)
Colors: Variety of colors
The sword dildo is one of the longest dildos on the market, so if you feel like you need a long sword for your wet friend, this is the best option for you. This fantasy dildo is very practical, as you can hold it easily while you are enjoying your own adventures deep into your cave.
The sword dildo comes with a practical handle for better grip and guided insertion, while the veiny shaft promises additional pleasure. With its medium firmness and an insertable length of 7.8 inches, this item will soon make you the best sword-wielding expert.
Pros
Waterproof 
Different sizes 
Variety of colors
What to Pay Attention To When Purchasing a Fantasy Dildo
You need to be extremely careful when buying a fantasy dildo to avoid purchasing a product that is not good enough for you or that doesn't match your needs. Some of the things you need to pay special attention are its size, material, price, and texture, but let's discuss each of them:
Size
When selecting a fantasy dildo, I encourage you to use the size that fits you best. If you are an experienced user and crave something bigger, there are always monster versions available of the fantasy dildos. But if you're just beginning to step into the world of fantasy, then opt for something more accommodating before switching to the bigger guns. Remember, you need to go for comfort first, and pleasure will follow!
Material
You can find dildos made of various materials, but I advise you to choose the non-porous alternatives. You may have noticed that many companies choose to use porous materials to lower the product cost, offering dildos that are hard to clean. The best material for a dildo is always silicone because it is easy to clean, and it won't turn into a germ paradise after prolonged use. Even though they might be more expensive than their rivals, believe me, those extra dollars go for better quality and durability of your new friend.
Budget
Except for the quality of the materials, its unique features also define the fantasy dildo price. A first-class silicone is more expensive, but the rare fantasy dildo features make them even more valuable. Some sex toys may cost less than $50, but I always choose dildos whose average price is about $100 as they come with good design, marvelous features, and beat-quality material.
Texture
The fantasy dildo's texture is something that you must consider when purchasing one. No matter if you are an amateur or professional, you need to pick your product carefully, as the dildo's texture has an impact on the feelings during penetration. If you are new to this game, I recommend you stick to a smoother-textured dildo. In case you are an experienced dildo user, don't be afraid to experiment with rigid textures.
Conclusion
Fantasy dildos are precisely designed sex toys to meet your wildest sex fantasies. You may wish to pick your next dildo just because it has the form of your favorite mythical creature, but you also need to pay attention to the other features to get the best sexual pleasure.
In my opinion, the best fantasy dildo is the Alien Breeder with Vac-U-Hole. It is my favorite because it's made of top-quality platinum silicone, comes in four large sizes, and offers multiple options. Mr. Hankey's Deep Diver is my second favorite from this list, because it is safe for your body, has perfect insertable length, and is very handy. The Uberrime Deep Diver sex toy comes with the most competitive price and the same material as its more expensive rivals.
At the end of the day, it all comes down to personal preference, so choose the one that will make your wildest fantasies come to life.