As lovers of lesbian erotica, we find ourselves dog-earing the corners of our favorite steamy novels, saving precious romantic scenes for future enjoyment. But once we've read our favorites over and over again, they can tend to become quite stale. We browse the internet for more saucy material, only to be bogged down by piles of subpar erotic stories.
Here's the thing – finding awesome sexy writing doesn't need to be like looking for a needle in a haystack. There are plenty of sites on the web. Most lesbian erotica readers are women, but some aren't. What makes lesbian erotica unique is that it's female-friendly and from a female perspective. We've found the top 8 erotica sites with the best lesbian stories written to suit the female perspective.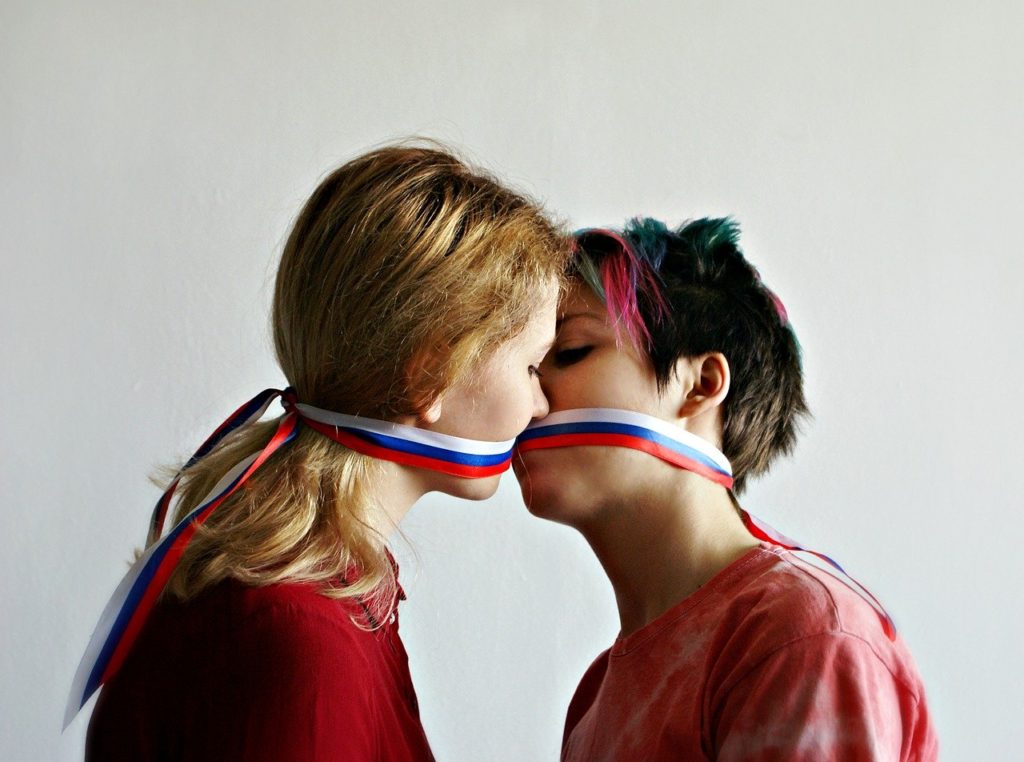 Sugarbutch is considered a favorite among readers in the lesbian erotica space. The quality of the stories is likely due to the fact that the site was started by a member of the LGBTQ community. The stories are careful to majorly take the LGBTQ perspective into account, and talented writers craft all the stories. The stories generally fall into the BDSM category, but Sugarbutch is careful to note that all interactions are consensual. Along with great reads, Sugarbutch also provides articles, workshops, toy reviews, and opportunities to guest post if you are the creative type and have an awesome LGBTQ story to share with the Sugarbutch family.
You are probably already familiar with Tumblr and it's artistic and sexy aesthetic, but what you may not know is that it's also full of wonderful lesbian erotica. You can find it by searching terms like "lesbian sex stories" or "LGBTQ erotica" to find the beautifully written stories. True to Tumblr fashion, most of the stories are artistically written. While still smutty, they often feature poetry or a lyrical style. It sort of takes a pinkie-up approach to lesbian erotica, which is nothing to complain about. Along with sexy stories, there are also plenty of hot images on Tumblr for your viewing pleasure. Some stories include images, and others don't. It really depends on the nature of the Tumblr page on which you stumble upon.
Shag Story is a groovy, erotic, visually pleasing site that is as fun as it is sexy. When you arrive onto the home page, you can immediately tell that the aesthetic is 70s-inspired. However, the stories are very up to date and don't feel stale in the slightest. A sweet piece of art accompanies each story, and their lesbian stories are no different. Shag Story writers are all experienced and produce quality work, so these are certainly very fun reads for anyone who loves lesbian erotica. The visuals are really what draw people to Shag Story, but they stay for the amazing stories.
Remittance Girl is a great lesbian erotica site that stretches the bounds of mainstream erotica. With intense BDSM undertones throughout, Remittance Girl is huge on submission, dominance, and all things rough. In fact, it's so intense that the website has to come with a warning, stating that it might be too offensive for some readers as some stories involve violent fantasies. With that said, proceed with caution to Remittance Girl and leave if it makes you feel uncomfortable. However, for lesbian erotica that leans into rough sex, it's the go-to. Though there aren't a ton of stories readily available, each one is crafted with care and sure to get you soaking in just moments. Remittance Girl also has a very informative blog for people looking to write erotica that is a bit rough around the edges.
Literotica has been around for ages (since 1998, to be exact), so it has a huge library of erotic stories for you to choose from. You will literally never run out of lesbian erotica to read. Not only is there a bottomless rabbit hole with decades of stories to go through, but there are new user-submitted lesbian stories published daily. To find the gold, simply sift through the "lesbian sex story" tag on the website. There is really a huge amount, which can be both a blessing and a curse. Some stories are certainly better than others; however, most of them are juicy enough to get you going. If you fancy yourself an erotic writer, Literotica is the perfect platform to display your talents. With a huge community of readers and writers, Literotica is a fixture in the online erotica world.
If you are a fan of true erotic stories, XConfessions is a spot you'll want to visit. XConfessions is a confessional of true dirty experiences and has a hefty selection of amazingly hot lesbian experiences for you to read. There's something really sexy about knowing that what you are reading is true. It adds an element of voyeurism to the reading experience as if you are peering into someone's naughty journal. XConfessions was started by a renowned smutty filmmaker by the name of Erika Lust. Thankfully, her creative and artist touch has been incorporated into XConfessions, which is part of what makes it awesome. There are various categories for you to choose from, and tons of confessions for you to read.
Mel's Webs is one of the only erotica websites that exists strictly for women who enjoy lesbian erotica. Rather than having it just sit as a category, the entire site is full of lesbian sex stories. The writing is sexy as hell and absolutely does its job in producing quality stories, but the website also offers a sense of community for lesbian erotica enthusiasts. Between message boards and chat rooms, you can meet others who are into the same things that you are. They also display lesbian pornographic art and have poetry for you to read. It's a safe haven for lesbians who love to read their smut.
The Nifty has been around for a long time, even longer than Literotica, and has been able to stand the test of time. The Nifty is known for its stories involving 'alternative sexualities,' which luckily includes stories of the lesbian variety. Nifty isn't all that modern in design, but that doesn't damper the quality of the stories and the creative brain of the expansive userbase. The stories range from mainstream to the totally bizarre, and it's a home for some very freaky folks. If you like reading erotica that is a little bit off-kilter, this unique site is where you'll want to stay. New stories are regularly published, so you'll never find yourself running out of erotica to read on The Nifty.